Have you considered starting a blog? Maybe you are interested in generating some extra income or just want to share your thoughts and ideas with the rest of the World.
This page contains affiliate links meaning I earn a commission if you use those links. I only recommend brands I use and trust.
I decided to launch my blog after reading some articles from Pinterest that showed the income of some top bloggers. Some make over $100,000 a month from their blogs! Now that piqued my interest!
To be honest, I actually had started 2 other blogs in the past on blogger.com but I never got past the first post or two before giving up and I certainly didn't come close to making any money.
This time I decided to do things differently. I was determined to be one of the 5% of bloggers who succeeds in blogging this time. I spent a lot of time learning and reading before I started my blog and I broke it down into manageable steps.
How to start a blog the right way
1. Pick your domain name
Easier than it sounds, you need to pick a name that suits you, is catchy, and above all, isn't already being used. You can use the domain checker at Bust a name to enter keywords and work from there.
You then need to register your domain. I recommend Blue Host for domains and hosting if you are just starting out as they are easy to use and cost-effective.
2. Host your site
Once you have your domain registered, you need to host it somewhere. Imagine your URL is a car, you need a parking spot for it on the internet. A host is the parking garage. There are two hosts that are highly recommended for bloggers:
Blue Host – hosting starts at just over $3 a month which is awesome when you are just beginning and not sure how far blogging will take you.
Siteground – Similar pricing to Blue Host, Siteground is very popular with successful bloggers who love their fantastic support and fast speeds.
Once you are all set with your hosting, you can begin the fun stuff!
3. Set up WordPress
Don't mistake this for setting up a WordPress.com account. The two are very different. For your blog to be able to access ad networks such as Google Adsense and make money through advertising, you need to have WordPress.org installed.
It is simple to install it from the home page of either Bluehost or Siteground. You will see a button that shows "WordPress installation" on the home page. WordPress is the foundation for the content on your blog.
4. Choose a Theme
Here you have some options: You can either use one of the free WordPress themes that Bluehost or Siteground offer or you can purchase a theme.
When I first started my blog, I chose a free theme as I wanted to keep costs as low as possible. I'm not too tech savvy and it seemed to work ok until I started to have issues adding Google Adsense links and other plugins. After wasting a few weeks trying to make my free theme work, I bit the bullet and bought a Genesis Child Theme.
Genesis is highly recommended by professional bloggers because it comes with a lot of extra features that make setting up your blog really simple. The Genesis framework will let you bypass all of the complicated HTML code stuff on your site which is great for beginners who just want to get up and running.
I went with the "Silver" theme from Boutique Design Studios. Their themes are feminine, modern and easy to use. My theme cost less than $50 and it was worth every penny.
I have since found out that you can pay up to 4 times as much for a theme so I'm really happy I found Boutique Design Studios by fluke.
There are detailed instructions for setting the whole theme up which I followed step by step and was up and running within an hour. I will say that after the confusion of having the free theme and trying to work out what to do, the instructions were just amazing.
You can see all the themes at Boutique Studios here.
The theme kits from Boutique Studios include:
WordPress Theme – Stunning WordPress theme design and development
Genesis Framework – Awesome framework **($59.95 included value)**
SetUp Tutorials – In-depth theme tutorials with images and videos
Demo Content – Import demo content if needed
One Flat Price – No ongoing monthly subscriptions
Lifetime Updates – Free theme and Genesis lifetime updates
This is one of the best values I have seen and really great for new bloggers on a budget.
5. Install Plugins
Once your blog is set up with a theme, you can take some time to add some plugins to make your site easier to use. If you have a theme from Boutique Design Studio, they actually give you a list of must-have plugins for bloggers which I found really helpful.
Plugins that I use often include:
Yoast SEO – Essential of making sure your content is readable and SEO friendly.
Pretty Link – Turns long ugly URLs into whatever short form you want.
Adinserter – Great if you use Amazon or Google Adsense ads as you can easily choose where to place the ads on your site.
Genesis Simple Hooks – Easy way to add widgets and content into your framework.
Sumo – Buttons for Pinterest, Facebook and more.
6. Create your About, Disclosures & Contact pages
Spend some time creating an engaging "About" page so that readers can get to know you. The Boutique Designs tutorial shows you exactly how to create a "contact me" form on your site for comments and emails.
If you are planning on doing affiliate marketing, make sure to have a disclosure on each page of your site as well as a disclosure and privacy policy page. You can see my standard disclosure at the top of this page.
7. Apply for Google Adsense and Affiliates
Some bloggers recommend not applying for affiliate sites or Google Adsense until you have some traffic but I applied for both Amazon Associates and Adsense when I had zero traffic and was approved with no issues.
Adsense is the program that places ads on your website and pays you for each person that views the ad or clicks on it. There are other, high paying ad networks out there but they normally have a minimum page view threshold so are not ideal for new bloggers.
If you want to monetize your blog, you can also add affiliate links to your blog pages. Affiliate links are good for recommending products that you love or that you have found useful. There are a lot of different affiliate programs out there for bloggers, to choose the one that suits your niche, you can see the pros and cons of each one here.
If you really want to master affiliate marketing and make a serious income, I highly recommend Making Sense of Affiliate Marketing by Michelle from Making Sense of Cents. Michelle makes over $50, ooo a month from affiliate marketing and this course takes you from the basics through to advanced techniques.
8. Start creating awesome content
Now that your blog is set up, it's time to write some posts!
 A few tips that work regardless of your niche:
Post frequently and on a schedule so that your readers know when to expect new content (2 or 3 times a week is good)
Write naturally, this isn't a college paper.
Use photos to illustrate your points.
Aim for 10-20 blog posts at launch to keep your reader's interest. (PRO TIP: you can backdate posts on WordPress) 
9. Promote your content
Once you have your excellent blog posts up, it's time to get some readers! I'd recommend choosing a couple of social media outlets to start with. Different platforms work well for different niches – Pinterest is great for mom blogs, lifestyle and personal finance, Instagram is great for fashion and store and Facebook is good for recipes and crafts.
Different platforms work well for different niches – Pinterest is great for mom blogs, lifestyle and personal finance, Instagram is great for fashion and store and Facebook is good for recipes and crafts.
There are tons of social media how-to guides out there, these are my top recommendations for each platform:
Pinterest:
 Pin Perfect – my free course to get you started the right way on Pinterest with great pins.
Pinteresting Strategies by Carly on Purpose – A paid course about growing your Pinterest traffic quickly and without using a scheduler. Carly grew her Pinterest referrals from 0-200K page views in 6 months using these techniques.
Facebook and Google +
Blog Traffic Bonus Guide by What Mommy Does – Free Bonus course by Lena Gott who grew her traffic from 30-400K page views in only 10 months.
Traffic Transformation by What Mommy Does – A paid course that delves deep into each platform (including Pinterest). This course helped me immensely to grow my traffic quickly.
                    Learn more here: Traffic Transformation ebook review
Instagram
Instagram Authority by Alex Tooby – Free course by THE guru of Instagram success.
Twitter
The Ultimate Bloggers Guide to Twitter, Hashtags, retweet accounts and chats – this is a paid course by Suzie Speaks that goes over what you need to really rock Twitter. 
10. Never stop learning
I highly recommend checking out some more established blogs when you are starting out. You will get ideas and insights into what looks good and what "works".
It's also worth taking some courses from established bloggers who teach the tricks of the trade. There are lots of courses out there., some paid and some are free.
A few things to consider when picking the right course for you:
Make sure the course is in the format you prefer. Personally, I don't love video courses as I often work at nap time so silence is key. Some people need a visual tool to fully understand all the information.
Check course reviews and see how many people are recommending the course to make sure it is good quality.
I've mentioned some of my favorite blogging courses above but the one course I really recommend for a complete guide to starting a blog is  Building a Framework By Abby Lawson. It is a step by step guide to creating a successful blog from scratch. I have referred to it a hundred times since I started blogging. Abby's blog, "Just a girl and her blog" was
I have referred to it a hundred times since I started blogging. Abby's blog, "Just a girl and her blog" was launched in 2014. In the first two years, she went from new blogger to making over $10,000 a month. Now both her and her husband blog full time!
You can take a look at the ebook here: Building a Framework. There is an e-book option for $25 or the full in-depth course with tons of extras and videos for $97. Both are terrific value in my opinion if only for the expertise and insight Abby offers. You also get access to a private mastermind Facebook group with the full course.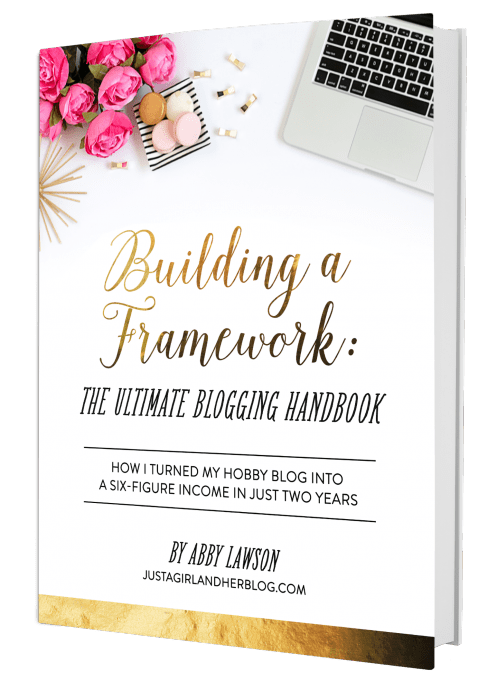 Final tip for starting your blog the right way
Blogging is constantly evolving and social media algorithms change all the time. Constantly learning and trying new things on your blog to see what works is so important. The key to a successful, profitable blog is adapting to changes as quickly as possible and giving your readers what they want.
Related Posts
The top affiliate networks to join
8 Pinterest group boards mommy bloggers can join
The secret to exploding your traffic: Pinterest group boards
Create the perfect pin in minutes!
How I get over 75,000 page views a month from Pinterest
Learn all the tricks to designing a viral pin for free!