If you love everything about weddings and are looking for a flexible job that you can do a few days a week, you might want to become a wedding planner. Wedding planning is great for SAH moms who can work on the weekends or anyone with a Mon-Fri job that would like to make some extra money.
The best thing about being a wedding planner is that you can choose to work as little or as much as you like and can make up $1000 for a day's work at the top end.
This page contains affiliate links meaning I earn a commission if you use those links. I only recommend brands I use and trust.
My Experience As A Wedding Planner
I started my wedding planning business in 2011 after my own wedding that April.
Many people had commented to me during the planning process that I was very organized and had a ton of good ideas and that I should open my own business. I took the plunge that summer.
By the following summer,  I was making $2-3000 a month in high season working 3-4 days a month. I quickly built up a book of referral clients and was lucky enough to be given the Couples Choice Award by Wedding Wire in 2014.
Wedding planning is an awesome side hustle if you are willing to work long hours for a couple of days a month and know how to market yourself to get established in the business.
RELATED: How to become a work from home travel agent
How do wedding planners make money?
With the average wedding costing over $35,000, couples are looking to save money where they can and get the most bang for their buck.
Although it seems paradoxical, a  good wedding planner can help cut wedding costs by leveraging their contacts and networks.
Wedding planners make money by charging a set fee for their services (either a percentage of the wedding costs or a standard planning charge).
They may also receive kick-backs or commissions for promoting specific vendors. This is frowned upon by many wedding planning organizations as they believe it to be unethical and means you may promote one vendor over another.
Bear in mind, however, that travel agents make all of their money from commissions earned by recommending certain tour operators and hotels so this business model is completely normal in some industries.
Why hire a wedding planner?
I love this infographic from that shows you exactly why couples love to use a wedding planner for their big day:
Some famous wedding planners make a lot of money. Obviously the more established and in demand you are, the more you will be able to charge your clients.
A part-time wedding planner can hope to make around $2000 a month throughout the summer if they can book a wedding or even most weekends.
If you are interested in starting your own wedding planning business there are a few things to know, first of all, there are two different roles in the wedding planning business – wedding planner and wedding coordinator.
How to become a wedding planner
This is the wedding planner that you see in the movies. The full-service wedding planner helps the couple find their venues, DJ, caterer, band, photographer,  decor, centerpieces etc.
You will be working with the couple from when they hire you (typical soon after the engagement) until the end of the wedding day. (wedding day duties are the exact same as the wedding coordinator below).
You will need to have a ton of contacts in the industry and be available to attend meetings with your clients when they are choosing their vendors.
How much can a full-service wedding planner make?
Typically the wedding planner fee is 10% of the wedding budget or minimum $1500. That means you can expect to earn around $3500 for the average wedding in the US or UK.
You will also get reimbursed for travel expenses (over a certain distance) and have a meal provided at the wedding.
READ NOW: 80+ Ways To Make Money That You Can Start Today
What does a wedding planner do?
Assist and plan the wedding budget
Source all vendors, review contracts and attend meetings
Provide guidance on decor and food choices
Meet monthly/weekly with bride and  groom to review planning
Attend wedding rehearsal and assist coordination
Arrive at the venue early to supervise set-up. Make sure everything is in order.
Meet groom and make sure he is settled. Help with boutonnieres
Coordinate bride's arrival and help with ceremony timing
Assist photographer to corral family and friends for photos
Liaise with MC and DJ for timing of events
Make sure the cash envelopes/gifts are secured (do not handle the cash yourself for liability reasons)
Help with wedding clean up at end of night
Stay until the venue is closing up to make sure everything is packed away.
How to become a wedding coordinator
This is the wedding planning that I enjoyed the most, and found the most lucrative. A wedding day coordinator steps in typically a month before the wedding to make sure everything runs smoothly on the wedding day.
It's the best option if you want to become a part time wedding planner because you only really work on the wedding day and the night of the rehearsal. The rest of the wedding coordinator tasks can be done by email or telephone.
The wedding coordinator is on hand to make sure the couple is not bothered by the minutiae of the planning as the day draws near.
On the actual wedding day, you are the go-to person for all vendors and family members. The bride and groom should not be bothered by any issues at all and should leave the wedding thinking that everything went off without a hitch (even if you just spent the last 12 hours putting out fires!)
Wedding Coordinator Duties
Confirm Vendors
Attend and coordinate the wedding rehearsal
Arrive at the venue and supervise set-up. Make sure everything is in order.
Meet groom and make sure he is settled. Help with boutonnieres
Coordinate bride's arrival and help with ceremony timing
Assist photographer to corral family and friends for photos
Liaise with MC and DJ for timing of events
Help with wedding clean up at end of night
Jack of all trade to solve all and any problems that may arise – from fake eyelashes falling off to missing limos.
How much can a wedding coordinator make?
This is very regional but most wedding coordinators make around $400 if they work in a small town while those in larger cities may charge up to $1000 per day. Bear in mind you may need to pay an assistant out of those fees.
How to become a wedding planner
No training is required to become a wedding planner but I would definitely recommend a course to learn the basics of contracts and client expectations.
A lot goes into wedding planning and clients will expect you to be the expert. There is also a lot of competition in the wedding industry and anything you can do to give yourself an advantage will help.
Becoming a Wedding Planner in the USA and international
This is probably the most comprehensive course out there but it is also pretty pricey. The cheapest option is $1195.
The course includes one-year membership into the academy plus many extras. You can download the entire course brochure on the website.
The Event and Wedding Planning Course by QC Event School is very good. It costs $998 but they do offer payment plans. You can download the whole course outline here.
How can I become a wedding planner for free?
If you aren't ready to take an online course just yet, you can learn a lot from the books below. Although there is no substitute for a full course run by wedding professionals, you don't need to have any qualifications to start your wedding planning business.
Recommended Reading (click on the image for more information)
How to become a wedding planner in Canada
I recommend taking the intensive course with the Wedding Planners Institute of Canada (WPIC). This is the course I took to become a wedding planner and I found the course and the networking opportunities invaluable. You can claim cost of the course on your taxes.
 How to start a wedding planning business
A Business – Once you have your training done and are ready to get started, you need to come up with a business name and register your company with your city or state. This is typically a quick and easy process that costs less than $100.
A Website – Choose your website domain name and host your website. Most couples will find you through Google or at least want to check out your site before they book you.
I highly recommend BlueHost as their plans start out at $2.95 a month for hosting and a free domain name.
If you want an easy way to get started you can create your site using WordPress, that way you can create posts about your services and also add photo galleries. WordPress is completely free once you have your hosting and domain.
 This post will tell you everything you need about setting up a WordPress site easily (it's for bloggers but works the same for any business).
How to promote your wedding planning business
Marketing Materials and Business Cards
You can order business cards and materials from Vistaprint. It's nice to have a brochure and maybe a magnet or other branded item to give to your clients. This will make you look professional and experienced.
Contracts and documents
You will need a contract outlining exactly what services you will be providing and your payment terms. If you wish to use your client's photos for your website, you will need to include that in your contract too.
You will also need other documents such as
Vendor suggestion files that you can provide to clients.
Wedding day timelines to provide to the bride and groom, the DJ and the MC.
A Portfolio
 Prospective clients will want to see your past weddings and any awards or reference letters that you have received. It is also useful to have a portfolio of photos from weddings you have worked when you are discussing decor with your brides and grooms.
An Emergency Kit
This is the most important piece of equipment a wedding planner needs.
The emergency kit will show your clients exactly how useful you are when things go wrong and they need a quick fix. I've hemmed pants, reglued false eyelashes and fixed centerpieces thanks to my trusty bag of supplies.
Get your free printable Wedding Day Emergency Kit supply list here: 
Advertising for your services
Once you are established, you will get most of your business from word of mouth and referrals but in the beginning, you need promote your business.
The best ways to get clients as a new planner are Facebook wedding groups, bridal shows, and wedding vendor networking events.
How to grow your wedding planning business
Volunteer as a wedding planner's assistant
This will give you the chance to learn the ropes plus if you do a good job, you may get work sent your way if the planner is unavailable for a job.
How do you become a wedding planner assistant? Contact planners in your area and offer your services for free. Be prepared to do the dirty work in exchange for some photos for your portfolio and a recommendation letter.
Create a Preferred Vendors List
Contact wedding photographers, DJs and other vendors in the industry and create a list of "preferred vendors" who you recommend to couples.  See if they will offer a discount to your clients. Some may offer you a kick-back for recommending their services.
You can also see if local venues will give you a tour or provide you with preferred pricing or free upgrades.
Start a blog on your website
Having a "blog" section of your wedding site where you talk about wedding related topics will help to establish you as an expert in the wedding industry.
A day in the Life of a Wedding Coordinator
Here is a little itinerary of the typical day in the life of a wedding day planner on the big day:
9am – Pick up any last minute necessities, double check emergency kit and itinerary is packed.
10am – Arrive at reception venue to set up centrepieces, guest book table, confirm all vendors and cake arrival
12pm – Head to the ceremony venue to set up decor, pew bows and programs
1pm – Meet the groom and his groomsmen at the ceremony venue. Get them settled in the bridal suite. Put on all the boutonnieres and brush them down with a lint brush. Make sure the ushers know what to do.
1.30pm – Meet with the officiant to reconfirm all details.
1.35pm – guests start to arrive at ceremony. coordinate ushers and make sure they are doing their job properly.
1.55pm – Wait outside for the bridal party. Help them out of the vehicle, line them up and advise assistant inside that it's show time.
2pm – Cue the bridesmaids and parents walk down the aisle. Fan the bride's gown before she enters the church
****wedding ceremony****
3pm – After the ceremony, gather family and bridal party for photos at the church
3.30pm – Head to the reception venue for final set up (candy buffet etc) meet banquet manager and confirm bridal suite entry. Confirm evening's events with the MC.
***3.30pm – Wedding planner's assistant – accompany bridal party for photos and act as photographer's assistant ***
5pm – Meet bridal party at reception. Line them up ready for the grand entrance. Cue them in.
5pm -9pm – Dinner and speeches (MC should handle but be on hand). Make sure gift box with envelopes is moved to a safe place by a trusted family member.
9pm – dancing begins. End of regular services. Say goodbye to the bride and groom and their parents.
More side hustles you can do in your spare time
80+ Ways To Make Money That You Can Start Today
How to become a work from home travel agent
3 Clever Ways To Make Money On Pinterest
3 Easy Ways To Make Money With Your Car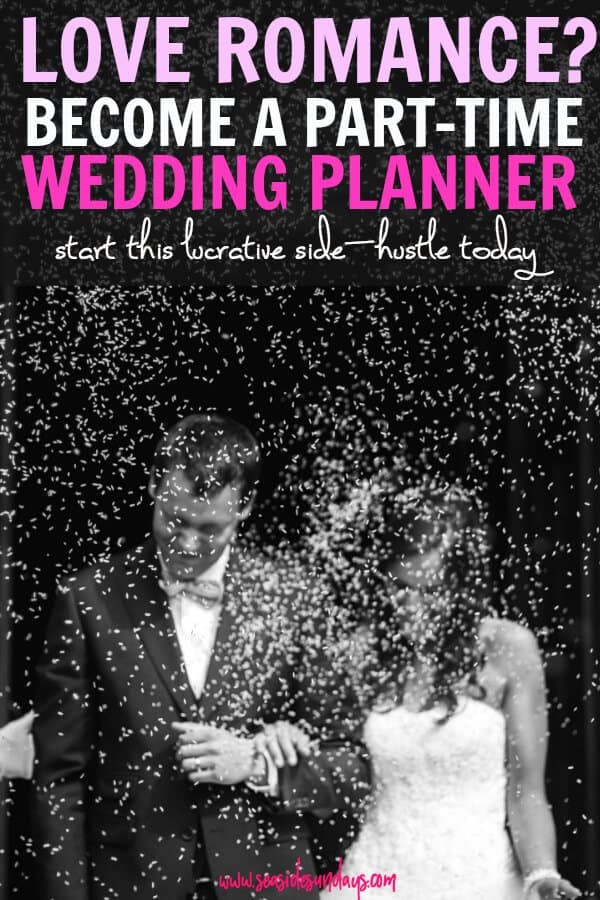 Create The Perfect Pin In Minutes!
Subscribe to get my FREE ebook on creating a pin that gets noticed and brings you traffic.