Do you love getting paid to shop as much as me?
This page contains affiliate links meaning I earn a commission if you use those links. 
I have various ways of making my shopping habits pay for me including getting cashback with  Checkout 51 and earning gift cards with Swagbucks.com.
I used to use Ebates all the time for online shopping but I recently switched to my new favorite, BeFrugal, as it combines some of my favorite features such as cash back and coupons into one awesome, easy to use, website.
RELATED: 7 Grocery Apps That Pay You To Shop
I've found I get more cash back using BeFrugal than any of the other sites.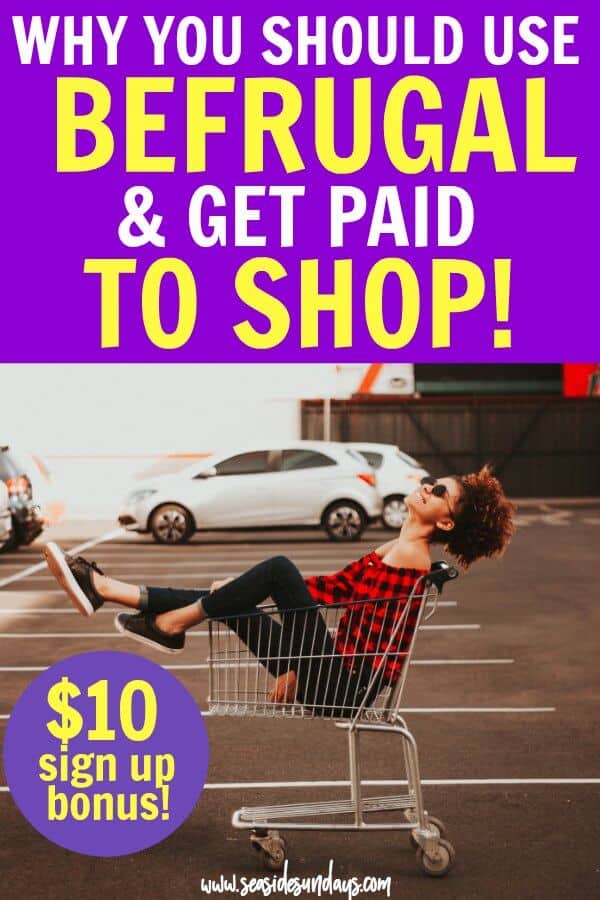 BeFrugal combines internet coupons and cash back to ensure you get the best deal possible when shopping online. They also offer printable coupons and coupons for restaurants including Red Lobster, McDonald's, Olive Garden, and Potbelly among others.
When shopping online you can search for the store you are interested and the current coupons and cash back amount will come up as you can see the in the example below.
The cash back amount is always a percentage of your purchase price (before taxes). Stores that offer cash back through Be Frugal include Target, Walmart, Ann Taylor, Carters, Shutterfly, and tons more. Cash back ranges from 1-40% depending on the store.
Stores that offer cash back through Be Frugal include Target, Walmart, Ann Taylor, Carters, Shutterfly, and tons more. Cash back ranges from 1-40% depending on the store.
As an example, I did a search for Macy's and various coupon codes came up plus the current offer of 10% cash back. To take advantage of the offer, all you have to do is click through to the Macy's site from the "shop now"  BeFrugal link and your purchase will be tracked.
You can see along the right-hand side the average tracking speed for your cashback to be confirmed and the estimated payment date.
You can choose check (US only), PayPal or an Amazon gift card for the payment. If you choose Amazon, you will get an additional 3% bonus so it is worth considering. (and then using BeFrugal again when you go to Amazon to spend your gift card!).
BeFrugal is completely free to use, in fact, they actually pay you $10 when you become a member!
Click here to sign up for BeFrugal, and when you earn $10 cash back, you will receive a $10 cash welcome bonus as well!
Do the coupons on BeFrugal actually work?
Yes! In fact, the online coupons are guaranteed to work. If you place an order through BeFrugal using an online coupon and it doesn't work, they will pay you $5. Just make sure you tell them within 24 hours.
How do their cash back rates compare to other sites?
BeFrugal guarantees that for eligible stores, they have the best cash back rate in the business. If you make a purchase and then find a better % cash back through another site, they will match the competitor 125%.
How long has BeFrugal been around? Is it new?
BeFrugal is based in the Boston, MA, and has been around for almost 10 years. Here is the blurb from their website:
"BeFrugal features coupons and deals for over 50,000 stores including all of the largest 500 online stores in the USA. All of our online coupons are guaranteed to work. We offer Cash Back for online purchases at over 5,000 stores and guarantee that our rates are the highest. To ensure the best experience, we offer both email and live chat customer service, all based out of our USA offices."
Is there an app or browser extension?
Yes! There is an app for iPhone/iPad and also a browser add-on which you can find at the bottom of their website.
How do I get $10 cash back free?
Just by signing up for BeFrugal through my link. Once you have signed up, your account will be credited with a free $10 as a welcome gift that will be confirmed when you earn $10 or more in cash back.
Have you used BeFrugal? What did you think? How much have you saved so far? How do you find it compared with the other cash back sites? 
More money saving tips
10 Silly Things People Waste Money On
The best survey sites to make money in 2018
Start A Blog That Makes Money
Ready to start a blog and make money from home?
In this FREE 5 day email course, I will show you the exact steps I took to take my mom blog from $0 to a consistent $2000 a month within 4 months.