It can be hard to think of Easter egg fillers for tweens and young teens but this list of fun ideas is sure to give you a ton of inspiration!
Preparing Easter is one of my favorite things to do as a mom but as my kids are growing up, I've started to ask myself "what do you fill Easter Eggs with for older kids?".
Finding fun but not cheesy Easter egg fillers for tweens and younger teens can be tricky. They are still young enough to join in the fun but a little thing of play dough and some sidewalk chalk might not cut it anymore.
That's why I have created this list of over 50 fun things to put in tween's Easter egg basket that will keep the Easter magic going for even longer.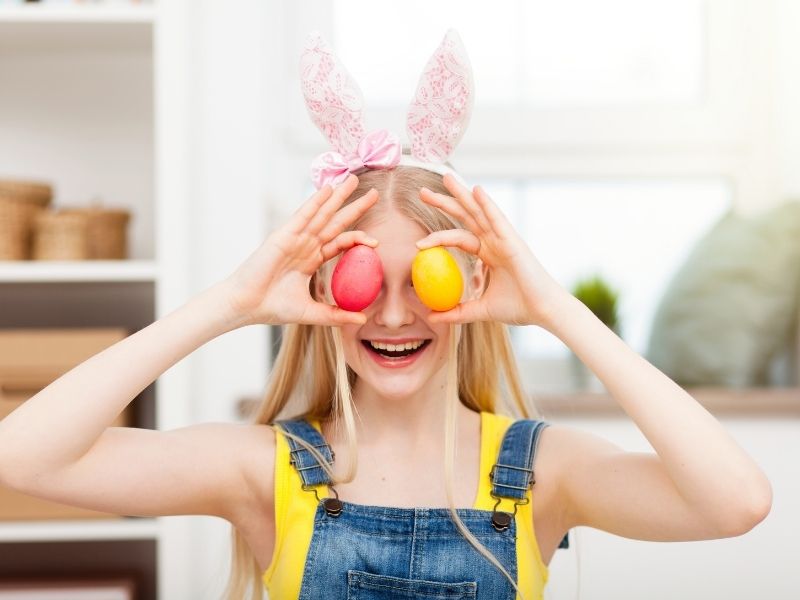 This post may contain affiliate links. Please read my disclosure for more information
RELATED POSTS
How To Make A Cute Easter Egg Wreath
25 Cute Easter Snacks For Preschoolers
The Best Easter Egg Fillers For Tweens and Teens
When I am building up my stash of Easter egg fillers for older kids, I tend to separate them into a few categories and I try and make sure the basket is made up of a balanced mix of each kind of item.
I try and include the following:
Fun Easter egg fillers
Useful egg fillers
Edible egg fillers
I have also been known to sneak a shiny coin or two in my plastic Easter eggs for my tweens – just for fun!
What kinds of Easter eggs to use?
I typically use the classic small plastic eggs that are fillable and reusable year after year.
In addition, I sometimes add a couple of oversize eggs for each kid.
These large shiny gold eggs are perfect because they come in a set of 12 so I give each kid 2 or 3 ( I have four children!).
The large eggs are great for bigger items such as stuffies or socks!
50+ Easter Egg Fillers For Older Kids
The list below is perfect for answering the question "what to put in a 12 year old's Easter basket".
Whether your child is 10 or 14, this list is sure to help you find some fun ideas quickly!
By the way, if you are looking for fun things to put in a younger child's Easter eggs, make sure to check out my list of 35 Creative Easter Basket Ideas For Toddlers.
Easter Egg Fillers For All Tweens and Teens
1. IQ Game
2. Crazy Aaron's Thinking Putty
7. Code word combination padlock
8. Bouncy Balls
10. 4 inch Himalayan salt lamp
Fun Things To Put In A Tween Boy's Easter Eggs
11. Glass marbles
12. Magnets
14. Dice (I love these glow in the dark ones)
15. A Bath bomb with slime in the middle
18. NFL Glitter Pin
19. Pokemon Cards
Fun Easter Egg Fillers For Tween Girls
21. Fun earrings like these pretty butterflies that are perfect for spring
22. Lipgloss (check out this cute bunny shaped lipbalm)
24. Nail polish
25. Hair ties
26. A Bath Bomb Shaped like an Easter Egg
29. Planner Stickers
Useful Easter Egg Fillers For Older Kids
32. Eraser
34. Funny Socks
35. Mini Habits For Teens Book
36. Small nightlight bluetooth speaker
37. Post-It notes in various colors
38. Gift card to their favorite store
39. Money
42. Popsocket
43. Mini egg shaped highlighter pens
45. Air freshener hanger for their room
46. USB Drive
47. Nail Clippers
48. Fitness Tracker
49. Washi Tape
50. Flower Seeds
Edible Easter Egg Fillers For Tweens
51. Bubble Gum Eggs
52. Mints
54. Reese's Easter Peanut Butter Cups
55. Cadbury Mini Eggs (my personal favorite!)
Easter Egg Fillers For Tweens – Final Thoughts
A tween's idea of a perfect Easter egg might be something more than just chocolate and jelly beans.
This is why I'm thinking about making this year's easter eggs a little more special with these fun things that your older kids will love.
Are you ready to make their day by filling those plastic eggs with something they'll actually enjoy?
What would be your favorite thing to include in an easter egg for someone over 10 years old?