You have probably heard about the Genius Blogger's Toolkit and are wondering what it is all about. For two weeks every fall, it is the talk of the blogging world, and with good reason.
The toolkit is no longer available for sale – it will be back next year or hopefully for a flash sale in the spring. 
I wanted to do a full Genius Blogger's Toolkit 2018 Review as I've bought it the last two years and I think it is one of the best values around for new bloggers, especially if you don't want to spend a lot of money on blogging courses and education.
This year you can get over $5000 worth of educational resources for less than $100!
This page contains affiliate links meaning I earn a commission if you use those links, please read my disclosure for more details. 
RELATED POSTS
How Much Does It Really Cost To Start A Blog – My First Year Expenses
The Best Free Stuff For Bloggers In 2018
Genius Blogger's Toolkit 2018 Review
Before we dive into the contents of the bundle, I wanted to make sure you know that this bundle is available for a limited time only so make sure you don't miss it.
What is the Genius Blogger's Toolkit 2018?
The Genius Blogger's Toolkit is created by Ultimate Bundles. They create limited time packages around different niches and offer huge discounts on tons of products.
Recent bundles include:
Healthy Meal Planning Bundle 2018
Parenting Super Bundle
Ultimate Photography Bundle
Ultimate Homemaking Bundle
Each bundle is full of courses, masterclasses, eBooks and other goodies like free printables and memberships.
How Long Do I have To Access My Bundle?
This year's bundle includes over 85 resources including:
Courses and videos
 eBooks
Printables & workbooks
Templates
Stock Photos
Membership sites
+ Bonuses – Think things like subscriptions, WordPress Tools etc 
It's a lot of content and, while not all of it will be related to your business, you probably will still need some time to go through it all.
In addition, some might be relevant to you now while others might be more useful further down the road as you progress with your blog.
Luckily, Ultimate Bundles gives you a year to go through all of the bundle products.
I normally go through them all briefly then bookmark in Trello the ones that I want to go through in depth and mark them by priority to what I need help on now!
What's Included In The Genius Blogger's Toolkit 2018?
Below you will find all the details of the Genius Blogger's Toolkit for this year. I've broken the toolkit into sections based on the delivery model
No matter where you are in your blogging journey, there is always something new to learn and let's face it, no one has ever said that they have too much traffic or are making too many sales!
I love the value of the Genius Blogger's Toolkit because I get to check out a bunch of products I probably wouldn't buy otherwise and I always end up learning great stuff for my blog.
That being said, there are definitely some products that either don't appeal to me, are not relevant or didn't teach me anything new. I'm a prolific course taker so I guess I am also a bit of a difficult customer!
Thankfully, the price of the bundle is so low that even if only 2 or 3 courses hit the mark, I've still get my money's worth. (and already I think there are at least 20 courses that I'm loving!)
Added bonus – Many of the courses will let you join their affiliate program if you love their course so then you have a new program to promote too! 
This year's bundle covers 11 main topics:
Getting Started With Your Blog
Tech Help
Design & Branding 
List Growth
Content Creation
Monetization
Product Creation
Social Media
Business Set-up
Productivity
Community & Support
This year the Genius Blogger's Kit has shifted focus from eBooks to courses and videos. We all know that video is the medium of 2018 so it makes sense.
There are still enough eBooks to keep you busy on your commute which I am happy about. There are also a bunch of templates and workbooks which I am really enjoying even though originally I didn't think they were my thing.
Below you will find the details of the Genius Blogger's Toolkit for this year. I've broken the toolkit into sections based on the delivery model
eBooks
Ecourses
Templates & Workbooks
Videos
Recordings
Stock Photos
Membership Sites
Genius Blogger's Toolkit 2018 Review
Personally, as I went through the bundle, I was surprised that some of the courses that didn't appeal to me initially were often the ones that taught me something new and amazing.
Emily McGee's workflows are one example. I am not really a fan of worksheets and time management stuff but I've already printed and laminated them!
Below you will find my top picks in each category plus links to all the rest of the books.
Ebooks
There are 17 eBooks in the bundle this year. Some are quick reads while others are really in-depths guides that could almost be full courses.
If you like reading eBooks on your phone or tablet, you won't be disappointed with the selection in the 2018 bundle.
Personally I like to read ebooks on the train or in bed so I was happy to see that there were eBooks and not just video courses.
My Top eBook Picks
Bloggers and Brands: The Blogger's Guide to Pitching and Working with Brands
by Shannon Acheson
I love this ebook. I had never heard of the author before so wasn't sure what it would be like but for me, this is one of the breakout hits of the whole bundle.
Even though I do sponsored work on the blog already, I'm always looking to grow that part of my business and this book laid it all out for me in easy to manage steps.
This is aStep by step guide to landing sponsored posts and tips for reaching out to brands including pitch templates you can use.
Crush CSS: Code School for Bloggers
by Marianne Manthey
I'm including this one as an ebook as that's how UB has it listed but it's a video course through Teachable.
I'm a huge fan of Marianne and often head to her blog when I need help with html and CSS. This course is exactly what you need to make your blog how you want without buying a new theme!
Top 13 Things to Sell in Shopify That Make the Most Money
by Sarah Titus
This book is the BOMB. If you don't know Sarah Titus, you need to check out her blog ASAP. She has built an empire and is the guru of selling printables through her blog and Shopify store,
If you are interested in creating your own Shopify business, this book will give you ideas of things that sell well plus tons of tips for starting a successful store.
I found this book packed with inspiration and ideas for a new side hustle.
Blogcabulary Plus: The Ultimate Blogging Terminology, Reference, and Resource Book
by Nataly Llanes
 A step-by step guide to everything blogging, from the very basics to tips on using the different social media platforms
Good for beginners who are confused with all the blogging terminology out there and need a quick guide.
Ecourses and Videos
The bundle contains 41 ecourses and videos. By my estimation, assuming that each course will take around 5-10 hours to go through, you are looking at over 200 hours of educational material just in this section.
Obviously, not every course will fit your personal blogging needs but I really do think this year's bundle has something for everyone:
My Top Picks For Courses
Affiliate Marketing For Bloggers: Everything You're Missing
by Carly Campbell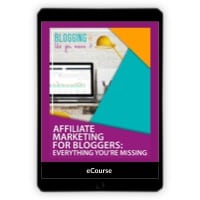 Full disclosure: I bought this course when it first came out for the full price (which is almost half the price of the entire bundle). It was 100% worth it then and is a complete steal when included as part of the toolkit this year.
Although I think of myself as pretty adept at affiliate marketing (after all, I have my own ebook on the subject), this course goes beyond the basics to the more advanced affiliate stuff for those who are already making some money but not "enough".
SEO Site Audit
by BloggersSEO: Jim Stewart & Elizabeth Kent
Another author(s) that I had never heard of but I am loving this DIY site audit. Everyone knows that SEO (search engine optimization) is super important but it's hard to know what to actually do to improve your site SEO other than fixing your blog posts.
This course has chapters such as " fixing your site speed", "comparing sitemaps" and "checking broken links".
It's an awesome course if you want to go step-by-step and get your site optimized for site engine traffic.
Holiday Blogger Bootcamp: Maximize Your Earnings for Every Holiday & All Year
by Caroline Vencil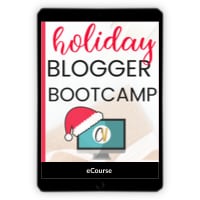 This is an eCourse for bloggers and online entrepreneurs who are looking to maximize their earnings this year during the holiday season. It's a course that will be dedicated specifically to affiliates and converting readers into clickers and buyers!  
So is it for everyone? I'll be honest – no. But – if you are looking to give your blog and income an extra boost with the coming holiday season, this course is for you.
Media Kit Creation Masterclass
by Katie Hornor
This is a 5 video masterclass on creating a great media kit. If you want to work with brands, either with social media posts or sponsored posts, many times they will ask you for a media kit and your rate card.
I love this step-by-step guide to creating a media kit that will get noticed!
Workbooks & Templates
There are 9 workbooks and 3 templates in the bundle this year.
There's an awesome Pinterest keyword tracker from Lena Gott, a Canva template bundle and an opt-in bundle from Saira Perl.
My favorite workbook so far as been the workflows from Emily McGee. I've already printed them out and laminated them. I love anything that helps me work smarter and faster!
What else is in the bundle?
By now you have probably realized how jam-packed the Genius Blogger's Toolkit 2018 really is. I've barely scratched the surface of what's inside , make sure to check out the full list here 
If you have seen enough and know you want to go ahead and get it for yourself, click the button below to grab it.
Now on to one of my favorite parts of the bundle…
The Bonuses
The bonuses make it even easier to start (or grow!) your blog, because you can get free, extended trials to technology that will help you save money, while making money. 
In addition to the 77 resources in this bundle, you also get bonuses worth more than $540 from companies who can help you and your blog succeed.
Here's just a handful of the bonuses you get:
Podia makes it easy to sell online courses, memberships and digital downloads to your audience.
With Podia, you can create a beautiful storefront in minutes and start selling your digital products – no technical knowledge needed, and no third-party plugins required.
You'll get to try it out with a free 3-month Shaker Subscription. (Value $237)
ConvertKit is the email service provider for bloggers. You can try it out for two months free. (Value $58) I
t's what I use for my email list and I love how easy it is.
Use Pinterest to drive traffic to your blog – and make it even easier when you schedule for the ideal times using the Tailwind app.
Get a free 3-month Tailwind for Bloggers subscription with your bundle. (Value $45)
(read all about how I use Tailwind here.)
Plus, get a free premium WordPress theme from MyThemeShop. (Value $35)
Frequently asked questions about the Genius Blogger's Toolkit
Is the bundle only for beginners?
I bought the 2016 Bundle when they had a flash sale in May 2017, so I had been blogging for just 2 months.
It was extremely useful to get a bunch of products for a low price, especially after I had just forked out for hosting, a domain, a theme and all that jazz.
I also took advantage of tons of bonuses like free months of Convertkit and Tailwind.
I've now been using both of these products for over a year and am grateful I had the chance to try them for free first.
Last fall I bought the 2017 Genius Blogger's Toolkit. I really focused on the parts of the toolkit that I needed help with, namely traffic building tools and SEO.
In a way, I found it more useful last year although I probably used 50% of the toolkit instead of the whole thing.
This year I'm finding completely different products as my blog continues to grow and make money.
How do I know I'm actually getting good quality products and not just a bunch of "throw-away" eBooks?
Every single year I have seen products in the bundle that I had previously bought for full-price.
For example, the first year it was Find Your Tribe Online by Jen Snyder and the second year is was Pinteresting Strategies By Mommy on Purpose.
It definitely annoyed me that I bought those courses full price instead of getting them with Genius Blogger's toolkit but it goes to show you the value in the bundle.
If there are only 3 products that you read and use in the whole bundle, you are still saving a ton of money than if you had bought them individually.
What if I buy the Genius Blogger's Toolkit this year and don't like it?
Ultimate Bundles offers a 100% happiness guarantee refund policy for 30 days. If you don't love it, just email them to ask for a full refund.
More Blogging Tips
The Best Free Stuff For Bloggers In 2018
25 Fantastic Places To Promote Your Blog For Free
From 0 to 90K Pageviews in 9 Months – what worked & what didn't
8 Great Affiliate Networks for new bloggers
How to optimize your Pinterest strategy
Start A Blog That Makes Money
Ready to start a blog and make money from home?
In this FREE 5 day email course, I will show you the exact steps I took to take my mom blog from $0 to a consistent $2000 a month within 4 months.