I honestly cannot remember a time in my life when I didn't have a side job or " hustle" to make a little extra income.
If you are looking to make some money on the side, there are tons of options out there that can earn you hundreds or even thousands of dollars each month. I've personally used side hustles to pay for my wedding, vacations, maternity leaves and more.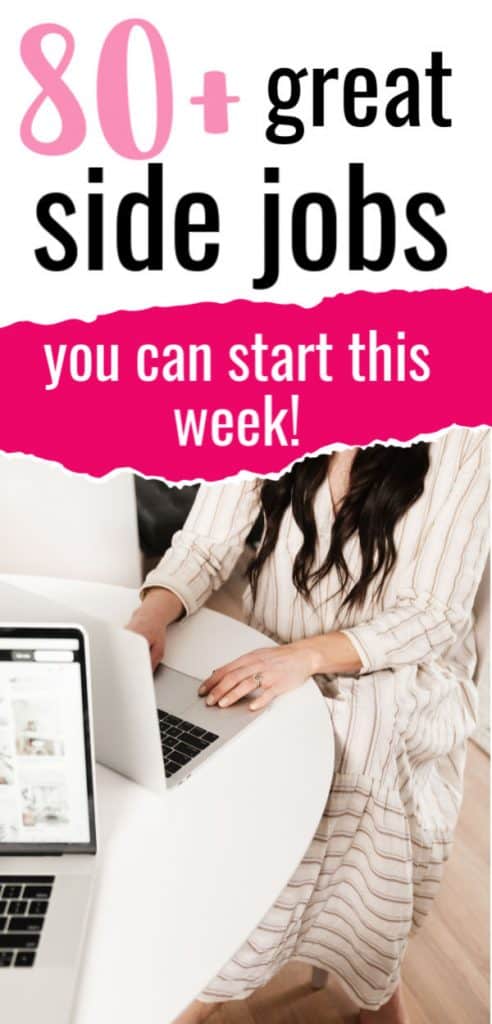 This page contains affiliate links meaning I earn a commission if you use those links. Please read my Disclosure for more information.
Why you need a side hustle:
Pay off debt
Pay for college
Stay at home with your children
Build an emergency fund
Ease money stress caused by potential layoffs and an unstable market
Go part time at your regular job
Save for a down payment
Go on vacation
Enjoy the holidays without money worries
Absorb a maternity leave stress-free
Pay for your kid's activities and hobbies
Support a family member in need
There are tons of great side income options available, more so now than ever with smartphones and social media. Some don't even require special skills, just your time and motivation.
80+ Side Hustles You Can Start Today
Working from Home
There are so many opportunities to make money working from home, some a little less legit than others. The ideas below are all genuine work-at-home jobs that can make you a great side income.
You can easily make Printables to sell either on Etsy or your own site using PicMonkey. Check out this free ebook from Gold City Ventures to get your started.
Become a Virtual Assistant
Today's version of a personal secretary, a VA gets paid to do tasks for bloggers and online businesses.
Jobs could include setting up and maintaining social media accounts, editing images and sending emails. I love this blog post by VA guru Gina Horkey, which takes you through the basics of setting up your own Pinterest VA business.
You can earn cash and gift cards from the comfort of home with sites like Swagbucks. I earn at least $100 a month from surveys and could definitely earn more if I spend a little bit more time.
Survey sites I like that pay well include:
If you are in Canada, check out this post for a list of high paying survey sites for Canadians.
If you have marketable skills such as graphic design or computer programming, consider posting on Upwork.com. It's the largest of the freelance marketplaces and has almost every kind of category.
Become a medical or legal transcriber. Always in demand, this is a wonderful option for work at home. Janet from Transcribe Anywhere has a great free course to get you started.
If you have a passion for travel and good connections, you can make at least $2000 a month as a travel consultant. Check out this post for more information on getting started.
Tutoring children online is a very lucrative option and the hours are normally first thing in the morning which makes it easy to work around family life. A Bachelors degree is normally required but not a teaching certificate. VIPKid is one of the largest companies hiring native English speakers now.
Learn more about VIPKid and how to get started here.
My preferred way of making money. Start-up costs are low (under $5!) and some bloggers make upwards of $100K a month! If you have a passion for sharing your views with the world, a blog is a fantastic side hustle.
Check out my step by step guide here – Start a Profitable Blog in 10 Easy Steps and don't forget to sign up for my FREE 5 day course on making money from your blog.
If you have a product you love such as Stella & Dot jewelry, you can become a stylist and make some easy money. I have a friend who regularly makes over $2000 a month promoting the products at parties and craft sales. Plus she gets to wear fancy jewelry for free! Get more information here – How to Become a Stella & Dot Stylist
If you have an eye for details, proofreading may be for you! It's an awesome way to make money from home on a flexible schedule. Caitlin from Proofread Anywhere has an awesome free course to get you started.
Affiliate Marketing on Pinterest
If you are not interested in starting a blog but want to make some money on social media, you can make money using affiliate links on Pinterest without a blog or website! It's a great way to get started on making some money from the comfort of home.
If you are a good baker, a side business making cookies or cakes for birthday parties and events can be a nice earner.
One thing that is really popular in my area are ready-made cookie decorating sets with plain sugar cookies in cute shapes, frosting and sprinkles.
Make sure to check your local city laws on food preparation businesses before launching.
If you have a talent for writing, freelancing can be an awesome side earner.
In addition to surveys, Swagbucks will pay you for watching videos, shopping and doing internet searching and playing computer games. Sign up for Swagbucks here and get $5 Free
Seriously! If you use social media accounts such as Twitter, Instagram, and Facebook, put them to good use and get paid to promote products to your followers. You can seriously make a good income just by tweeting!
Sign up with Izea and get started today!
Before and after school care
Many parents are in dire need of quality care before and after school and daycare programs. Expect to provide breakfast, afternoon snack, assist with homework and accompany children to and from school.
If you are crafty consider setting up an Etsy or Folksy store to sell your wares. Anything from knitting to handmade jewelry and gifts sells well.
I've earned over $3000 in cashback from Rakuten and BeFrugal – Combine coupons with their % cashback deals to make online shopping more rewarding.
Bonus: Get $10 free from each of them just for signing up here: BeFrugal and Rakuten.
If you are handy with a needle and thread, this can be a great side hustle. Hemming, mending and simple alterations are all in demand. Make even more if you can embroider – personalized stockings, Easter baskets and more are all really popular.
Sign up for Fiverr and offer your online services for $5. It can be typing, editing, image creation or anything you can imagine. A great place to earn some extra cash for your skills.
Scoping is editing court reporter transcripts and is a great way to make extra money from home.
The best way to get started is through the course offered by the Internet Scoping School which teaches you everything you know to succeed in this lucrative business.
Internet Scoping School offers a free 7 day introductory course on scoping.
Side Hustles with Flexible Hours
If you love kids, this can be a great option with hours to suit your availability. You may even be able to bring your children with you. Offer your services on Craiglist and Care.com. A great way to earn regular or odd income.
All you need is a clean driver's license, background check, and a clean car to get started with these car services. You can set your own hours and get paid weekly. Learn more about making money with your car here.
Internet Scoping School offers a free 7 day introductory course on scoping.
Elderly citizens are often in need of help getting to the grocery store/doctor's appointments. Advertise your services on local Facebook groups and community centers.
If you are handy, you can earn good money helping with odd jobs and handyman types of work – fixing toilets, moving furniture, laying laminate flooring don't require much skill. Advertise your services on neighborhood buy and sell pages.
If you live in a snowy area, your services will always be required in the winter making it a great option for some extra cash.
This is another job where you can often bring your kids as you work and drivers are always in demand.
This is the summer version of shovelling snow. Offer your services for weeding, taking care of flower beds and mulching for extra cash.
If you are a canine lover, dog walking can be a regular and lucrative side hustle that requires few hours for the good money.
This is a great option if you can only work evenings and weekends. You normally have to complete an accreditation before you start. Combine your workout and side hustle time!
Become A Wedding coordinator
This is one of my favorite side hustles. Different from a wedding planner, a coordinator typically only works the day of the wedding helping to make sure things run to schedule.
Tasks often include setting up the decor, liaising with the wedding venue staff and DJ and helping take down everything at the end of the night. Wedding Coordinators in large cities make up to $1200 for a day's work.
I've made $100s from mystery shopping! It's really kind of fun to go undercover and get paid to shop! I shop for a number of companies, you can find out the best ones here.
You can often get flexible hours in bars or pubs but for even more flexibility, consider signing with an agency that caters events such as weddings and corporate affairs.
This is a wonderful option for SAHM who have a few hours a day to clean houses. You can earn $50-100 per house.
Rent out your room on Airbnb
This is an opportunity to earn extra money when you are away from home. Use this link when you sign up and you'll get $50 off your first booking of $95 or more.
If you are strong in math or languages, high school children are often in need of tutors, especially around exam time. Lessons normally take place in local libraries or coffee shops. I did this for years and made a very healthy side-income as an English Teacher.
Even More Ideas of Ways to Make Money:
Teach English Online and Make up to $22 an hour
6 unusual ways to make money on the side
Become a wedding planner & Make $2000 a month part-time
How to make printables to sell
How to become an at-home travel agent
Get A Free 5 Day Fertility Meal Plan!
Boost your fertility with this 5 day kick start program
Sign up below for instant access to this free plan & more fertility tips