Long summer days means tons of family time, days by the beach and kids who need something fun to do. The list of fun summer activities for kids below is sure to give you some ideas for rainy days as well as those days when you don't have a lot planned.
If you are not careful, summer can get expensive with days to theme parks, trips to get ice cream and pool entrance fees. Having fun together and making wonderful memories doesn't have to break the bank, you just need a little ingenuity and planning.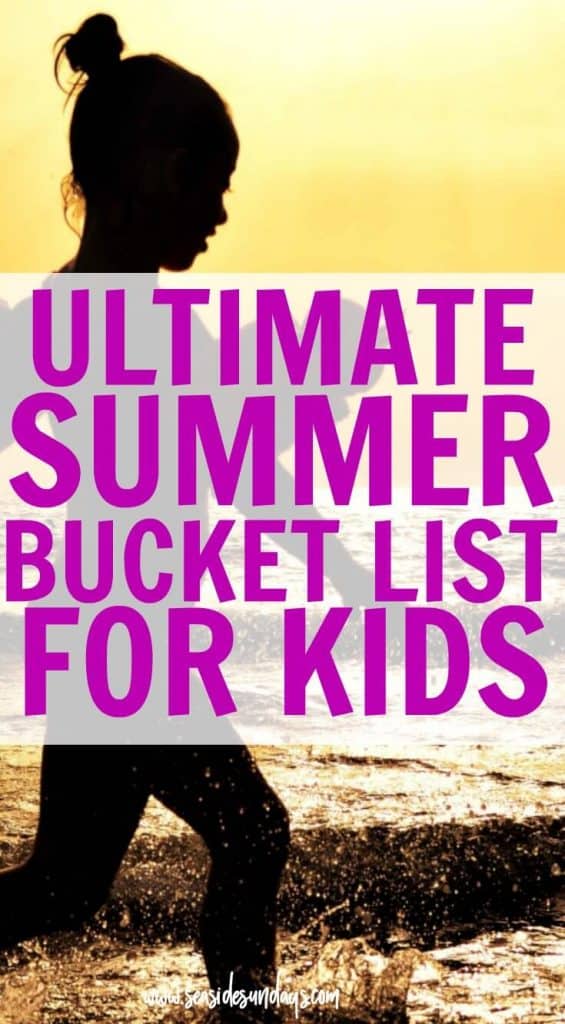 Every year, before the summer really gets going, we sit down and create our own special list of things we would like to do during the coming months. That summer activity checklist is what inspired this summer bucket list for toddlers as we have found it a great way to keep on track and make sure we do something special at least once a week.
If you like the list below, make sure to check out my huge list of 101 free things to do with your kids which is perfect for no spend weekends or those days when you run out of ideas.
MORE BUCKET LISTS FOR KIDS:
15 Daddy Daughter Dates That Will Make Her Day
The Ultimate Spring Bucket List For Kids
25 Fun, Frugal & Fabulous Fall Activities For Kids
25 Winter Budget-Friendly Activities for kids
19 Fun Summer Activities For Kids
1.Host a lemonade stand – food prep, counting, handling money, customer service.
2. Plant some flowers – lifecycles, what plants need to grow, photosynthesis.
3. Pick Berries – Life on the farm, how different fruits grow (blueberry bush, strawberries close to the ground)
4. A day at the beach – What are shells, how is sand formed, life under the sea.
5. Have a yard sale – recycling and reusing things, donating the unsold items, handling money and counting, negotiating
6. Go for a hike – woodland animals, collecting leaves and acorns.
7. Run in the sprinklers
8. Attend a summer festival
9. Pitch a tent in the backyard
10. Have an ice cream social
11. Make popsicles
12. Make s'mores
13. Soapy water play
14. Make peach pie
15. Watch fireworks
16. Visit a farmer's market – practice counting your money and picking the best fruit.
17. Have a playdate a the park
18. Paint with water
19. Watch a movie outdoors
Don't forget to print off the activity checklist at the bottom of the page – see how many you can cross off your bucket list!
More fun activities to do with your kids
  101 Free things to do with your kids      
The Ultimate Spring Bucket List For Kids
15 Daddy Daughter Dates That Will Make Her Day                                        
Family Fun Ideas You Need To Try This Fall
How To Make A Magic Leprechaun Garden
25 Winter Budget-Friendly Activities for kids
Start A Blog That Makes Money
Ready to start a blog and make money from home?
In this FREE 5 day email course, I will show you the exact steps I took to take my mom blog from $0 to a consistent $2000 a month within 4 months.