Are you tired of reading income reports from other bloggers and thinking, why not me? Do you want to grow your income quickly and earn money passively every day? Affiliate marketing is for you!
Are you tired of spending time on monetizing your blog with no results?
Do you get tons of clicks but no sales?
Do you want to promote products without alienating your readers?
What if there is an easy way to make money blogging without sales pitches, sponsored posts or being a sellout?
What if, with the right techniques and tactics you could make money the very month you launch your blog?
Hi! My name is Gemma & I am the blogger here at Seaside Sundays. 
I always knew I wanted to monetize my blog, but it took me some time to wade through all the information out there about sponsored posts, ads and referrals.
I saw that a lot of my fellow bloggers were trying to make money using affiliates but were not making much unless their traffic was huge. And mine most certainly not.
The day I made my first affiliate sale, less than 100 people visited my blog.
Through my background in marketing and sales, I KNEW that not having a ton of readers didn't need to limit my income potential.  1 engaged reader who connected with my story is worth 100 who didn't care about me or what I had to offer.
Once I learned to connect with readers and give them what they wanted, my income skyrocketed.
In month 4 of blogging, I made over $2000 in affiliate sales.
Now I'm going to teach YOU my affiliate marketing methods and strategies.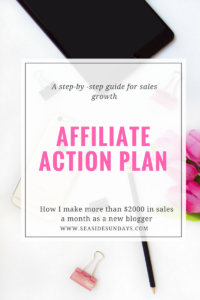 THE E-BOOK YOU NEED TO READ IF YOU WANT TO CRUSH BLOG MONETIZATION AND GET REAL RESULTS FAST.
 MY AFFILIATE ACTION PLAN ISN'T JUST A SIMPLE, "QUICK-START" GUIDE WITH A FEW OF THE CRAPPY, REGURGITATED STRATEGIES YOU CAN READ ALL OVER THE INTERNET. NOPE!  THIS IS THE REAL DEAL. FROM SOMEONE WHO HAS THE STATS, AND THE CLOUT,  TO BACK IT UP.
WITH OVER 25 NO-FLUFF PAGES OF STRATEGY,
THESE ARE THE TRICKS YOU'VE BEEN MISSING CREATE SET IT AND FORGET IT INCOME STREAMS. 
Here's EXACTLY what you will find inside…
How to brainstorm products that work for your niche
How to join affiliate programs and determine which ones are the most profitable
How to maximize your profits on and off your blog
How Amazon Associates can end up being your biggest earner
Four must-do strategies for increasing your sales
How to capture your audience without cheap sales tactics
What types of posts you should focus on to engage and grow
Which affiliate networks are best for your niche
Affiliate marketing Checklist

FREQUENTLY ASKED QUESTIONS
How much does this book cost?
Currently, Affiliate Action Plan is priced at $19. The price is low enough that making your money back through affiliate marketing will be easy. I don't want you to go into debt in order to make money blogging and I understand that when you are just starting out, every penny counts.


Do I need to have a ton of traffic or followers before I buy the book?
Nope, this book is about connecting with the readers and followers that you do have and converting their clicks into sales.
Is this a "get rich quick" scheme?
No. This is an action plan that will give you REAL results. Depending on your niche and the products you promote, affiliate earning potential may vary.
Is this a physical book?
Nope, it's an e-book, available in PDF format only. Immediately after purchase, you will get the link to download via email. Nothing will be mailed to you. No refunds will be granted.
Do you have an affiliate program for the ebook?
Yes! And I hope it becomes your most lucrative affiliate program!  You can join here.