If you love smoothies and want to boost your fertility, download this free fertility smoothies PDF.
This free ebook is packed with awesome fertility smoothie recipes to try plus tips on creating your own delicious smoothies for fertility.
You can access the PDF completely free and then print or download it to try out the recipes at home.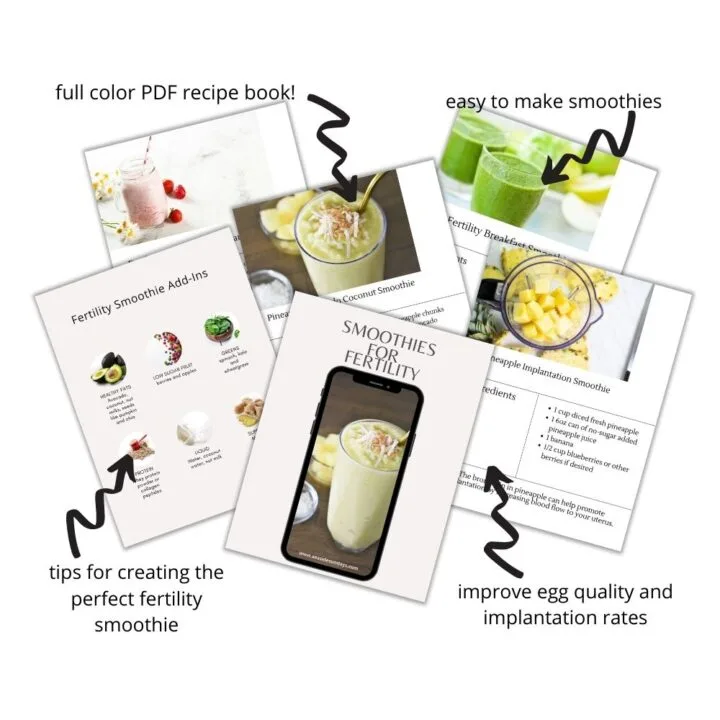 How To Get Your Fertility Smoothies PDF ebook
To get your instant download of the fertility smoothies recipe book, simple fill out the form below then check your inbox.
What's In The Fertility Smoothies Recipe Book?
The free ebook is packed with recipes that contain fertility superfoods to boost your chances of getting pregnant.
The recipes are suitable for both men and women to try as they contain lots of essential nutrients for improving egg quality, increasing sperm count and boosting your overall reproductive health.
The recipes are all really simple to make with a blender. They use ingredients that are easy to find at your local grocery or health food store.
There are 8 amazing fertility smoothie recipes in the ebook including:
Pineapple Implantation Smoothie
Fertility Smoothie Bowl
Avocado Pineapple Coconut Smoothie
Wheatgrass Smoothie for fertility
And more!
More Fertility Tips
Fertility Massage: The Best Way to Increase Egg Quality?