Unless you get super lucky with a viral post right out the gate, it can take a while to build up your blog traffic. Things also change quickly in the blogging World and what worked 5 years ago might not be a best practice anymore.
For example, group boards used to be a sure fire way to get traffic quickly, but they are definitely not as strong as they once were.
I started Seaside Sundays back in 2017 and at the time, I was lucky enough to grow my page views really quickly. I had 70,000 page views in just 4 months and was able to qualify for Mediavine which is a premium ad network.
With Mediavine, I make more in a day than I made in a month with Adsense.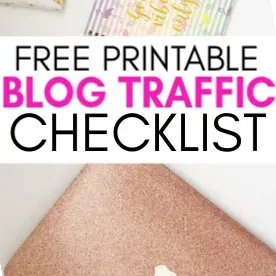 Want To Monetize Your Blog Quickly?
If you want to make money with your blog, at the beginning you really have two options, affiliate marketing and advertising.
I have always done both and often my income spilt is 50/50. Ads on websites can be annoying but they are also a way to pay for the upkeep of your site in the beginning.
If you do want to put ads on your site, I highly recommend waiting until you have enough traffic to join Mediavine or Adthrive. Mediavine required 50,000 sessions and to join Adthrive you need 100,000.
The higher thresholds mean that companies pay more for the ad space so publishers like us can make more money.
For me, joining a premium ad network is key to making money with a new blog.
In my first full month with Mediavine, I made $300. That's completely passive income that pays for my hosting and domain for a year.
MORE BLOGGING TIPS
25 Fantastic Places To Promote Your Blog For Free
The Best Free Stuff For Bloggers
So how do you get your traffic up?
In June 2018 I started a second blog, went gung-ho for a little while then left it for almost a year with barely anything work. The blog was organically getting around 2000 page views a month by summer 2019 and I had to make the decision to either delete it or grow it.
At the end of October, I set myself the challenge to qualify for Mediavine by Christmas 2019 so I had a full 3 months to do it.
I created a plan for boosting my traffic quickly. It was a lot of work but I went live with Mediavine on December 10 2019, just shy of my 3 month target.
The free printable blog traffic checklist you will find below is exactly what I did to grow my traffic quickly. It works now and it an up to date method for growing your Pinterest referrals.
What about SEO?
SEO is important but the truth is, most blogs don't start getting good search engine traffic for about 6 months so this plan focusses on Pinterest which offers faster results.
Don't ignore your SEO though, make sure to optimize all your posts so that you are ready to grab that Google traffic when you can.
About the free printable blog traffic checklist
The plan I followed is time-consuming but it pays off.
Not only will you be able to grow your traffic quickly but you will reap the benefits for months to come as your pins get repinned and shared.
I got sick on 13 December 2019 and didn't touch my new blog until 11 January 2020 (nopins, no Tailwind, no posts). My traffic continued to grow thanks to my previous work.
If you follow this plan for 3 months or more, I can't guarantee you will qualify for Mediavine but I am sure your traffic will increase and you will be well on your way!
Fill out the form below to get your free traffic booster checklist
Tips For Success
I use Tailwind to grow my traffic. It saves time and provides useful insights.
That being said, you DO NOT need to pay for Tailwind if you only want to use Tailwind Communities I do think communities are essential for growing traffic now that group boards are not as influential. I regularly get 1-3000 page views a week from Tribes alone.
Deleting boards is something I rarely do but I do archive them if they don't seem to be working. I then keep an eye on traffic and if it drops, I can easily un-archive the board again.
Sharing Threads- there are threads on Facebook where you drop a link or a pin and then share others posts . I have used these since the beginning for both blogs and find them to be useful. To find sharing groups, either start your own or search on Facebook for groups to join.
Consider different types of post on your blog – from review posts, informational posts and gift guides – they all will help you get more traffic.
You Might Also Like
How To Use Tailwind Communities To Get More Blog Traffic Easily
The Best Free Stuff For Bloggers