Get ready to celebrate the star-spangled banner with these fun 4th July activities for toddlers!
Whether you are celebrating Memorial Day, America's Independence Day or Veterans Day, these patriotic crafts for kids are just what you need to keep them busy!
Use the crafts for decorations or even as gifts for your favorite servicemen to celebrate these patriotic holidays!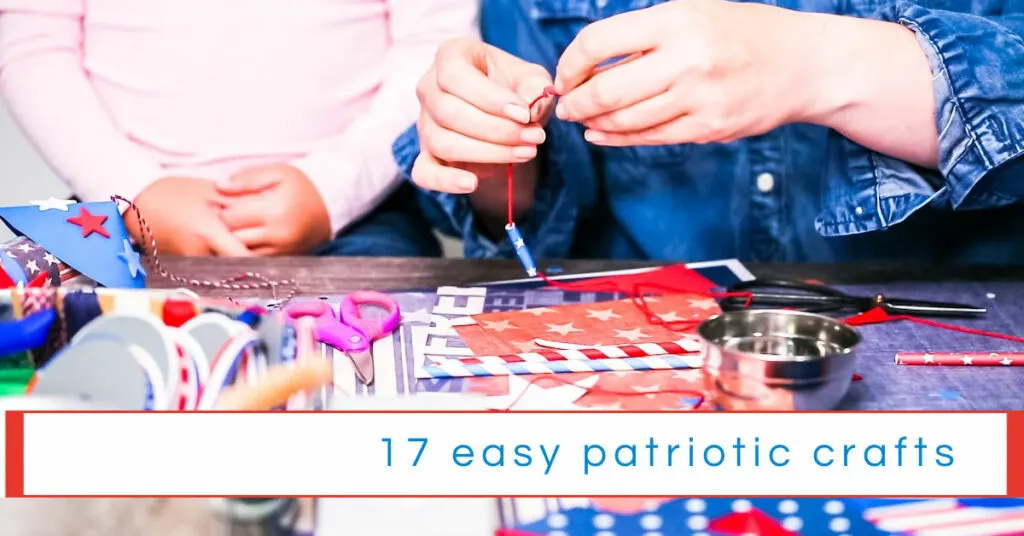 This post may contain affiliate links. Please read my Affiliate Disclosure for more information
MORE FUN CRAFTS FOR KIDS
The Best Father's Day Ideas For Kids – Crafts, Cards, Gifts & Activities
180 + Fall Activities For Kids (Crafts, Bucket Lists, Scavenger Hunts & More)
15 Easy Patriotic Crafts For Kids
We all know that kids love to make things, and these easy fourth of July activities are a great way to instill a patriotic spirit in them.
Patriotic crafts for kids can be as simple as making a flag out of pipe cleaners or paper, painting a patriotic picture, or making a pinwheel flag.
In this post, we have some fun Patriotic activities for you to choose from that range from super easy to a bit more complicated.
They are great for keeping the kids busy at a 4th of July party or for a fun classroom activity.
Whatever project you choose, these July preschool activities provide a great opportunity to teach your children about the fourth of July celebration and have some fun at the same time.
Read on to find fifteen each patriotic crafts for kids that will help show your support for the United States of America. Just click on the title of each patriotic craft idea to get all the directions.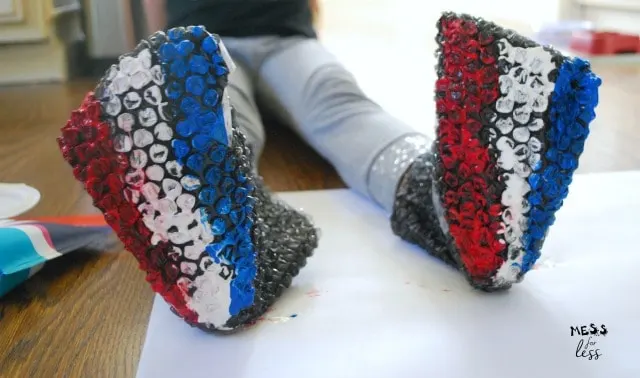 This craft is so much fun! All kids have painting and making a mess and this is a great activity that will allow them to get really creative.
All you need is some bubble wrap, paint and a piece of paper for this fun art activity.
Older kids will enjoy making this cute bird themselves while young children may need a little help with the glueing.
To make this pom pom eagle is easier than you think and you only need some simple craft supplies!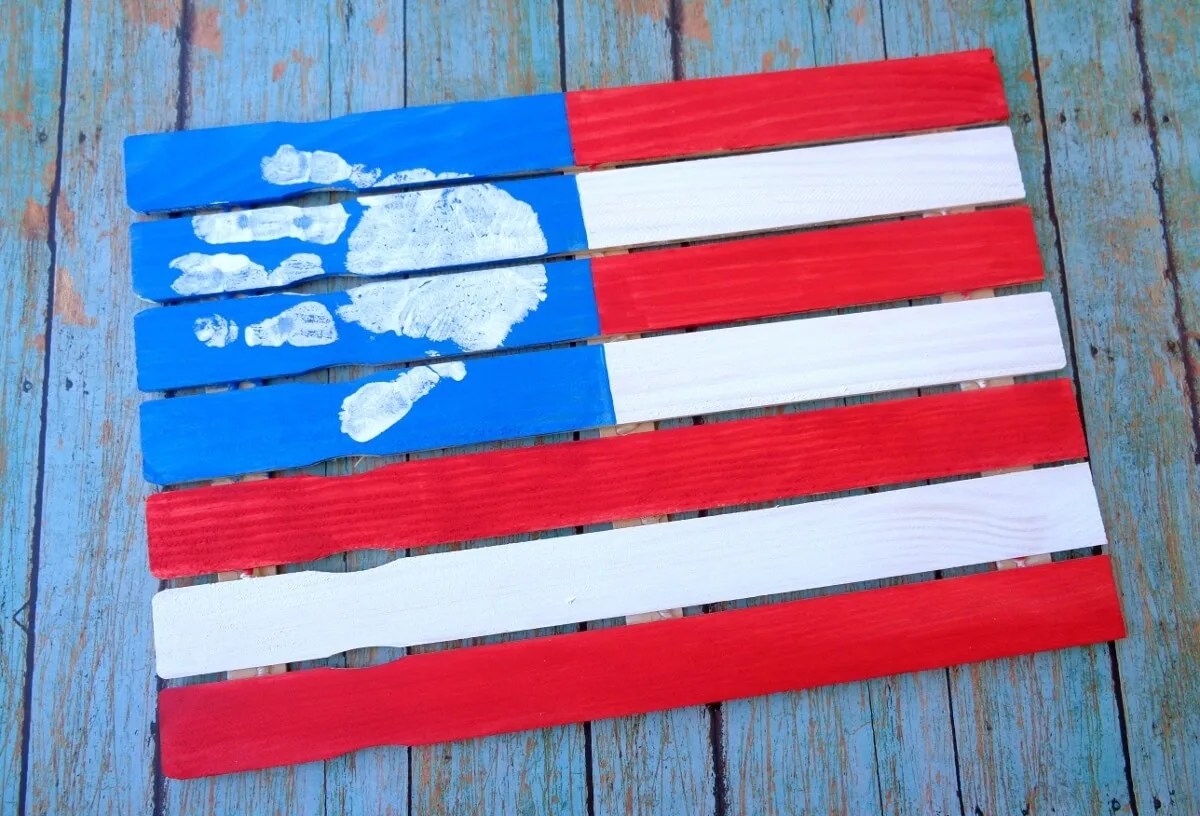 Memorialize little hands and have a crafty morning with this American Flag Handprint Craft. It is such a cute patriotic keepsake made using pain stir sticks! This is one craft that's so pretty you'll want to display it all summer long!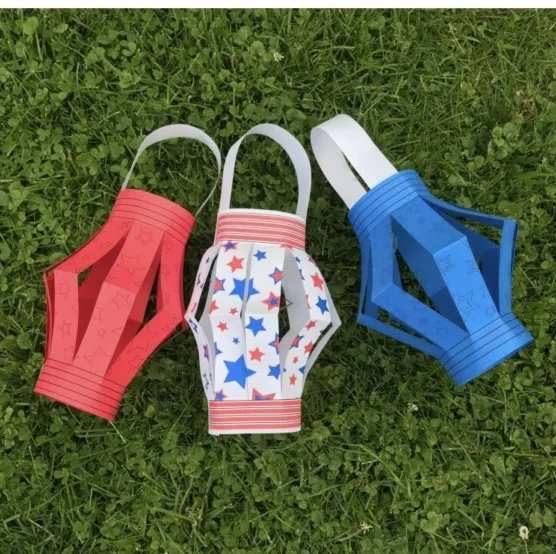 These cute lanterns are perfect for talking to neighborhood parades or displaying on the front porch. You can even add glow sticks for nighttime patriotic fun.
Here is a fun activity that is perfect for the long weekend! Make your own patriotic Uncle Sam hat with this free printable!
It is super easy to make – just print it out and then color and glue together.
You can even choose the pre-colored version if you prefer to make it even easier.
Get ready to watch the fireworks show at night by creating your own firework display using paint and Q-tips.
This Pointillism-inspired patriotic painting is perfect for the 4th of July, Memorial Day or Veterans Day!
Show your pride with these patriotic fireworks binoculars- younger kids are sure to love them!
All you need are some toilet paper rolls and some stickers and paper to decorate them.
Get ready to enjoy viewing fireworks, and parades after practicing your fine motor skills in decorating.
If you are looking for fun fourth of July crafts that double as great decorations, why not make these patriotic pinwheels?
They are really easy to make and look great on the yard for the Fourth of July or Memorial Day!
Make a patriotic suncatcher using paper stars and tissue paper. They are fantastic fun to make and look amazing too!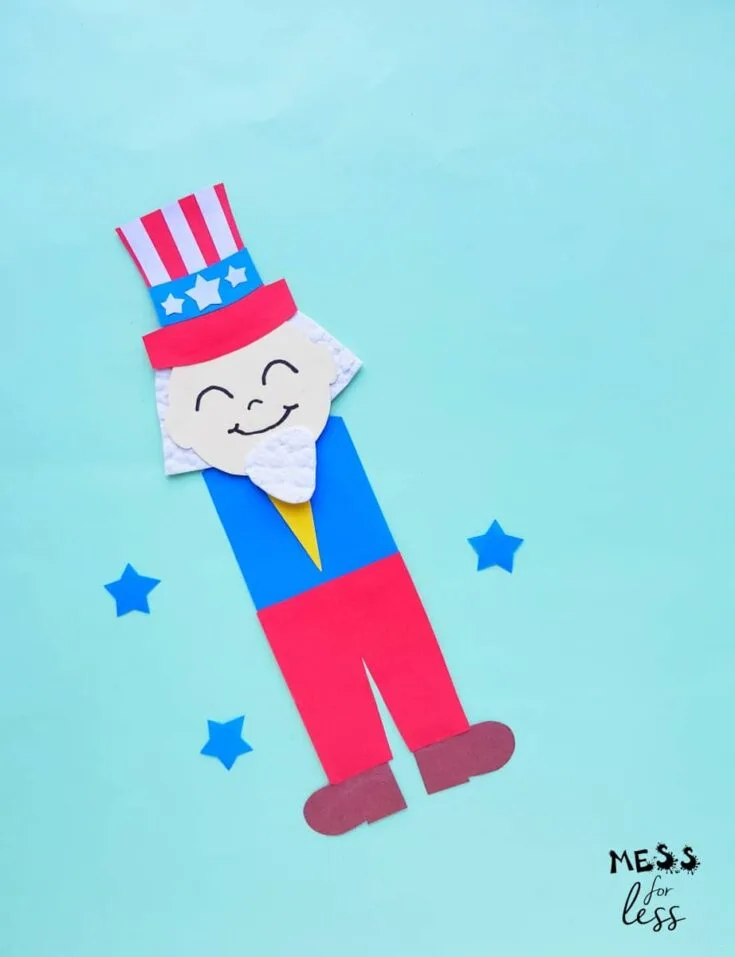 This is one of those easy 4th of July crafts that you can also turn into an educational afternoon. It is the perfect way to introduce your kids to the meaning behind the 4th July celebrations. Easy for kids to put together with our directions and free template.
Whether it is the 4th of July or not it is fun to create an American Flag out of anything!
All you need is a canvas or card stock and some small cups or an empty egg container.
Here is one of those summer activity ideas that the whole family will enjoy.
Your kids will have a blast making these fun marshmallow shooters! And they'll have even more fun playing with them after the craft is put together.
If you love easy fourth of July crafts, it doesn't get much better than painted rocks.
You can make your own set of stackable patriotic painted rocks to display in your garden all year round. Just grab some rocks and paint in different colors and get creative.
If you are short of time and looking for some printable activities with a fourth of July theme, these 3D stars will fit the bill.
These shiny 3-D stars are fun for children to paint, and easy for you to print off and fold. They are perfect for Memorial Day, Flag Day, and Fourth of July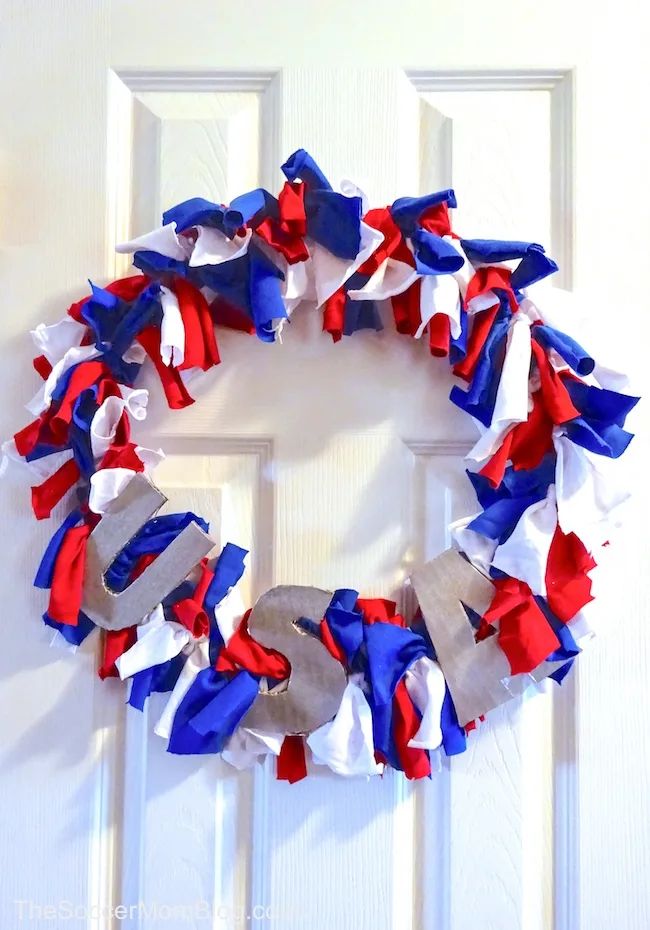 You can make this easy t-short wreath in minutes and it makes a fantastic decoration for the front door. Older children will be able to make it without supervision and younger kids will have fun sorting the pieces of fabric by color.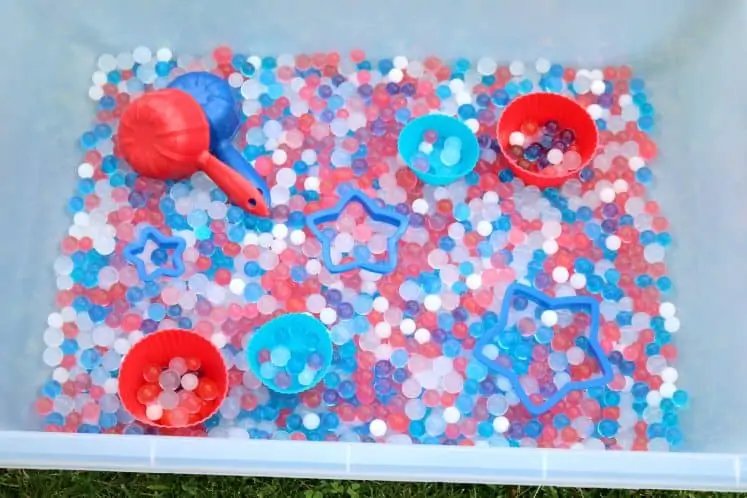 One of our favorite summer activities is playing with water balloons and I'm always looking for new sensory play ideas for my children (my fall sensory bin is always a hit).
If your kids love sensory activities, they will have a great time playing with this fun July 4th-themed bin which uses tiny water beads to create a fun and colorful activity.
Whip up a batch of patriotic slime – what a fun way to celebrate the holiday. The best thing about this slime is that it is made with food coloring and other edible ingredients so it is "taste safe" for little kids.
Fun Patriotic Crafts For Kids
Patriotic activities are a great way to get your kids enthusiastic about their country. We hope you enjoy these fun and patriotic activities for kids of all ages.
Happy Celebrating!