Are you looking for a fun activity for a rainy day or to get ready for an upcoming camping trip? You'll love this free printable camping word search.
It's the perfect way to introduce some fun educational activities to your kids and teach them some camping-related words.
My kids are 7 and 9 and they are really into word searches and fun worksheets so I decided to create this camping word search puzzle to help them learn some new words in preparation for summer camp.
If you have school-aged children, doing a themed word search is a great way to introduce them to some new camping words without it seeming like work to them.
You can make as many copies of this printable worksheet as you like making it perfect for classroom use or groups such as churches or scouts.
Just scroll down the bottom of this post to get the download link and then be ready for some fun!
This post may contain affiliate links. Please read my disclosure for more information
​MORE FUN WORD SEARCH PUZZLES
Thanksgiving Word Search Printable
Free Christmas Word Search PDF
Free Printable Camping Word Search
I love free printables and I love camping so I knew I had to make a word search game for my kids this summer.
It's one of their favorite things to do right now and a great activity for when they are bored and need something to do.
Plus, it is a super fun way to teach them some camping themed words without them realizing it!
If you want to create word search templates that you can use over and over again, you can laminate the pages and have the kids use a marker on the word search.
That way you can just wipe clean and use them for next year too!
I have this Scotch Laminator that I got on Amazon and it is a great price plus it comes with laminator sheets.
I always laminate the word games and worksheets I print now to save paper so that I can use them again and again.
It makes life so much easier plus the kids love using their markers.
How To Use The Camping Word Search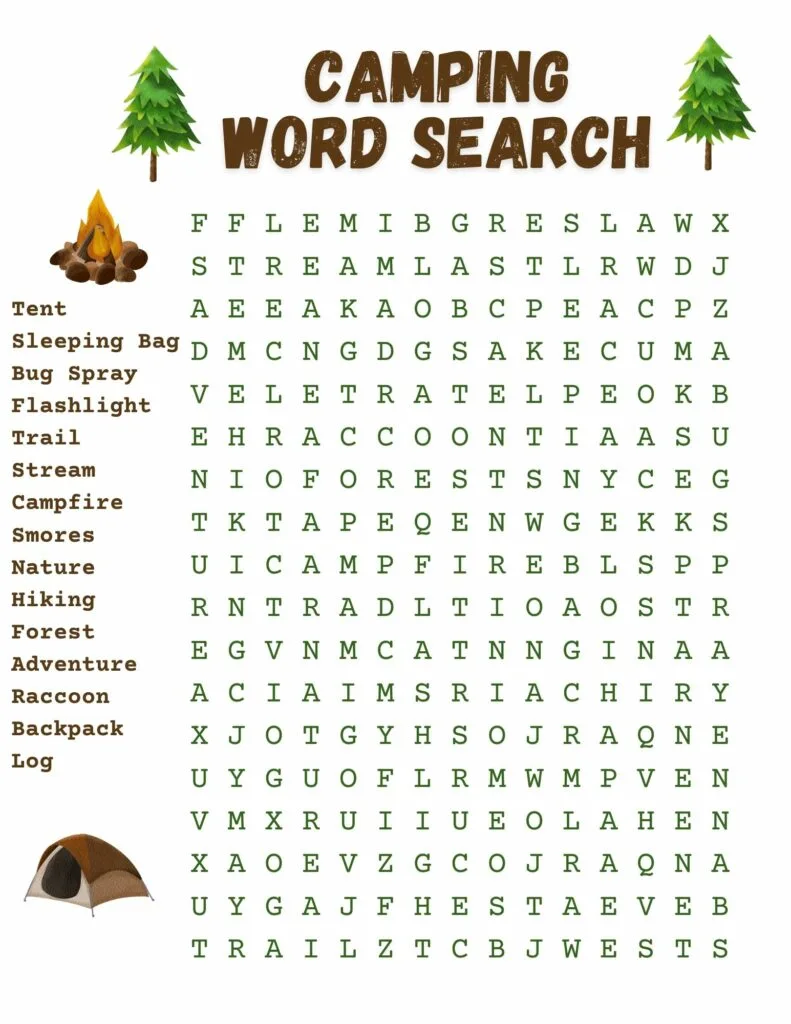 All you need to do to use this free printable worksheet is to make as many copies of the PDF download as you like.
You can then give each child a copy along with a highlighter or marker.
The words go horizontally, vertically and even diagonally.
The list of words to search is along the side.
I've included a word search answer key that you can also print off along with the printable puzzle.
This easy camping Word Search printable is perfect for kids aged 4-10 – the difficulty level is around a third or second grade reader.
How To Access The Camping Word Search PDF
This fun word search includes 15 hidden words and the answers can be found on page 2 of the PDF document.
Although many important words about camping and the outdoors will be familiar to children, there will be some new words to learn too!
Tent
Sleeping Bag
Bug Spray
Flashlight
Trail
Stream
Campfire
Smores
Nature
Hiking
Forest
Adventure
Raccoon
Backpack
Log
The Free Printable Word Search Puzzle is ready to print in PDF format on letter-sized paper.
All you need to do is:
Click on the link below to download the free printable PDF file or to save it to your desktop.
You can then print out the worksheets from your home or classroom computer.​
Terms Of Use
This is a digital product that is for personal use only.
You may make as many copies of this camping-themed printable puzzle as you like.
Commercial use is not permitted and it may not be reproduced and sold.