It's summertime and I've been trying to get my kids outside as much as possible. If you want something the whole family can enjoy, a scooter is a wonderful option and so much fun!
I recently discovered the McLaren Scooter brand and my kids have had a blast cruising round the neigbourhood everyday!
This is a sponsored post by McClaren in which I received free product in exchange for an honest review. All thoughts and opinions are 100% my own. Please read my Disclosure for more information.
What Is A McLaren Scooter?
The McLaren scooter is a foldable scooter that is perfect for kids. It's easy to fold up and take with you, and it's lightweight and durable.
The scooter has a wide base for stability, and the handlebar is adjustable to grow with your child. According to my kids, it is also stylish and looks pretty awesome.
They especially like that it has the same branding and badge as real race cars!
It's a great way for kids to get around, and it helps them stay active and healthy.
Here are my children anxiously unboxing their scooter:
Who Is McLaren?
If you know anything about cars, you are probably asking yourself, "are the scooters made by that McLaren? " Yes! These scooters are made by the same company founded by Bruce McLaren who won the Grand Prix at only 22.
After success in the car racing world, Bruce went on to design pioneering race cars and later, road cars. Now the company, McLaren Automotive, is using those engineering skills to make top quality bikes and scooters for the youngest road racers.
Do McLaren Sell Bikes As Well As Scooters?
The current product line for kids includes balance bikes and a range of scooters to suit all ages:
Balance Bike
The balance bike is suitable for ages 3+ and can help your child learn to ride a bicycle.
Scooters
There are three different scooters to choose fro, depending on how old your child is:
McLaren McS01
This scooter is for little kids who need a bit of extra help balancing. It has three wheels so is perfect for the 3+ crowd.
McLaren McS02
The first of the two wheeled scooters, the McSo2 has a max weight of 130lbs so is great for kids ages 5-tween.
McLaren McS03
If you think dad may want a go on the scooter too (and why not?) then, the McS03 is for you! This powerhouse scooter can handle riders up to 220lbs and is perfect for whizzing around on.
My children ages 6, 8 and 11 all love going on this scooter. It is easy to use and folds up perfectly.
I won't lie, I also had a go on it myself and it was so fun!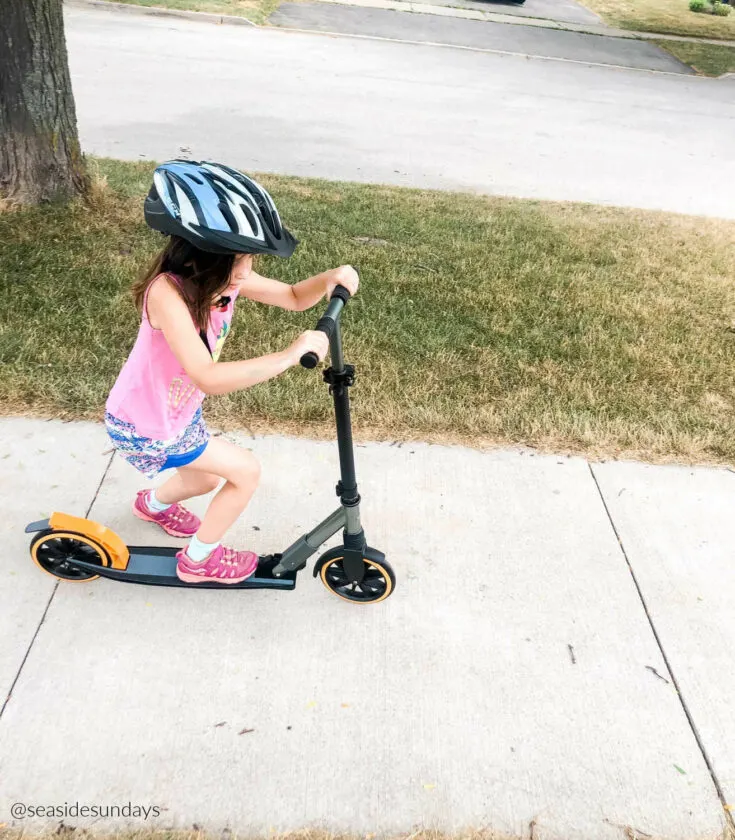 Why I Love The McLaren Scooter
The McLaren scooter is perfect for kids who want to have some fun and get around quickly but it has some great advantages for parents too:
It Takes Up Little Space
In a house with 4 kids, garage space is at a premium so one of the most attractive things about this scooter is that it folds up easily. You can even store it on a shelf when not in use.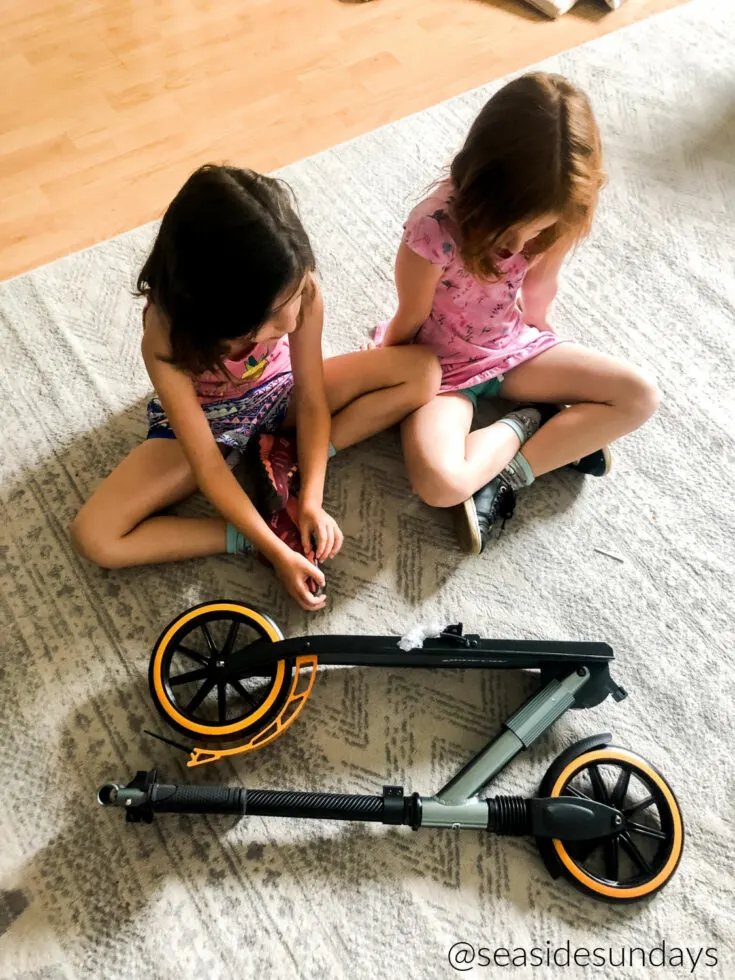 The Kick Stand
No more scooters scattered all over the driveway! The easy to use stand means the scooter can be kept upright at all times.
Easy To Transport
I drive a small car so the fact that I can fold the McLaren scooter up and put it in the trunk is a huge plus for me. It's perfect for taking to the park for a day out.
Adjustable Handlebars
You can raise or lower the handlebars as your child grows which makes is perfect for the whole family to use!
High Quality
The engineering on this scooter is top-notch as you would expect from McLaren and, while it is lightweight enough for the kids to carry, it is durable and strong.
If you are in the market for a good quality scooter for your kids that they won't outgrow quickly, I highly recommend the McLaren.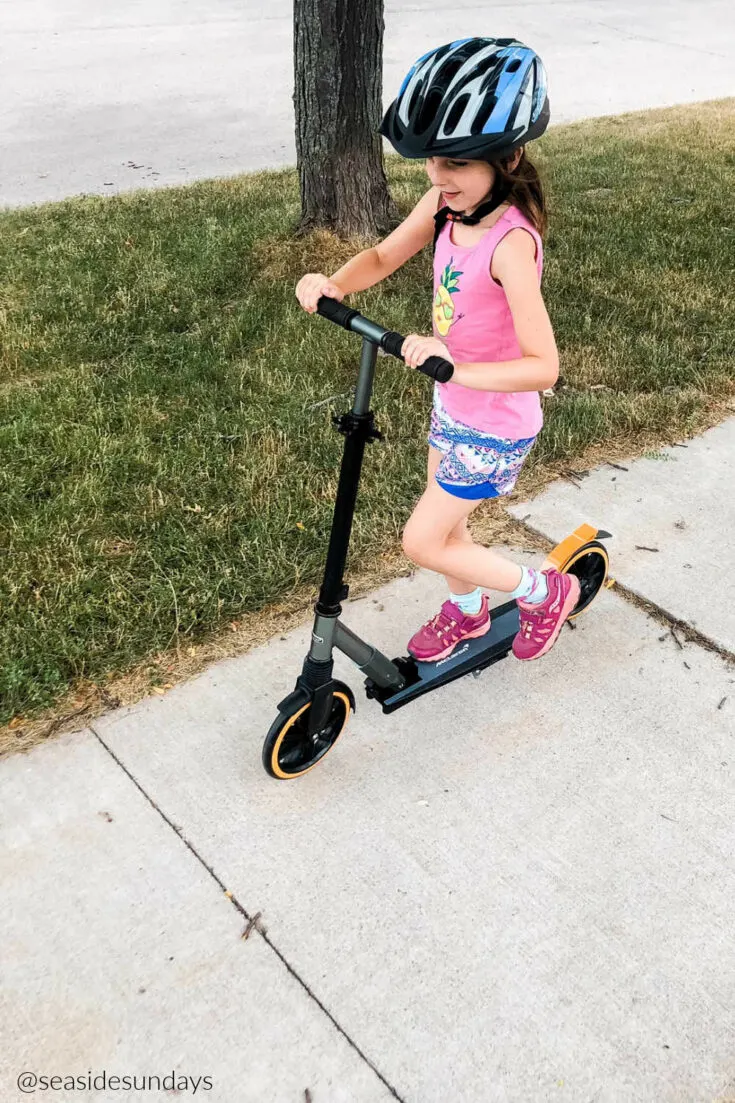 Where can I Buy McLaren Scooters?
Free shipping is available to Canada and the Contiguous United States (excluding only Hawaii and Alaska).
Disclaimer from the manufacturer: McLaren Scooters are not to be used on public road traffic paths.
It is the kid's & teen's legal guardian complete responsibility to ensure that the McLaren Scooter is used in accordance with all local and country laws. The customer accepts and assumes all risk and liability associated to the use of the McLaren Scooters.
The customer accepts full responsibility and waivers their rights to hold McLaren Scooters. or its owners from any liability caused in association, directly or indirectly with their use.