When I finally graduated from cans of icing (ahem), I tried so many different frosting recipes before settling on this one.
It is truly the tastiest, easiest and most foolproof buttercream frosting there is.
I have used it for cupcakes and large cakes, in blue and in pink, and it always comes out wonderfully.
Plus I get a ton of compliments which, let's face it, is kind of the point.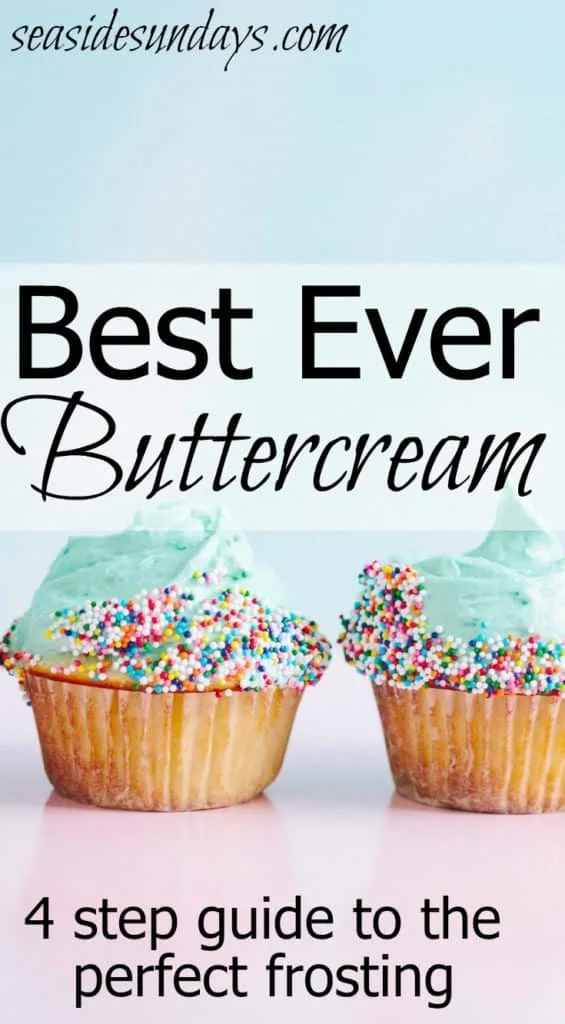 This page contains affiliate links meaning I earn a commission if you use those links. Please read my Disclosure for more information.
Ingredients
1.5 cups of salted butter.
I don't add salt into the recipe so prefer to use salted butter but unsalted would work too. I recommend leaving the butter out of the fridge for a couple of hours before using.
3 cups of icing/powder sugar, sifted
2 teaspoons of pure vanilla extract
3 tablespoons of 18% cream or milk as preferred
Food coloring to suit, I use the Wilton Gel Food Color as it is cheap and lasts forever.
Directions for Buttercream Frosting
Makes enough for 24 cupcakes or one medium sized round cake.
Using a stand or hand mixer, blend the butter on a high speed until light and fluffy.
Gradually add in the icing sugar a spoonful at a time until it is all combined with the butter. Continue whipping at a medium speed for 4-6 minutes.
Add in the vanilla, the cream and continue to beat. * I used to always use cream for this recipe but I forgot to buy it last time and substituted with, gasp, skim milk, and honestly, there was no difference. There is so much butter in this recipe anyway so don't panic if you have no cream on hand. Obviously, if you are a purist and like a really buttery buttercream frosting, then use 18% cream.
Add in your preferred coloring or leave au natural, the vanilla will darken the frosting slightly. Gel food coloring is better than the liquid kinds because it doesn't change the consistency of the icing. Beware that a little goes a long way!
You can refrigerate the frosting for up to 4 days or use immediately.