When you are trying to live frugally, one of the first money saving tips you hear is that you can save money by not eating at restaurants. It's true that one of the best ways to save money on food is to cook and eat at home.
Buying the ingredients at the store and preparing meals yourself will not only save you money, but, let's face it, sometimes life gets in the way and you want to eat at a nice restaurant.
Maybe you want to celebrate a birthday or anniversary with a special meal out or just need a break from cooking. Regardless, there is no reason you can't eat out and save money if you follow some easy tips and tricks.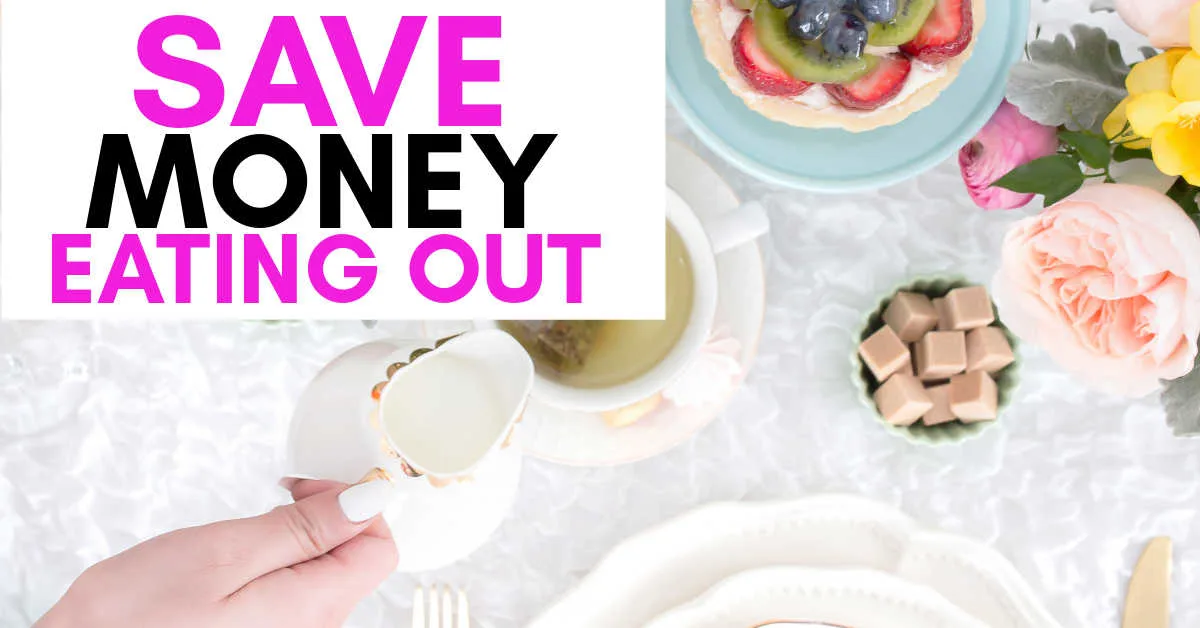 This page contains affiliate links meaning I earn a commission if you use those links. Please read my Disclosure for more information.
Let's say off the bat that the best thing for your wallet is to limit your restaurant visits and work on cutting your grocery bill. You can save a lot of money by creating a food budget and sticking to it, you can create a line item for dining out so you know exactly how much you have to spend each time.
READ NOW: 31 Clever Ways To Save Money On Groceries
16 Genius Ways To Save Money Eating Out
1. Check Groupon, Living Social, Travelzoo and Restaurant.com You can often find great deals for local restaurants and it is a good opportunity to try the new place in town. Don't forget to use Rakuten and get money back from your purchase.
2. Set some ground rules. One of the best ways to eat out on budget is to limit what you order. One idea that won't leave you feeling deprived is to "pick ONE of drinks/appetizers/desserts". That way you still get one treat but don't blow the budget.
3. Save on expensive drinks. Order water to drink at least 80% of the time. Soda is usually like $3.00 per person and it adds up quickly. Alcohol is obviously a budget-killer so save it for special occasions.
4. Order takeout. It will stop you from buying alcoholic beverages and you will save money on the tip. A 20% in restaurant tip is normally 10% for takeout, on a lower overall bill.
5. Go to BYOB places. If you do want to drink alcohol during your meal, consider picking a place that lets you bring your own in. It's one of the best ways to save money when eating out although you will have to pay a corkage fee to the restaurant.
6. Go to Happy Hour. Make a meal out of happy hour appetizers and half price drinks to save a ton on your bill.
7. Eat out for breakfast. Switch to going out for a late breakfast, it's much cheaper than going out to dinner.
8. Eat less. Skip appetizers and dessert. Or split an appetizer and an entree and you will save a a bunch and likely still have plenty to eat.
9. Eat at the bar. Many restaurants have a separate bar menu that is often cheaper than the main menu but with similar items.
10. Shop local. Small family-owned places are usually cheaper than more popular chain restaurants plus the food is more interesting.
11. Stock on gift cards. Many places have specials over the holidays where they will give you a bonus freebie when you buy a gift card. I have got free entrees and free smoothies thanks to this deal.
12. Get two meals for the price of 1. When you do eat out, bring your own to-go container and put a lunch-sized portion in it before you even start eating. That way you have a second meal for the next day.
13. Look for daily specials. You can often save big by dining on the slower days of the week where there are good deals to be had. Check restaurant websites before you head out for their deals.
14. Never pay for your kids. Almost all restaurants have a day where kids eat free and if you plan your meals properly, you should never have to pay for your kids. If you don't catch a free kids meal day, consider splitting a large entree with them instead of paying $6-9 for a smaller portion of the same thing for them.
15. Sign up for emails. Many chain restaurants send out coupons and special offers to their subscribers.
16. Become a lady (or lad) who lunches. Save money eating out for lunch rather than dinner. Portions are a tad smaller but you can save up to 40% off your bill at most places.
More money saving tips:
31 ways to save from the extremely frugal
27 Genius Ways To Save Money At Home
Tips to save thousands when buying a car