I've mentioned before that I just love hand print crafts. And this elephant handprint craft is one of my favorites.
Sometimes we make cute salt dough handprints like the ones we made for our handprint photoframes but normally we make them using canvas or card stock.
I rarely take part in the crafts myself and that is why I just love this elephant handprint craft. It is a perfect keepsake craft for Mother's or Father's Day. It's also a perfect Valentine's Day craft.
I made it with my 9-month-old but it would be great for preschoolers as well. Little babies tend to scrunch their hands up so you might want to enlist some help for a newborn.
Related: Valentine's Day Activities For Toddlers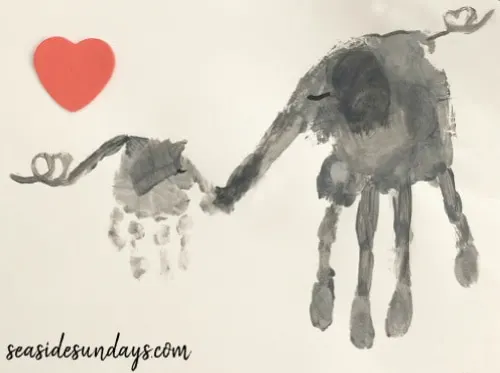 This page contains affiliate links meaning I earn a commission if you use those links. Please read my Disclosure for more information.
RELATED POSTS
51 Quotes About Loving Children (+ Free Printable Artwork)
16 Perfect Mother Daughter Day Ideas
Heart-Shaped Handprint Photo Frames
What You Need For The Craft
Gray Paint (or mix black and white) – I highly recommend using washable water-based paint.
White cardstock or Canvas Panels
Black paint
Heart sticker (optional)
A cooperative child or baby!
TIP: I recommend securing young babies in a high chair or Bumbo Seat as getting the handprint can be kind of stressful in my experience. If you have issues getting the full hand, you can always paint in any parts that are missing.
Instructions For The Elephant Handprint Craft
Cover your hand with gray paint and make a handprint on your card stock as carefully as you can.
Once your print is done, it's time to do the same with your baby.
Once you have the prints, let them dry before painting the ears and tail with a slightly darker gray. The eyes can also be painted using black paint.
I added a small heart sticker onto my canvas for decoration.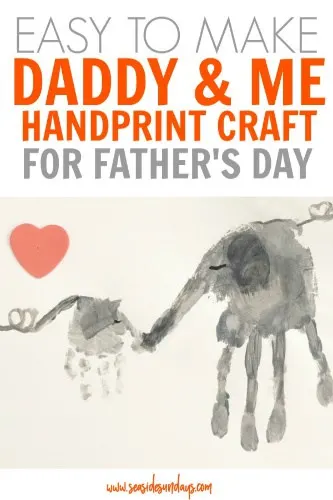 If you had fun making the elephant handprint, give the super cute Very Hungry Caterpillar footprint craft a try next!
What to read next:
15 Daddy Daughter Dates That Will Make Her Day
Hungry Caterpillar Footprint Craft
Hand and Foot Print Photo Frames
101 free things to do with your kids
Like This Post? Pin it!