If one of your New Year's resolutions is to read more with your little one, you will love these New Year books for toddlers!
Start the new year off with a bang with these fun books to read together on New Year's Day.
From a cute board book about the different ways to celebrate January 1st to Lunar New Year books, we have it all!
Read on for each of our top picks and get ready for a fun New Year!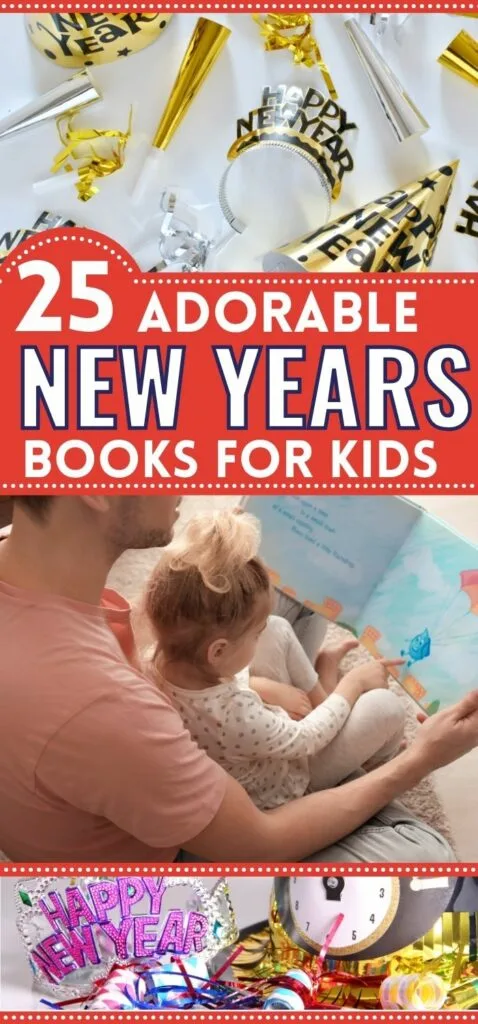 This post may contain affiliate links. Please read my disclosure for more information
MORE GREAT BOOK IDEAS
The Ultimate List Of Books About Germs For Kids
8 Top Books About Food For Kids
New Year Books For Toddlers
If you have a young child, you probably aren't staying up until midnight to ring in the New Year but that doesn't mean you can't celebrate with a few of your favorite books.
In fact, reading a fun story is the perfect way to introduce your child to new traditions and educate them on different cultures.
You'll love these fun Happy New books for young readers!
Teach your child about the Lunar New Year Celebrations with this sweet book.
The story introduces the animals of the Chinese zodiac animals in a fun way and also tells a simplified version of a classic legend.
If you are interested in teaching your child a little about Chinese culture in a fun way, this is a fantastic book for toddlers.
This rhyming book is so fun to read and perfect for sharing other cultural traditions from around the world.
In the story, a little boy, Rafa, learns all about a New Year tradition from his own country – Spain.
I loved how the author wove Spanish words into the dialogue, making it fun to read and learn at the same time.
I read some of these books at the beginning of the school year (The Night Before the First Day of Kindergarten, etc.) so I know these are great books for young children.
This was such a sweet story that the whole family will enjoy.
It celebrates the magic of the holidays and spending time with family. Plus, it introduces lots of Chinese New Year traditions.
In the story, a little girl, Ren, gets into the spirit of the holiday and loves to help where she can.
She wants to help make delicious food but is she big enough this year?
This is a really cute book about the various Chinese New Year activities.
It's simple and the colorful illustrations are really cute, but it's not one of those baby books with only one short sentence per page.
It is one of my favorite Chinese New Year books as it explains the holiday's origins and the concept of the Chinese zodiac in a fun and simple way for kids.
It also shows the fun ways Asian culture prepares for the spring festival as well as the important traditions and symbols of the festival such as luck and prosperity.
This book touches on the New Year's traditions of several cultures including Scotland and the USA South.
It also promotes acceptance and diversity and is a great way to open up and talk about different traditions and countries with your little one.
Join cat as he celebrates New Year with the other cats!
The simple rhyming language and engaging pictures make this book a lovely way to explain one way people look at a new year arriving and what might await them
This is one of the best Lunar New Year children's books – it features all the fun elements of the celebration – fireworks and lion dancers, shining paper lanterns, and a great, long dragon parade to help bring in the Lunar New Year.
Grace Lin's artwork is bright and the fold-out dragon parade is sure to delight young readers.
If you have a toddler, then you are likely familiar with the wonderful Karen Katz books.
Always bright and colorful, they are perfect for little kids.
This book introduces Chinese New Year celebrations including traditions such as red envelopes and dragons in a fun, easy-to understand way.
This is a beautiful book set around Colombian New Year traditions.
It is perfect for any kid who loves the movie Encanto which is also set in Columbia.
It's a delightful blend of Colombian culture, traditions, and Spanish words that add a special touch to the story.
It would be the perfect holiday gift
I love this book about Korean Lunar New Year, called Seollal.
It highlights Korean traditions such as games, customs, food, items, and outfits which are different from the Chinese traditions in some cases.
I love how it covers taking pride in your family's heritage as well as learning from shared cultural experience