Are you looking for some easy Christmas bazaar ideas to take your event from meh to merry?
'Tis the season to be jolly, and what better way to spread the joy than by hosting a delightful holiday bazaar?
If you're in charge of planning this year's winter wonderland fundraiser, you're in for a sleigh ride of creativity and festive fun.
Whether you're an experienced bazaar organizer or stepping into the merry world of event planning for the first time, this blog post is your ultimate guide to success.
We've got not one, not two, but a whopping 40 incredible ideas to make your Christmas bazaar the talk of the town.
From twinkling lights to tantalizing treats and enchanting activities, get ready to unwrap a sleigh-load of inspiration that will have your attendees fa-la-la-ing all the way to your event.
Let's dive into this magical list of ideas that'll make sure your Christmas bazaar is a success!
This post may contain affiliate links. Please read my disclosure for more information
MORE HOLIDAY FUN FOR KIDS
12 Days of Christmas Activities For Kids (Free printable)
30 Festive Free Printable Christmas Bingo Cards
The Best Christmas Bazaar Ideas
If you're looking to sprinkle some holiday magic into your school or church's fundraising efforts, there's no better way than hosting a Christmas bazaar.
I'm here to help you throw the most spectacular Yuletide extravaganza your school has ever seen.
Celebrate the season with these fun and festive Christmas bazaar ideas for fundraising and making the season merry.
1. Santa's Workshop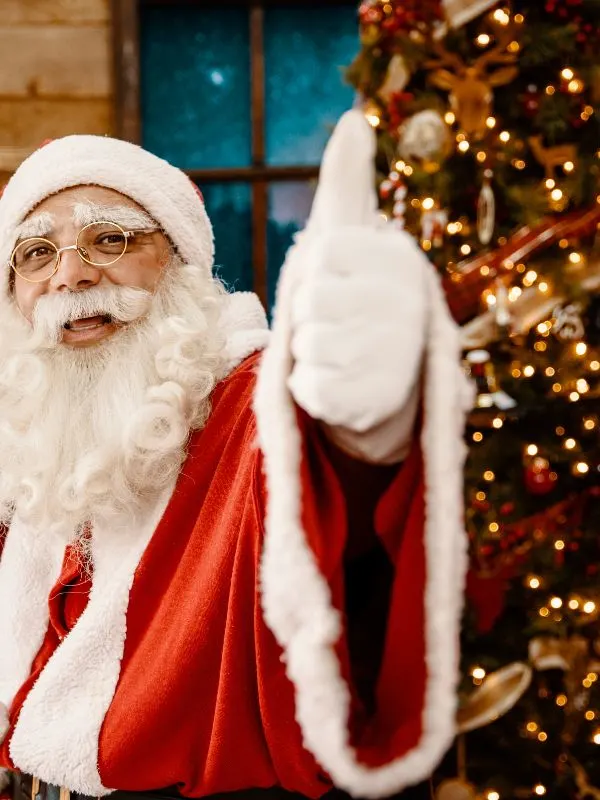 Transform a corner of your bazaar into Santa's very own workshop!
Set up a cozy space with a Santa chair, festive decorations, and a skilled volunteer (or a hired Santa) ready to listen to kids' wishes.
Charge a small fee for photos with Santa or create a photo package that includes printed pictures and digital copies for parents.
It's a heartwarming tradition that adds a magical touch to your event.
2. Holiday Market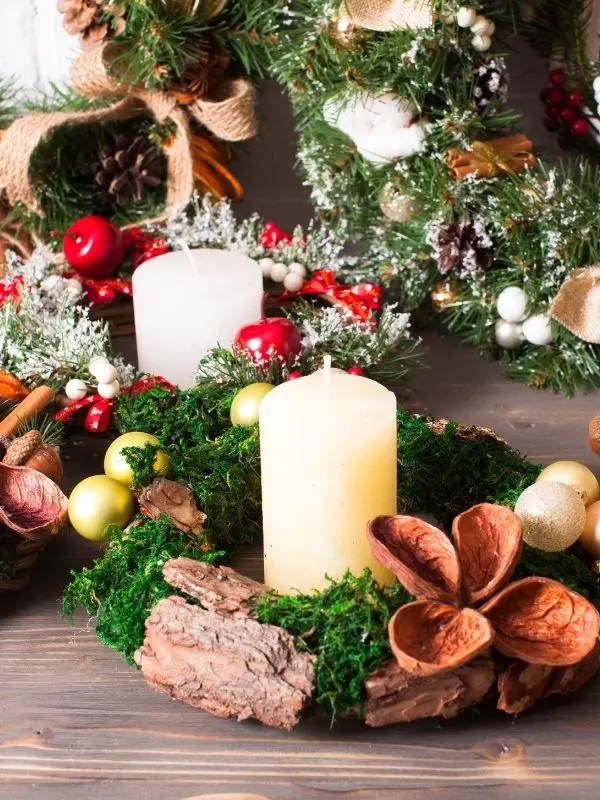 Encourage local artisans, crafters, and small businesses to participate in your bazaar.
Provide booth space for them to sell their handmade and holiday-themed goods.
From hand-knitted scarves to unique ornaments and homemade fudge, your holiday market will be a shopper's paradise.
Don't forget to ask vendors for a small percentage of their sales to contribute to your fundraiser.
3. Carolers and Live Music
Nothing gets folks into the holiday spirit like some live music.
Having a backdrop of holiday music is one of those Christmas bazaar ideas that is often overlooked but it is really a gamechanger.
Invite local school bands or choirs to perform classic carols and holiday tunes.
You could also hire a local acoustic band or a solo musician to create a festive atmosphere.
4. Bake Sale
A Christmas bazaar wouldn't be complete without a bake sale.
Encourage parents and volunteers to whip up their favorite holiday treats.
From gingerbread cookies to mince pies and candy canes, there's no such thing as too many sweets during the holidays.
Package goodies in festive containers for easy gifting.
5. Kids' Crafts Corner
Set up a designated crafting area for the little ones.
Provide all the supplies needed for making ornaments, holiday cards, and other festive crafts.
Charge a small fee per craft or offer a flat-rate ticket for unlimited crafting.
It's a win-win for both kids and parents.
6. Ugly Sweater Contest
Get everyone involved in the holiday spirit by hosting an ugly sweater contest.
Encourage attendees to don their most creative and gaudy holiday sweaters.
Set up a photo booth for people to show off their sweaters and award prizes for the best (or worst) creations.
7. Winter Wonderland Photo Booth
Create a winter wonderland-themed photo booth with a festive backdrop, props, and costumes.
Make sure you have an instant printer to provide attendees with memorable keepsakes.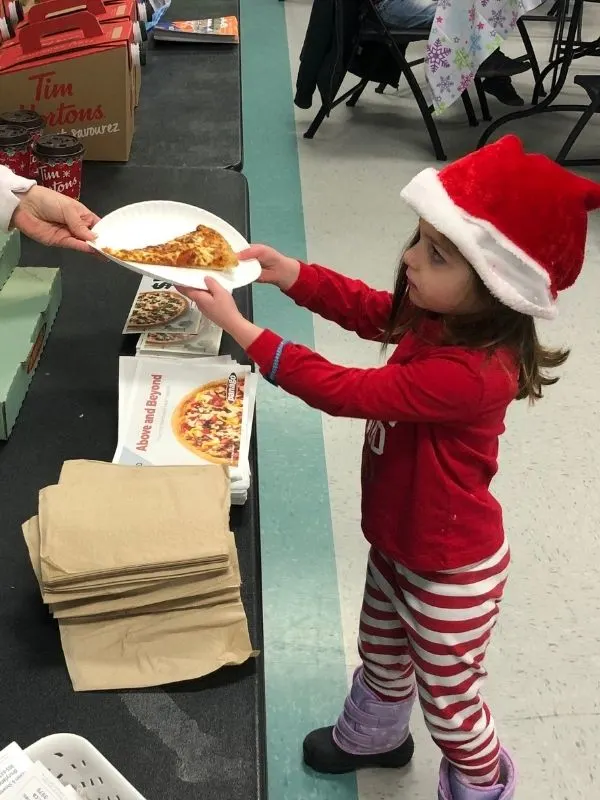 8. Raffle Extravaganza
Round up some fantastic prizes like gift baskets, gift certificates, and holiday-themed goodies.
Sell raffle tickets throughout the event and announce the winners toward the end.
It's a fantastic way to boost your fundraising efforts and add some excitement to the bazaar.
9. Hot Chocolate and Snack Bar
Set up a hot chocolate and snack bar with a variety of toppings and treats.
Offer warm drinks to keep attendees cozy and satisfied.
Consider including a donation jar near the hot chocolate station to encourage additional contributions.
10. Christmas Tree Sale
Partner with a local tree farm to sell Christmas trees and wreaths at your bazaar.
People can purchase their holiday centerpiece while supporting your fundraiser.
Make sure to have a variety of tree sizes and types available.
11. Scavenger Hunt
If you are looking for fun and easy Christmas fair activities for the kids during your school event, how about a fun Christmas scavenger hunt?
All you need is a list of holiday-related items or clues hidden throughout your event space.
Participants can work individually or in teams to find all the items or solve the clues.
You can use my free printable list of Christmas-themed items.
Simply print out copies, provide everyone with pencils and let them go to town hunting on the grounds for treasures.
12. Christmas-inspired Arts and Crafts
Let the creative juices flow with a variety of fall-themed arts and crafts activities.
Set up stations for creating scarecrow masks, or making cute turkey trivets for Thanksgiving.
Kids will love showcasing their artistic talents and take home cherished mementos from the festival.
13. Holiday Storytelling Sessions
Invite a local storyteller or teacher to share classic holiday stories with kids and families.
Arrange cozy seating with blankets and pillows, and make it a magical storytelling experience
14. Christmas Cookie Contest
Nothing says the holidays like some delicious Christmas cookies.
Fun competitions like this one are the mainstay of small town festivals and provide a homey way of celebrating at your holiday bazaar.
Encourage people to bring a batch of their best cookies to the bazaar and select a panel of lucky judges.
Be ready with some extra napkins and a prize for the best ones.
15. Plum Pudding Throwing Competition
Organize some fun holiday themed games that everyone can enjoy.
For example, you could have a plum pudding or fruitcake throwing contest with prizes for the furthest throw.
All you need for this Christmas bazaar activity are some little puddings and a space to throw them.
Make sure to grab a measuring tape too!
16. Snowball Toss Game
Create a snowball toss game using white bean bags as snowballs and a snowman-themed target.
Players can take turns tossing snowballs at the target to win prizes like small toys or holiday-themed trinkets.
17. Candy Cane Fishing
Set up a fishing booth with candy canes as "fish."
Attach a paperclip to each candy cane and provide magnetic fishing rods.
Participants can "fish" for candy canes, and each candy cane can be exchanged for a treat or prize.
18. Gingerbread House Decorating
Offer gingerbread house or gingerbread men decorating stations where kids and families can create their edible masterpieces.
Provide gingerbread pieces, icing, candy decorations, and plenty of frosting.
19. Holiday Bingo
Organize a holiday-themed bingo game with festive prizes for the winners.
You can download my free Christmas bingo cards featuring holiday images to make it easy to play this game.
It's a great way to engage people of all ages.
20. Christmas Trivia
Host a Christmas trivia contest with questions about holiday traditions, movies, and music.
Participants can form teams or compete individually for fun prizes or bragging rights.
21. Pin the Nose on Rudolph
A holiday twist on a classic game!
Create a large poster of Rudolph the Red-Nosed Reindeer without his nose.
Blindfolded participants take turns trying to pin his shiny red nose in the right spot.
22. Santa's Sack Surprise
When I ran the kid's table at our local bazaar, this was always a huge hit!
Fill a big sack with small wrapped presents or stocking stuffers.
For a small fee, kids can reach into Santa's sack and pull out a surprise gift.
It's a delightful game that's sure to bring smiles.
23. Santa's Reindeer Petting Zoo
Okay, maybe not real reindeer, but you can set up a petting zoo with friendly animals like miniature ponies, goats, or even fluffy bunnies.
24. Wreath-Making Workshop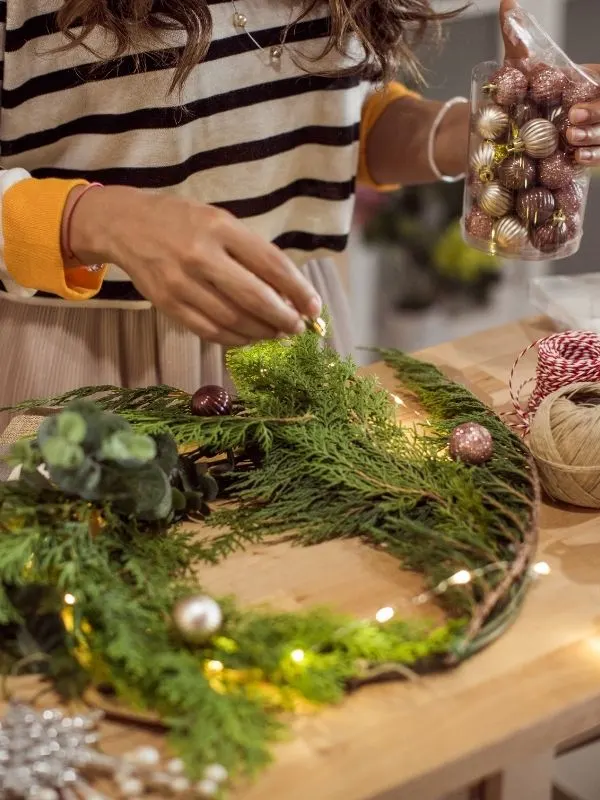 Host a wreath-making workshop with supplies like wreath forms, greenery, ornaments, and ribbons.
Provide guidance from volunteers or local florists for a fee, and attendees can create their festive wreaths to take home.
25. Candy Cane Hunt
This is a really fun event that everyone will enjoy.
To play, hide candy canes around your event space, both indoors and outdoors if possible.
Provide participants with a list of clues or riddles to solve, leading them to the hidden candy canes.
Offer small prizes for those who find them all or finish first.
26. Face Painting Station
Transform kids' faces into magical masterpieces with holiday-themed face painting.
From cute candy canes to Santa's hat, kids will love getting their faces adorned with vibrant colors and playful designs.
You can ask older kids to volunteer at this station, it's easy if you keep the designs simple!
27. The Spirit of the Season
Organize a mitten drive to coincide with your Christmas bazaar.
Encourage attendees to bring gloves or mittens to donate to a local charity.
A way to make it extra fun is to have an undecorated Christmas tree in the lobby so that people can hang their mitts there.
It doubles as a fun decoration too!
28. Granny's Attic
This is one of the most popular Christmas bazaar ideas and is sure to be a huge hit with your visitors.
A Granny's attic or Bric-a-brac is basically a sale with all the kinds of treasures you might find in, well, your grandmother's house.
Teacups, vintage costume jewelry and other treasures are all really popular ideas.
29. Pinecone Painting
One of the most simple Christmas bazaar ideas is to let the kids paint or decorate pinecones.
Pinecones are completely free and found everywhere, making this a low-cost craft.
I recommend baking the pinecones in the oven or putting them in a deep freeze for a few days to kill any bugs.
If you don't want to deal with the mess of the paint or glitter, you can put tubs of stickers and gems out for them to use instead.
28. Winter Carnival Parade
Another fun idea is to plan a winter parade through the festival.
You can invite students or volunteers to decorate wagons or strollers to make parade "floats".
You will be amazed at the creativity and fun ideas people come up with!
31. Playdough Station
If you are looking for holiday bazaars activities for younger kids, how about setting up some tables with homemade gingerbread playdough?
You can put out bins of cookie cutters, plastic forks and knives and other Christmas accessories such as candy canes or holiday sprinkles.
32. Christmas Cake Walk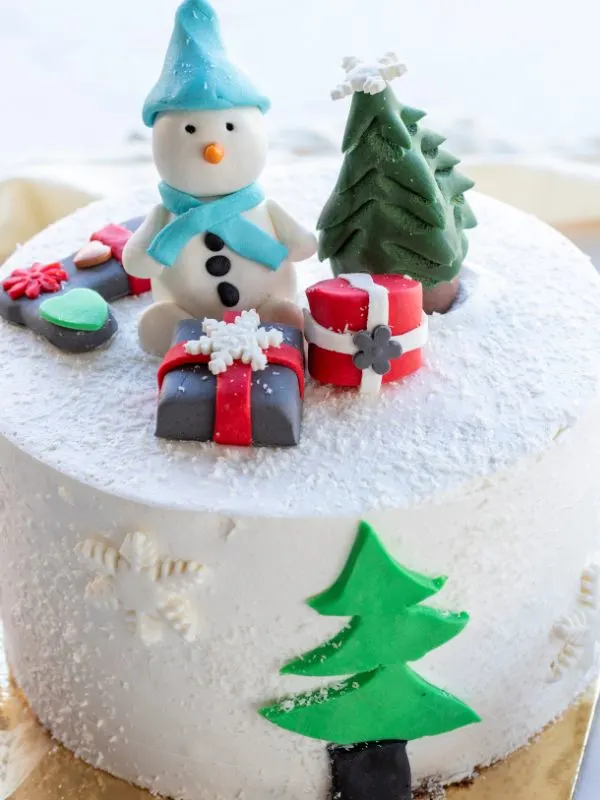 Cake walks are a staple activity at many fundraisers but for this occasion, you want to add a fun holiday twist!
Here's how to set this game up:
First you will need an assortment of Christmas cakes. Display them on a table.
Next, using red or green construction paper, cut out circles to act as stepping stones for your walkers.
Add numbers to each circle then lay them out on a circle on the floor.
How to play:
Put pieces of paper with the numbers you have written on the cirles in a Santa hat.
Play some holiday music as your participants walk around on the stepping stones.
When the music stops, pick a number out of the hat.
The person standing on the corresponding circle wins the cake of their choice!
33. Reindeer Ring Toss
Craft a DIY reindeer antler hat, and use it as a target for a ring toss game.
Provide rings or wreaths for players to toss onto the antlers.
Award points or small prizes for successful tosses.
34. Letters to Santa
Create a charming "Letters to Santa" station with writing materials for kids to compose their Christmas wish lists.
You can download some free printable letter to Santa templates here.
Provide envelopes and a special mailbox for collecting the letters, and let parents take home a keepsake copy.
35. Snow Globe Craft
Host a snow globe-making workshop where attendees can create their own personalized snow globes.
Provide empty glass jars, miniature holiday figurines, glitter, and glycerin.
Kids and adults alike will love crafting their winter wonderlands.
Need some inspiration?
Check out these fun DIY Snow Globe crafts
36. Gingerbread Man Race
Organize a gingerbread man race where participants decorate cardboard gingerbread cutouts and then race them down a track.
Use a timer to record each gingerbread man's "run time," and award prizes to the fastest contenders.
37. Ornament-Making Workshop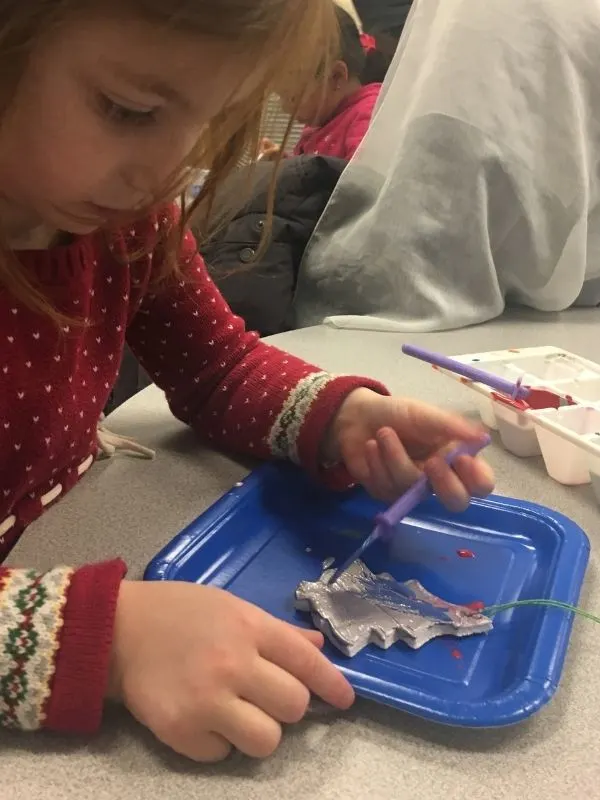 Set up a crafting area with supplies for making custom ornaments.
Provide plain ornaments, paint, markers, and other decorating materials.
Attendees can create one-of-a-kind keepsakes to hang on their trees.
38. Make Reindeer Food
You can either sell reindeer food already made or make a craft station out of it!
All you need are some oats and glitter.
You can then mix them up and put them in a bag tied with a red rubbon.
39. Santa's Store
Can you have a private room where they can choose and wrap a present for their parents?
Some parents do't get presents from their children so this normally goes down really well and the kids love shopping for their loved ones.
You don't need to go crazy, buy things from the dollar store and then charge a little bit more to cover the cost of wrapping.
40. The Jar Game
This is a fun game to play at Christmas bazaars and it is always a hit.
To set it up, you need to gather lots of mason jars and fill them all with different things.
Some ideas could be:
Jelly beans
Fidget toys
Cookie mix
Christmas candies
Pot Pourri
Cookies or brownies
Mini hand soaps and lotions
Nuts or trail mix
Once all your jars are filled, grab some raffle tickets as put one on each lid.
Put the other halves of the tickets into a box or Santa sack.
To play, participants pay a fee of a few dollars and then pick a number out of the hat.
They then have to search for the jar that has the corresponding nunber.
The jar and its contents are theirs to keep!
Christmas Bazaar Ideas: Final Thoughts
These festive games and activities are sure to keep everyone entertained and engaged at your Christmas bazaar.
Whether it's a friendly competition, a creative crafting session, or a heartwarming story, these additions will make your event even more magical.
So, get ready to spread the holiday cheer and create memories that will last a lifetime!