Christmas is for kids. At least that's how the saying goes and while everyone can enjoy the magic of the holidays, these Christmas quotes for children are sure to make you feel merry and bright.
Christmas time is all about giving, but it's also fun to receive.
Children get excited about getting presents under the tree.
While you're busy trying to figure out what toys your children might like, don't forget that part of Christmas is spending quality time with them!
Here are some cute Christmas quotes for kids that will put a smile on their face and remind them how special they are during this holiday season!
Keep reading for answers to that burning question "what can I write in a child's Christmas card?" and to discover some cute children's Christmas quotes.
MORE FUN FOR KIDS
DIY Christmas Photoshoot Ideas
100+ Christmas Quotes For Children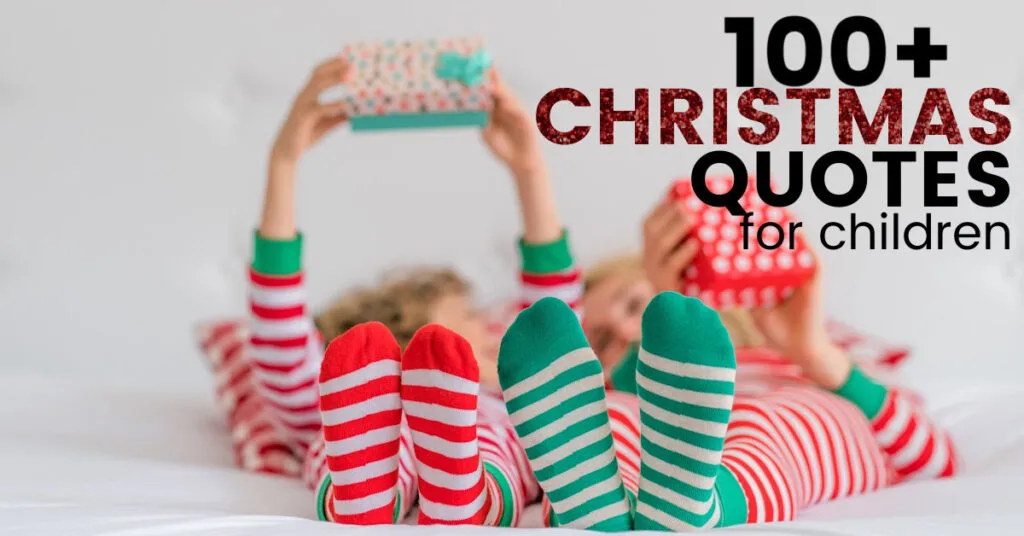 A hug is the perfect Christmas gift, one size fits all
It's not what's under the tree that matters, it's who's around it
May you never be too grown up to search the skies on Christmas eve
Santa checks his list twice
This Christmas, be on the lookout for the miracles all around you.
At Christmas play and make good cheer, For Christmas comes but once a year.- Thomas Tusser
My favorite color is Christmas lights.
Christmas waves a magic wand over this world, and behold, everything is softer and more beautiful. -Norman Vincent Peale
It's not what's under the tree that counts—it's who's around it.
Christmas magic is silent.
You don't hear it—you feel it, you know it, you believe it.—Kevin Alan Milne
Don't spoil Christmas Day by anticipating how it will be. Let is unfold as it does, and be grateful for whatever comes.—Toni Sorenson
Meaningful Children's Christmas Quotes
Christmas is not about opening presents, it's about opening our hearts -Janice Maeditere
We're all like snowflakes, all different in our own beautiful way.
Christmas is about doing a little something extra for someone.
It is Christmas in the heart that puts Christmas in the air.—William Thomas Ellis
Christmas magic is silent and you don't hear it – You feel it.Christmas, my child, is love in action.
Every time we love, every time we give, it's Christmas – Dale Evans
The gift of Christmas is a special reminder that we are loved.
Just because you can't see something, doesn't mean it doesn't exist. (The Santa Clause)
If "Ifs and buts" were candy and nuts, wouldn't it be a merry Christmas – Don Meredith
I realized that Christmas is the time to be with the people you love. (Love Actually)
As long as there's Christmas, I truly believe that hope is the greatest of the gifts we receive. Beauty and the Beast: The Enchanted Christmas
Christmas isn't a season, it's a feeling -Edna Ferber
There's a certain magic that comes with the very first snow. For when the first snow is also a Christmas snow, well, something wonderful is bound to happen. (Frosty the Snowman)
The thing about Christmas is that it almost doesn't matter what mood you're in, or what kind of year you've had–it's a fresh start.–Kelly Clarkson
Christmas, children, is not a date. It is a state of mind.—Mary Ellen Chase
The best of all gifts around any Christmas tree: the presence of a happy family all wrapped up in each other.—Bill Vaughan
Short Christmas Quotes For Children
Seeing isn't believing. Believing is seeing. (from The Santa Clause)
Son of a Nutcracker! (Elf)
Some people are worth melting for (Frozen)
Every time a bell rings an angel gets his wings. (It's a Wonderful Life)
Christmas is a stocking stuffed with sugary goodness – Mo Rocca
We should try to hold on to the Christmas spirit, not just one day a year, but all 365.—Mary Martin
Cheer up, dude. It's Christmas. (The Grinch)
Maybe Christmas… perhaps… means a little bit more. (The Grinch)
Not a creature was stirring, not even a mouse. (Night Before Christmas)
Christmas isn't just a day. It's a frame of mind. (Miracle on 34th Street)
This is Christmas. The season of perpetual hope. (Home Alone)
A toy is never truly happy until it is loved by a child. (Rudolph The Red Nosed Reindeer)
Christmas is doing a little something extra for someone. – Charles M. Schulz
Remember, if Christmas isn't found in your heart, you won't find it under a tree.—Charlotte Carpenter Christmas
Quotes For Children's Cards
Holiday wishes made with gingerbread hugs and peppermint kisses.
You're my favorite Christmas gift
Your presence is my present!
I love you snow much.
Candy cane kisses and Christmas wishes!
It's the most wonderful time of the year!
Have a holly jolly ChristmasI ho-ho-hope you have a great Christmas!
While Jack frost is nipping at your nose – I hope your holiday season glows!
Have yourself a merry little Christmas
All I want for Christmas is you!
You make it feel like Christmas!
Let's rock around the Christmas Tree and have a merry time!
Can't wait to deck the halls with you!
The weather outside is frightful but I hope your Christmas is delightful
There's snow place like home for the holidays!
Recipe for a perfect Christmas – Gingerbread, peppermint and you!
You're definitely on Santa's "nice" list
I hope this Christmas is your most magical one ever!
Best Christmas Quotes From Movies