Nowadays it seems that the Christmas photo card is an inevitable part of the holiday madness. I love receiving cards from family and friends and checking out their cute kids each year and of course, I like showing off mine too!
I love getting professional photos taken every year but I've been DIYing my holiday cards the past few years so that I can take advantage of the offers of free photo cards and coupons that typically come around in October and November.
This page contains affiliate links meaning I earn a commission if you use those links. I only recommend brands I use and trust.
Every year I search the web for ideas for photos I can take with the kids that will be great for our cards and calendars.
Thanks to my DIY method, I not only save a lot of money but also the stress of loading the kids up in the car, dealing with the inevitable meltdowns and crankiness plus the stress of them not cooperating (it can't only be my children who see a camera and automatically become monsters who won't look at the lens).
Before we dive into the inspiration, here are my 5 top tips for getting the best DIY photos with your babies and toddlers:
6 Tips for Taking Photos of Your Kids
Timing is everything. I tend to do my photos either first thing in the morning or right after nap time when they are energized and happy. Tired children mean stressful photo sessions.
Prep everything in advance. Be ready to just dress them and plop them down as soon as you can. You don't want to be faffing around with backdrops once they are in position
Grab a bell or noise-maker to get their attention so that they look at the camera. Shouting "look, there's Elsa!" seems to work for us too!
Keep it simple. Don't be overambitious and try numerous outfit changes or fancy props.
Be quick. Get ready to snap, snap, snap. Out of 100 photos, I normally get 5-10 that I can use/they are smiling/looking at the camera.
Photoshop is your friend. Remember that you can edit a lot nowadays. I use PicMonkey as it is easy to use (no fancy skills needed) and very cheap.
RELATED POSTS
Free Letter To Santa Printable Templates
10 Ways To Make Baby's First Christmas Special
Christmas Photo Ideas for Kids
Be sure you click the links below each image to check out the photographer or blogger that shared the ideas – there are often tutorials and more great inspirational images.
Santa's Elf
One of my own photos, cute PJs, a white curtain with twinkly lights and a fluffy blanket is all you need for this cute photo. I added some Christmas baubles to keep her occupied while I snapped away.
Up on the rooftop
This wonderful DIY chimney prop from pagingfunmoms.com. is simple and cheap to make.
Candy Cane Lane
A white blanket, candy canes, and striped pajamas are all you need to recreate this Christmas photo.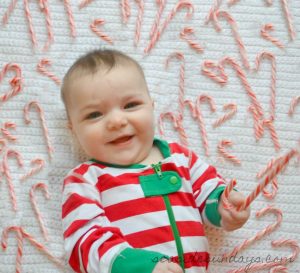 The Best Christmas Present
Wrap an empty box with holiday paper and you have the most adorable gift this year!
Cookies for Santa
Milk, cookies and holiday pjs make an easy and super cute Christmas photo.
Inspiration from: Rebecca-LynnePhotography.com
Christmas Flurries
Make a simple photo magic with special snow effects that can be done on most photo-editing software. I love the special effects on Picmonkey.
 Simple and Sweet
A Santa hat and a candy cane are all you need for a super sweet photo. You can add background effects like bokeh twinkly lights afterward.
Inspiration: Joliemoorephotography.com


Snowy Sweden
You can buy cheap photography backdrops online and create your own scene. Amazon have some great inexpensive options
like the one I used below.
Sparkling Lights
Use fairy lights to light up a dark room and add a Santa Hat for some festive cheer.
Inspiration: Purpplemoments.com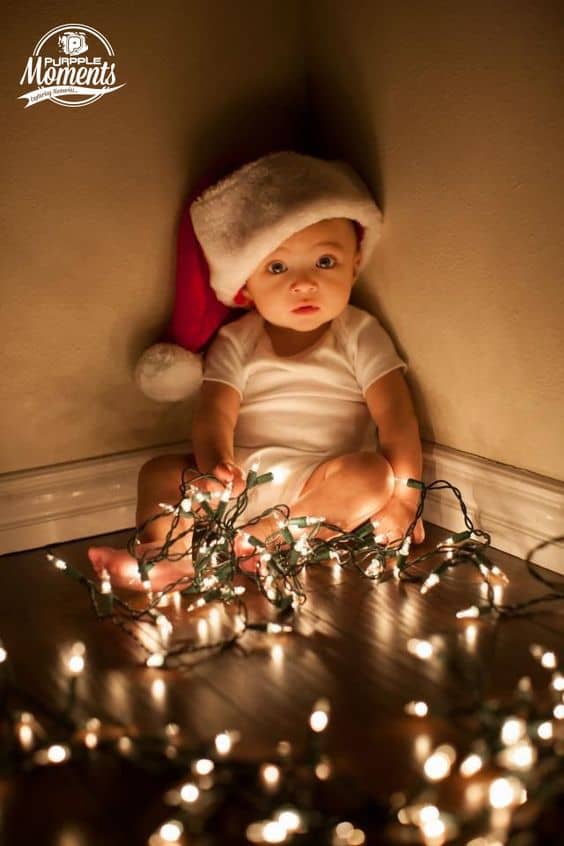 T'was the night before Christmas
The pjs in bed scene is super easy to recreate and looks so cute!
More Christmas Ideas:
12 Easy Ways to Save on Holiday Shopping
50 Stocking Stuffers that will cut down on junk and save money
Free Printable Scavenger Hunt for Kids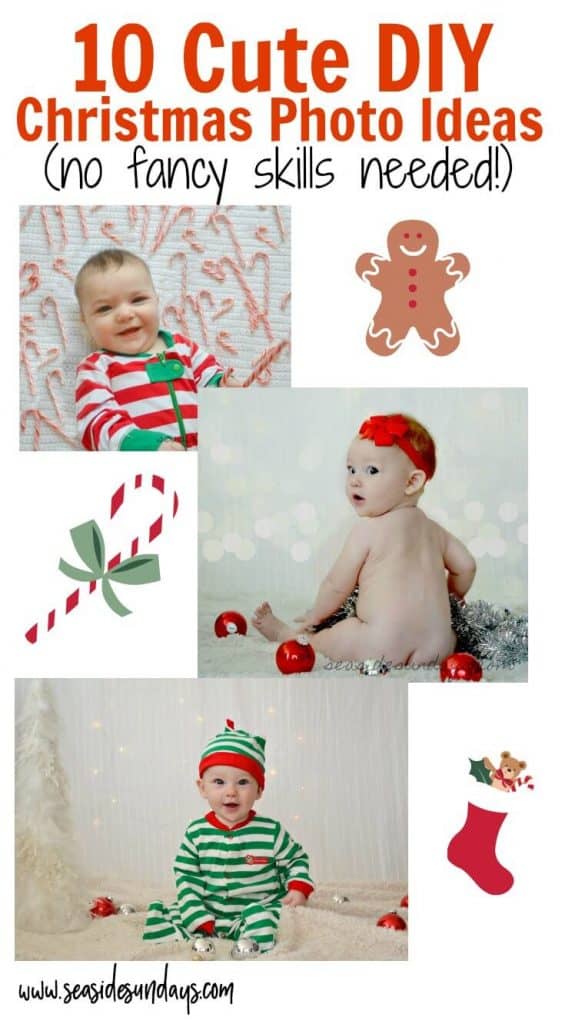 Start A Blog That Makes Money
Ready to start a blog and make money from home?
In this FREE 5 day email course, I will show you the exact steps I took to take my mom blog from $0 to a consistent $2000 a month within 4 months.