Congratulations on becoming a grandparent! If you are looking for first grandchild announcement ideas, you will love the inspiration below.
We've gathered the best proud grandparents announcement ideas in one place. Its such an exciting time and of course, you want to share it with all your friends and family!
Whether you are looking for super cute ideas for announcing a grandchild on Facebook or you want to send greeting cards, we have lots of fun options.
Keep reading to check out the best:
First time Grandma announcement ideas
First time Grandpa gift ideas
Grandparent announcement poem ideas
Tips For Announcing your grandchild on Facebook
Proud Grandparents announcement quotes
I am going to give you some great ideas on how to announce the birth of your grandchild in an exciting way! Let's get started!
This post may contain affiliate links. Please read my Disclosure for more information.
MORE PREGNANCY ANNOUNCEMENT IDEAS
How do you announce your first grandchild?
Your first grandchild is such an exciting milestone in a parent's life.
Being a grandma or grandpa brings so much joy into our lives. When we find out that it is time to become a grandparent ourselves, we want to shout it from the rooftops.
(by the way, if you are a mom or dad to be and want to surprise your parents with a pregnancy announcement gift – here are 26 Pregnancy Announcement Gifts For Grandparents. )
So how should you announce your first grandchild to the World?
You have a few options. First, you can let everyone know on social media or you can send out traditional birth announcement cards.
You can also buy some fun home decor so that all your friends and family know that you have a new member of the family!
The only thing to remember is not to usurp your child when it comes to announcing your first grandchild. Remember it is their news and they want to be the ones to share it with the World first!
If you need some inspiration, at the bottom of this psot are some captions you can use on Instagram or Facebook.
And here is a classic formal birth announcement on Facebook by none other than Laura Bush:
Tips For Announcing Your Grandchild On Facebook
If you want to announce your grandchild on Facebook or Instagram after the birth, you can simply upload a cute picture and then add a sweet caption to let everyone know about your bundle of joy.
When making a Facebook announcement, always include as much information about your baby's birth and any other details that would go into classic announcements.
The wording on this type of post can be less formal than what you may use when writing traditional ones!
Remember to include all the important information in your caption including:
Baby's name
Weight and length
Time and day of birth
Any other cute information such as "he has grandpa's eyes!
If you want to announce your grandchild on Facebook before they are born, then you can use one of the fun ideas below as a photo prop.
Dos and Don'ts for announcing your grandchild on Facebook
Do include lots of relevant information and photos of baby
Don't get personal about mom's birth experience – its not your story to share
Do check with the parents first before posting on social media
Don't preempt the parents with the announcement. I know I already said it once but I'm telling you again because it is so important.
The internet is filled with stories of enraged women who were beaten to the punch by well-meaning and exciting grandparents making an announcement, like my friend Natalie in Toronto:
"It happened to me somewhat indirectly by my mother last time. I had called her from the hospital and she posted on Facebook "Congratulations" on my timeline before I had posted anything.
So people obviously clued in right away to what that was about.
So I quickly put up an announcement before things got out of control but I was a little annoyed that I had to rush to do it and that it sort of ruined the surprise factor of my announcement."
Now the lecture is over, let's look at some of the best ways to announce your first grandchild.
10 First Time Grandma Announcement Ideas
Congratulations! You're expecting your first grandchild.
Here are some fun ways to let everyone know that you are a grandma for the first time.
First time grandmothers will be able to celebrate the development of their new family member with something unique and fun for them all.
This cute baby bodysuit makes a great first grandchild announcement because you can style it like the photo and post it on Facebook or Instagram.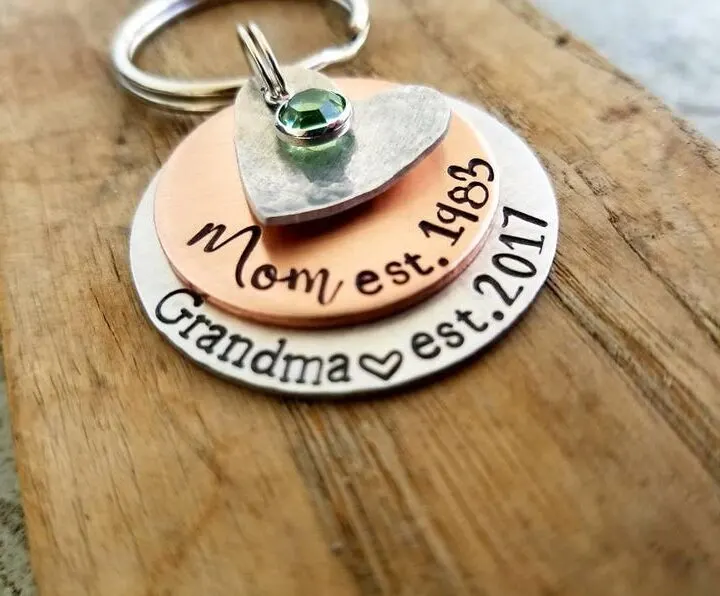 This keychain is such an excellent way to commemorate you or your mother becoming a grandmother. The nice thing is, you can take it with you everywhere you go!
This is a great gift idea for parents who are about to become grandparents for the first time.
Honestly though, imagine if you want to announce your first grandchild to your friends and you show up at someone's house with these on.
Putting your feet up on the couch and waiting for them to notice would be so hilarious.
This is something that every grandparent should have – aA heartfelt gift for any parent or grandparent, a thoughtful memory book.
Fill it with memories of your childhood, adolescence, family history, untold stories and much more and present it to your first grandchild when they are older.
This cute ceramic ornament is perfect for announcing your first grandchild at Christmas. It comes with a free gift box so it makes a great gift for a first-time grandparent too.
This cute keychain is one of my favorite first grandchild announcement ideas. Its so sweet and something to treasure forever.
This is such cute mug and a great way to announce a new Grandma to be. You can personalize it with dates and words (in case you don't want to be called grandma).
This cute sign is perfect for putting up in the house and then using as a photo prop for your first grandchild announcement on social media.
Do you wish you had a simple way to preserve all of the important things you wish to say to your soon-to-be-born grandchild?
This has plenty of room to record your words of wisdom, advice and life lessons.
Choose your wording and the year and you can use this ornament as your first grandchild announcement or as a cake topper for a fun in person pregnancy or birth announcement.
First time Grandpa Gift Ideas
Now we have some really fun ways to tell the world that you are a first time grandpa! These also make great pregnancy announcement gifts for grandpas too!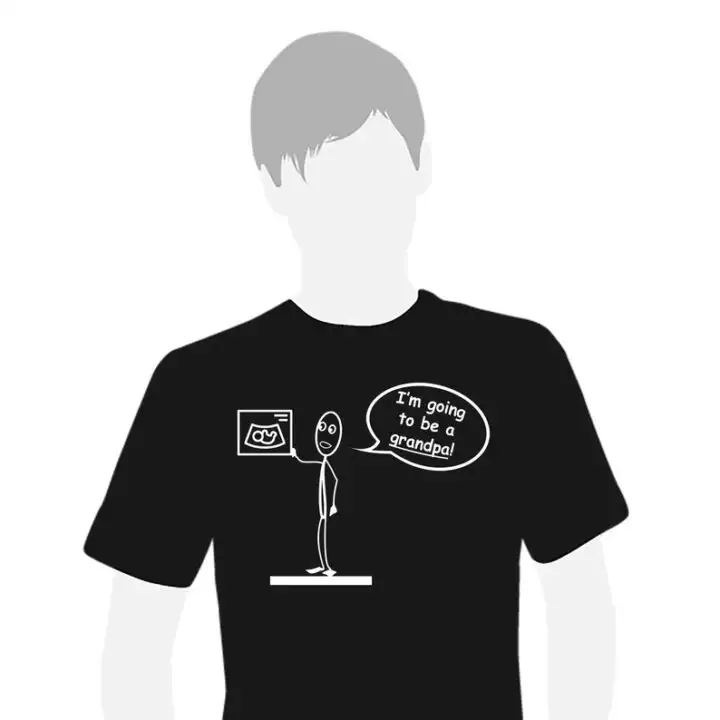 If you are looking for funny grandparent announcement ideas, then check this one out!
Becoming a grandpa is an exciting feeling, that is until you realize that now means you're married to a grandma…(on the back it says "oh man, that must mean I'm married to grandma".
This is a great shirt for those grandparents with a good sense of humour.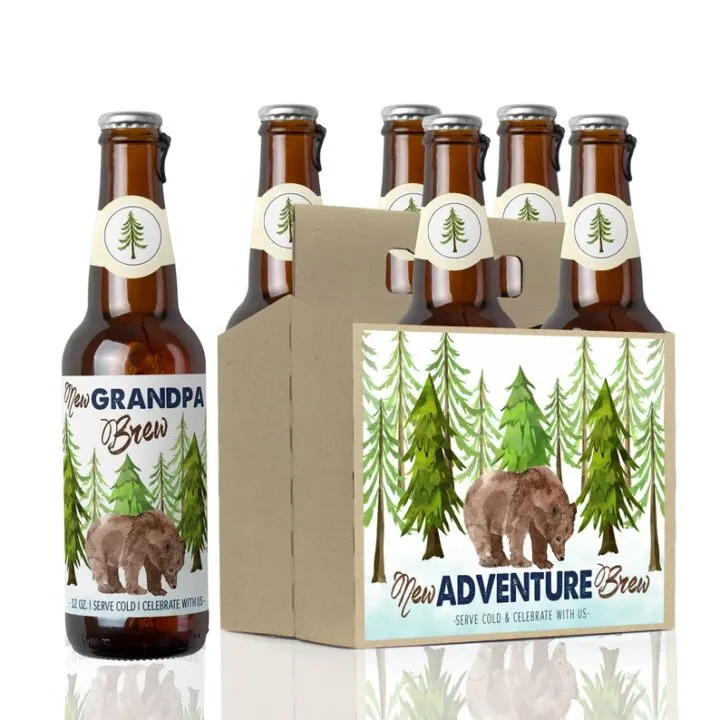 Here is the perfect photo op if you love these kinds of first grandchild announcement ideas.
Just take a picture while you chill out with a cold brew with one of these labels.
All you have to do is upload it to social media and you have an awesome and unique grandchild announcement!
If you're a retired grandpa-to-be and want to let the world know that you have a new job, this t-shirt is perfect!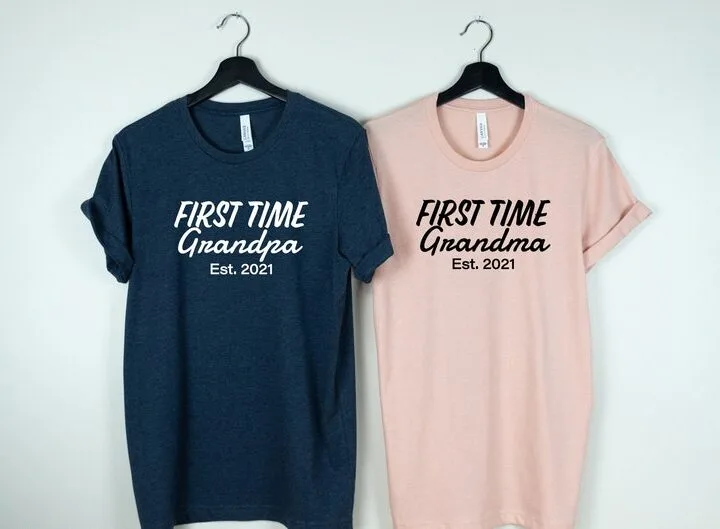 This is a great gift idea for parents who are about to become grandparents for the first time.
It would also make a really great first grandchild announcement for both grandma and grandpa to wear together.
Should you send a Birth announcement from Grandparents?
You can definitely send a birth announcement either online or in a formal card to family and friends.
If you have special contacts that you would like to share the news with, you can definitely send a birth announcement card like this one: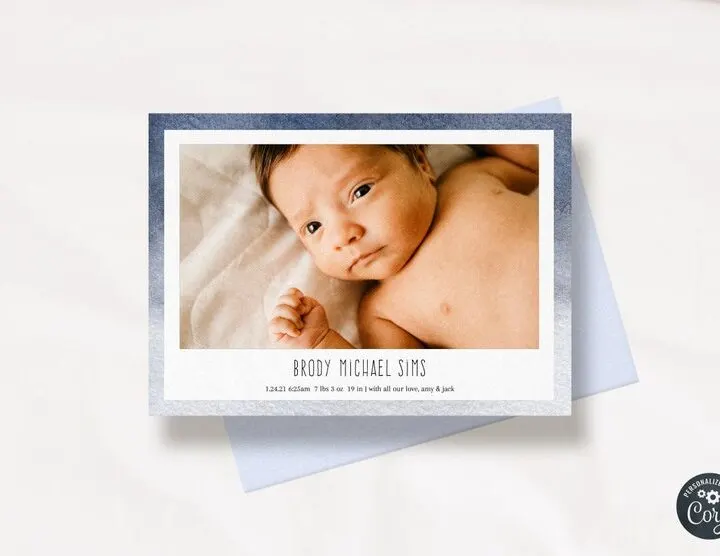 20 Proud Grandparents Announcement Quotes
If you are ready for your fun Facebook announcement, here are some great caption ideas you can use:
The sun shines brighter today as we welcomes our beautiful new granddaughter into our life.
Ain't life grand! We became grandparents today
Introducing – our first grandchild!
Looking forward to spoil this little one!
Please help us welcome our little bundle of joy
What happens at grandmas stays at grandmas! Introducing our first little one
Say Hello! As we joyfully welcome our first granddaughter to the family
This pretty little thing is born, finally.
We're tickled pink to have a new granddaughter!
Look who dropped in! Please share our joy at the arrival of our grandson
Life just got busy! Our grandchild is here
The latest addition in a long line of beautiful women.
"Behold, children are a gift of the lord…" Psalm 127:3 We've been blessed with our first grandchild
Lo and behold, the future is here. My grandson.
Our dynasty is in the hands of this little guy. Welcome grandson.
Sugar and spice and all things nice, that's our granddaughter
Grand means majestic and magnificent, and in this case this truly is a grand-son.
Grandma and grandpa are ready to report for duty! Our grandson has arrived.
Now the kids have made their official social media announcement, grandma can introduce her new grandchild!
My big announcement! She's here! My beautiful granddaughter was born today
Final Thoughts On First Grandchild Announcement Ideas
Announcing the arrival of your first grandchild is a big deal and one that should be celebrated.
Everyone is always excited for the birth of a new baby and no one more than the doting grandparents who can't wait to spoilt the little sweetheart.
If you are looking for fun ways to share your news with the rest of the World, you can go traditional with a formal card or you can do a fun and modern Facebook or Instagram post.
The World is your oyster when it comes to making a grandparent announcement that reflects you and your family.
Want more fun pregnancy announcement ideas?
26 Pregnancy Announcement Gifts For Grandparents
23 Magical Disney Baby Announcements
60 Christmas Pregnancy Announcement Ideas