Looking for the cutest Christmas pregnancy announcement ideas?
If you're pregnant and looking for the perfect way to announce your pregnancy this Christmas, then you've come to the right place.
We have gathered some of our favorite ideas that are sure to make your family's holiday memorable!
Christmas is such a fun time to tell everyone you are pregnant because there are so many creative pregnancy announcement ideas that you can do! It's almost hard to pick which one.
I was lucky enough to have a pregnancy that was perfect for a Christmas announcement and I did a fun photo that I shared on social media.
Scroll down to see my idea and to get lots more that are sure to have you excited for your big reveal.
This post may contain affiliate links. Please read my Affiliate Disclosure for more information.
MORE FUN PREGNANCY ANNOUNCEMENT IDEAS
The Best Christmas Pregnancy Announcements
Christmas is the best time to announce a pregnancy. Don't believe us? Here are ten reasons why:
It's the perfect time to share your happy news with friends and family!
You can share with a Christmas card or holiday letter if friends and family are near
There are s many creative pregnancy announcement ideas for this time of year
Everyone is feeling joyful and a pregnancy announcement is the cherry on top of the season
There's no need to feel guilt if you over indulge on Christmas cookies – you're eating for two!
You can scout the stores for cute Christmas baby outfits for next year
Your baby will be born in the first month of summer vacation
The weather outside is frightful (you'll have plenty of great excuses not to leave the house).
You can take advantage of all those cozy sweaters that people love giving as gifts during this time of year.
It's a great time to take maternity photos in the snow!
The best thing is that next year you will be able to take cute Christmas card photos of your baby- here are 15 Creative Christmas Photo Ideas You Can Do At Home with your baby.
60 Festive Christmas Pregnancy Ideas
Below you will find some fun and festive ways to announce your pregnancy this holiday season. From virtual announcements to DIY photo ideas, we've got you covered.
Plus at the bottom of the page we have 50 Christmas pregnancy announcement quotes you can use as Instagram captions or in your Christmas card.
Read on for the details.
Fun Christmas Pregnancy Announcement Ideas
If you want to take your Christmas pregnancy announcement to the next level, check out the fun ideas and props below. They are sure to wow and surprise family and friends!
20 Christmas Pregnancy Photo Ideas
If you want to save money and DIY your Christmas pregnancy announcement, there are lots of fun photo ideas to try. You can take the photo with your phone then use the free Lightroom app to edit it if you need.
This is a great option if you want to do a Christmas card pregnancy announcement or are looking for something fun to post on Instagram.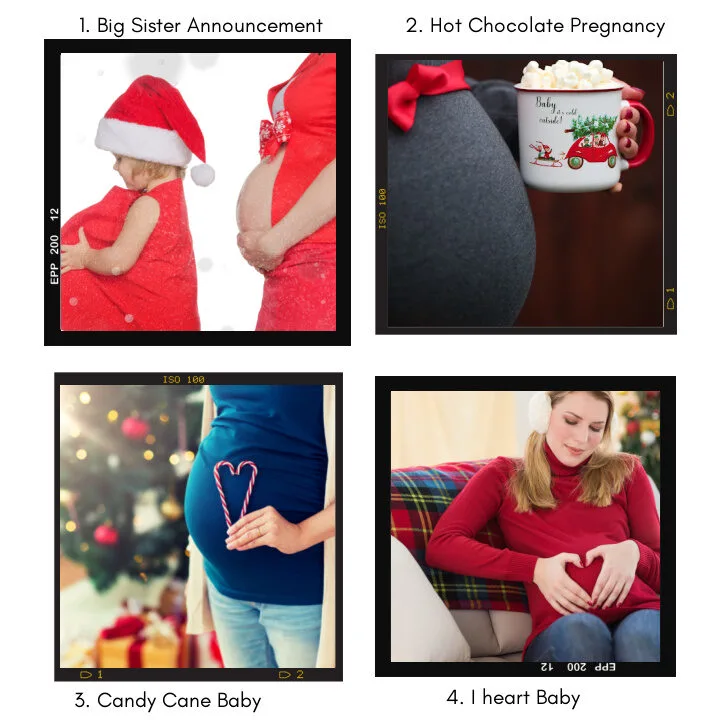 1.Big Sister
If this is your second pregnancy get baby involved with this cute Santa themed photo! By the way, make sure to check out our list of 19 Gifts For An Older Sibling When Baby Is Born if you want to put something special under the tree.
2. Hot Chocolate Pregnancy
This pregnancy announcement idea is so simple but yet cute. It would make a fantastic Christmas card announcement. Just make a steaming cup of hot cocoa and load it up with whipped cream. Then take a close up shot with your pregnant belly.
This announcement would also go well with one of the 11 Sweet Donut Pregnancy Announcement Ideas we have.
3. Candy Cane Baby
This is a great Christmas pregnancy announcement photo if you are on a budget. All you need are two candy canes and a nice Christmas background.
4. I Heart Baby
An even simpler version that doesn't even require the candy canes. Put on some festive garb and use your hands to make a heart shape and get someone to snap away.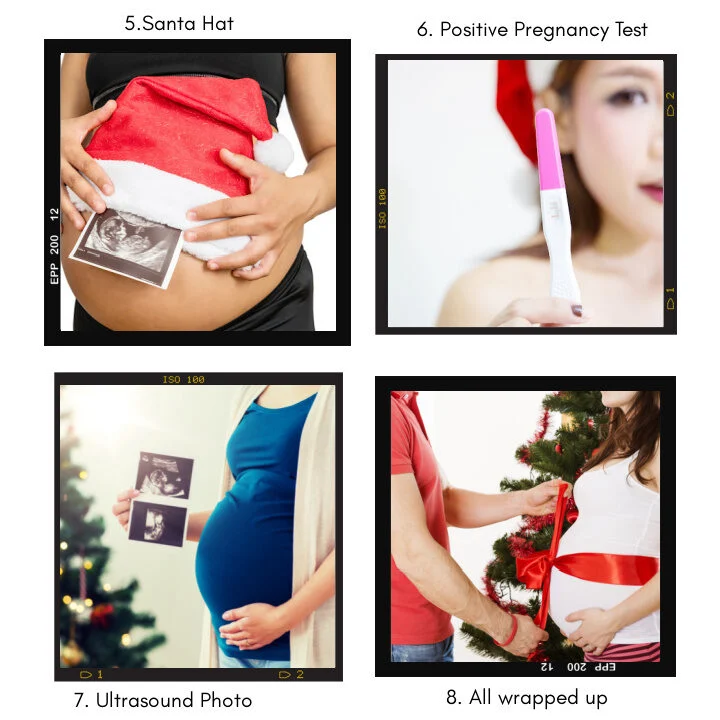 5. Santa Hat
A lot of people like to show their sonogram photo in their pregnancy announcement. This photo is a cute way to show it off and tell everyone you are pregnancy in a festive way!
6. Positive Pregnancy Test
Keep it simple and let you positive test tell everyone the news. This is a super easy photo you can set up on your phone.
7. Ultrasound Photo
Here is another option for showing off your sonogram picture – simply put it on your belly and stand in front of a Christmas tree!
8. All Wrapped Up
The most fun Christmas pregnancy announcement ideas make it a family affair. Get your partner involved by letting him wrap your belly up like a Christmas gift.
9. Sibling Love
Here is another perfect sibling pregnancy announcement – dress up your little one in a Christmas outfit and have them give your belly a big ole hug.
10. Baby Shoes
Using baby shoes in a pregnancy announcement is a classic way to tell everyone that you are expecting.
Put a festive spin on it by sitting by the tree and unwrapping the shoes as though you just received them as a gift.
11.The Gift Of A Baby
Every baby is a gift and this easy Christmas pregnancy announcement photo is the perfect way to share the big news.
12. Simple Present
Keep it simple with a wrapped gift and a photo looking down on your stomach.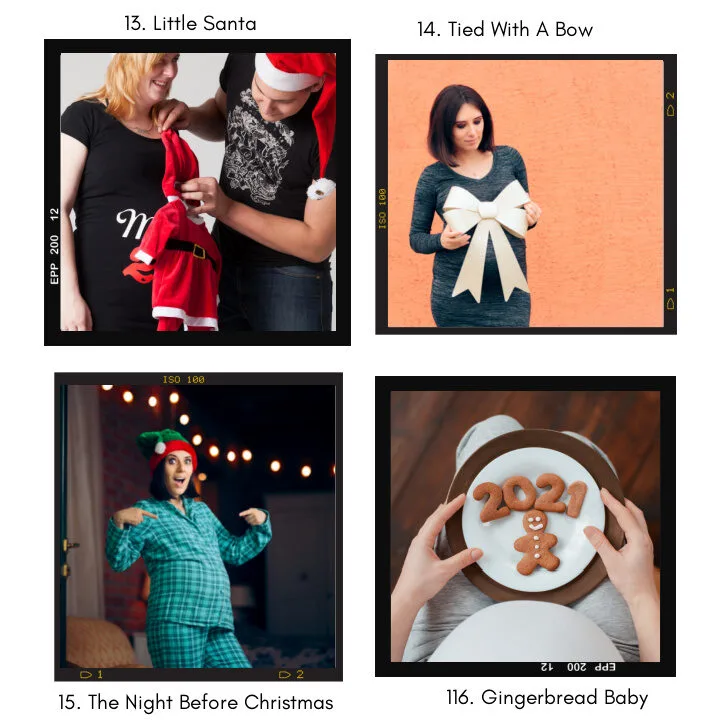 13. Santa Baby
Grab a little Santa outfit for baby (you can use it next Christmas) and take a fun photo announcing your news.
14. Tied With A Bow
This is one of the easiest Christmas pregnancy announcement ideas on this list.
Get one of those huge bows that people put on their houses and take a photo with it in front of your belly.
15. The Night Before Christmas
What is more festive than a pair of Christmas jammies? You can easily take this photo yourself and it is perfect for sharing on Facebook or Instagram.
16. Gingerbread Baby
How cute is this pregnancy announcement? Grab yourself some number cookie cutters and get baking for this fun photo idea. Want more pregnancy reveals like this one? Check out our 31 Sweet Cookie Pregnancy Announcement Ideas.
17. Couple Love
This is a really simple way to announce your pregnancy. Just take a photo in from of your tree and make sure your belly is showing!
18. By The Fire
Want to include your ultrasound picture in your announcement? Here is a nice way to get all cozy and Christmassy.
19. Santa's Cookie
Here is another photo idea involving the number cookie cutters.
20. Don't Tell Santa
If you are looking for a fun sibling photo that would work for 1 or more older children, try this cute idea.
20 Christmas Pregnancy Announcement Quotes
Now you have chosen some a fun photo idea for your big surprise, you might be wondering "how do you caption a pregnancy announcement?'
Luckily for you, I have 20 festive Christmas pregnancy announcement quotes that you can use on social media or in your holiday card.
If you want to get extra fancy, why not make a fun Christmas chalkboard sign and take a photo with it?
Trading silent nights for a bundle of joy
Coming home for Christmas!
Baby, it's cold outside!
The Best present ever, expected June 2023
Our family is growing by two feet and a heartbeat
Santa isn't the only one coming to town this Christmas
The more the merrier
We're expecting another present under the tree
Santa's little helper arriving November 2023
The best Christmas gift won't be under the tree this year
Sorry, our present is on back order. Baby Jones coming June 2023
We're expecting our own little present
Your Christmas gift is on layaway until July 2023
The best gifts come in small packages
There's something extra in our stockings this year
Our little present is due to be unwrapped May 2023
We've been naughty. Baby Smith arriving this spring
The Spirit of Christmas is in the air, and we have some exciting news to share
Our hearts are full, Christmas will be sweet, Our family is going by one heart and two feet!
Hoping all your wishes come true this year. Ours did.
More Fun Christmas Ideas
The Best Baby's First Christmas Ornament
10 Ways To Make Baby's First Christmas Special
20 Baby Stocking Stuffers For A Special Christmas