Deciding what to put in a guys stocking for Christmas is sometimes tricky.
The ideal stocking stuffer for men is something they want or need and that they don't already have.
That sounds easy said that done but this list of 70 great stocking stuffer ideas for men will make it easy.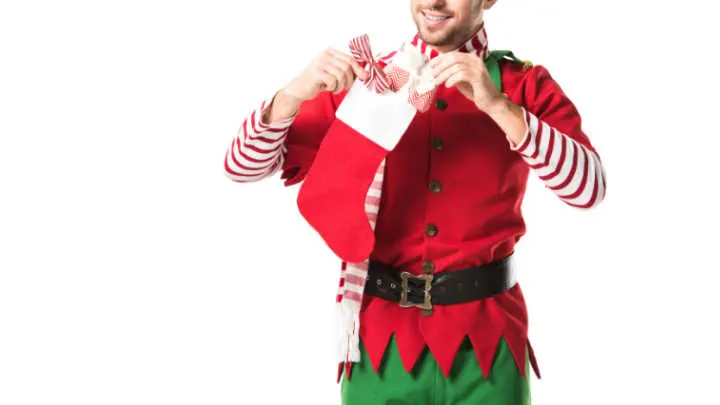 This post contains affiliate links. Please read my Disclosure for more information.
What To Put In A Guys Stocking For Christmas
I find it so easy to fill my daughter's stockings to the brim, and I could fill my own a million times over but men are so hard to buy for.
If you are looking for some awesome stocking stuffers for men, look no further than the list below which is packed with unique gifts that your boyfriend, husband or son will just love.
Best of all, all these stocking stuffers for men are available on Amazon so you don't need to risk going to the stores or braving the crowds this holiday season.
Last Minute Stocking Stuffer?
You can buy all of the stocking stuffers for men below and still get them in time for Christmas!
Try Amazon Prime 30-Day Free Trial
and get your items with free shipping two days, some the same day.
And if you don't think it's worth keeping for $10.99 a month after that (or $99 a year), just cancel within 30 days.
70+ Best Christmas Stocking Stuffers For Men:
Deodorant – boring but useful!
Chocolate (the Taza Mexican Chocolate sampler is the perfect stocking stuffer)
Wallet or money clips/holder for credit cards
How about some really fun cocktail bombs? Just drop them in and watch them turn into a cocktail.
Phone holder that clips to the car vents (perfect for using apps like Waze).
Hair pomade or beard oil if he has facial hair
Swiss army knife ( a pocket knife is a classic stocking stuffer but always a hit)!
Fun Socks (I love these Barbecue themed socks which are a great idea if your guy is a grill master!)
Sunglasses
New Band for his Apple Watch
Lottery Scratch-offs
Miniature bottles of alcohol
Travel Mug (this is an Amazon Bestseller)
Magnetic Tool Bracelet – all the drill bits, screws and nails will be within reach.
Mini flashlight (a solar light is an awesome stocking stuffer)
A balaclava face mask
Hand sanitizer
Tire Gauge
Hot sauces (This keychain with a mini jar of Tabasco is awesome)
Coffee beans
Bottle of interesting craft beer – a cold beer is the ultimate men's stocking stuffer!
Restaurant Gift Card
Boxers
His favorite cologne
A Year of Dates (read more at Friday We're in Love)
Candle – How about this Whiskey and Tobacco scented one?
Gloves
Book
Magazine subscription
Razors
Belt
His favorite candy
Car wash coupons
Body wash (apparently this is the sexiest body wash ever for me – please report back)
Peanuts
Toothbrush (this one is perfect for a Star Wars fan)
New Phone Case
Bottle opener (this army guy bottle opener makes a great gag gift – check it out, its hilarious)
Winter hat
Mini Lego Kit like this Captain America set.
A deck of cards
Shot Glass (this BenShot glass with a REAL bullet in the side is insane!)
Cigars
Pen (doesn't have to be as fancy as this one from Mont Blanc)
Stainless Steel Water Bottle
Fishing Lure (I love this fun set of super cute lures)
Barware like these wine stoppers in rose gold.
Lip balm (I love this manly lip balm in Bourbon vanilla flavor)
A fun treat like this bestselling bacon brittle.
Beef Jerky – one of the classic stocking stuffers for me
Shaving Cream
Mini Nerf Gun (they are the perfect size for a stocking stuffer).
Guitar Picks in different colors
USB Flash Drive (you can never have enough USB thumb drives)
Candy Canes
Amazon Fire TV Stick (this is one of those holiday gifts that the whole family can enjoy!)
How to choose the best stocking stuffers for men
The list above is packed with easy stocking stuffers for men.
If you need some extra help with what to put in a guys stocking for Christmas day- here are some tips:
When I'm looking for the perfect stuffer for my guys stocking, I consider the following criteria:
It mustn't take up much space
When it comes to filling those stockings, I look for little gifts that would be a big hit.
Price
Although I love high quality small items, lots of the best stocking stuffer ideas come from the dollar store.
Cheap stocking stuffers like hot chocolate packets and silly gag gifts are some of the most fun things to open on Christmas morning.
How To Find the Best Men's stocking stuffers
Whether you are shopping for your husband or looking for gifts for teenage boys, it can help to divide your shopping into a few categories:
Practical Stocking Stuffer Ideas
These are often the best stocking stuffers.
Think items that can be used on road trips or a practical gift like a portable charger.
A lot of guys don't buy much for themselves and Christmas is the perfect time of year to stock him up with essentials.
Filling a family member's stocking is a great way to give them a little help with things they might need.
Useful items can go beyond the typical toothbrush and be kind of fun too – an LED flashlight is a good example.
Thoughtful Gifts
Another thing I always try to do is choose some small gifts that bring back childhood memories or remind him of a fun event we attended.
Go old school with retro candy or even a photo keychain are good ideas.
Unique Gift Ideas
I always try and find something special for my man's stocking.
Sometimes it is a handmade item from Etsy or a ticket to an event we have been wanting to attend.
More Christmas Gift Ideas For Men
Christmas Gifts For Guys Who Love Football
The Best Gifts For Hipster Guys: 2021 Edition
10 Unique Gifts For New Dads Christmas 2021
8 Handmade Father's Day Gifts He Will Love