I'm always on the look out for cute cupcakes that aren't too hard to decorate. My daughter always wants to help so I can't really do anything intricate or too fancy. These are spring flower cupcakes are favorites in our house. They are so simple to decorate and make a splash at any shower or birthday party. The nice thing is that they are easy enough to decorate with the kids and they can't really mess them up.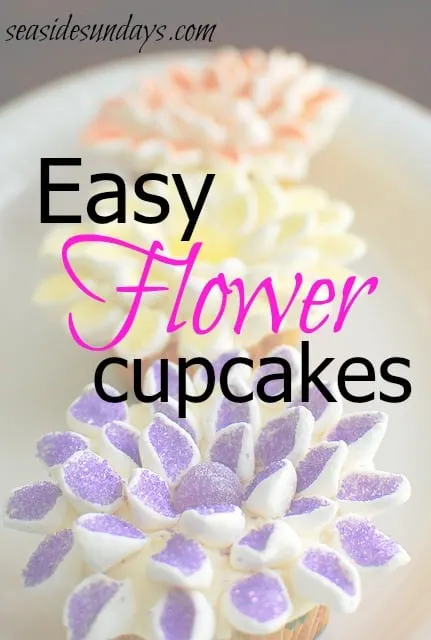 This page contains affiliate links meaning I earn a commission if you use those links. Please read my Disclosure for more information.
For the cake part, I use my any cupcake recipe you like or even box mix.
Supplies
1).White Frosting- In a pinch, you can use frosting from a can such as Betty Crocker Rich and Creamy Frosting or my delicious buttercream recipe.
2) Mini Marshmallows
3) Sanding sugar – I like these bright colored ones from Wilton.
4) A knife
5) Mini gumdrops
Instructions
Cover the entire cupcake with frosting
Cut the mini marshmallows on a diagonal and dip the sticky end in the sanding sugar
Stick one corner of the marshmallow into the frosting starting in the middle and working outwards in a circular pattern to create the "petals". You can then put a gumdrop for the middle of the flower.