With fall just around the corner, it's the perfect time to plan a heartwarming and memorable photo session using these amazing Thanksgiving photoshoot ideas for toddlers.
Whether you're looking to capture their tiny hands in the pumpkin patch or want to document their wide-eyed wonder at the Thanksgiving feast, I've got you covered with some fantastic ideas that will make your little ones shine in front of the camera.
Get ready to create cherished memories and preserve the joy and spirit of Thanksgiving in a series of delightful photographs.
So, grab your camera and let's dive into some picture-perfect inspiration for your fall toddler photoshoot!
This post may contain affiliate links. Please read my disclosure for more information
MORE FALL IDEAS FOR TODDLERS
6 Simple Fall Crafts For Preschoolers
The Best Thanksgiving Photoshoot Ideas For Toddlers
Fall gives us the perfect background for some beautiful photos.
Even if you are not a professional photographer, the light in autumn makes taking great photos as easy as pumpkin pie!
Below you will find the best ideas for your fall photo shoot with babies or toddlers. They are perfect for your holiday card or for displaying at home and are sure to help you create some great family memories.
So grab your camera and your PSL and get snapping!
Baby In A Pumpkin Patch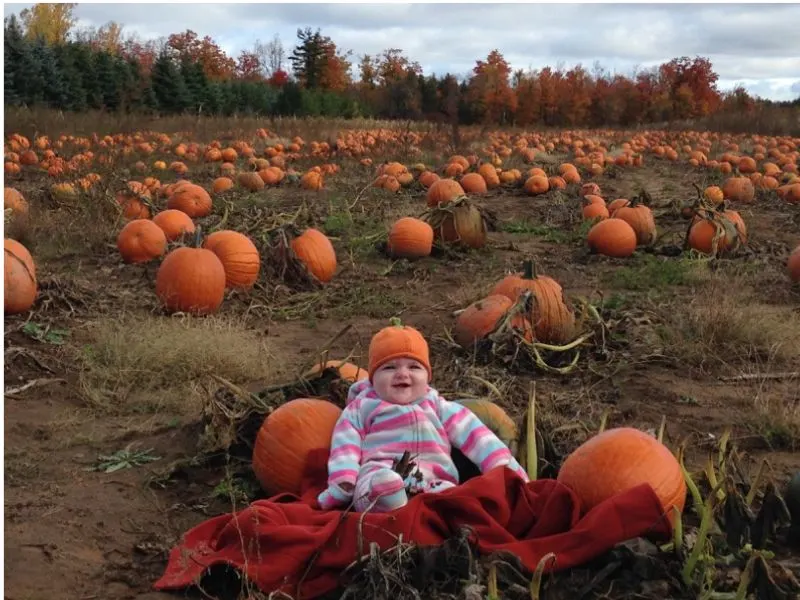 The cute little pumpkin hat makes this adorable little girl even cuter. Plus this is a super simple idea to recreate.
You can get a similar hat on Etsy then just head to the pumpkin farm for some great photos.
My Little Turkey

If you do some fun family activities like a Turkey trot, make sure to use them as an opportunity for amazing fall photos.
You can grab a "Little Turkey" onesie on Etsy.
The Giant Pumpkin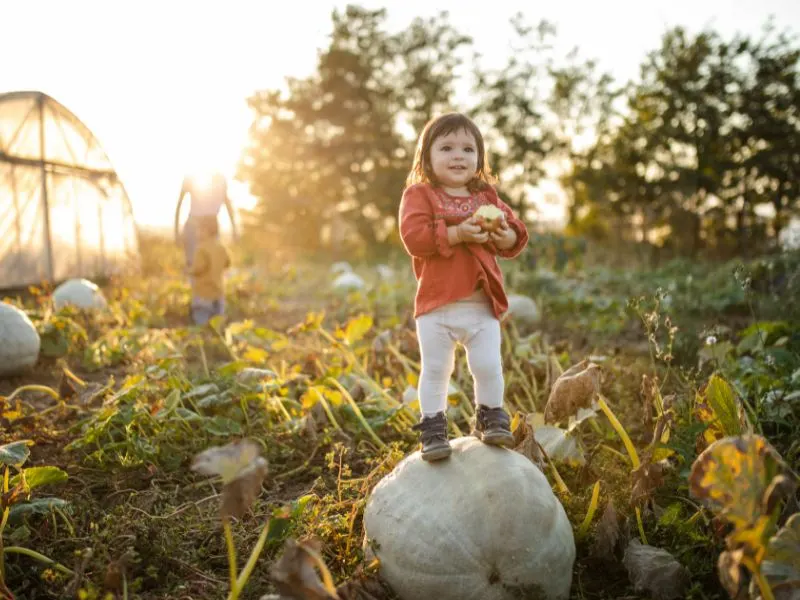 If you have an older child who can walk, why not DIY this cute photo and have them stand on an extra-large pumpkin while eating an apple they just picked!
Corn Bucket
This little girl is literally in a tub of corn! She is having so much fun and allowing for some cute photos too!
Mommy's Little Apple Picker

Dress your little one in his or hers fall finest and head to the apple orchard for some cute photos.
You could even recreate this fall photo idea in your backyard – all you need is a basket full of apples and a grassy area.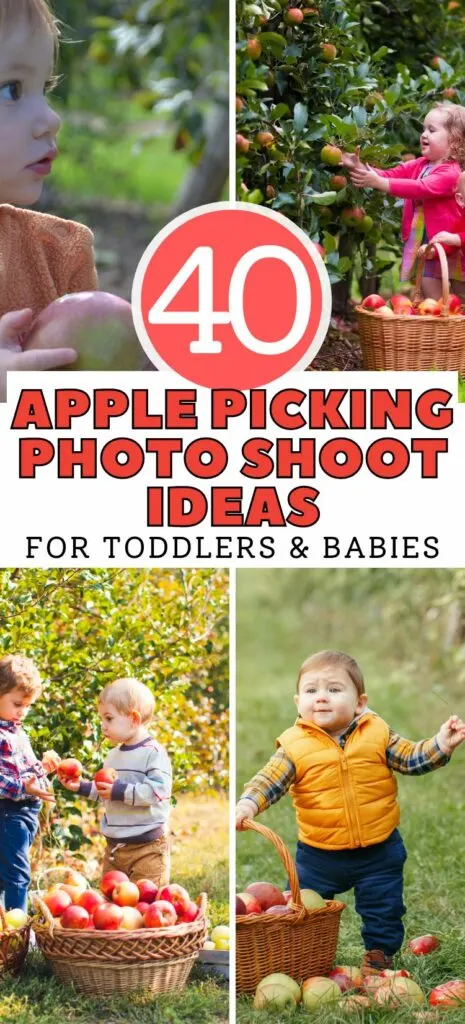 Sunflower Field

If you want something a bit different than the usual pumpkins, why not do an adorable sunflower photo session?
In The Orchard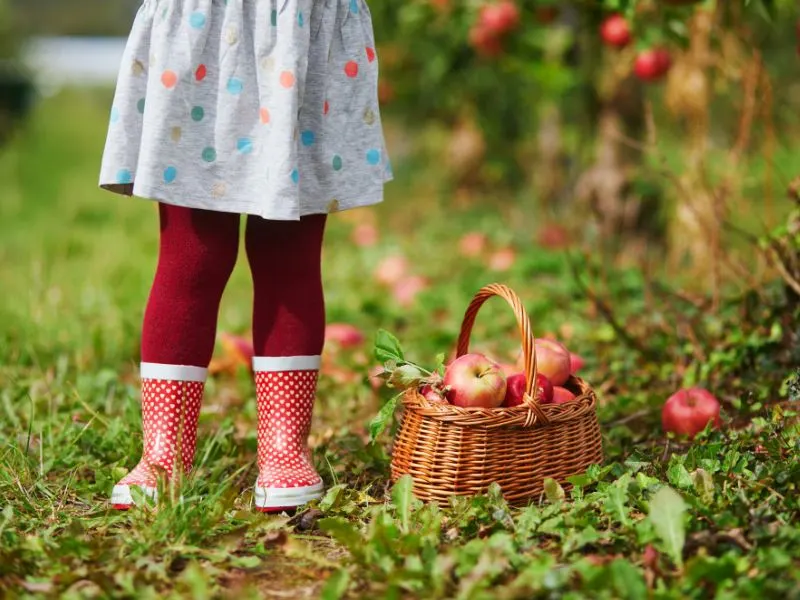 If you don't want to put photos of older children on social media, but still want some cute pics, a great way to create great memories is to focus on just one body part.
Here we have an adorable photo of a little girl's legs that would look great blown up in a frame.
Lost In The Corn Maze
Heading to the corn maze is so much fun and it is also a great time to take those Thanksgiving photos!
If you can get the lighting right, like in this photo, you will have a gorgeous fall image.
Running In Leaves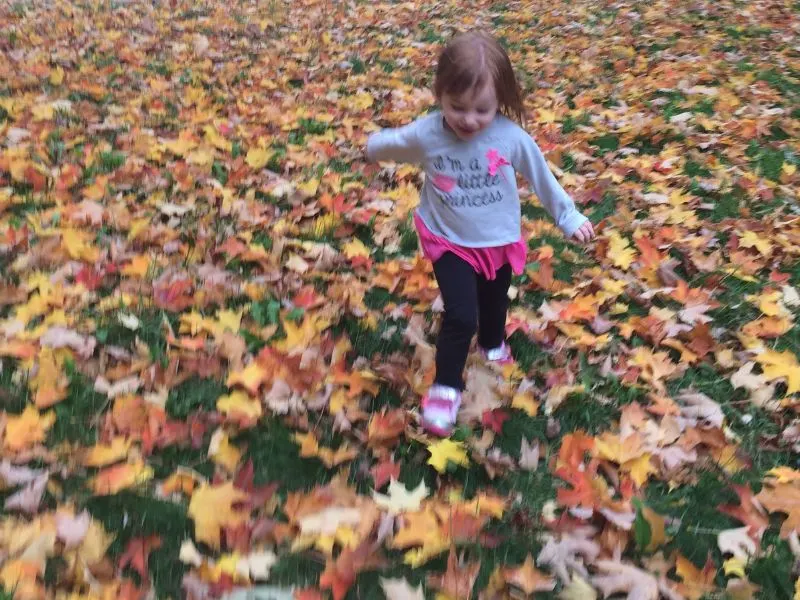 Here's an easy photo you can do in your own yard. All you need are a bunch of falling leaves and an excited child!
This action shot makes a nice change from posed photos and is a wonderful way to capture the beauty of fall.
Baby Pumpkin
Do you have a new baby this Thanksgiving? One of the best ways of taking a great photo of your new little boy or girl is to picture them sleeping on a pumpkin.
You can have an adult holding them up by their lower half and just photograph their top half for a beautiful photo idea.
My First Thanksgiving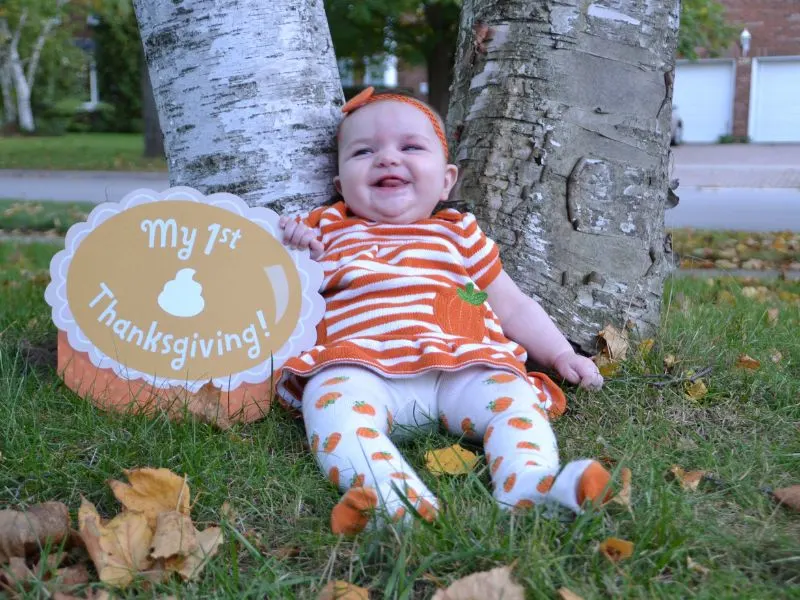 This little turkey is all ready for some her first Thanksgiving meal! I love the pumpkin pie sign and the adorable outfit which was sourced from Gymboree via eBay.
You can buy similar first Thanksgiving signs on Etsy.
Nature Walk
Taking in the fall colors on a nature walk is a fun way to celebrate turkey day and get some good photos!
Baby In A Bucket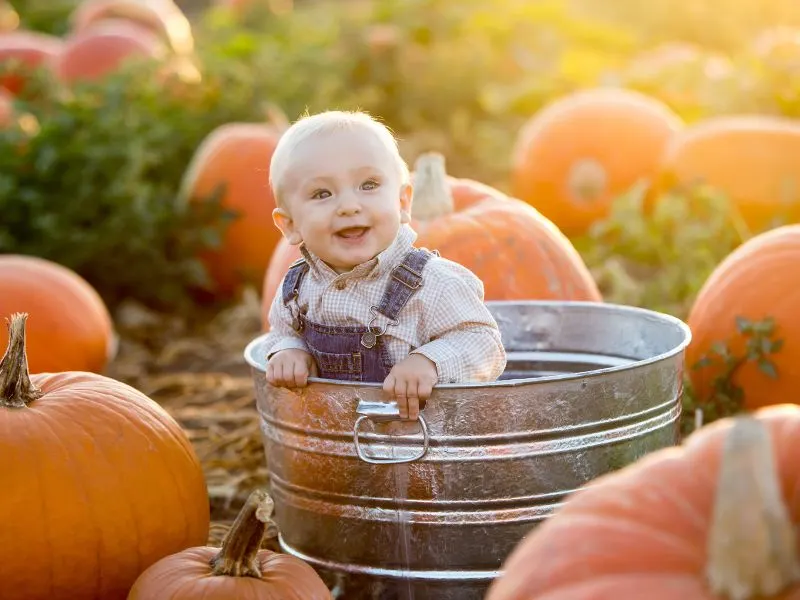 How adorable are these little farmer overalls? You could recreate this with a decorative metal bucket or wooden crate and then just plop it in the middle of a pumpkin patch. So cute.
Fall Field
A super easy photo to take in the fall is in a field with fallen leaves. If you can get the light just right, it makes for a simple but beautiful photo.
A Surprise in the Apple Basket
If you have a baby that's not standing yet, that doesn't mean you have to miss out on the apple picking fun. Let them take center stage with in a wicker basket full of apples.
My Little Pumpkin
Can you believe this cute pic was taken in the parking lot of a grocery store in the fall?
My biggest tip for this time of year is to just make sure to have your kids in cute outfits all the time.
You never know when you will have an opportunity for that perfect fall photo.
Amongst The Leaves
Fall foliage transforms local parks into breathtaking landscapes.
Look for parks with colorful trees and open spaces where your toddlers can play in piles of fallen leaves or ride on swings.
The vibrant colors and joyful atmosphere make for cheerful and lively photos.
Sibling Love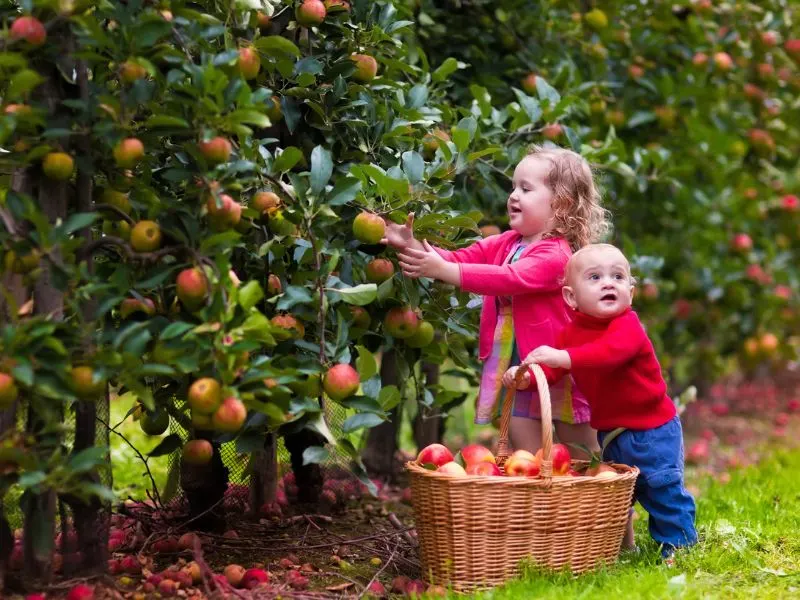 The holiday season is a great time for all kinds of Thanksgiving activities including apple picking.
Let older siblings get involved by helping their baby brother or sister like this little girl.
Baby In A Pumpkin
If the weather isn't cooperating, why not take your fall photo shoot indoors? Carve out a pumpkin and put baby in it with some other pumpkins for decorations.
Then just use a white blanket as a backdrop.
My Little Pumpkin Pie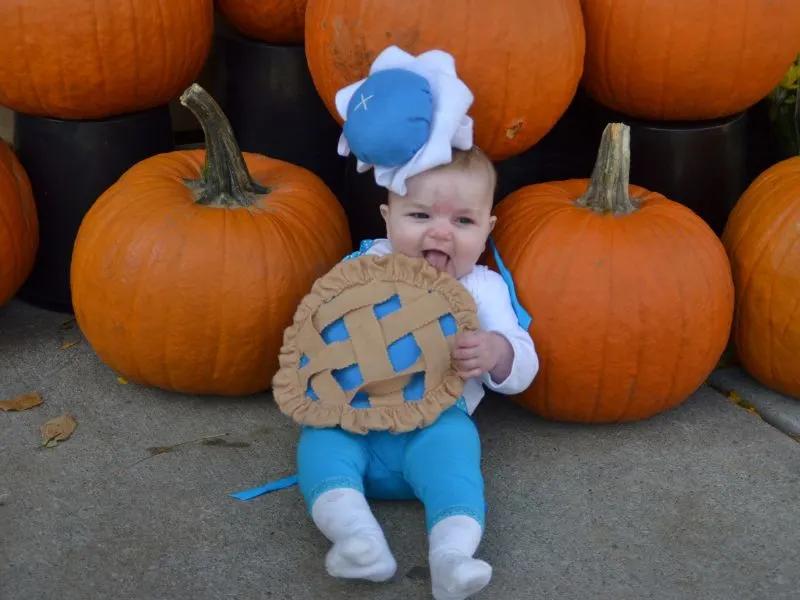 Actually this is a blueberry pie! I got this cute pie costume on Etsy and it was such a hit Thanksgiving dinner and at Halloween.
All that is missing is some whipped cream!
The Biggest Pumpkin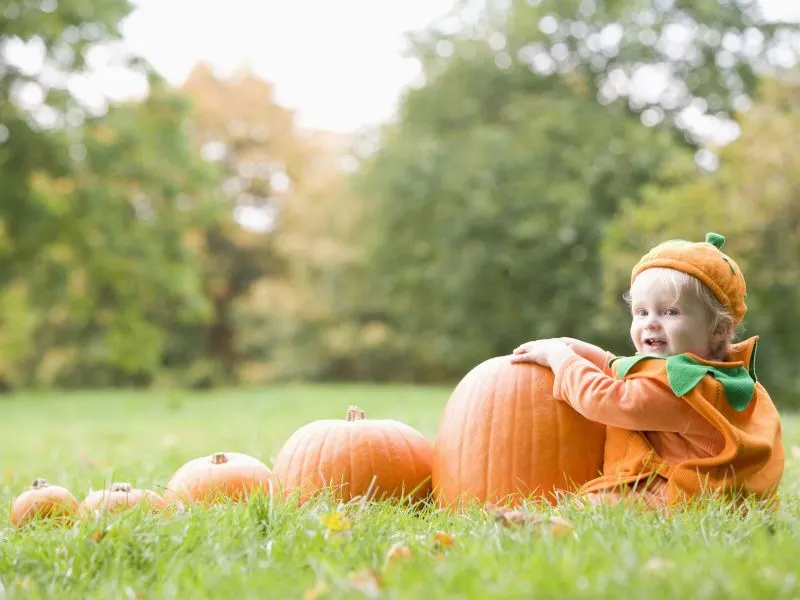 This is such a simple idea but bound to be a hit. You'll need a pumpkin Halloween costume and then some pumpkins in descending sizes.
Pumpkin Flat Lay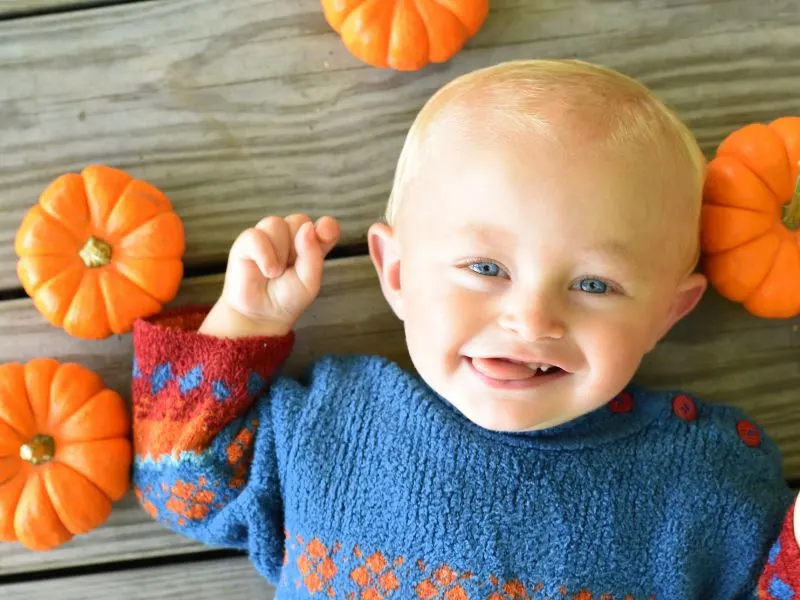 A wooden backdrop and some mini gourds in the living room are all you need to recreate this baby photoshoot idea.
Playing in the Leaves
This baby boy is having the time of his life playing in the leaves -its also great for his fine motor skills too!
Two Little Farmers
This photo might look like hard work but its a great idea for a photo with a fall theme. I love the matching outfits too!
Fall Foliage
Find a nearby forest or nature preserve with scenic trails and colorful foliage.
Let your toddlers explore the wonders of nature as you capture their awe and curiosity.
This setting offers a serene and enchanting backdrop for candid shots of your little adventurers.
Backyard Baby
Here's another idea for some cute photos of the kids.
If you have a tiny baby still, put a burlap style blanket into a carved pumpkin in the backyard and gently place baby inside.
Wheelbarrow Girl
Older toddlers might not be able to fit inside a pumpkin but that doesn't mean they can't fun too!
Thanksgiving Table
An orange tablecloth or blanket and some fall themed props will give you the perfect baby table centerpiece this Thanksgiving!
Me and My Pumpkin
Head to your local park in the morning light to capture a cute photo like this one. It goes to show that sometimes the simple ideas are the best.
My First Fall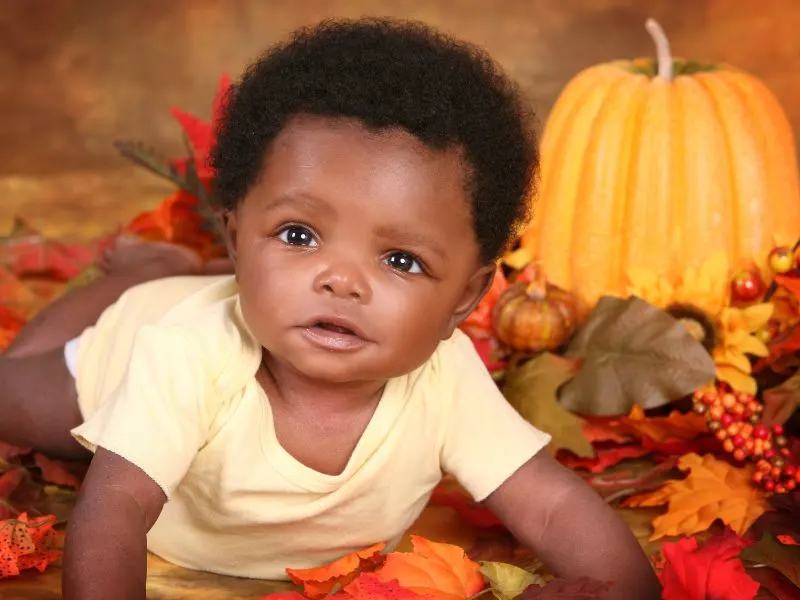 Head to the craft store for a bunch of mini pumpkins and fake leaves and you have yourself the perfect set-up for a quick fall photo idea.
Apple Orchard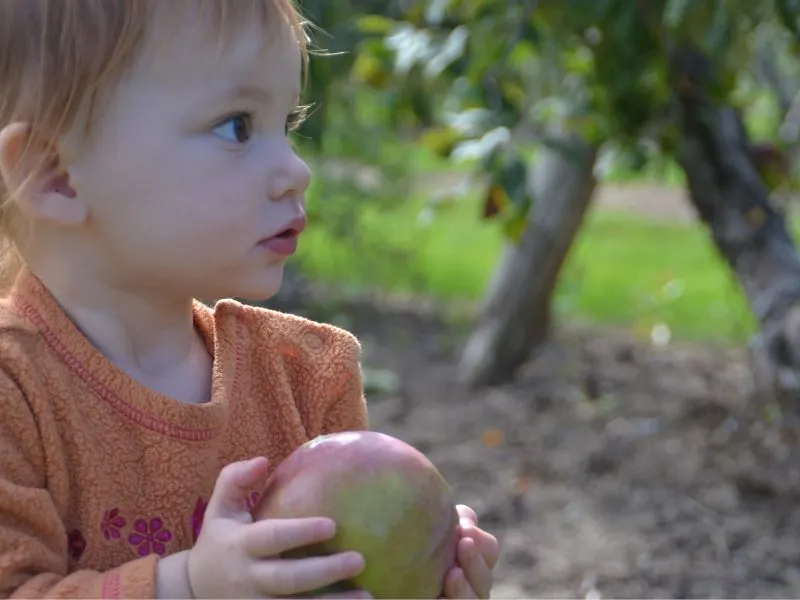 Take a trip to an apple orchard and let your toddlers experience the joy of picking apples straight from the trees.
The beautiful autumn foliage and endless rows of apple trees provide a picturesque backdrop for your photoshoot.
Don't forget to snap some adorable shots of your little ones enjoying apple cider or munching on freshly picked apples – this close-up makes it extra cute.
Pumpkin Patch
Keep it simple!
Head to a local pumpkin patch where your little ones can explore rows of vibrant pumpkins, enjoy hayrides, and play in colorful fall-themed setups.
Capture their excitement as they pick out their favorite pumpkins or as they frolic in the pumpkin patch.
Candy Corn Wishes
If you are having a hard time getting your child to pose nicely for photos, a better way is to have them lay down and then take photos from overhead.
These always seem to turn out really well and are so cute.
A Fall Afternoon
Here's another really simple idea for a Thanksgiving photoshoot. Just sit your toddler in the leaves with a pumpkin the same size as him!
Fall At The Lake
Look at those little hands holding the tiny pumpkin! If you will be by the water this Thanksgiving, make sure to grab some plastic pumpkins of various shapes for an impromptu photo shoot on the deck.
Lost In Pumpkins
Pumpkin patches are always a good time and a great place to take advantage of all these Thanksgiving photoshoot ideas for toddlers, like this one!
Quality Time In A Pumpkin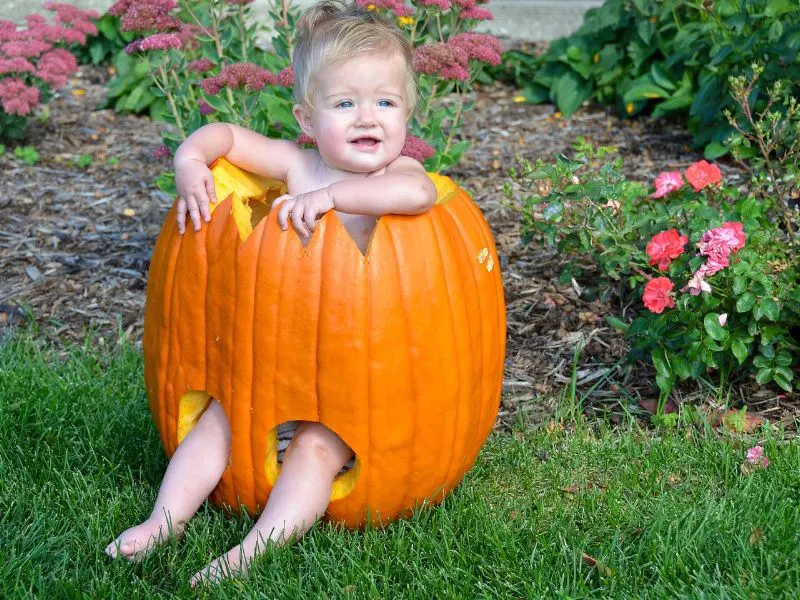 If you love the idea of a baby inside a pumpkin but your toddler is a little too big, never fear!
You can cut out leg holes and put them inside even when they are a bit older!
Rolling In The Hay
Visit a rustic barn or farm and immerse your toddlers in a charming countryside atmosphere.
Capture their delight as they interact with friendly farm animals, run through hay bales, or explore the barn's enchanting nooks and crannies.
Pumpkin Hugs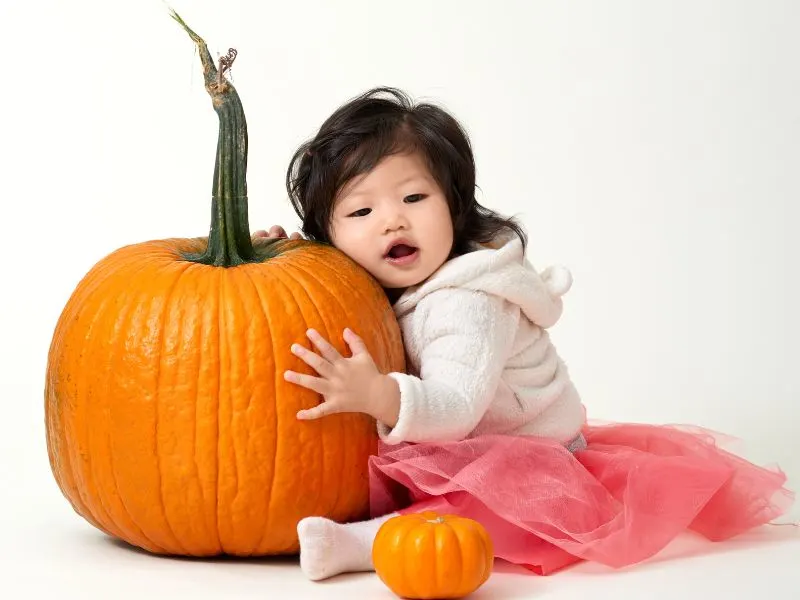 This little really knows what she likes and this Thanksgiving it is her friend the pumpkin!
This is one of the most simple Thanksgiving photoshoot ideas for toddlers but also one of the most easy to create.
Buried in Leaves
Sometimes, the best location for a photoshoot is right at home. And in the fall, all you need are leaves.
Want to go a step further?
Transform your backyard into a cozy and inviting autumn wonderland by adding hay bales, pumpkins, and fall-themed decorations.
Capture your toddlers playing in leaf piles, exploring nature, or sharing laughs in this familiar and intimate setting.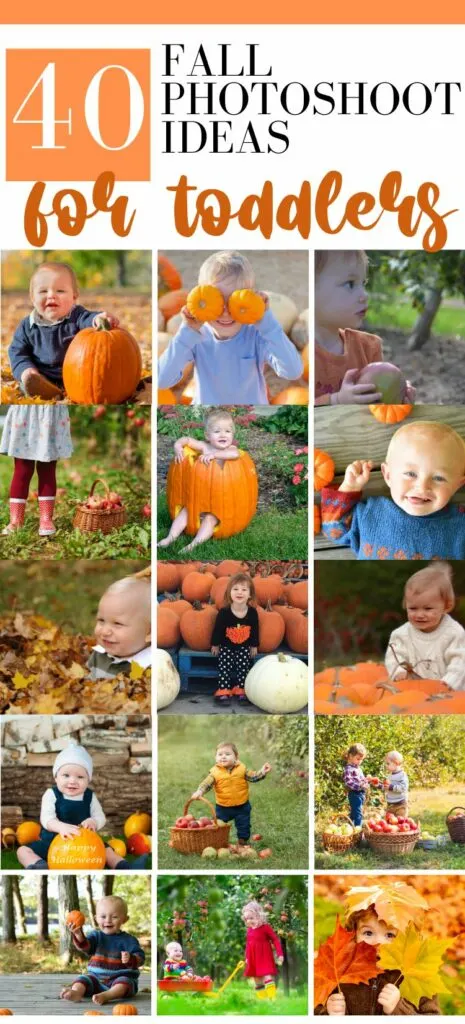 Tips For Taking Fantastic Fall Photos Of Toddlers
Find the Right Lighting
Lighting is key to any great photograph, and it's no different when it comes to photographing kids.
Soft, natural light works wonders for capturing their innocence and beauty.
Look for open shade or shoot during the "golden hour" (the hour after sunrise or before sunset) for that magical, warm glow.
Get on Their Level
To truly capture the world from your child's perspective, get down on your knees or lie down on the ground.
This will create a more intimate and engaging composition, showcasing their world in a unique way.
Candid is the Way to Go
Kids are full of energy and spontaneity, so embrace it!
Some of the most captivating photos are the ones where they are lost in the moment, being their authentic selves.
Instead of asking them to pose, let them play, explore, and interact naturally while you capture those genuine expressions.
Keep It Fun and Playful
Make the photoshoot a fun and enjoyable experience for your little ones.
Bring their favorite toys, play games, or create a themed shoot.
When they're having a blast, you'll be able to capture their joy and create lasting memories.
Focus on the Eyes
The eyes are the windows to the soul, and this holds true for children too.
When taking portraits, make sure the eyes are sharp and in focus.
They convey emotions and draw viewers into the photograph.
Experiment with Different Perspective
Don't be afraid to try out different angles and compositions.
Get close-ups of their tiny hands or feet, shoot from above while they're engrossed in an activity, or capture their silhouette against a beautiful backdrop.
These unique perspectives add variety and depth to your photo collection.
Capture Everyday Moments
While special occasions and milestones are undoubtedly worth capturing, don't forget about the everyday moments that make up your child's life.
Editing Enhances the Magic
Post-processing can take your photos to the next level.
Experiment with basic adjustments like brightness, contrast, and saturation to enhance the colors and mood of your images
You can use software such as PicMonkey or Photoshop to edit your photos easily.