Want to brighten up your Thanksgiving table with a fun turkey craft? You'll love making this Turkey trivet craft for little ones.
We love fall and Thanksgiving handprint crafts so we combined both of them into this one handprint turkey craft!
It's super simple and only requires a few supplies so it's perfect for making at home or in the classroom.
You can make this craft with kids of all ages, from tiny babies to older toddlers, preschool, pre-k, and kindergarten children.
There are two versions – a footprint or a handprint turkey so that you can choose what works best for your kids.
Also, be sure to check out all of our fall crafts for kids for even more ideas!
This post may contain affiliate links. Please read my disclosure for more information
MORE FUN CRAFT IDEAS FOR KIDS
Easy to make Pumpkin scented playdough
Easy Thanksgiving Turkey Trivet Craft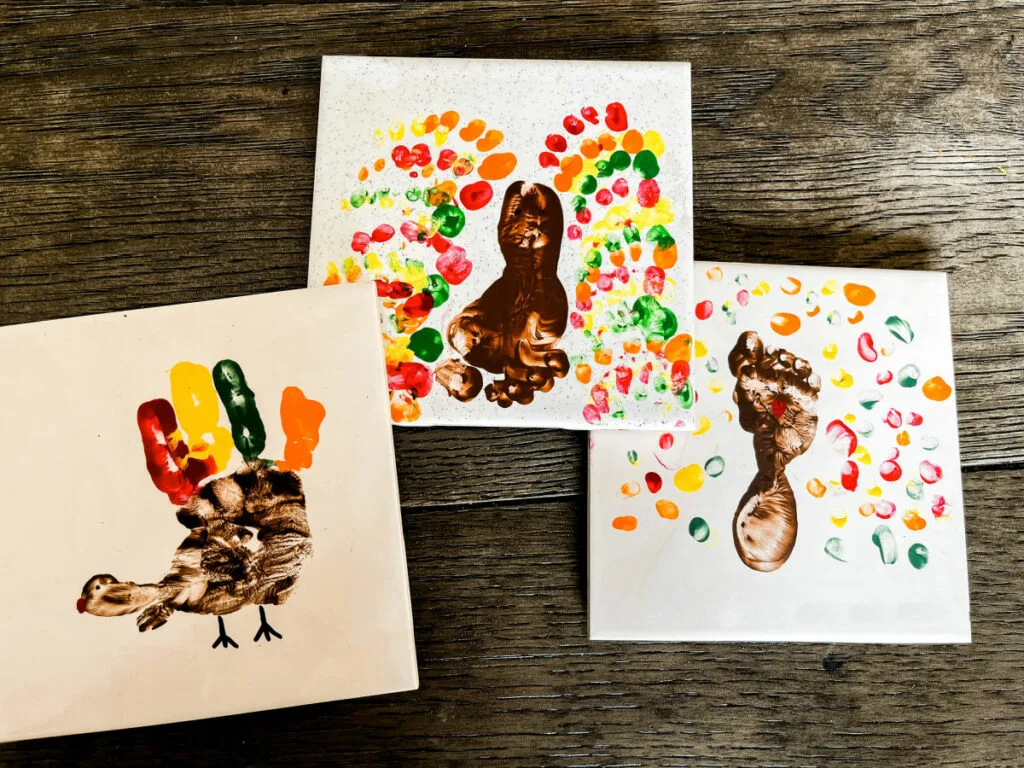 This fun fall craft idea is so easy and can be whipped up in a few minutes. It makes a wonderful gift for grandparents or just a cute keepsake for you to cherish forever.
As I mentioned above, you can make this craft using either a handprint or a footprint.
If you are working with a tiny baby, footprints are much easier as they tend to curl up their fingers making painting the hand and printing the turkey really tricky.
Supplies
Acrylic paint in brown, yellow, green, red and orange
Paint brushes
Black or brown and a red permanent marker
Directions
There are a few ways to do this depending on how cooperative your child is being.
If you are doing a footprint turkey trivet, the easiest thing to do is to paint the whole foot brown.
If you are feeling adventurous, you can paint just the sole of the foot brown and leave the toes for step 2.
For the handprint version, paint the palm and thumb with brown paint
Now, it's time for the feathers. If you have left the toes free or are using a handprint, paint each finger or toe a different fall color to represent the turkey feathers.
Then carefully place your child's foot or hand on the tile and hold for second or two.
Gently lift up their foot/hand and fill in any gaps with a paintbrush.
If you used a brown footprint, it's time to do the feather on your tile. You can do this by dipping your child's finger or thumb into the paint and making a alternating feather patterns all around the turkey's body.
Leave the print to dry before moving to the next step.
Once your paint is completely dry, you can use your markers to add the eyes, beak and wattle (that's the red piece on a turkey).
The last thing to do is to add the felt pads to the bottom of your trivet so that it is ready for your holiday table.
More Fall Craft Ideas
We're always trying to share simple ways to incorporate our crafts into our free time.
We even have 4 Easy Preschool Themes For Fall you can check out.
Sensory Play
Sensory play is great for kids who love hands-on activities and who love exploring new things!
This fun fall sensory bin is great for little kids but even my 7 and 9 year olds love playing with it too.
It has all the rich colors of fall you'd expect, with a base filler of dried corn and red lentils.
Another fun idea is this taste-safe pumpkin spice play dough that can be made in minutes. It smells wonderful and is sure to be a hit with your little ones. (Taste safe means it's made with food ingredients but it doesn't necessary taste good enough to eat!).