Fall is a wonderful time of year to do fun crafts and activities and one of my favorites is to make a fall sensory bin.
In general, fall is one of the seasons with the most opportunities for sensory play – the leaves crunch underfoot, the spices fill the air, and it's a great time for the year to go for a hike in nature and collect fun items for your autumn sensory bin.
It is really one of the easiest and cheapest activities for kids to do at home or at school.
Plus sensory bins have a ton of benefits for children.
Read on for tips to make your own sensory bin in just minutes.
This post may contain affiliate links. Please read my Disclosure for more information.
MORE FALL CRAFT IDEAS
If you love doing crafts in the fall, make sure to check out these other fun ideas:
Easy Pumpkin Spice Playdough Recipe
4 Simple Fall Crafts For Preschoolers
10 Easy Turkey Crafts For Kids
Fall Sensory Bin Benefits
A sensory bin is an activity where you place different items in a container or tray and allow your child to explore all of the different textures through feeling, hearing, tasting, sniffing, seeing, and touching.
The goal is to promote development in motor skills as well as cognitive development by experimenting with new sensory input that allows children to be creative in an individualized setting.
The benefits of sensory bins are endless, but some reasons may include: promoting gross motor skills, developing language skills, and allowing for creativity and problem-solving through experimenting with new sensory input.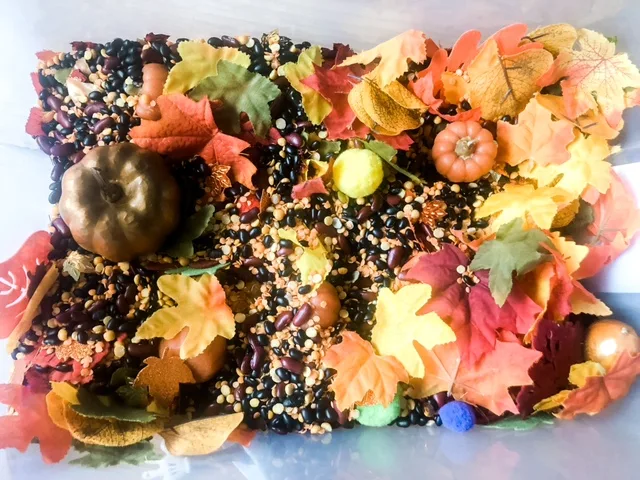 Sensory bins are a great way to promote development in children especially because it allows them to be creative and experiment with new sensory input.
You will be amazed at the different games that your kids come up with when given something as simple as a bin of dried legumes and some measuring cups.
What Should You Put In Your Fall Sensory Bin?
The first step to making your own fall sensory bin is collecting all of your materials.
I typically start with a large plastic storage box or bin (it is helpful if it has a lid for storage).
Next, you will need some filler material which will make up the bulk of your sensory bin. I've played around with all different kinds of things in the past but find the following work best:
Dried beans (any kind)
Dried Lentils in fall colors (orange, green, yellow)
Uncooked Rice
Dried corn (you can find this at your grocery store as it is used for making popcorn)
The next step is to go on a hunt for some fall themed items to put into your autumn sensory bin.
I typically make this a great excuse to go on a nature walk with the whole family and we search for fun items for our sensory bin.
There are tons of things you can include in your sensory bin to represent this season, such as leaves, cinnamon sticks, apples and more!
You can also include other items such as pinecones or acorns.
You can use the items you gather with your pumpkin spice playdough so that it does double duty.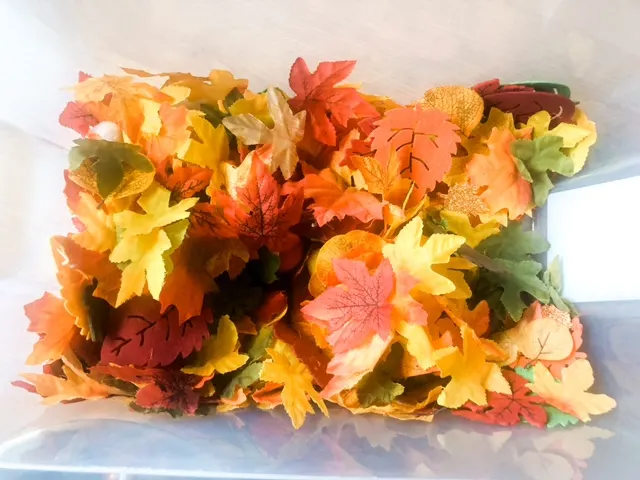 I also often head to the dollar store for some extra items such as pom poms, fall sequins, fabric leaves and gourds.
Here are some links for some fun items you can add into your sensory bin:
Making Your Fall Sensory Bin
Once you have gathered all your objects, you can combine them all into your plastic bin.
The give the kids some measuring ups, funnels and bowls then let them go to town.
For easy clean up, you can put a tablecloth under the bin- spillages are inevitable and part of the fun.
My kids have got pretty good at cleaning up the beans and lentils that fall as they have got older.
Fall Sensory Bin – Final Thoughts
Sensory bins are an excellent way for kids to explore new textures.
They allow them to experiment with creativity and problem solving skills.
Sensory bins are also a great way to promote development in motor skills as well as cognitive development.
If you're looking for ways to keep your child engaged this fall, consider making a sensory bin!
We hope that these 16 ideas have given you some inspiration on how to make one of your own.
More Fall Ideas For Kids
Thanksgiving Word Search Printable
180 + Fall Activities For Kids (Crafts, Bucket Lists, Scavenger Hunts & More)
Fun & Frugal Fall Bucket List For Families