Happy St Patrick's Day! I didn't grow up celebrating St Patrick's Day in the UK but I have fully embraced it since moving to North America. We always have a family party on the holiday and these St Patrick's Day cupcakes are perfect for making with the kids.
You really don't need fancy decorating skills to make these cute desserts and they are sure to be a hit at any St Paddy's Day party you attend!
This page contains affiliate links meaning I earn a commission if you use those links. Please read my Disclosure for more information.
For the St Patrick's Day cupcakes, you can use any cupcake recipe or cake mix of your choice. For the icing, I used a buttercream frosting but a can of ready made stuff would work fine in a pinch.
How to Decorate the St Patrick's Day Cupcakes
M & M Rainbow Cupcakes
Food Coloring in sky blue
M & M's Chocolate Candies

Mini Marshmallows
Directions
Mix the blue coloring into the frosting and stir vigorously. Cover the cake in the frosting.
Create a rainbow with the colored M & Ms and add a mini marshmallow at either end to act as clouds.
Lucky Charm Cupcake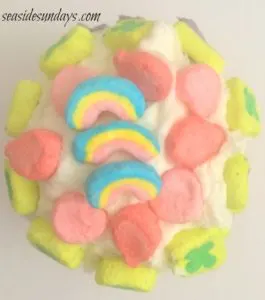 You need Lucky Charms cereal for this cupcake.
Directions
Pile white frosting onto the cupcake to create a mountain.
Layer the lucky charms onto the frosting in a circular pattern,
Complete by adding the rainbow charms at the top.
Lucky Shamrock Cupcake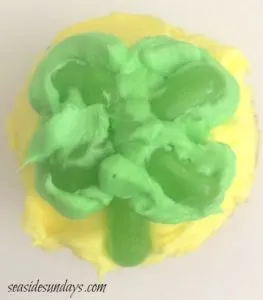 Green Jelly Beans
Mike and Ike Candy
Yellow and Green food coloring
Directions
Mix one batch of yellow frosting and cover the cupcake completely.
Make a shamrock shape with four green jelly beans. Add a green Mike & Ike to act as a stalk.
Fill a piping bag with green frosting, Pipe around each jelly bean to create a shamrock shape.
Rainbow Cupcake
Food Coloring in blue, purple, green, orange, and yellow
Maraschino cherries
Directions
Prepare batches of frosting in purple, blue, green, yellow and orange. Place in piping bags.
Slowly create a circle around the top of the cupcake with the purple frosting.
Repeat with the blue frosting, slightly inside the purple circle and do the same with the green, yellow and orange until you have a tower of colored frosting.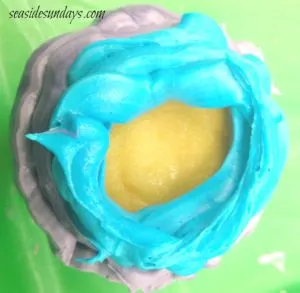 Run a plastic knife around the side of the frosting to even it out.
Top the rainbow tower with a cherry.
I wish you all a very jolly St Patrick's Day!
More Fun Ideas For Kids
St Patrick's Day Books for Preschoolers
15 Awesome Father-Daughter Dates
The Best Easter Books For Preschoolers