Every year I try and get a few new books for each holiday to use alongside our crafts and celebrations. This selection of Easter books for preschoolers includes some classics and new stories for young children.
I love these books as they feature popular characters such as Fancy Nancy and Peppa Pig as well as classics like Charlie Brown and Llama Llama. They are perfect for daycare story time, preschools and bedtime stories!
If you are looking for cute Easter basket ideas for toddlers, one of these books would be perfect!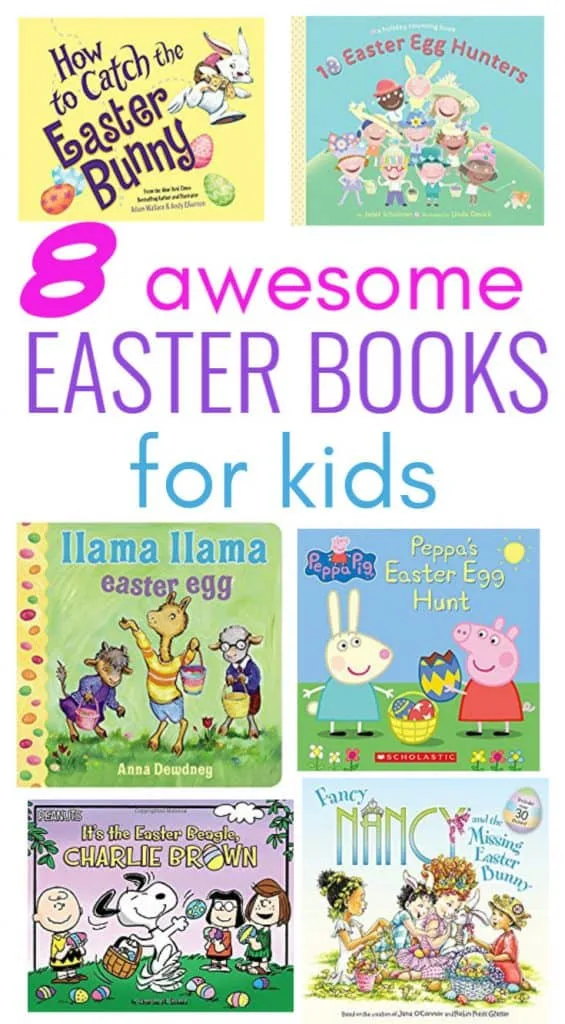 This page contains affiliate links meaning I earn a commission if you use those links. Please read my Disclosure for more information.
RELATED POSTS
25 Cute Easter Snacks For Preschoolers
The Ultimate Spring Bucket List For Kids
The Best List of Easter Books For Preschoolers
Featuring every preschooler's favorite piggy, Peppa and friends. If you have a big Peppa fan in your house, check out this other Peppa book too –Peppa Pig and the Easter Rainbow
I just love all the Llama llama books.
They are so catchy and always have a cute moral story line and this one is no exception, highly recommend.
This lift-the-flap book is sure to delight even the youngest readers. I have nearly all the books in the "Where is Baby's…" series and we just love them in our house. The bright colors and sparkly foil eggs are a huge hit with my daughters.
Fancy Nancy is a huge hit in our house at the moment and there are actually a couple of Easter specials for fans of Nancy Clancy, the other book is Fancy Nancy's Elegant Easter.
This title in the "Night before" series is just as good as the others. Set to the tune of "T'was the night before Christmas", this book is really cute and kids love the rhyme.
Another series that I just love. We have the Halloween (10 Trick-or-Treaters
) and the Christmas (10 Trim-the-Tree'ers) versions as well as this one. They teach colors and counting while telling a simple rhyming story about a group of friends who are hunting for eggs.
Snoopy features in this spring story that also was made into a cartoon. A must -see for adults and kids alike.
As you probably know from my Hungry Caterpillar Craft, we love Eric Carle in our house. This story features the caterpillar in a new light. I just love the illustrations.

Super cute and funny book about setting a trap to try and catch the elusive bunny. Great for toddlers.
More Easter Ideas For Preschoolers
35 Creative Easter Basket Ideas For Kids
15 Awesome Father-Daughter Dates
25 Cute Easter Snacks For Preschoolers