Daddy daughter date ideas don't have to be crazy fancy or expensive. The most important thing a dads to do is spend quality time with his kids.
As the mother of two little ladies, I see every day how important daddy time is to my girls and how easy it can be for quality father daughter activities to be lost in the rush of everyday life.
The daddy daughter dates below are a great way of carving out special time for dad to do spend one on one time with your kids, while creating beautiful memories.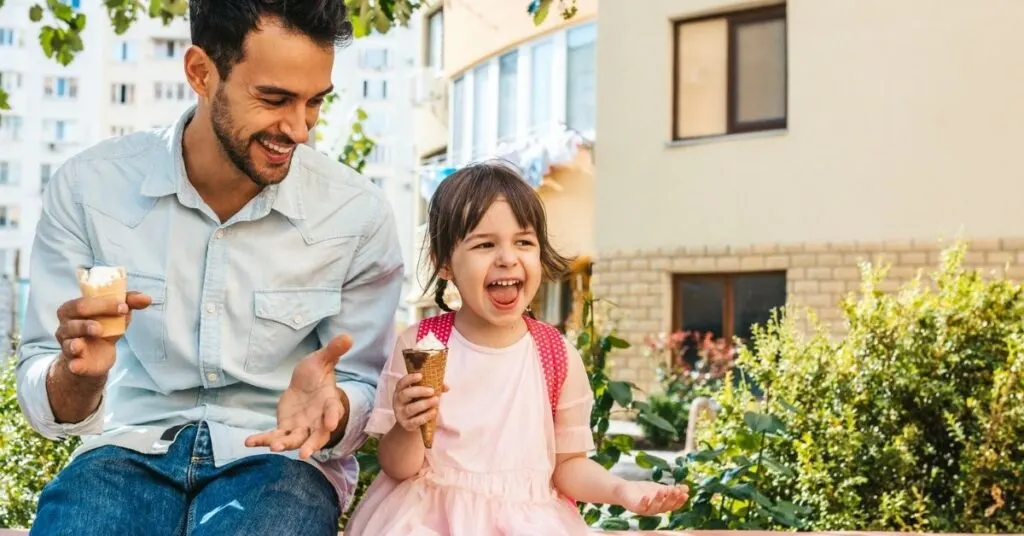 This page contains affiliate links meaning I earn a commission if you use those links. Please read my Disclosure for more information.
RELATED POSTS
In our family, like many, we both work all day during the week so our leisure time is limited to the weekends.
In our free time, we tend to do stuff as a family which means that dad rarely gets to take the girls out on his own. We have started to put aside some time each week where each of us gets some one on one time with the kids.
I love doing some of my favourite mother daughter day ideas with each of my girls while my husband always thinks of something fun to do.
These bonding activities don't have to be expensive or a big day out.
As you will see from the list below, many of the ideas can be done close to home and are budget-friendly!
While these daddy daughter date ideas would make a wonderful treat any day or the year, they would be fantastic as a gift idea for dad's birthday or Father's day.
You could choose one of the dates below or present him with a monthly coupon book so you have a year's worth of dates!
25 Perfect Daddy Daughter Date Ideas
Father daughter bonding time can happen anywhere and the ideas below are perfect for little girls as well as those in middle school and beyond.
Carving out the time now to spend quality time with your kids will make life so much easier when the awkward teenage years come around.
1. Take me out to the Ballgame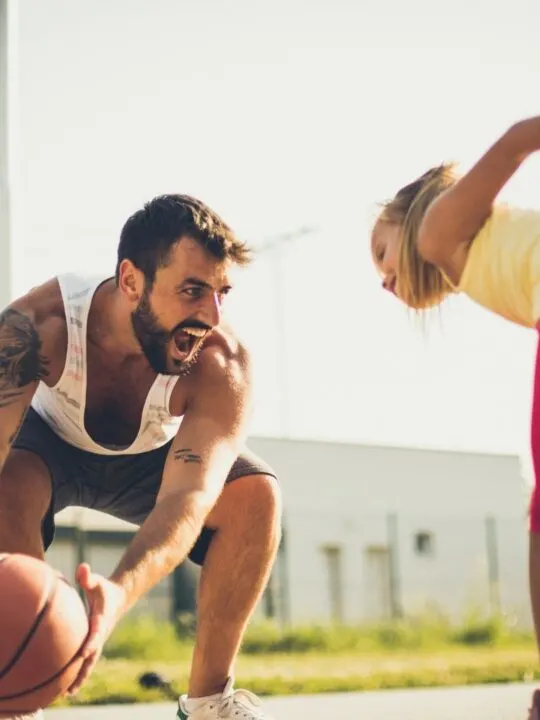 Spend a sunny afternoon at the ball game, or a crisp fall Saturday at the football.
This is a great opportunity to share dad's passion for sports with the kids while enjoying a seasonal tradition.
Grab a hotdog and get there early to soak up the crowds.
My daughter absolutely loves tailgating (or at least, walking around and counting how many TVs in trucks she can spy!).
2. Picnic in the Park
Grab your bikes and head to the park for a fun lunch date. This is one of the best father daughter date ideas because it is essential free and can be done anywhere.
We like to try out a different park each time so we get to explore new areas too.
Pack crusty rolls, watermelon, and treats. Spread a blanket and dine al fresco.
TIP: Bring a ball or bubbles to play with afterwards.
3. Sleepover under the Stars
Pitch a tent in the backyard and settle down for the night. Once it gets dark, check out all the amazing constellations in the night sky. Let's see if you can make it until morning without going in the house!
Don't forget the flashlight!
4. A day in the city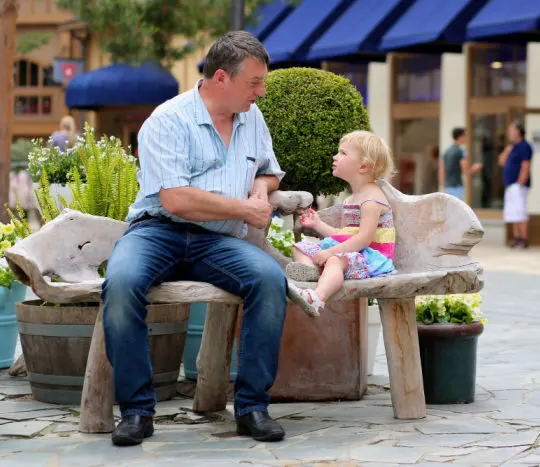 Growing up, this daddy daughter date was always my favourite day of the year.
My father and I spent would take the train into the big city (London, England in my case), and spend the day soaking up the sights, visiting museums and enjoying a fancy lunch.
TIP: The train ride alone will be exciting enough for little ones.
One of my friends sometimes takes the train to the next town over just for Starbucks with his little daughter. It's the highlight of her week!
5. Movie Date
This is a date that can be done as easily at home or on out on the town. Grab some popcorn, favourite treats and catch the latest blockbuster on Netflix or head to the local movie theatre for a night out!
If you feel like going out, watching the latest release at the drive-thru is an awesome daddy-daughter date idea that is so exciting for kids.
6. Ice Cream Date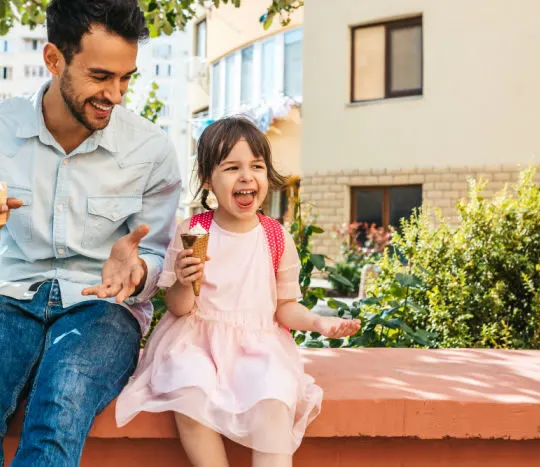 All little girls love ice cream and especially choosing all the toppings for their sundae.
Head to your favorite ice cream parlour or frozen yogurt place and grab a treat.
Alternatively, create a sundae bar at home with bowls of different toppings and let her go to town!
7. Tea Party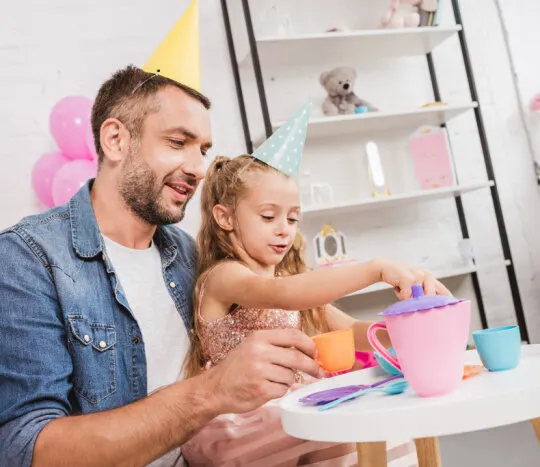 This is one of my daughter's favourite daddy-daughter activities. You can visit a tea shop if your daughter is a little older, otherwise she will have fun preparing an afternoon tea at home!
Make dainty sandwiches and break out the china cups for a real British tea experience!
8. Nature Hike/Geocaching
While a plain old hike can get a bit boring for younger kids, you can make it an exciting father-daughter date by creating an adventure.
Grab some maps, snacks for the road and create a check list of all the things you want to find on the hike (acorns/leaves/pretty stones).
It will be even more fun if you get a little "lost" at one point and need to consult the map!
If it is popular in your area, you could try geo-caching. Kids love finding hidden treasures in the woods!
9. Bounce at the Trampoline Park
Let out some energy at an indoor trampoline park!
Most cities have one nowadays and they are so much fun for kids and adults alike.
10. Rock out at a Music Festival
Is there a local music festival or concert happening near you?
This can be a wonderful experience for children and something they won't quickly forget! It's a fun way to introduce kids to live music and even your favorite artists.
Some family-friendly concerts have children's sections where you can see some fun kid-friendly artists and have a dance before the "real" concert begins at night.
Also look for daytime/outdoor concerts with children's artists such as The Wiggles and Sesame Street Live.
11. Try Ice Skating
Even in the summer, most cities have at least one public skate a week and the great thing is, in the summer months, they are almost always pretty empty!
Make it a fun date by stopping off for a hot chocolate on the way home.
12. Visit the animals at the pet store (or zoo, or pond)
Visiting the animals at the local zoo or neighborhood pet store is a perfect opportunity for learning about animals and their habits.
My daughters could spend hours looking at the fish at our local pet shop.
It's a great rainy day activity that doesn't cost anything! (As long as you don't get persuaded to take home a new friend!).
13. Breakfast Outing
This date can even be done early morning before work and school! Even just grabbing bagels and coffee will be special when it's just dad and the kids.
14. Build something together

Whether you are handy or not, it can be so much fun to build something with dad. Kids just love helping out and will be thrilled to be your assistant for a big project.
For some great ideas, Maker Dad is an awesome book. It contains 25 awesome father daughter DIY projects to do together.
If hammers and screws aren't your forte, how about painting a birdhouse for the yard?
You can pick up unpainted ones up for cheap at the dollar store then paint them in the backyard.
Gardening is another activity that children love helping out with.
15. Cook dinner together
Or get takeout!
Cooking or baking together can be so much fun, even if things don't go quite as planned.
It is one of the best daddy daughter date ideas that can be done on a frequent basis with little prep time.
Spend some time going through your cookbooks or looking on Pinterest for some fun ideas and then go shopping for the ingredients together.
The best part will be sharing your goodies afterward!
16. Teddy Bear's Picnic
Another one of my favorite daddy daughter date ideas is a Teddy bear's picnic. You can make invitations and invite all your stuffies to the party.
Gather them up along with a delicious picnic and set up at a local park, the backyard or even your living room!
17. Miniature Golf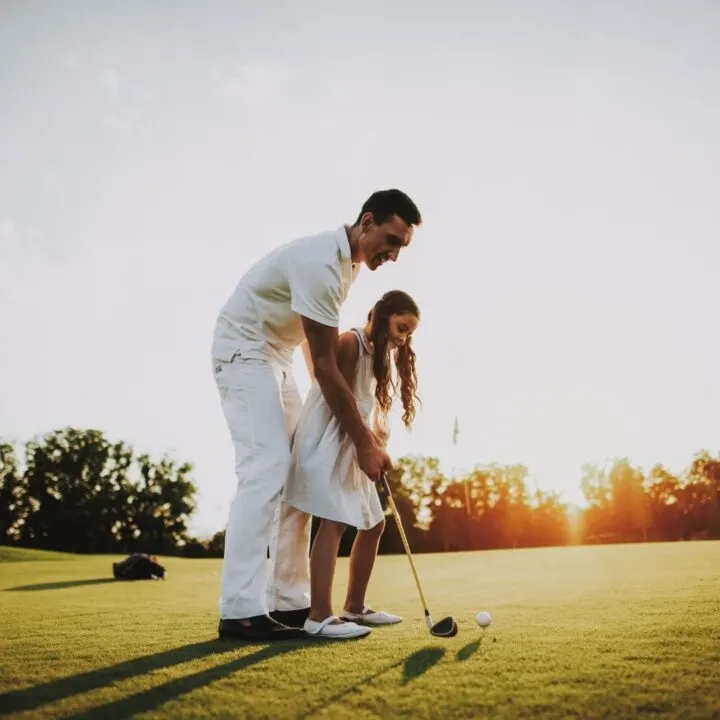 What kid doesn't love playing crazy golf? It's always a fun way to spend the afternoon and who knows, maybe it's the beginning of a fantastic new golfing buddy for dad!
18. Cookie Decorating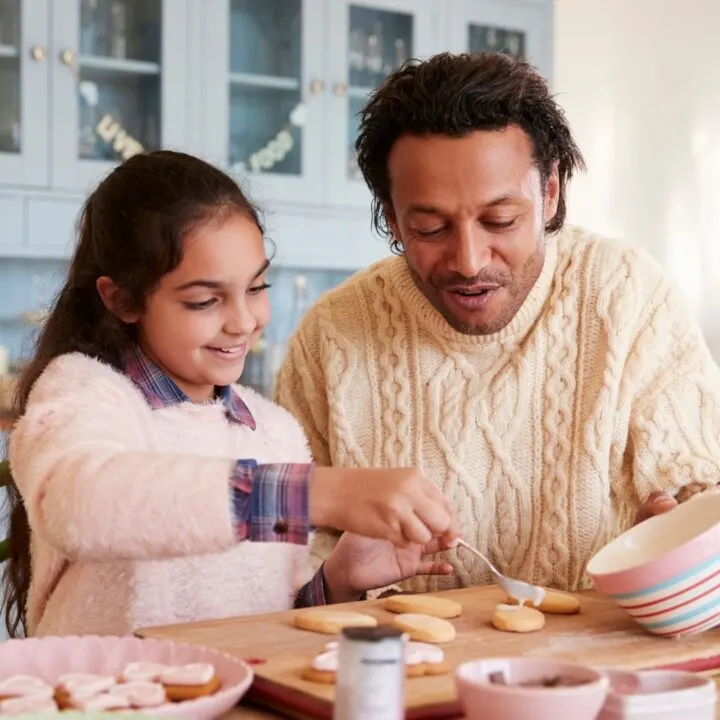 My kids absolutely love decorating cookies and cupcakes and this is an easy stay at home daddy daughter date idea that you can do on a rainy day.
To make it easier you can buy store bought sugar cookies, frosting and an assortment of sprinkles and candy. Or you can make your own cookies first.
You can even ask Mom to judge the best ones when you are done.
19. Cleaning The Car
I know this doesn't sound like a fun date idea but my two girls ages 4 and 7 just love cleaning the car. Adult supervision is obviously necessary but it's a nice way to do some chores while you have fun.
Give your kids clothes, a spray bottle of cleaner and a handheld vacuum and let them go to town on the inside. Then you can work on soaping up the outside together. Bonus points for a water fight at the end!
20. Scavenger Hunt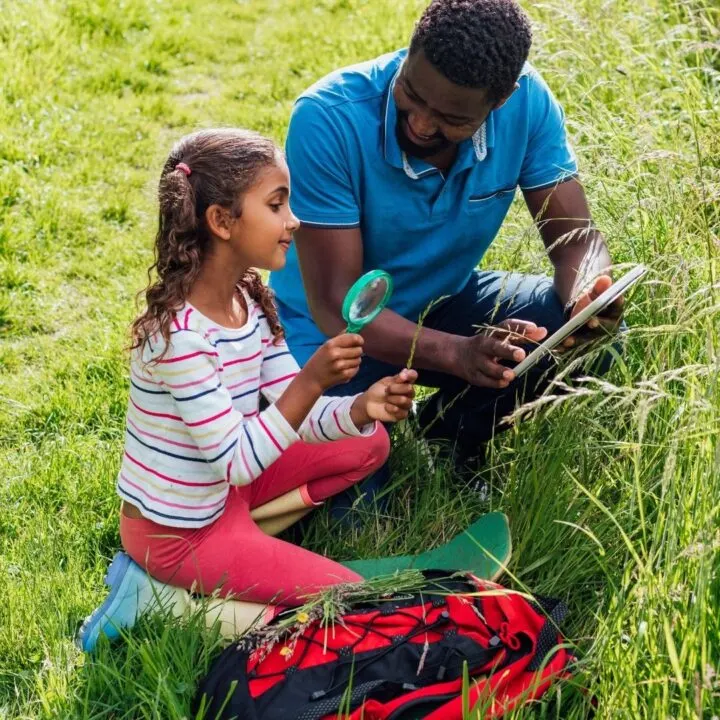 My kids are obsessed with scavenger hunts. You don't have to over complicate this, even asking them to bring you items beginning with different letters of the alphabet works well.
You can also draw pictures of different nature items when you go on a hike and see if they can find them (leaf, squirrel, acorn etc).
Around the holidays, you can try one of these free printable scavenger hunts:
Free Printable Christmas Scavenger Hunt for Kids
Halloween Scavenger Hunt for Toddlers (Free Printable)
21. Retro Game Night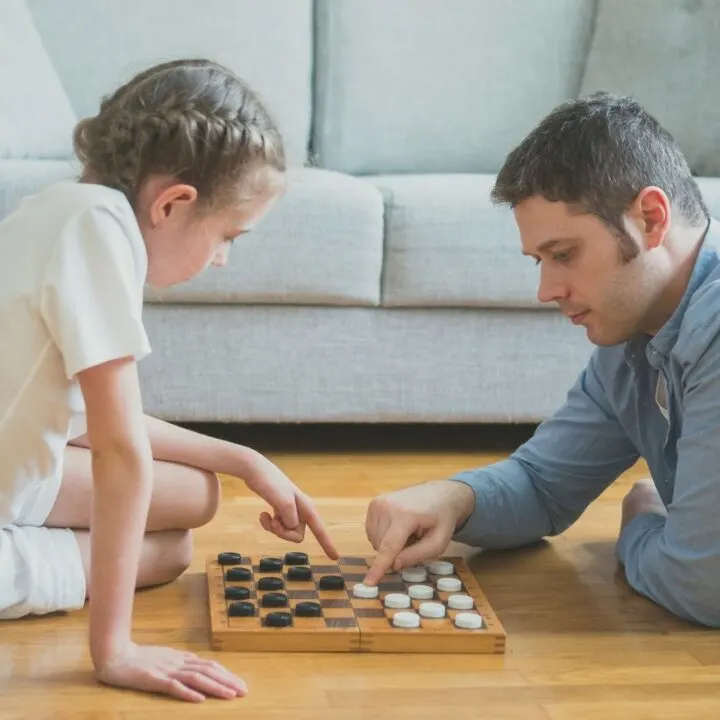 Get out your old board games and have a daddy daughter game night! This is a fun way to bond and also show your daughter some of the things you liked as a kid. This also works with old school video games like Tetris or Super Mario Bros.
22. Explore A New Park
This is something we started doing last year when there wasn't much else to do and all the indoor play places were closed.
Every week we chose a new park to go to and explore. Sometimes it is one that we have driven past and wanted to try and other times we have just headed to a new neighbourhood to see what is there. We have discovered so many cool places that way.
23. Home Depot Kids Workshops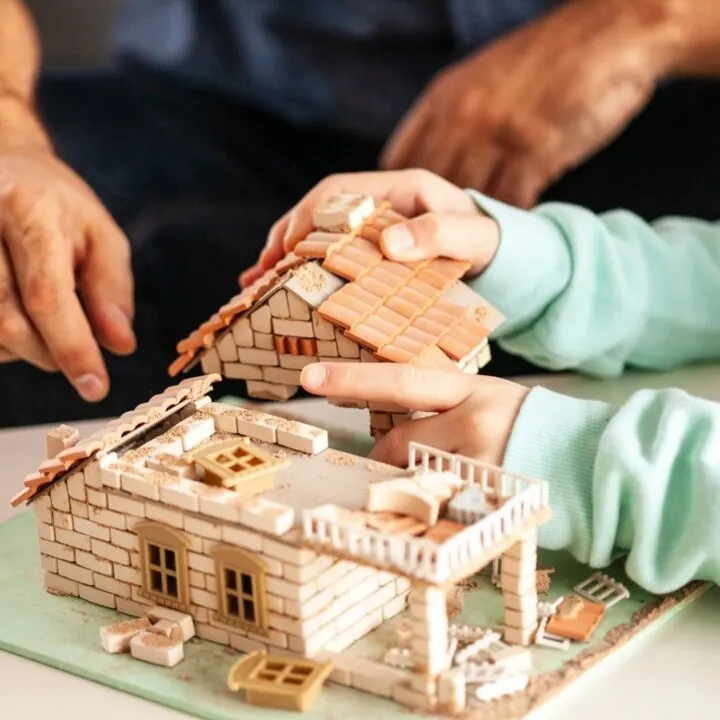 This is a really fun way to spend a Saturday morning and it's available in both the US and Canada.
One Saturday every month, Home Depot stores run free kids workshops where you can learn to make a small projects such as a tool box or a birdhouse.
It is suitable for kids age 5-12 and each child gets to take home their newly constructed project, an achievement pin and certificate. Check your local Home Depot for more details.
24. Go For A Drive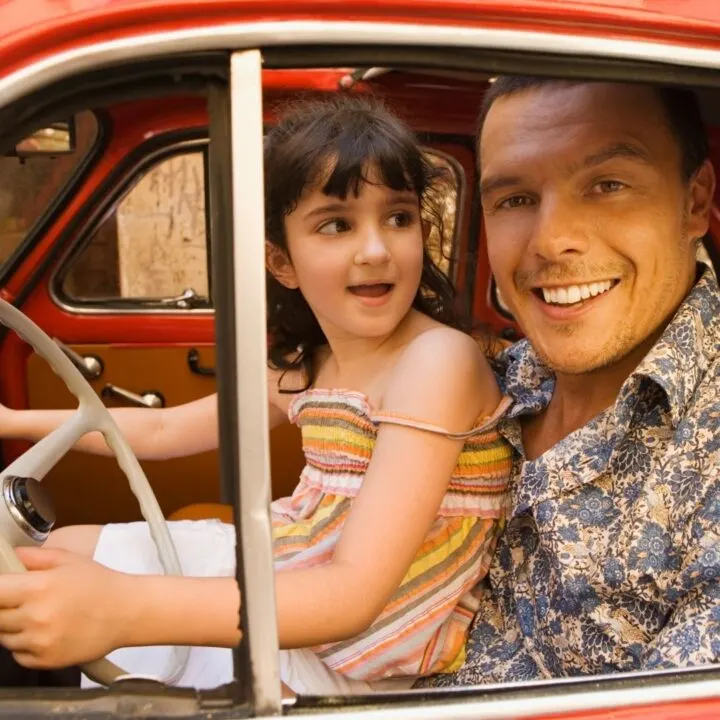 Head to a drive-thru for your favorite drink then hit the road and explore a new area. This is a really fun weekend activity that can take you to unexpected places.
Have cash on hand in case you come across any cool roadside stands or places to explore.
25. Bedroom Makeover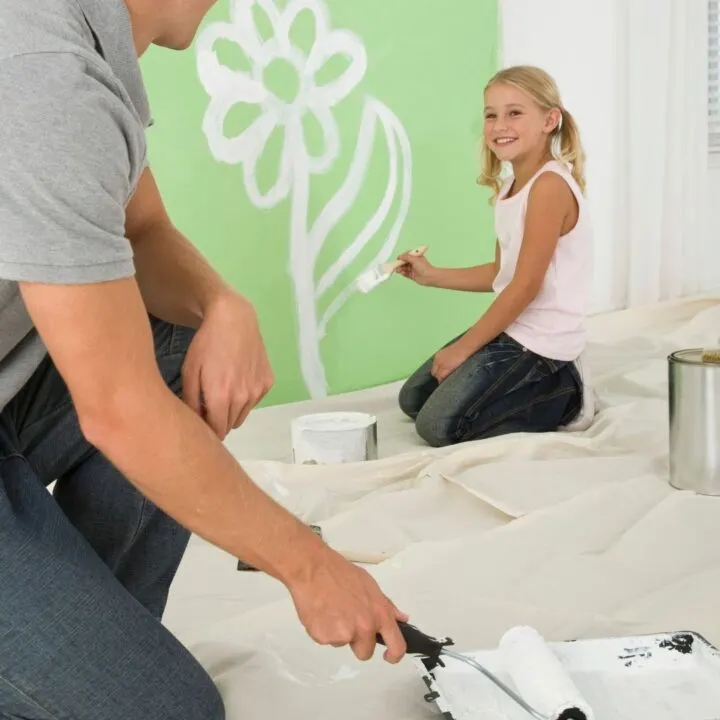 I've found that kids love redecorating their bedrooms and making them look amazing. You don't need to spend a ton of money for this date, a can of paint and some rearranging can be enough for a make-over.
If you are feeling ambitious, take a trip to a thrift store to find some new artwork or decor items before you start.
Looking for a quick wow factor? Get these LED Strip lights. Kids love them. They change color via a remote and have been a huge hit with my kids.
Final Thoughts on Daddy Daughter Date Ideas
Don't overthink the fun activities you can do with your daughter.
The most important thing is t have fun together and give her your undivided attention with no phones or distractions.
Time is the most important gift we can give someone and the time we spend with our children will shape them for the rest of their lives.
I hope the father daughter quotes below will inspire you!
Daddy Daughter Quotes
Looking for some inspiration for a cute book inscription or card about father's and daughters? Here are my top 5 quotes about daddy daughter love.
Frank Pittman
"Fathering is not something perfect men do, but something that perfects the man."
Stanley T. Banks
"You fathers will understand. You have a little girl. She looks up to you. You're her oracle. You're her hero."
Michael Josephson
"One of the greatest things about daughters is how they adored you when they were little; how they rushed into your arms with electric delight and demanded that you watch everything they do and listen to everything they say."
John Gregory Brown
"There's something like a line of gold thread running through a man's words when he talks to his daughter, and gradually over the years it gets to be long enough for you to pick up in your hands and weave into a cloth that feels like love itself."
Joseph Addison "Certain is it that there is no kind of affection so purely angelic as of a father to a daughter."
More Father and Daughter Ideas:
Fun & Frugal Fall Bucket List For Families
18 Christmas Eve Traditions For Families