In a baby's first year, there isn't much you need to do other than enjoy those cute baby snuggles and get used to life together.
One of the things you absolutely can't miss during the first 12 months is to take milestone pictures of your baby to capture how much they change in such a short period of time.
In the craziness of newborn life, the days are slow but as we all know, the weeks pass by all too fast. By taking a photo of your baby each month, you will have a great record of how much they grew in that first year.
Taking great photos of babies is one of those things that looks easy but it can actually be quite hard to get those Instagram-worthy milestone pictures of your baby that we all want.
Luckily there are a few simple tricks you can use to capture their personality and beauty that will leave you with memories you'll never forget.
In this post we will take you through the best ideas for taking monthly milestone photos of your baby without any stress – you'll be so glad to have these photos for years to come.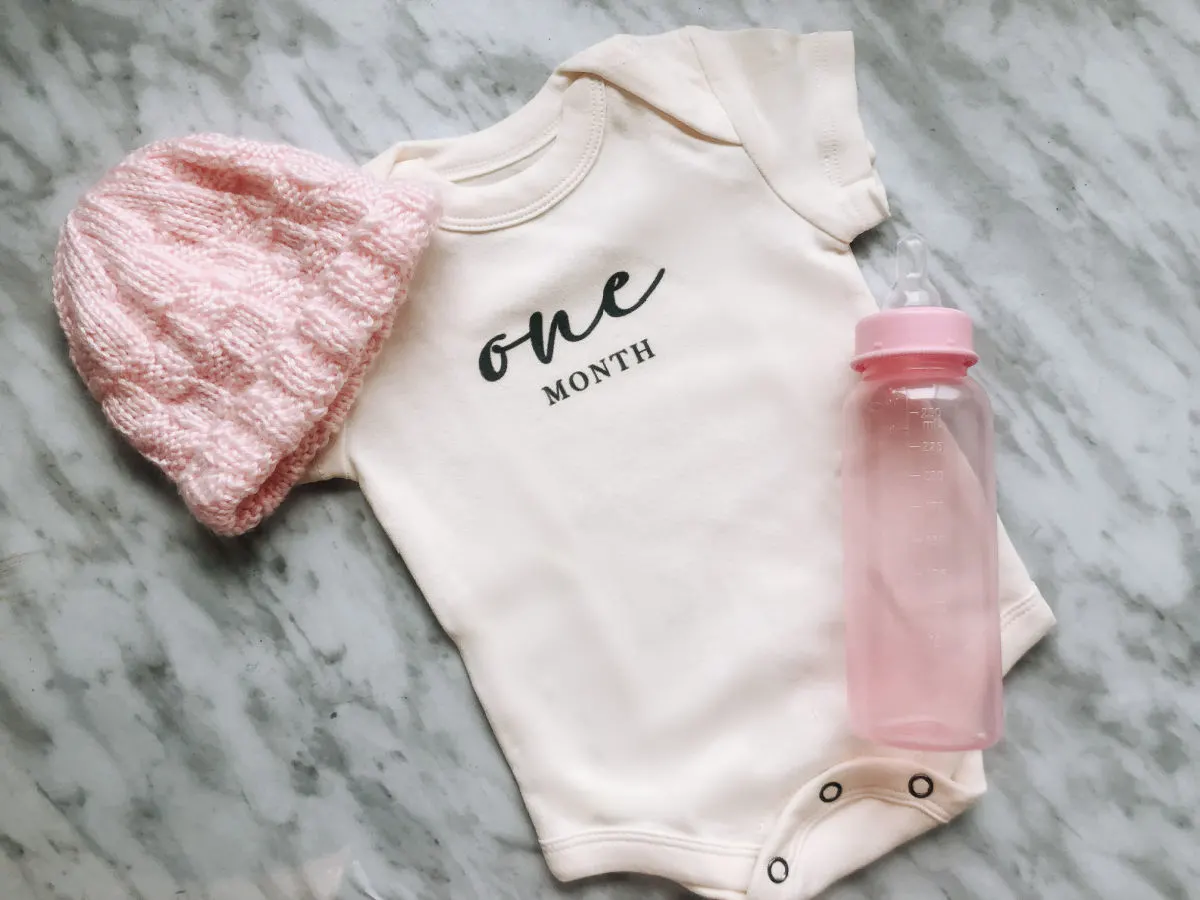 This post is sponsored by Finn + Emma, but all opinions are my own. This post may contain affiliate links. Please read my Disclosure for more information.
How To Take Great Milestone Pictures Of Your Baby
Tip #1: Time it right
This is probably the most important thing to remember when you are taking DIY photos of your baby.
As you no doubt know, babies can be fickle little things and sometimes they do not want to cooperate when it comes to taking those perfect photos.
You will make life so much easier for both of you if you time the photo session right. As a general rule, make sure that your baby is well rested, fed and happy.
I normally aim to take photos about 30 minutes after feeding to allow them to digest before laying them down for the photos.
In the morning after the first feed is a great time to take photos because babies are normally happy and not tired, plus the lighting is often good.
Tip #2 : Light Is Key
You don't need a fancy professional set up to take good photos. Most cellphones have great cameras nowadays and the nice thing about baby photos is that natural lighting works best.
Try to avoid flash photography as it can change the color of your baby's skin in photos and their skin is already perfect enough!
As I mentioned, natural lighting is your best bet. If you avoid artificial light sources then your photos will look more natural and have that dreamy look we all love.
In the summer, taking your photos in the backyard on a cloudy day is great.
Inside the house, aim to do your photo session near a window, north-facing is best if possible.
Tip #3: Keep It Simple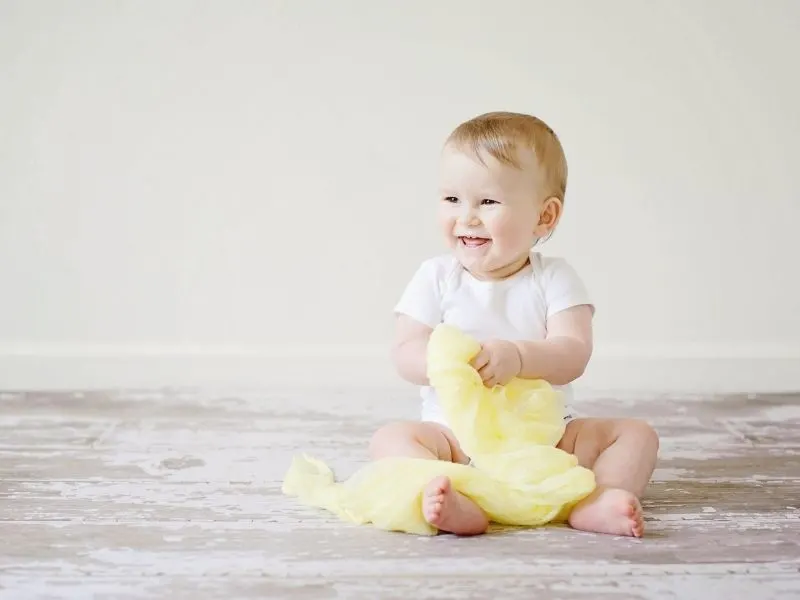 Make your baby the focus of your photos by eliminating background clutter. Find a spot in your home with a blank wall or a plain rug.
The best milestone pictures are clean and really put baby front and centre.
You don't need to spend a lot of time on money on creating the perfect photo set up, a white sheet or plain blanket does the job perfectly.
Another idea is to use a white comforter on the bed which looks cozy and also keeps your baby comfortable while you snap away.
Tip #4: Mark The Milestones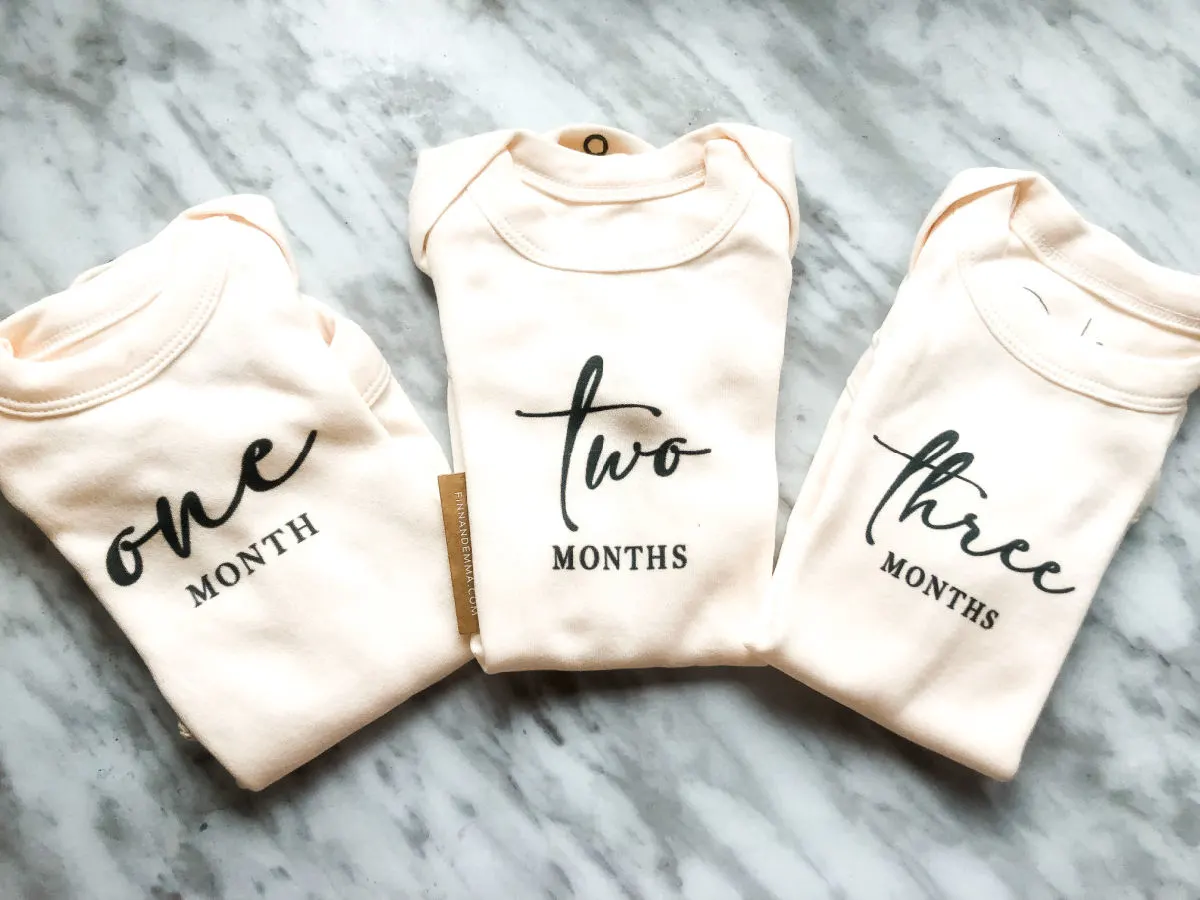 Although it might seem obvious now, in a few months you will completely forget when you took which photo. That's why it is really important to add a monthly milestone marker in each of your pictures.
There are lots of different ways to add monthly markers to your photos. Some people like to use a chalkboard sign while others add some text to their photos on Instagram.
The best way I have found is to use milestone bodysuits that not only look cute but avoid the extra clutter of a sign or text overlay. Bodysuits with text in neutral colors are perfect for taking timeless milestone photos that look awesome.
Finn & Emma, who make lots of great sustainable clothing for babies, have a really cute set of these milestone markers. They make an awesome baby shower gift too!
Each bodysuit is made of organic cotton and features text marking baby's first month all the way up to their first birthday (perfect for that cake smash photo-op!).
Tip #5: Get Up Close
If you're looking to capture amazing photos of your new baby, make sure to get plenty of shots of your little one in different poses.
You don't have to be a pro photographer to take cute photos but there are some tricks that you can use which will make your photos look much more professional.
A good way to take great photos of your baby is to get really close. Get down on your baby's level and snap away to capture all the details of their tiny hands and face.
Another nice idea is to lay your baby down on a blanket on the ground and take photos from overhead. Use a rattle or bell to grab your baby's attention.
Bear in mind that sometimes the best photos are when your subject isn't looking directly at you though. Experiment with different poses and try to capture those candid shots too.
There you have it, five fun, and effective tips to make recording your baby's milestones at home easy.
Wishing you a wonderful first year with your baby!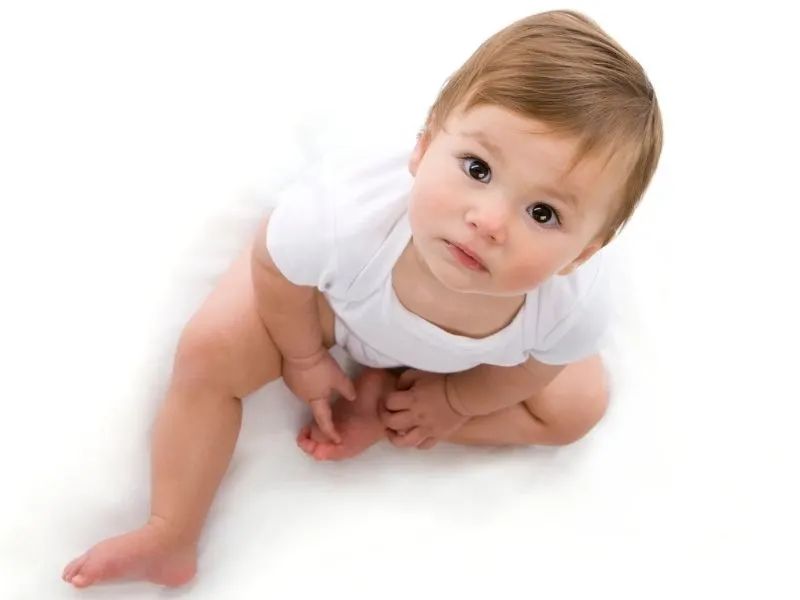 Looking for other baby related posts for making new mama life easy? Here are some of our most popular posts:
62 Newborn Baby Tips and Tricks (From Real Moms!)
Free Baby Stuff for New & Expecting Moms