If you live by the coast or you are planning a tropical babymoon, have you considered combining the two into a fun beach pregnancy announcement?
If you are able, the perfect place to announce their pregnancy is at the beach.
First of all, there are so many fun things you can write on the sand plus pregnant bellies look so cute in swimsuits!
In this post, we will look at some of the most creative and fun ways to announce your pregnancy on the beach – no matter where that beach is!
From sibling pregnancy announcement ideas to digital announcements for social media, we have them all!
So, if you are looking for the perfect vacation baby announcement, read on for lots of amazing ideas!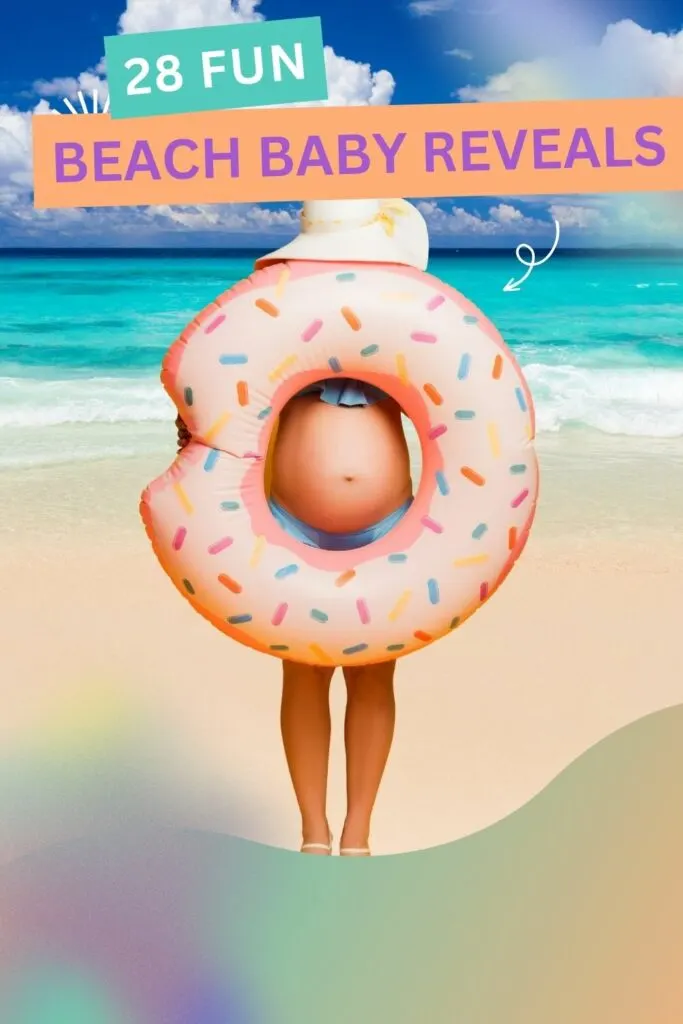 This post contains affiliate links. Please read my Disclosure for more information
More Fun Pregnancy Announcement Ideas
25 Original Letter Board Pregnancy Announcement Ideas
25 Ways To Announce A Pregnancy To Family In Person
Beautiful Beach Pregnancy Announcements
Let nature give you the most beautiful backdrop by sharing your big news with everyone on the beach!
Not only is the light perfect but you will be able to announce your little beach bum in style!
Below we have rounded up some of the most creative beach pregnancy announcement ideas that you can recreate yourself!
All you need are your sunglasses, your camera and of course, a sandy beach!
Dreamy Beach Baby Announcement
This beautiful and simple photo is perfect for taking yourself.
Just find an empty stretch of beach and set your camera timer.
I love that this couple used a tropical pineapple to prop up their ultrasound photo – what a fun beach baby announcement!
Love On The Beach
This is a simple but sweet way to share your big news with everyone!
It would make an amazing social media pregnancy announcement with a cute Instagram caption.
Orlando based photographer, Brooke Saez, specializes in capturing milestone moments in great locations and this adorable pregnancy announcement is no exception.
Big Sister Pregnancy Announcement
Are you expecting your second or third child?
Why not do a sibling beach pregnancy announcement and let your little one share the news?
All you need is something to write on the sand with and of course, your adorable little one.
This vacation pregnancy announcement is so easy to do yourself on the beach and amazingly cute!
Balloon Baby Announcement
Grab some balloons and turn your beach pregnancy announcement into a celebration! I love this idea for a beach pregnancy photoshoot!
If you are planning a trip to the shore during your pregnancy, make sure to take some great photos like this one.
Baby On Board
Say it with a hat!
This is one of my favorite beach baby announcements – it is easy to DIY yourself and the perfect way to tell everyone that you have someone special on the way.
You can grab this adorable hat from Etsy and have some fun on the beach.
The nice thing is, it is perfect for wearing all summer long!
Message In A Bottle
I love creative pregnancy announcements and this is one of the best I have seen for the oceanside.
All you have to do is to put an extra special "message in a bottle" to share your big news with friends and family.
This makes a wonderful beach baby announcement and it is so unique.
Just place your ultrasound photo in a clear glass jar or bottle and stand behind it as your photographer snaps away. Bonus points if you have a toddler to make it even cuter!
Pink Or Blue Baby Reveal
I just love this fun pregnancy beach announcement idea!
A printable chalkboard sign is a really budget friendly way to announce your pregnancy on the beach.
You can actually grab this one from Etsy or make it yourself.
The teeny tiny flip flops make it extra adorable!
New Sibling On The Way
Expecting your 3rd or 4th child?
Take some inspiration from this beach pregnancy announcement and let the siblings join in the fun.
All you need are your kids on hand (or on foot!) and a stick to write in the sand.
Beach Themed Baby Announcement
Letter board pregnancy announcements are really popular right now and this one is a cute idea.
If you want a beach themed pregnancy announcement but can't quite get to the shore right now, you can buy an editable flatlay like this one from Etsy.
It makes the perfect pregnancy announcement for Instagram or Facebook and means you don't even need to go to the beach to get those summery vibes.
Sunbathing Baby
If you are on vacation and want to DIY your beach pregnancy announcement, here is a really cute idea.
Just take a photo of your growing belly and add the text and an image of your sonogram to your photo.
Winter Beach Baby Announcement
Pregnancy announcement beach photos don't have to be taken on a tropical island.
The couple in this photo created a beautiful pregnancy announcement on the sand on a not-so- perfect day.
This adorable beach baby reveal can easily be done on any beach in any season.
Bikinis or Trunks?
I love this bikini or trunks sign from Etsy.
You can personalize it with your last name and due date then just print it out and frame it.
It's the perfect way to create a fun summer pregnancy announcement on your next visit to the beach.
Tiny Shoes Pregnancy Announcement
The best beach baby announcement ideas are not always the ones with the most fancy props.
After all, the beach is all the backdrop you really need.
That being said, how adorable are these little shoes?
If you love simple pregnancy announcements, you can share your news without saying a word by recreating this cute beach photo.
Tropical Flat Lay Pregnancy Announcement
If you like this tropical flatlay look but don't have time to gather all the items yourself, Etsy has you covered with editable and printable options.
These baby announcements work great for email, social media and, of course in person pregnancy announcements.
Coming Soon Baby Announcement
Beach writing is such an adorable (and free! ) way to announce your pregnancy.
All you have to do is draw the little feet like in the photo above for an extra dose of cuteness.
Baby Bump Is Here
How is this for a really stunning sibling pregnancy announcement?
This beach announcement baby bump idea is so easy to do and will result in a photo that you will cherish forever.
All you need are some cooperative kids and your beautiful pregnant belly.
Washed Ashore
If you love the message in a bottle idea but want to keep it really simple, this ocean baby announcement is for you.
Shot with a cellphone camera, you can easily DIY this idea yourself for the perfect beach pregnancy announcement.
Pacifier Baby Reveal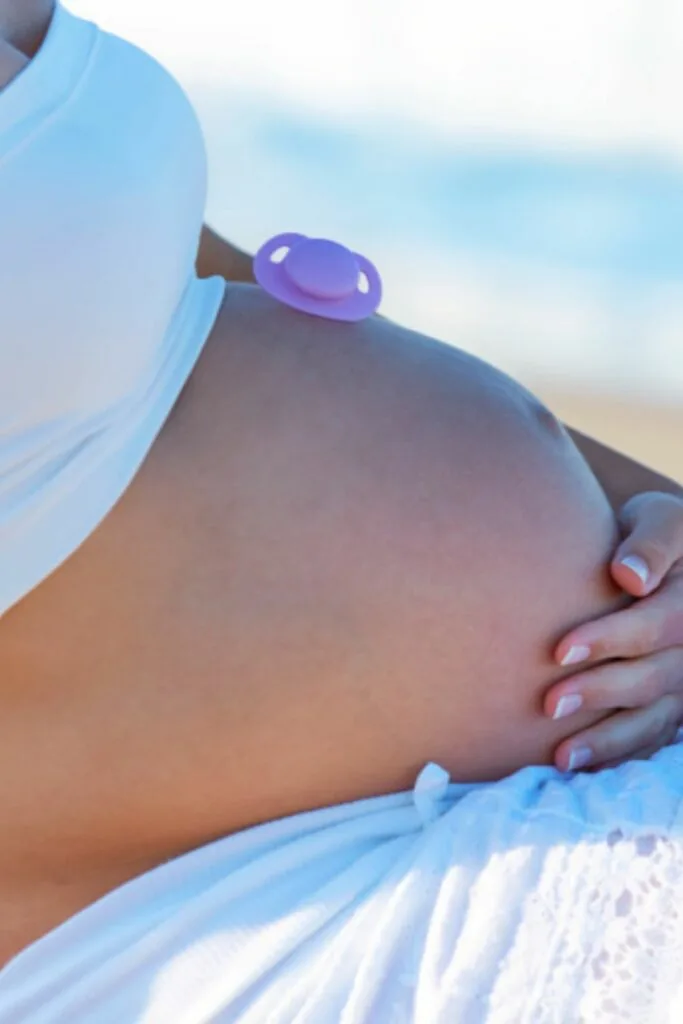 If you are getting beach baby announcement pictures taken, make sure to include this pose.
You can showcase your growing bump with this adorable set-up – all you need is a beautiful beachy background and a baby soother.
This beach pregnancy photoshoot idea would also be really fun for maternity photos when you are further along.
Baby Hands
Can't get to the beach but really want a beach pregnancy announcement?
BeachWritingNJ on Etsy will do it for you!
Just tell them the message you want and their professional photographers will give you an announcement you will treasure for years to come.
You don't even have to tell anyone that you never actually made it to the shore.
Beach Babe
Do you have a little beach babe in your life who wants to tell everyone that they are about to become a big sister?
I love this colorful chalkboard sign from Etsy! This is one of those DIY pregnancy announcements that you can easily do during a day at the beach.
Baby Flip Flops
You don't have to take photos of yourself or your kids to make the perfect beach pregnancy announcement.
To recreate this photo, all you need is some sand writing and cute shoes.
It's a really fun way to let everyone know your due date too!
Beach Pregnancy T-shirt
Here's a funny beach pregnancy announcement that is sure to turn heads.
Show up to your next beach party wearing this adorable tee and watch everyone clue in to your big news!
It comes in a bunch of colors and is perfect for wearing all summer long.
Baby Shoes
You've probably noticed that tiny baby shoes feature in lots of pregnancy announcements.
I love them because they give you an excuse to start shopping for baby plus you get to use them once baby is born.
Beach Bum
Even if you don't want to do a flat lay like this one, you might want to steal the beach pregnancy announcement caption from the sign.
If you do want this fun flat lay, the digital download is available on Etsy and comes in both boy and girl versions.
It is perfect for uploading on social media.
Shadows on The Beach
Make use of the summer sun with a really sweet beach pregnancy announcement like this one.
It is really easy to do yourself and is so unique.
All you need are some loving hands and some adorable baby props.
Summer Is In The Air
Looking for the idea summer pregnancy announcement?
Get tropical with this printable sign from Etsy. Just edit with your name, due date and sonogram photo and you have the perfect way to share your news in the hot weather.
Mom On The Beach
Are you looking for an easy pregnancy announcement on beach?
Although the mom-to-be in the photo is quite far along in her pregnancy, you can use this idea for your own reveal no matter how many weeks you are.
Belly Love
Everyone loves a pregnant belly so why not make it front and centre with a simple pregnancy announcement on the beach like this one?
You don't need any special props or camera angles and it is unique and sweet.
Donut Baby Reveal
If you are feeling summery, why not recreate this adorable donut pregnancy reveal?
This has to be one of the sweetest summer pregnancy announcements we have come across!
All you need is a cute bathing suit and an oversized donut pool float to DIY this beach baby reveal.
No beach handy? You can easily turn this into a cute poolside baby announcement too!
Beach Pregnancy Announcement Ideas – Final Thoughts
If you have the opportunity, sharing your exciting news with a day at the beach is the perfect way to enjoy early pregnancy.
Not only is it easy to make a DIY pregnancy announcement for social media or family gatherings but the sandy beach and surf make such an amazing backdrop.
Congratulations and enjoy your sunny beach days!
More Exciting Ideas For Announcing Your Pregnancy
32 Valentine's Day Pregnancy Announcement Ideas
26 Easter Pregnancy Announcement Ideas {Spring Pregnancy Announcements}
300 + Pregnancy Announcement Ideas