Babies are expensive. Aside from the obvious diapers, furniture and strollers, there are tons of other little items that, while you might not necessarily need them, they do come in handy.
If you are pregnant and starting to prep for baby's arrival, make sure to check out all the freebiesbelow and even this free online prenatal class run by an RN.
If you take advantage of all the free baby stuff in this post, you could potentially save over $1000 on baby gear and formula. That could really help cut the cost of having a baby and help you stick to a budget.
The first freebies are my favorites, if you want to kit your baby out in the cutest gear without breaking the budget, check out free baby stuff below. This stuff is all free (just pay shipping), great quality and really really cute! You can get over $500 of  stuff, completely free!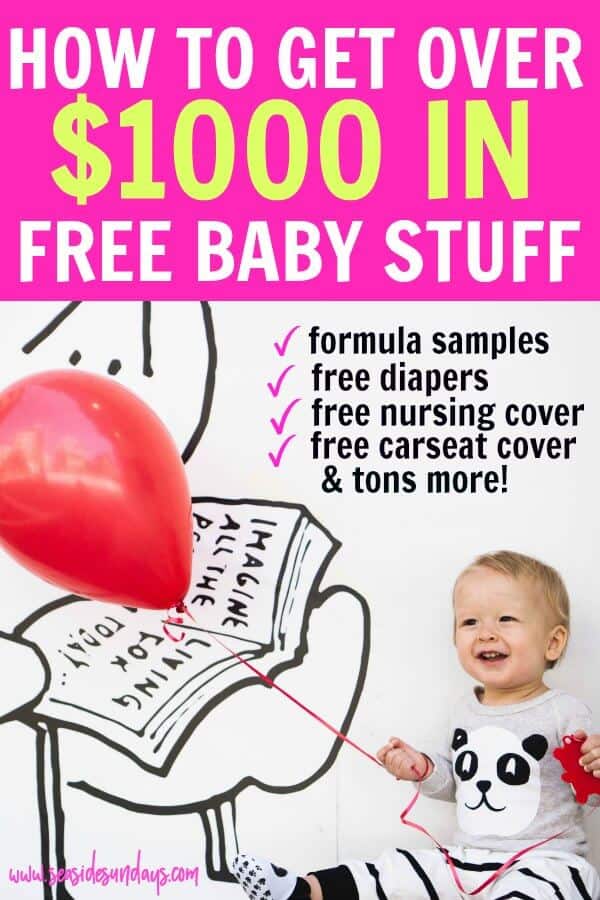 This page contains affiliate links meaning I earn a commission if you use those links. I only recommend brands I use and trust.
I personally have the car seat canopy, the nursing cover, plus tons of the baby leggings and they are all awesome and get compliments all the time. They also made amazing baby shower gifts.
In Canada? Here is your ultimate list of Canadian Baby Freebies for 2018
You can also take advantage of free formula samples and other awesome baby freebies that companies give out to grow brand loyalty early on.
RELATED: How To Have A Baby On A Budget
Even if you are planning on breastfeeding, it might be worth sending off for the free formula samples because you often get other freebies included too like bottles, change pads and pacifiers.
If you are having a baby shower, also make sure to open up one (or more) registries and take advantage of the free baby stuff the big stores give out when you sign up.
Many also have a completion discount so you can get some money off your purchases even if you are buying them yourself.
Free Baby Stuff For New Moms
Use special coupon code "SEASIDE2018" for these freebies (just pay shipping & handling)
You can choose from the type that hangs over the handles or the new style that doubles up as a nursing cover or blanket.
Create your own design or choose from one of the templates from other customers.There are tons of great ideas, this would make a great baby shower gift or even pregnancy announcement!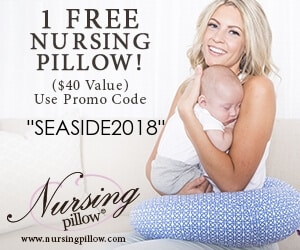 (add baby's name or a cute slogan)
You can use the code "SEASIDE2018" on each of these websites – no limit!
More Baby Freebies
How to Get Free Baby stuff from Amazon
Open an online baby registry for free on Amazon at this link
 and get a free gift box when you sign up for Prime and complete the  Registry Checklist by adding products from each category to your registry or marking the category as complete, and then make a purchase of $10.00 from your registry (either by you or your gifters).
(You can see the status of your welcome box at the top of your registry page).
What's in the box?
Free products such as (this is what one person received, contents change each month)
Pampers sample clutch
Seventh generation diapers
Swaddle Designs Muslin blanket
Philips Avent bottle
Huggies sensitive wipes 56 wipes pack
Baby dove body wash
Aveeno baby lotion
Seventh generation baby lotion
La Roche Posay healing balm
Sample tube of bliss energizing mask
Two munchkin latch nursing pads

Two packs of two Philips avent breast pads
In addition to the gift box, the baby registry has other great features: 
 Get a 10% completion discount or 15% completion discount for Amazon Family members (see below for details)

FREE 90-day returns on Baby Store purchases.

It's universal – add items to an Amazon Baby Registry from any site.
You can get a free 30 day trial of Amazon Family here.
Benefits include:
Save 20% on diapers subscriptions (TIP: Sign up for Swagbucks and earn Amazon gift cards for completing surveys. Combine the gift cards, Ebates and the Amazon Family discount and get all your diapers for free!). 
Coupons and Deals from Amazon Family
Exclusive Baby Registry benefits
FREE Two-Day Shipping on millions of items
Unlimited instant streaming of thousands of movies and TV shows
Unlimited, ad-free streaming of over a million songs and more Prime benefits
Other Baby Registry programs that offer free baby stuff
Open up a baby registry with Target and you will get a free baby welcome gift the next time you go to the store. The gift bundle is packed with free samples and coupons for baby products.
Walmart has a similar offering – open a registry and get a welcome box full of samples and coupons.
Open up your baby registry with Buy Buy Baby and you will get a goody bag full of samples and coupons. You can open your registry online and then pick up your goody bag in store.
Where to get free formula samples for moms
Most of the major formula companies give out free samples to new and expecting moms in the hopes that your baby will take to their brand and they will have found a new customer.
The great thing about formula samples is that a lot of the companies, such as Gerber, also make toddler food and snacks and will send you coupons for those items as your baby gets older.
I highly recommend joining all of the formula sample clubs below. If you don't end up using the formula, you can donate it to a local food bank.
Join Enfamil Family Beginnings and you will receive a package of free formula samples, milestone cards, coupons and more plus coupons and offers throughout your baby's first few years. Enfamil's website claims the free gift bundle is worth over $400 and given the cost of formula, they are probably right!
Sign up with the MyGerber program and you will be sent coupons and offers in the mail. They do sometimes also send free formula samples.
Another super generous program, Similac Strong Moms will send you over $400 worth of free formula samples, formula checks and accessories when you sign up.
Natures One makes organic formulas and formulas with no corn syrup and other "extras". You can try the formula for free by signing up and paying shipping ($5.95).
 Free Diapers and More
One of the best ways to get free baby stuff is to brainstorm all the brands you plan on using and then checking their websites. Many baby brands give our free samples, coupons or have reward programs that can earn you freebies.
Here are some of my favorites:
You enter the codes you find on diaper and wipes packages and redeem your points for Shutterfly gifts, coupons or mechandise. I love this program and always use my points for my Christmas Cards from Shutterfly. (check out my DIY Christmas Photo ideas here.)
Make sure to "like" the Pampers rewards Facebook page and twitter as they often post bonus codes.
If you end up being a Huggies family, never fear as they have a very similar program to Pampers and you can even get a bonus 500 points just for joining up.
Huggies doesn't work on a codes system, instead, upload your receipt to their app, just like you do with other shopping apps. 
I love the Honest company diapers. They are sooo cute (check out all the pretty designs). If you would like to try their products for yourself, you can order a free trial bundle and just pay shipping.
If you don't want to continue your subscription, make sure to cancel it before the deadline. I found it very easy to cancel and there was no hard sell.
Mam pacifiers are probably the best out there, especially for colicky babies. Join the MAM club and get free samples, coupons and offers.
Moms meet is an online sampling club for moms. Sign up to become a Mom Ambassador and get access to free baby samples and other healthy products. Moms Meet also has a rewards program where you can earn rewards for visiting their site, answering surveys etc and then redeem your points for prizes.
More Baby Tips:
30 Things to try to calm a fussy baby
5 Essentials to survive the newborn stage
Must-Haves for the Pumping Mom
Questions to ask a home daycare – free printable
Start A Blog That Makes Money
Ready to start a blog and make money from home?
In this FREE 5 day email course, I will show you the exact steps I took to take my mom blog from $0 to a consistent $2000 a month within 4 months.