Who doesn't love Dr. Seuss? The Cat in the Hat is a huge hit around here! I decided to go all out with the theme for Ruth's second birthday and I think it was a success! I used free printables and things we had around the house as much as possible which helped cut down on the costs. The great thing about Dr. Seuss parties is that they are classic and it's easy to find things online compared with the more "trendy" themes.
This page contains affiliate links meaning I earn a commission if you use those links. Please read my Disclosure for more information.
For the tablecloth, I bought two tablecloths from the Dollar Tree. One red and one white. I think cut each one into strips and taped them back together to make one large stripey sheet. I think it looks fantastic for $2.50!
Printables
Family Shopping Bag has some great free printables for Dr. Seuss themed parties
I used amazing free printable invitations from My Paper Lily blog and I also got a beautiful banner from her Dr. Seuss collection.
Ideas for Cat in the Hat Games
Pin the hat on the cat
Make a Cat in the Hat mask with paper plate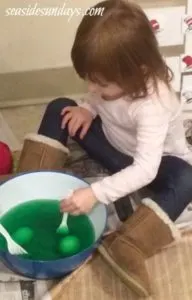 Food ideas for Dr. Seuss Party
Red and blue gummy fish
Goldfish
Strawberries and cream
Green deviled eggs
Mozzarella and tomato skewers