This Crazy Aaron's Thinking Putty Review was one of the most fun product reviews I've ever done.
If you have a child in the 4-10 age range, you are likely very familiar slime and gloopy putty. It's all the rage now but can get really messy.
My kids absolutely loved this putty and I had to tear them away from it when it was time to go to school.
Crazy Aaron's PuttyWorld is a US-based company that makes great putty that doesn't dry out or smell weird. It also comes in awesome colors that kids love.
I received Crazy Aaron's Thinking Putty Samples free of charge in exchange for my honest review of the product. This post may contain affiliate links, please read my full Disclosure for more details.
RELATED POSTS
The Best Princess Gifts For Preschoolers
Girl Power Gifts For Girls Of All Ages
Crazy Aaron's Thinking Putty Review
Below you will see my children unboxing their Thinking Putty Tins and my honest review (from both a parent and a child's point of view!)
What Is Crazy Aaron's Thinking Putty® ?
Founded over 20 years ago, Crazy Aaron's started with the simple mission of creating the best putty.
The product range includes over 40 unique colors and effects. The Thinking Putty® line also includes glow in the dark varieties, color-changing Hypercolors®, awesome truly magnetic putty, and so much more.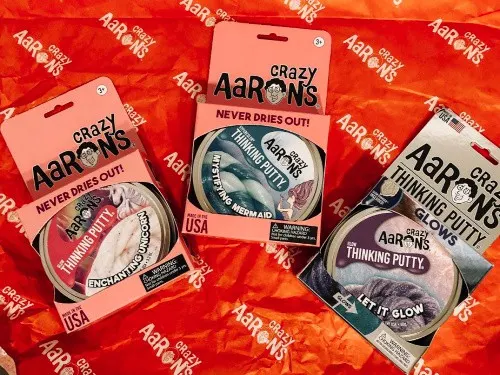 Is Aaron's Thinking Putty toxic?
That's one of the things I love about this putty! It is made from non-toxic silicone and is safe for children. Do bear in mind that it is recommended for ages 6+. I let my younger children play with it while under supervision only.
Crazy Aaron's Putty- what I love
This should really be what my kids love – they did the unboxing of the putty for me and comments included "This is the best thing ever" "You are the best mom" and "where did you find these cool colours?".
Doesn't dry out -unlike Playdoh and other slimes, Crazy Aaron's formula doesn't dry out if you forget to put the lid on.
New seasonal colours added all the time, for example there are North Pole, Holiday Lights and Snow Day putty colors right now.
On trend – there are unicorn and mermaid, dino poop and more.
Thinking Putty is manufactured with the help of exceptional individuals challenged with disabilities. Read More Here.

Made in the USA from nontoxic silicone and never dries out
Why Kids Love Thinking Putty
Apart from the fact that it fun to play with, Thinking Putty has some great benefits for child development:
Boost Attention – stimulate sensory awareness with putty playdates
Lower Anxiety – much like a stress ball, playing with putty can be relaxing
Encourages creativity- My children will spend hours playing with the putty and creating different shapes with it
My Favorite Thinking Putty® colors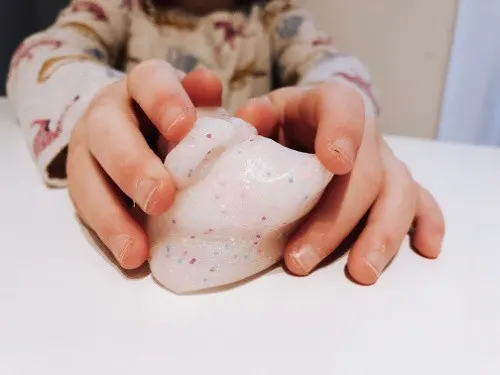 This is the one my daughter on the left is playing with in the photos and video. She loved how sparkly and glittery it is.

This is one of the color changing putties that is also really sparkly.
One of the glow in the dark putties, it starts off purple with golden sparkle and glows an electric blue in the dark.
Where can you buy Crazy Aaron's Thinking Putty® ?
You can get at Puttyworld.com (free shipping over $50). The majority of the range is also available to buy on Amazon.com