With 1 in 8 women suffering from some kind of TTC issues, movies about infertility are becoming more and more common.
After all, one of the nice things about watching a movie is when you can relate to the characters and feel that they "get you".
In recent years, there has a been a surge of shows and movies about getting pregnant on both cable and streaming.
There are quite a few infertility documentaries out right now and a bunch of movies such as Private Life on Netflix.
Meanwhile there are lots of movies from the past 20 years that feature couples who are struggling to get pregnant or dealing with IVF, donor eggs or surrogacy.
Some are comedies while others are darker so make sure to read the descriptions below to choose that one that you want to watch.
Read on for the full list of TV shows and movies about infertility that you can watch from the comfort of home. If you fancy curling up with a good book, make sure to check out this inspiring books about infertility.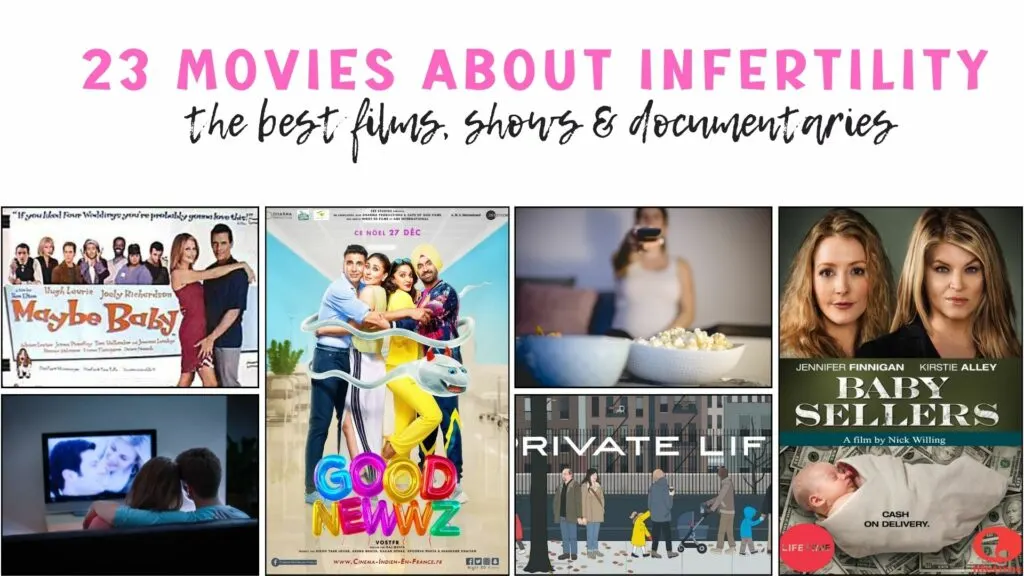 This post contains affiliate links meaning I may make a commission if you click on a link – at no extra cost to you. Please read my Disclosure for more information.
RELATED POSTS
51 Best Pregnancy Movies To Watch When You're Expecting
The Best Movies About Infertility
If you are looking for a "how to get pregnant" movie, there are a lot of options.
Not all movies about IVF and fertility troubles are sad, in fact you might be surprise at how many comedies about infertility there are.
Some are funny and lighthearted while others are a little bit more emotional.
The TTC movies below are all about getting pregnant and trying to get pregnant. They cover all kinds of topics such as surrogacy, IVF, secondary infertility and the general stress and mental health issues that can accompany fertility problems.
I will admit that some movies and shows do a better job than others at capturing the feeling that that infertile couples face, This is Us and Private Life are two of my favorites in that regard.
Looking for real life fertility stories? Check out these videos and testimonies from women who got pregnant naturally against the odds.
You can find many of the shows and films below on Amazon or other streaming services such as Hulu and Netflix.
This 2018 movie is available on Amazon and is based on the bestselling book of the same name.
Katie and John Kelly are ready to settle down and have kids, but five years later, all they have to show for their efforts is a mountain of negative pregnancy tests.
As they run out of traditional options and their window closing, the couple explores the daunting world of medical, spiritual, and homeopathic methods to conceive a child
This new movie is about a forty-something New York couple who will do nearly anything to have a baby, including IVF, donor eggs, and adoption.
Paul Giamatti and Kathryn Hahn star in this movie about a married couple who are going through rounds of IVF and other treatments. The movie opens with the husband giving his wife a shot and goes from there. Although this isn't a real story, many women will relate to this depiction of the real issues facing couples.
This is critically acclaimed movie is Netflix. It is about an Austrian couple facing fertility issues who find their marriage tested on a vacation to a Sardinian resort.
It gets great reviews so is definitely worth a watch.

This movie about a London couple who seem to have everything they want except a baby is great. It shows the crazy things we will do to try and get pregnant in a lighthearted way.
One of the best things about this movie is the star studded cast. Joely Richarson and Hugh Laurie (from House), turn their infertility journey into an enjoyable comedy.
This is a Lifetime movie that features a couple suffering from infertility.
When Nate and Layla have trouble conceiving, they seek help from acclaimed fertility doctor Bianca Hartman.
When Layla starts having jarring mood swings and Nate starts having blackouts, they begin to suspect something may be wrong and get a second opinion.

This is one of the weirdest movies about infertility on this list. In fact, I almost didn't include it as it does contain a lot of pregnant women that might be triggering for some of you. For example, there is a big baby shower scene.
However, if you can handle it, I think it covers the topic of infertility really well.
This is one of those ensemble movies that show different couples going through the same thing (similar to He's just not that into you and New Year's Eve").
One of the couples is going through infertility and IVF/adoption. Another goes through a miscarriage.
I really found this movie relatable and Jennifer's Lopez's character was great at conveying the feelings of women with fertility struggles.
Kate (Tina Fey) stars as a woman who does everything right and still can't get pregnant. Angie (Amy Pohler) does everything "wrong" and gets pregnant accidentally. This comedy focusses more on the pregnancy part of the story than infertility but it is lighthearted and fun if you are in the mood.
This is an oldie but a goodie. A ex-con and a cop want to have a baby but find themselves unable to conceive.
They then decide to steal one baby from a set of quintuplets which leads to some hilarious moments.
This is a comedy that can help take your mind off your infertility while staying on topic.
It's a story that's been told a million times, a childless couple desperate to conceive and a pregnant teen reach an agreement which goes awry once the baby is born.

If you like horror films, then this classic movie about a couple who are trying to get pregnant in the midst of creepiness and witchcraft is for you.
If you like odd ball comedies, this one is for you. In the small town of Backberga, proud telecom company Unicom suffers a blackout which results in crazy antics. One of the people affected by the issue is Roland who was up on the electricity pylon when it happened. Told by the doctor that he can no longer have children, Roland has to go back home and figure out how to tell his loving wife, while continuing to get the nursery for the baby they were planning.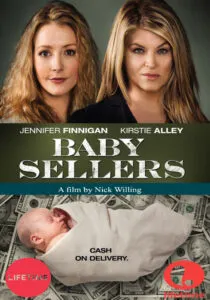 Kirstie Alley stars in this made for TV movie about a women who runs a baby trafficking business. She sells babies to unsuspecting couples who are struggling with the fertility rollercoaster and looking to adopt.

If you want a comedy about getting pregnant, Jennifer Lopez stars in this film about a woman who uses a sperm donor to get pregnant.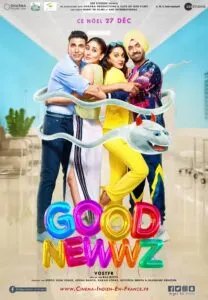 Two couples with the same surnames pursue in-vitro fertilization and wait for their upcoming babies. Trouble ensues when they find that their own sperm has been mixed with that of the other couple.
If you are going through IVF cycles right now, this is a hilarious look at the whole IVF journey.
Infertility Documentaries
If you are interested in a more educational look at modern infertility, Amazon Prime is loaded with IVF documentaries.
Many of them are a bit older but I found them to be really interesting and informative.
This documentary follows the Noah and Maya through their own fertility journey. It is probably the best infertility documentary on Netflix right now.
It goes from the first appointment with a Reproductive Endocrinologist through various medical interventions including laparoscopic surgeries, Intrauterine Insemination, and In-Vitro Fertilization, and third party reproduction.
This documentary features women and couples currently undergoing fertility treatment in hopes of getting pregnant or preserving their fertility for the future. It is a great watch if you want am IVF specific documentary.
A look into the darker side of the fertility industry. This documentary features Kelly Martinez who served as a surrogate mother for three different couples and was threatened with financial ruin after nearly dying during her third surrogacy.
Kelly's story exemplifies everything that is wrong with the distorted version of fertility medicine that is Big Fertility.
Don't Talk About the Baby is the first documentary to explore the cultural stigmas surrounding pregnancy loss and infertility.
Miscarriage, stillbirth and fertility struggles are incredibly common, yet the topics are taboo and many women are ashamed of admitting they have had issues.
The fertility industry is booming but it is a profit driven business at its core.
Some evidence suggests that clinics are giving women false hope about their chances of pregnancy, while others don't even need the treatment that they go through. This documentary explores these topics and is very insighful.
Thousands of donor-conceived people have a deep longing to know who they belong to, where they come from, and who they look like.
How does it impact your self-perception, the choices you make, and your view of life and the world?
Surrogacy is a practice as old as the Bible but it's only in the last 40 years that commercial surrogacy has taken off.
This documentary how difficult the transaction of having someone else's baby really can be.
This documentary contains important information on the risks associated with donating eggs that I never would have known without this film.
Talking of IVF mix-ups, this harrowing Netflix movie is about a fertility specialist, Dr. Cline, who secretly used his own sperm to impregnate dozens of patients in the United States.
The documentary follows a woman who was conceived through donor sperm as she finds sibling after sibling after doing a home DNA test.
TV Shows About Infertility
In addition to all the movies about infertility above, there are many TV shows that feature storylines about IVF, infertility and getting pregnant, here are three of the best:
This Is Us (NBC)
Kate and Toby struggle with infertility in seasons 2 and 3, finally resorting to IVF.
Sex and The City (HBO)
Although this show is very lighthearted, it did touch on serious issues such as infertility and impotence.
Throughout many episodes, we see Charlotte struggle to get pregnant and eventually she adopts a little girl from China. In the meantime she deals with emotional issues, especially when Miranda gets pregnant by accident.
Parenthood (Amazon Prime)
Parenthood deals with with secondary infertility and all the strains it can put on a marriage. A must watch for anyone trying to get pregnant for a second time.
Movies About Infertility – Final Thoughts
There are movies about infertility, but they all have a different message.
Some show the difficulties couples face when trying to conceive, while others document the triumphs and struggles of people who have overcome infertility. Whatever the story, these films offer insight into one of the most personal and difficult parts of life.
Infertility is a topic that is often shrouded in secrecy, and movies have been a way for people to explore this topic without having to reveal their personal details.
FREE Fertility Resources (Ebooks, Checklists and more)
Click the links below to instantly download the following useful resources, at no cost to you.
More Fertility Tips
Should You Do A Fertility Detox To Get Pregnant ?
Preparing For IVF – Tips For Success (Free Download)
How To Improve Your Egg Quality In 30 Days