This DIY flower sign is so easy to make and wonderful for a birthday party table or as a monogram for your mantel.
If you are feeling ambitious, you can easily make it with real flowers for a wedding or special event. I used fake flowers as I wanted it to be used for both the birthday party and cake smash photos.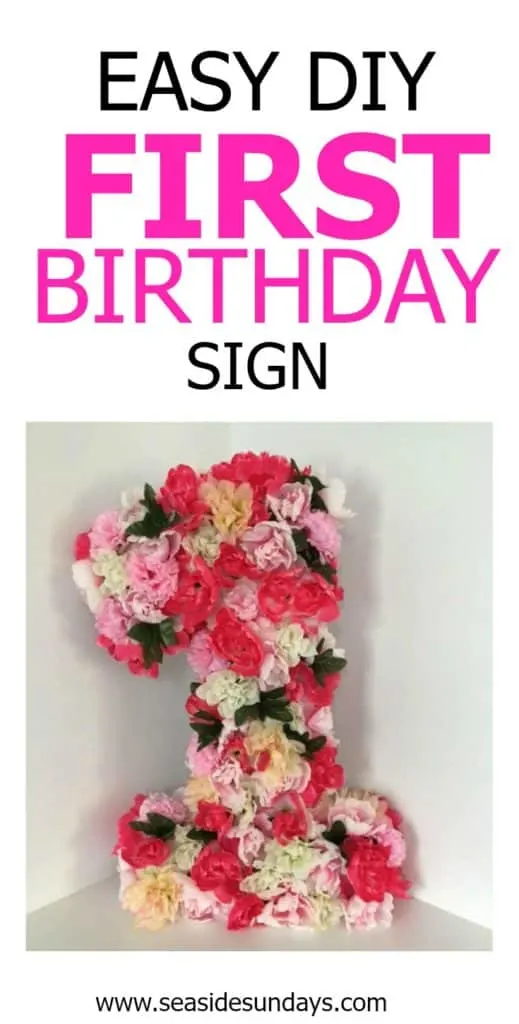 This page contains affiliate links meaning I earn a commission if you use those links. Please read my Disclosure for more information.
RELATED POSTS
Everything I used is from the dollar store and I made the entire sign for under $10 and in about 30 minutes.
Flower Monogram How-To
Floral Foam Bricks. I used the wet kind although either would work fine. The wet kind is a bit easier to get the stems into. (don't wet it though!).

Foam board or thick cardboard.

kitchen knife

Ruler and pencil

Box cutters

Fake flowers, leaves, and branches as desired. I used a mix of peonies, dahlias, and carnations. You need flowers that take up a lot of room, so the peonies are great for this.

Hot glue

Floral wire cutters – I use this cheap pair and they work great
How To Make The DIY Flower Sign
Lay the floral bricks out on the foam board to make the letter or number that you want to make. Trace around them.
Use a sharp knife to cut any angled pieces.
Cut the foam board to create the backing for the letter or number. Start hot gluing the floral foam to the board. I also glued the foam bricks together for extra sturdiness.
Once all the foam is glued on, start cutting the flower stems and pushing them into the foam. It's best to do one color at a time so you can make sure it is all even. I was working with a 3-year-old so that didn't happen for me!
Continue until the whole shape is full of flowers. Use the leaves to fill in any gaps.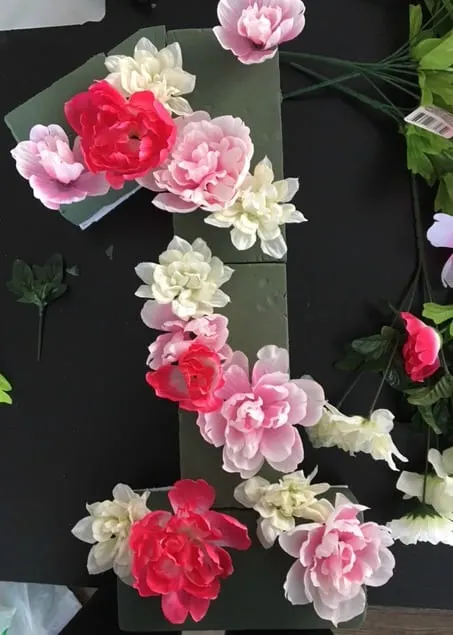 Enjoy the finished product! Tie a ribbon and make a wreath out of it or let it stand alone on your cake table or mantel.
Have you tried this craft? If so, I'd love to see your version below! And here's the birthday girl at her cake smash: