Party favours for kids' birthday parties are a bit of a necessary evil. Host parents hate having to think of cute goodie bag ideas while guest parents hate more dollar-store junk in the house.
That being said, let's face it: kids love goodie bags!
My kids love being sent them home with those swag bags full of goodies, junk or otherwise.
You wouldn't believe the number of times they have declared this time's loot to be one of the "best party bags ever!".
Let's face it, kids birthday party bags are not going anywhere.
Kids love them and they are a good way to get them out of the door of a party and for the host family to indicate that the party is over.
The goodie bag ideas for birthday parties below are great if you want to make sure your money is well spent and that everyone, including parents, loves the loot their kids are sent home with.
We even have some fun DIY party favors at the bottom of the post!
This page contains affiliate links meaning I earn a commission if you use those links. Please read my disclosure for more information.
The Best Goodie Bag ideas
If you are looking for a unique goodie bags for a party, the ideas below are sure to be a hit with ages 3-8+.
Hosting a party? Make sure to check out my list of old fashioned party games that kids love.
If you are hosting a party around the holidays, I have a special list of Christmas goodie bag ideas.
All of the party favour ideas in the list below are available through Amazon Prime
so they are perfect for the last minute shoppers out there.
With Amazon Prime, you can order get unlimited 2 day shipping for FREE every time.
Click here for an Amazon Prime 30-Day Free Trial
.
What Is In A Good Goodie Bag?

Making the perfect goodie bag for any age can be tricky but if you follow the guidelines below, you are sure to be on your way to a huge hit!
In searching for these unique goodie bag ideas for birthday parties, I made some rules:
Must-haves for the perfect party goodie bag
When you are deciding what to put in goody bags, keep in mind the following:
No plastic junky toys that get trashed within a day or so. The best party bag ideas are not plastic junk.
Bonus points for something useful or even something kids "need".
Not too expensive, Little toys for party bags shouldn't cost the Earth. In this list, the highest priced item comes in at around $10 per idea while most are under $5.
Something that lasts longer than the ride home from the party. I looked for things that would last or that could be used for a whole season.
RELATED POSTS
38 Unique Goodie Bag Ideas For Birthday Parties
Don't forget that one big item is just as good (if not better) than a bag full of 10 little toys.
Pick a budget per child and decide what makes sense.
For $5 per kid, you can often get one great item instead of a few dollar store trinkets, especially when you buy bulk as is the case with most of the ideas below.
Click on the link or the picture to go straight to the item and get the most up-to-date pricing.
Any book is a great goodie bag favor but a trivia or fun fact book makes a great "thanks for coming" gift for kids.
I love the Weird But True books from National Geographic Kids.
These gloves come in a variety of colours and designs in a 12 pack which is awesome to pop in loot bags.
This is one of my favourite goodie bag ideas for an ice skating party or winter birthday party.
Pair with an individual packet of hot chocolate from the Dollar Tree and you are done!
These cool sunglasses come in a pack of 8 and are perfect for a beach or swimming party in the summer.
Everyone needs sunglasses and we all lose them so these are great!
Pop-up umbrellas are all the rage right now. I think a cute umbrella is one of the best party bag ideas for 5 year olds and below. It is useful and cute!

If you are hosting a birthday party in the spring or summer, you can give out these cute "decorate your own flowerpot" kits and even pair them with a packet of seeds (or the seed paper below).
If your party is in March, make sure to check out these St Patrick's Day goodie bag ideas.
Cute socks are a cheap thing to put in goody bags and they are always a hit.
They also fall into the no-junk category which I love.
You can get socks to fit almost every birthday theme like this crazy food 5 pack.
Melissa and Doug Water Wow books are great to put in party favor bags for toddlers.
They are mess-free books that are activated by water (a water pen is included). Once the paper dries, they are ready to use again. I love them for road trips! This set includes 3 different books.
Kids love bubbles and they always spill them or run out so this is one of those goodie bag ideas for birthday parties that never gets old. This pack contains 32 tubes in different colours.

One of the best goodie bag ideas my daughter ever received was a wooden house kit.
It gave us something fun to do at home after the party and kept the excitement going for longer.
These Wooden magnet kits come in a pack of 26 different designs so there is something for everyone.
Cute seed packs are a popular wedding favour but they make a great goodie bag inclusion for children's birthday parties too. These colourful butterfly seed packs come in a set of 25 or 100 and are really cost-effective!
Bubble bath or these bath crackle packets are a fun goodie bag idea that kids will actually use.
Sidewalk chalk is another great consumable gift that kids always need. Up the ante with this glitter chalk to really impress those guests!
One of my favorite treat bag ideas especially for Paw Patrol party favours or an animal themed party.
Each child chooses a little dog to "adopt" at the end of the party. You can even create little adoption certificates and make collars and name tags out of pipe cleaners and gift tags.
Classic games such as Jenga and Chutes and Ladders come in smaller "travel" sized versions which are perfect goodie bag favours.
Think beyond little toys for party bags. This 5 pack of stainless steel cups is so cup and would be adorable (and useful!) filled with candy or a hot chocolate packet.
Paired with a mini paint set these wooden bird houses make a great take home craft.
Kids love making slime! This complete mini-set is a great giveaway for the 6+ age range.

These beautiful hair clips would be perfect for a luau, princess or any outdoor summer party.
This travel art set is one of my favourite goodie bag ideas for birthday parties because it is useful and great quality.
Children love taking photos and these disposable cameras are a fun birthday party favour idea. Most Walmarts will develop the film.
A couple of rolls of pretty tape can help make a great goodie bag. This pack contains 36 different rolls and gets great reviews.

A cute towel for the bath or beach is a great party favour for kids of all ages.

Candy Skewer
If you don't want to give away toys and are looking for party candy bag ideas, the biggest hit I have done is a candy skewer.
You can match the colors of the candy to the party's theme, I did a Frozen inspired candy kabobs and they were a big hit!
Another easy party favor idea is to put out lots of different kinds of candy in dishes along with small plastic bags and let the kids make their own loot bags up from the candy buffet.
Anyone with kids knows that they love all these squishy toys that are popular right now. Back in the day, we called them stress balls but now they are no longer the mainstay of office executives and are more likely to be found in toy boxes!
You can buy a huge lot of little squishies from Amazon – I actually used them for Thanksgiving goodie bags last year and they were a huge hit!

Sticking with the sensory theme, these Pop-it bracelets are sure to be a hit when you are giving out the goodie bags at your next party.
They are relatively cheap and really fun for all ages from toddlers to tweens.
Speaking of which, if you are looking for tween ideas, make sure to check out my list of the 21 Best Party Favors For 12 Year Old Boys.
If you are feeling ambitious, you can make your own slime but it might be easier to get these cute pots of galaxy themed slime and add them to your loot bags.
Slime is perfect for the over 5 crowd – younger children might be tempted to eat it so I would avoid it for a toddler birthday party.
A small take-home craft is always a fun and unique party favor for kids – it keeps them occupied when they get home so parents love them, and it keeps the magic of the party going for a little longer.
These create-your-own bouncy ball kids are the perfect STEM activity for your young children – a goodie bag idea that you can feel good about!

Are you hosting a party for kids who love crystals, dinosaurs or science? These fun geodes are the perfect party favor!
You crack them open and find the crystal inside.
They would also make a fantastic Valentine's or Halloween party favor with a little note saying "you rock!"
5 More Ideas for Birthday Party Goodie Bags
If you are on a tight budget or want to avoid giving anything material at all, consider the ideas below:
Passes for a swim or local play place
"Coupons" for a future playdate
A homemade cookie
A small gift card for a bookstore or local ice cream place
A cupcake that they decorated at the birthday party (doubles as both a party favour and the birthday cake!)
5 Easy Party Favors To Make At Home
Playdough
You can buy pots of playdough but to be honest, this is one easy DIY party favor idea that you can make at home.
Just buy some little mason jars or pots to put them in and you have a fun, and non-toxic goodie bag idea that is suitable for even the smallest on your guest list.
Here are some great recipes for homemade playdough.
To make different scents, you can use essential oils or flavors for cooking (vanilla, ginger etc).
Printable Word Search Puzzles
This is a new addition to my goody bags in the last year or so but they are always a hit and so much fun.
I normally either keep them to the side in case I need an extra activity at the party or I hand them out to everyone as they leave my party.
You can download my free printable birthday celebration word search here or check out the seasonal ones below:
Thanksgiving Word Search Printable
Free Printable Easter Word Search
Free Printable Camping Word Search
Halloween Word Search Free Printable PDF
Mason Jar Cookie Recipe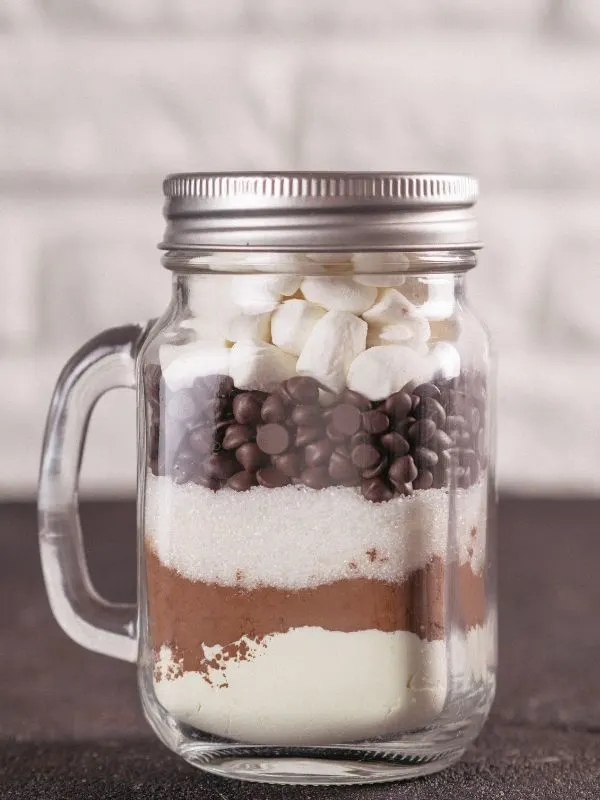 Another super quick and easy DIY party favor is to make up a cookie recipe in a mason jar.
To do this, you just need some glass mason jars and the ingredients to make your preferred cookies.
Here are the directions for a classic chocolate chip cookie recipe with a free printable label.
You simply layer the ingredients in the jar, tie with ribbon and you have a fun and easy goody bag idea!
DIY S'mores Kit
Another really fun and easy DIY party favor is to make up a kit for your guests to make s'mores at home.
All you need are some graham crackers, mini chocolate bars and marshmallows.
You can put them in a small craft box or baggie.
This is a really fun party favor idea for a summer party.
Candy Bar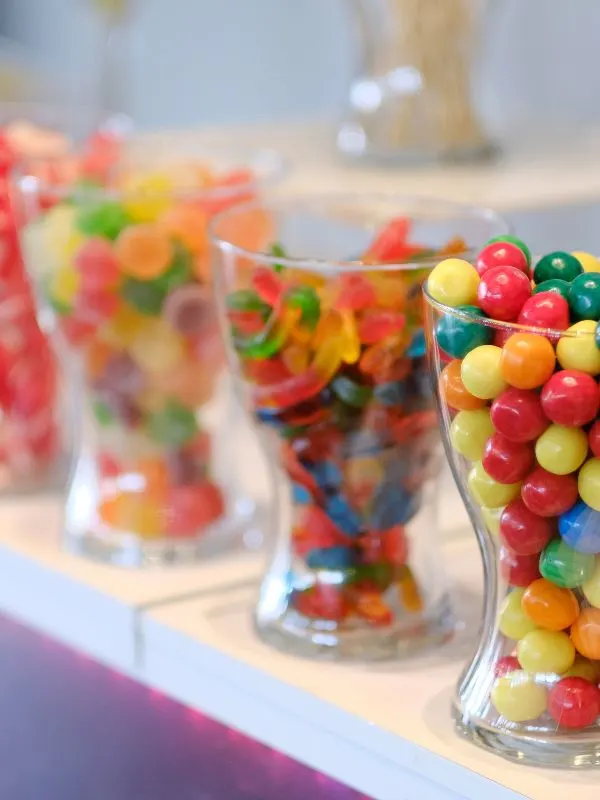 You might have attended a wedding or special event that had a candy bar – its a really easy way to create party favors that kids love.
All you need is a selection of candy in various bowls and dishes, some scoops and little favor bags.
You can let each guest go down the line of the candy bar to fill their bag with the treats they want to take home.
This is a really cost effective and easy party favor idea that works for all ages!
Start A Blog That Makes Money
Ready to start a blog and make money from home?
In this FREE 5 day email course, I will show you the exact steps I took to take my mom blog from $0 to a consistent $2000 a month within 4 months.