There are tons of free activities in this fall bucket list for families you can do to really make the most of the season without going broke.
Nothing beats the cool crisp air and colors of fall. It's the perfect season for getting outdoors before the cold sets in.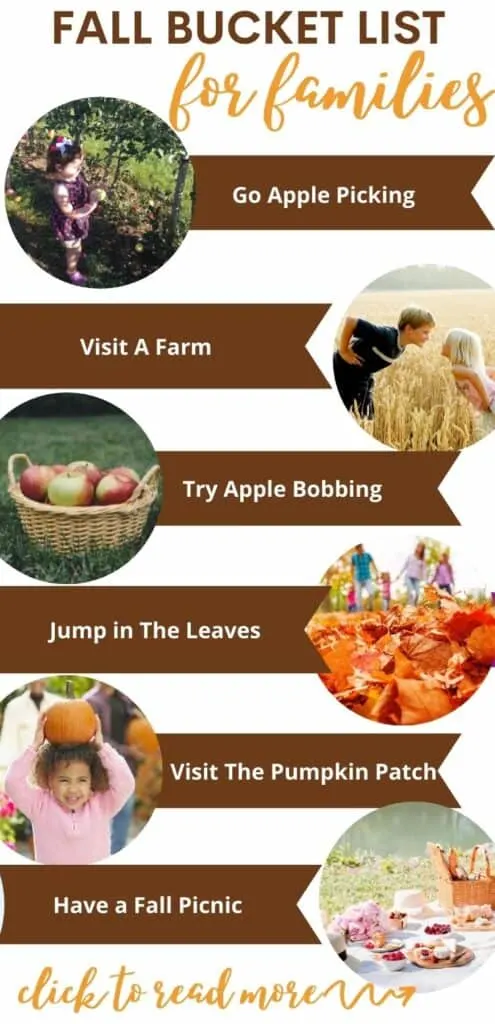 MORE FALL ACTIVITIES FOR FAMILIES
60+ Super Fun Activities For Fall
5 Simple Fall Crafts For Preschoolers
The list below has 25 fun activities that you can do as a family.
Most are outdoor activities and almost all of them a free or low-cost.
Scroll down for instructions for the corn shakers and a fall sensory bin.
They are really simple to make and can entertain kids for hours.
If you have a preschooler and are looking for fun activities to teach them about fall, make sure to check out my preschool themes for fall.
And if you are going camping this fall to take in the beautiful colors, make sure to print off this amazing free printable Camping Scavenger Hunt.
You can download this fall bucket list for families as a PDF to stick on the fridge.
Just click the link at the bottom of the list below.
Fall Bucket List For Families
Visit a pumpkin patch
Go apple picking
Collect fallen leaves and make artwork
Get lost in a corn maze
Visit a farm
Bake an apple pie
Take fall family photos
Go for a fall picnic – Check out these fabulous fall picnic ideas to get you in the mood.
Winterize the backyard
Make caramel apples
Carve a Jack O'Lantern
Jump in the leaves
Collect acorns (you could also do the Fall scavenger hunt as you walk)
Make corn shakers*
Attend a high school football game
Make glitter gourds*
Eat squash soup
Try apple-bobbing
Visit a fall fair
Plant spring bulbs
Make a fall sensory bin
Go trick or treating
Go for a hayride
Make your own halloween costume
Be Thankful!
Fall Crafts for kids – Instructions
If you are looking for Thanksgiving crafts, make sure to check out my list of 10 Easy Turkey Crafts For Kids.
DIY Corn Shakers
What you need
An empty (and clean!) water bottle or plastic container
Dried corn
Ribbon
Empty and dry a small water bottle or another sealable plastic container. An old Tupperware would work too.
Add dried corn and use duct tape to seal the lid shut.
Have a shaker party!
Fall Sensory Bin
I make a Fall Sensory Bin for my kids every single autumn. They entertain them for hours and they love hiding stuff in the lentils and making me find it.
You can really make these sensory bins as simple or as complicated as you like plus you can add to them as the season goes on.
What You Need
Red lentils
Brown rice
Dried corn
Sequins in fall colors (these maple leaf shaped sequins are perfect!)
Decorative gems like these pumpkin shapes
Get a large tub or use a water table (no water!). Add dried red lentils, rice, and dried corn to the tub so it is about an inch or so deep.
Add in fabric leaves, mini gourds, brown and orange sequins and gems, red and green pom poms ("apples") and anything else you wish.
We often end up adding pinecones and acorns that we find on hikes throughout the fall.
Let the children explore to their hearts' content.
Glitter Gourds
Cover small plastic or real gourds in Modge-Podge or white glue.
Roll them in a bowl of orange or gold glitter until they are completely covered.
You can experiment with different patterns or words on the gourds.
Less messy version – use glitter glue to write works on different colored gourds.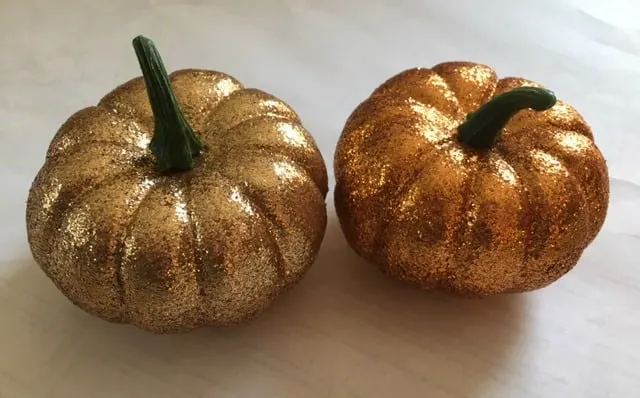 Free Download – Fall Bucket List For Kids
Click here to download the free PDF bucket list.