If you are looking for a way to keep the kids busy this fall, you will love these 10 fun and easy Turkey crafts for kids.
I've compiled this list of fun crafts about turkeys that are perfect for toddlers, preschoolers and any kids up to age 10 or 12.
For most of the crafts, you'll need basic craft supplies like glue, scissors, paint, or coloring pencils, as well as construction paper or empty toilet rolls.
Some of them require a trip outside in nature for some fall leaves or pinecones too.
Any other supplies needed will be mentioned with each craft.
With these fun and easy turkey crafts for kids, you can decorate a classroom or your house ready for the Thanksgiving holiday.
Best of all, all these Turkey crafts are cheap and quick to make and perfect for Thanksgiving celebrations for kids of all ages.
MORE FALL CRAFTS FOR KIDS
14 Festive Thanksgiving Handprint Crafts For Toddlers
Easy to make Pumpkin scented playdough
10 Easy Turkey Crafts For Kids
You'll love these simple fall crafts for kids that you can make in an afternoon with simple supplies that you have at home – or in the backyard!
Peacock Turkey Hat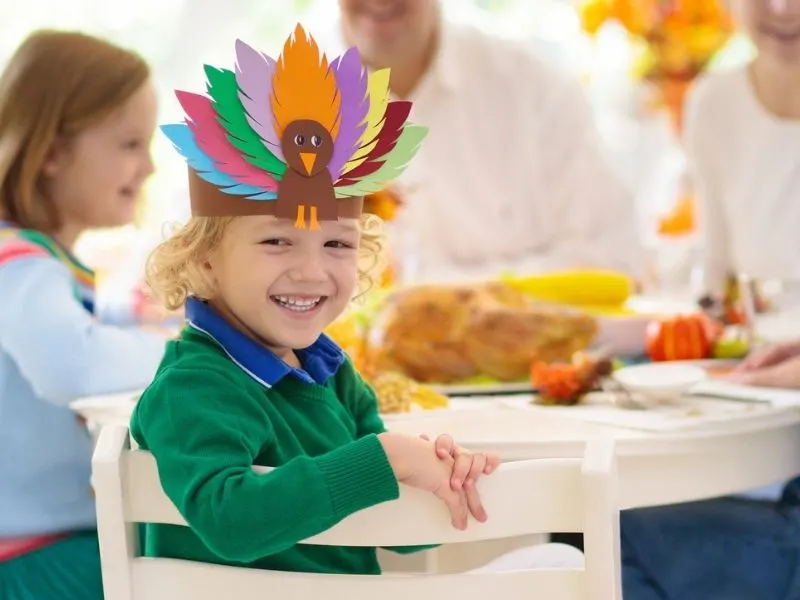 This fun and easy turkey craft for kids isn't even messy. Begin with construction paper in different colors. Draw a feather shape on one piece of paper and use that as a template to cut out 8 more feathers in different colors.
Using brown paper, create a circle that fits snuggly around your child's head. The stick on two brown circles for the turkey's body.
Glue the feathers to the back of the turkey as a colorful tail, and be sure to give it a cute face.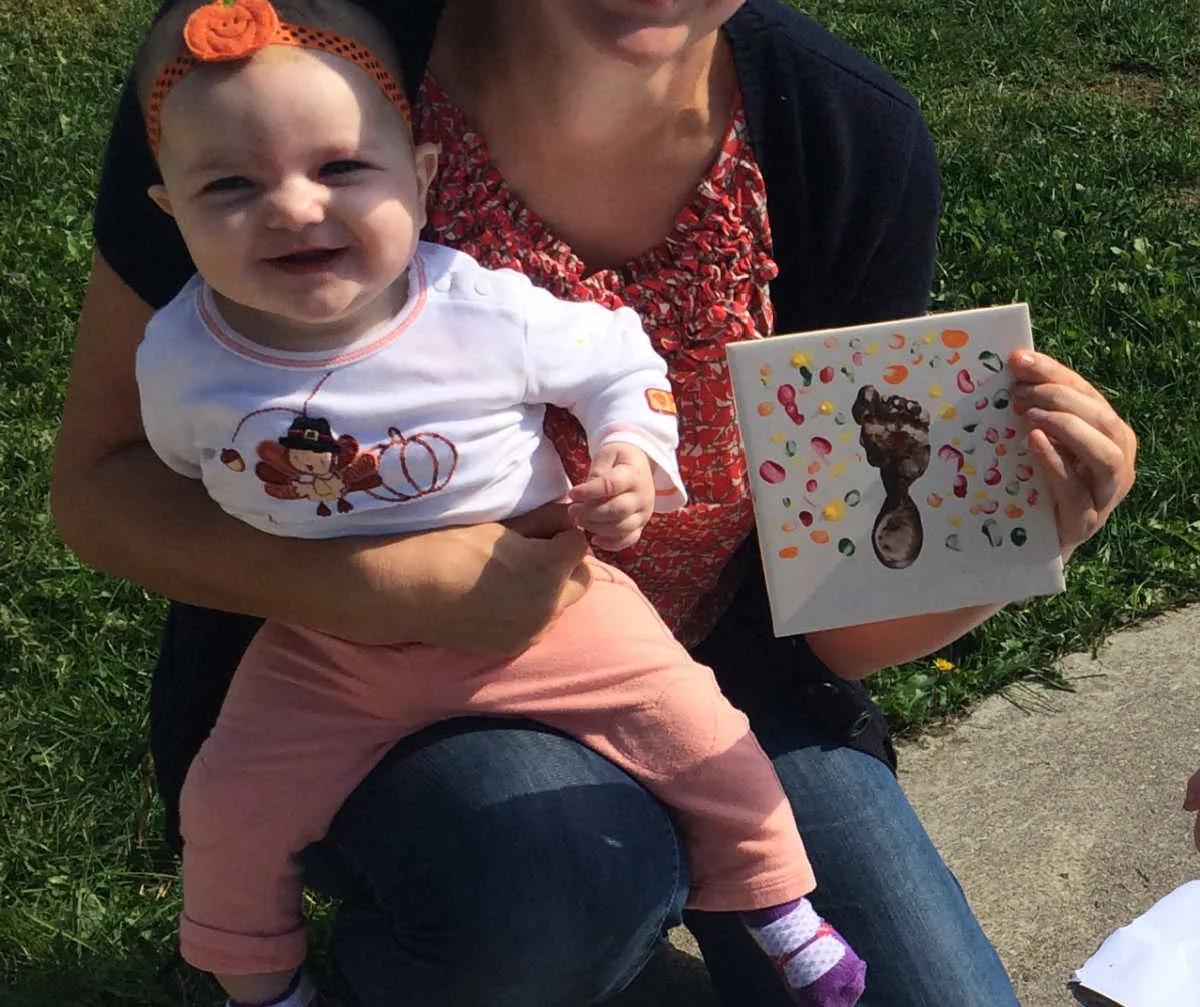 This is one of my favorite turkey crafts for kids because it is perfect for little babies who can't really do crafts by themselves.
All you need is a large white ceramic tile and some acrylic paint.
Once it dries, you can use it as a trivet during Thanksgiving dinner.
First do the foot print turkey body using brown paint.
This is the trickiest bit with a little baby.
Then using your baby's fingers or thumb, make colorful dots around the brown body to create feathers.
Funny Turkey Craft
This turkey craft for kids is adorable.
You'll need 2 large paper plates and some paint.
Begin by rolling one paper plate to form a horn shape (cornucopia shape).
Glue or stick the fold in the plate then cut the wide part of the horn to form a flat surface.
This will form the body of the turkey.
Two inches from the top, fold the narrow end of the horn to create a turkey head.
Paint eyes and a mouth over it.
Next, fold the other paper plate almost in half, so one end sticks out over the other.
Then attach the piece leftover from the first place onto the folded plate.
This creates 3 tiers that you can paint in similar colors to form a fun turkey tail.
Attach the tail to the back of the body and add colors for beauty.
Handprint Turkey Craft
This turkey craft for kids offers a colorful twist on the usual Thanksgiving handprint crafts.
You can make this turkey craft on a paper plate using lots and lots of colors.
Alternatively, you can make it on a tile and use it as a fun Thanksgiving trivet for the table.
First, dip a forefinger in red and impress a fingerprint on the outer rim of the plate.
Next, make a second fingerprint next to the first in yellow.
Then purple, blue, green, and so on.
Next, paint the palm of your hand in brown but the fingers in all sorts of colors, and impress a handprint at the center of the paper plate.
Add a turkey head at the tip of the thumbprint and feet below the palm, and your turkey craft is all decked and ready to crow.
Fall Leaf Turkey Craft
Get back to nature with this cute Thanksgiving craft is especially easy to make and the results are stunning. Begin by having kids collect fall leaves in different colors.
Next, you will want to either use a pinecone or a walnut for the turkey's body, a large stone or rock could also work.
Draw or glue a face onto the turkey and then glue the leaves on at the back to act as feathers.
ThanksgivingTurkey Craft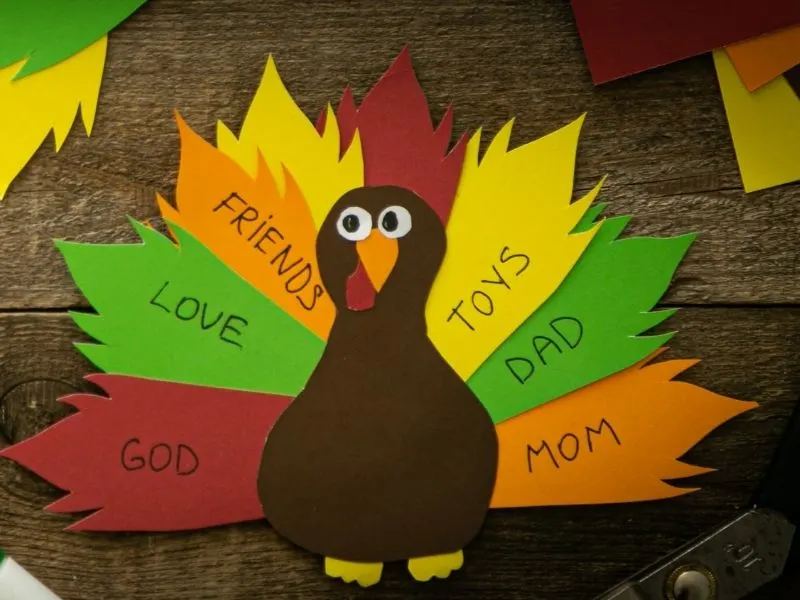 This fun turkey craft is adorable to look at and easy to make.
You'll need lots of colored paper for each turkey craft.
Cut out a turkey body and the features out of different colors.
Next, glue the colorful feathers to the rounded back of the turkey's body making sure the feathers stick out, so they can be seen from the other side.
Draw a funny face at the top of the turkey and then on each feather, write something you are grateful for.
Turkey Puppets
This fun and easy turkey craft for kids is guaranteed to fill your holiday with laughter.
You'll need popsicle sticks and brightly colored cupcake cases.
Begin by folding the cupcake holder and then glueing it to the top of popsicle stick.
This is the turkey tail.
Next, draw a funny face on the popsicle stick and your turkey puppet will be ready to perform.
Toilet Paper Roll Turkey Craft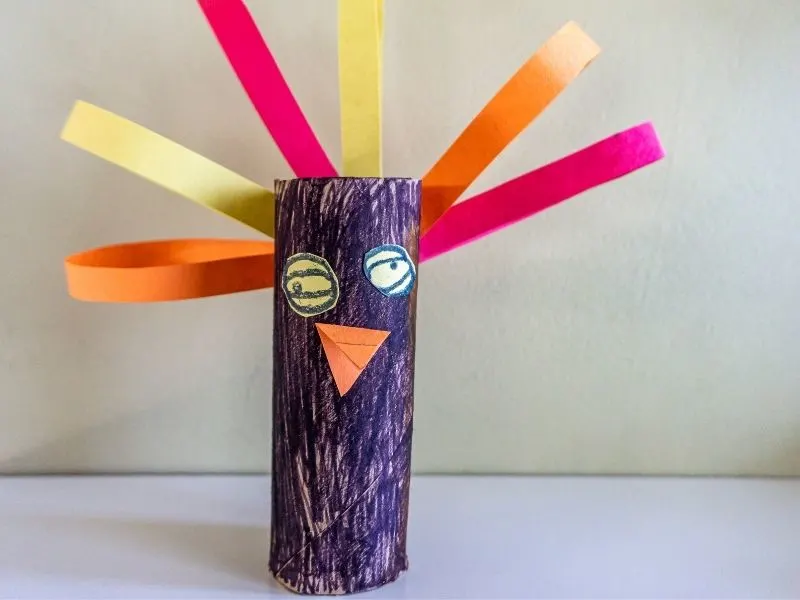 Turn garbage into art with this funny turkey craft made out of an empty toiler paper roll.
Simply, snip a little triangle out of orange paper and glue it 1/4 way down an empty toilet paper roll to form the turkey's bill.
Glue funny eye stickers over the bill and any other decorations to fill the turkey (toilet paper roll) body.
You can also color it in.
Next, cut out strips from colorful construction paper.
Fold the strips cutouts and glue them at the back of the roll to create the turkey tail.
Pinecone Turkey Craft
Fall is the perfect time to be out in nature so why not use what you find when making cute fall crafts?
This fun and easy turkey craft for kids is truly stunning.
Begin with a clean pinecone (make sure there are not bugs).
Glue a small ball or pompom to the front to form the turkey beak.
Paint eyes over the ball or use googly eyes.
Next get colorful feathers and glue them behind the turkey to form its tail.
You can add funny feet by cutting a 3-toed foot from construction paper and then gluing two to stick out under the pinecone if you wish.
Pencil Turkey Craft
Grab a large rock and some colored pencils to make this simple craft.
You'll also need some construction paper (again!) and a red balloon.
All you have to do is glue each item on as in the photo.
I recommend taping the pencils to the rock as it will be hard to glue them plus it will mean you can use them once you are done with your craft.
Want More Fun Fall Activities For Kids? Check Out These Posts:
6 Simple Fall Crafts For Preschoolers
180 + Fall Activities For Kids (Crafts, Bucket Lists, Scavenger Hunts & More)