This pumpkin spice playdough can be made in minutes and will fill your home with the wonderful smell of fall.
If you want to make your own all-natural autumn-scented playdough, look no further than this easy, fool-proof recipe.
I have doing all kinds of crafts with my kids in the fall and making playdough is always one of our favorite things to do.
Other than the stovetop part of this recipe, making this playdough is an easy activity that the kids can help with.
Read on for the recipe and all the details
This post contains affiliate links. Please read my Disclosure for more information.
RELATED POSTS
Pumpkin Spice Playdough Recipe

This playdough has an amazing scent that smells just like pumpkin pie!
It is perfect for daycares and preschools because it is safe and edible (although it won't taste great).
You can use this playdough recipe as part of a pumpkin theme for preschool but even my older kids loved to play with it.
It's made with pumpkin pie spice so it smells amazing and will make your home smell great.
You can whip up a batch of this fall playdough recipe in about 10 minutes.
After cooling, it will be ready to play with in around 15 minutes, making it a great last minute activity for a rainy fall day.
One batch is enough for two children to play with so you can double or triple the recipe as needed for more children.
How To Make This Autumn-Scented Playdough
Gather all your ingredients beforehand as well as a saucepan and a wooden spoon or spatula.
You will need:
A Tablespoon of Pumpkin Pie Spice blend
1 1/2 Cups of Flour (with a little extra in case need later)
1 1/2 teaspoons of cream of tartar (I found this in my local bulk food store)
3/4 Cup of Salt
1 1/2 cups of warm water
A Tablespoon of Vegetable or canola oil
Orange food coloring – I used gel food coloring as it is less messy and gives a beautiful orange hue.
What Is Pumpkin Pie Spice?
Pumpkin pie spice is a blend of ground cinnamon, nutmeg, ginger, and cloves.
The recipe for pumpkin pie spice varies depending on who you ask, but it always includes those four spices.
You can find it in the baking section of your local grocery store.
This spice mixture is used in many different Fall recipes because of its distinctive smell, but it can also be use to make delicious pumpkin spice play dough!
What is the best oil for playdough?
I typically use vegetable oil for my playdough but you can use any oil you have on hand such as canola oil too.
Watch out for oils that have a stronger smell such as Olive oil as they will mask the pumpkin pie smell.
Directions For Making Fall Playdough
Place all the ingredients into the saucepan and mix well

Place on a stovetop on a medium/low heat and start stirring continuously.

Continue to stir for around 5 minutes (My arms normally start aching)

Gradually the playdough will become thicker and start to be less sticky on the bottom of the pan

Create a ball of playdough in the pan with your spoon and cook for another minute or so, turning every once in a while.

Remove from the heat and place on a plate.

Knead into a ball and cover in plastic wrap. Leave to cool
Once the playdough is cooled, it is ready to use. It will keep for 3-4 weeks in a airtight zipper bag or container.
Tools For Playing With Pumpkin Spice Playdough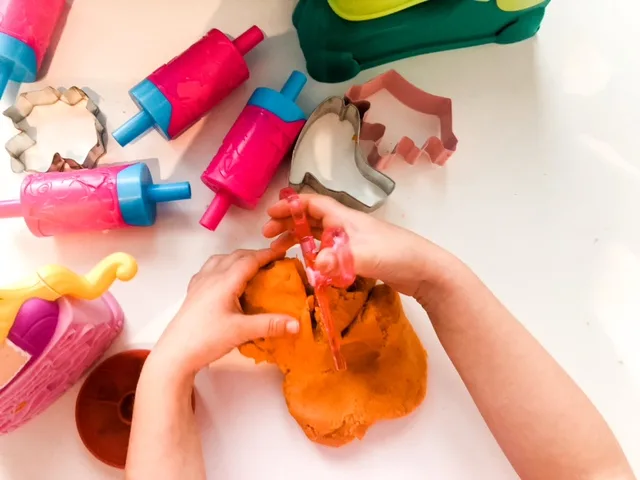 Like all playdough, this pumpkin spice version is a great way for kids to practice fine motor skills. I like to give them the following tools to use with their playdough:
Pumpkin Spice Playdough Play Starters
Some fun ideas for using your pumpkin spice playdough:
Create "baked goods" and have a tea party
Make a pumpkin pie
Build pumpkins (use green playdough for the stems or find twigs in the backyard)
Go on a nature walk and add in acorns, stones and leaves to your playdough
Try cutting out fall words with the pumpkin such as "Fall" Thanksgiving" and "Pumpkin"
Pumpkin Scented Playdough – Final Thoughts
This recipe will be sure to make all the kids excited for the coming season!
It is quick and easy to make and lasts for a long time.
The nice thing about this homemade playdough is that you likely have most of the ingredients at home already, making it a frugal activity for the kids this fall.
More Fall Activities For Kids
4 Simple Fall Crafts For Preschoolers
Thanksgiving Word Search Printable
180 + Fall Activities For Kids (Crafts, Bucket Lists, Scavenger Hunts & More)