If you are planning a spook-tacular Halloween with your new baby, you will love these Baby First Halloween quotes.
They are perfect for Instagram captions, Halloween card greetings or any social media you want to make for this fun holiday.
Best of all they pair great with our Halloween photoshoot ideas for babies.
Combine these best Halloween messages with a cute photo of your baby to send Halloween wishes to friends and family.
It's sure to warm up the dark nights of fall at this time of year.
Read on for all the best ideas for cute sayings for this very spooky holiday.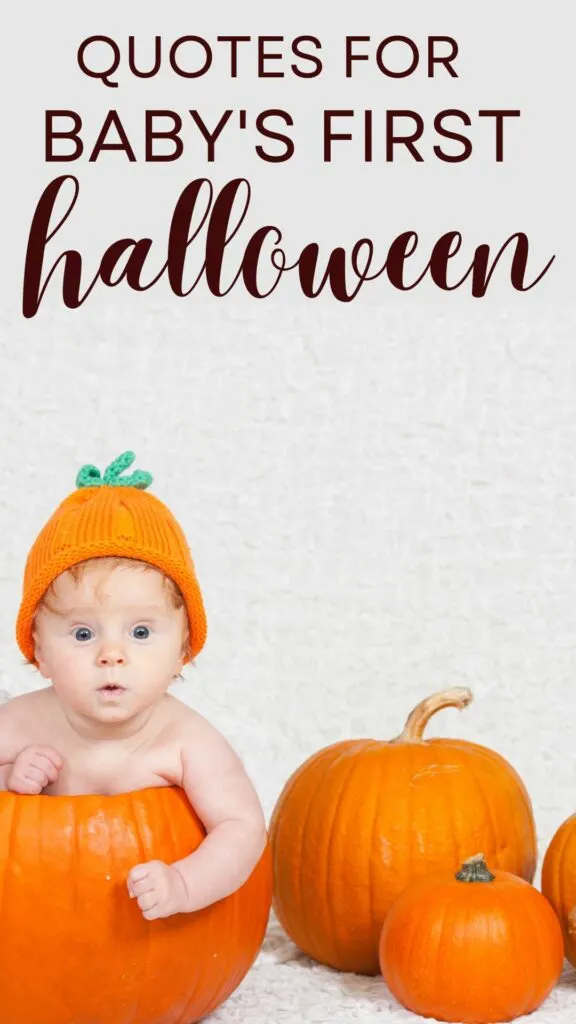 This post contains affiliate links. Please read my disclosure for more information
MORE HALLOWEEN FUN FOR BABIES
25 Best Baby Halloween Gift Ideas
21 Fun Ideas For Halloween Footprint Art For Babies
The Best Baby First Halloween Quotes
Wish loved ones a Happy Halloween with these fun sayings and Halloween greetings!
Whether you are looking for a cute Halloween quote or something funny to get you through the actual "witching hour", we have you covered.
Halloween is sure to become one of your favorite holidays once you get to experience the fun of dressing up your little one for the holiday.
Pair these quotes with a fantastic Halloween costume for your baby and this time of year is sure to be more sweet than spooky.
Ready to dig in? Let's get started!
Funny Instagram Captions For Baby's First Halloween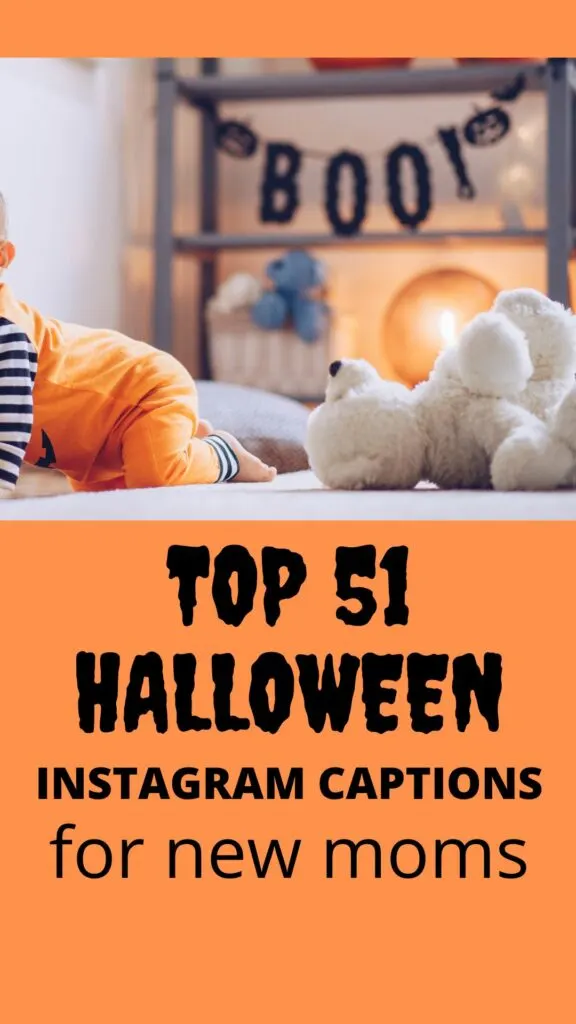 Halloween may be creepy but there's no reason you can't have a good time with some silly Halloween jokes and funny captions!
Doesn't mommy know that sleep is just a bunch of Hocus Pocus?
Pumpkin pies and cute smiles are the only treats in our Halloween
It's the great pumpkin, Charlie Brown!
Cutest pumpkin in the patch
This ghoul is cool
Terror strikes twice with these twins
Mom and Dad are spellbound for me!
The scariest part of Halloween is how cute I am
The witching hour has taken on a whole new meaning this Halloween
Black cats, black bats and totally cute hats!
​Aren't I a sight on Halloween night?
Having a fun Halloween night with my boo
Staying up til the midnight hour is my kind of Halloween
Do I look gourd in this costume?
I'm scary cute
Happy Halloween from our bad and BOOOOOOOji Little Miss
Don't scare me (I poop easily)
I'm just here for the boos and milk
Spider webs and sleepy heads, that's my first Halloween
Sentimental Baby's First Halloween Quotes
Looking for something more sweet than spooky to put in greeting cards or social media?
You'll love these adorable Halloween sayings.
They are perfect for Instagram or for putting on a holiday photo card.
Halloween is now my favorite time of year
Having a magical time with baby's first Halloween
It's a no sleep, lots of snuggles kind of Halloween night
Bewitched by our baby this Halloween
Trick or treat smell my adorable little feet
All treats and no tricks with this little monster
Mummy of the Year
We're under your spell
Pumpkin spice and everything nice, that's what little girls are made of
I may be tiny but I can be cute and scary
Short & Sweet Quotes For Baby's First Halloween Party
Still looking for that perfect Halloween time quote?
Sometimes the less you say, the better.
Check out these spooky but sweet ideas for a good time.
Mama is my boo
Wickedly Cute
Bootiful Beginnings on my first Halloween
Too cute to spook
Little Miss Spooky
Mommy's little pumpkin
Baby boo
Daddy is my boo
I drive mommy batty
Trick or treat, smell my feet – it's my first Halloween!
Double, double toil and trouble; I just love to spook and cuddle
Baby First Halloween Quotes To Go With Costumes
If you have the perfect baby's first Halloween costume all picked out, why not see if one of the Halloween quotes below fits the bill?
It adds a little personal touch to your Halloween greetings and is sure to be a hit on social media.
Happy Halloween from me and my little pumpkin

This Jack O'Lantern is too cute to spook!
This pumpkin is totally perfect!
A Halloween I've always dreamed of with my little lovebug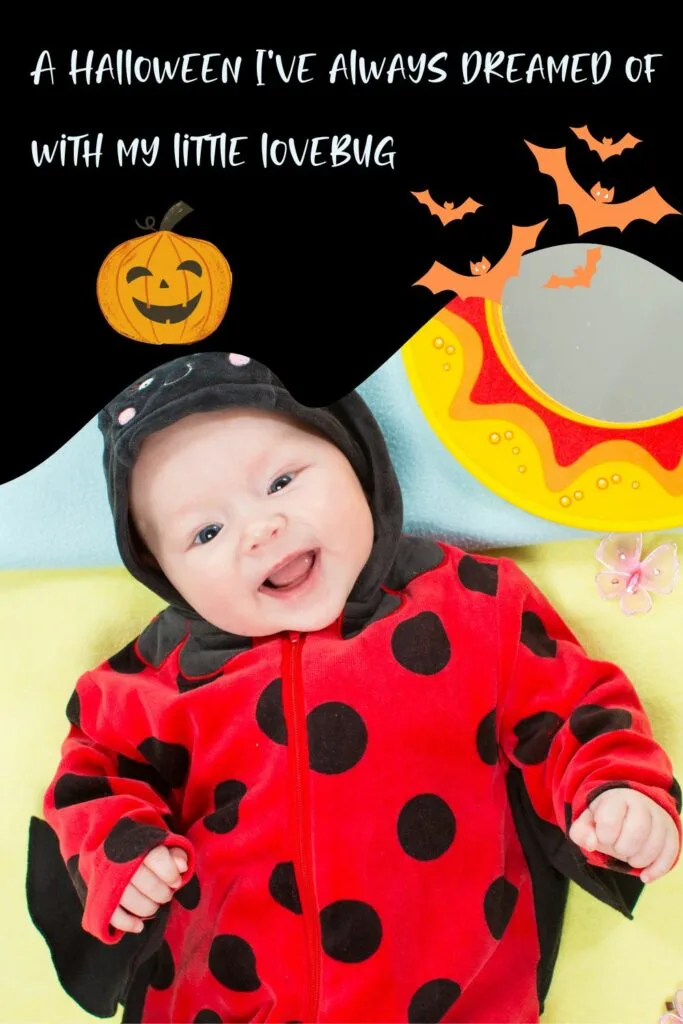 Newly hatched chick!
​This little bee has made Halloween extra sweet
The best first Halloween ever with our little ghost
Cutest monster in town
I'm berry excited for Halloween candy
I only have pumpkin pies for you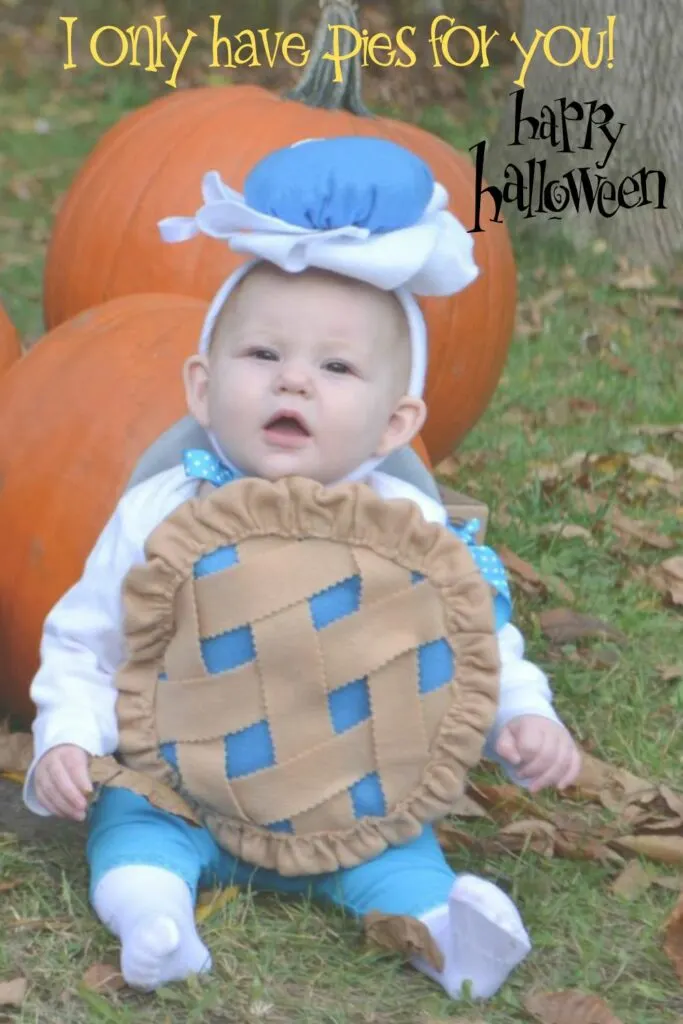 This little witch is brewing up trouble on her first Halloween
More Fun Halloween Ideas
31 Days of Halloween Movies for Kids