Whether it is baby's first Halloween or third, you will love these baby Halloween photoshoot ideas!
From having fun at a pumpkin patch to attending a Halloween party with your little witch, this is the best time of year for that perfect shot.
Below you will find some spooky Halloween pictures that you can use for inspiration for your Halloween photo shoot!
Have fun and Happy Halloween!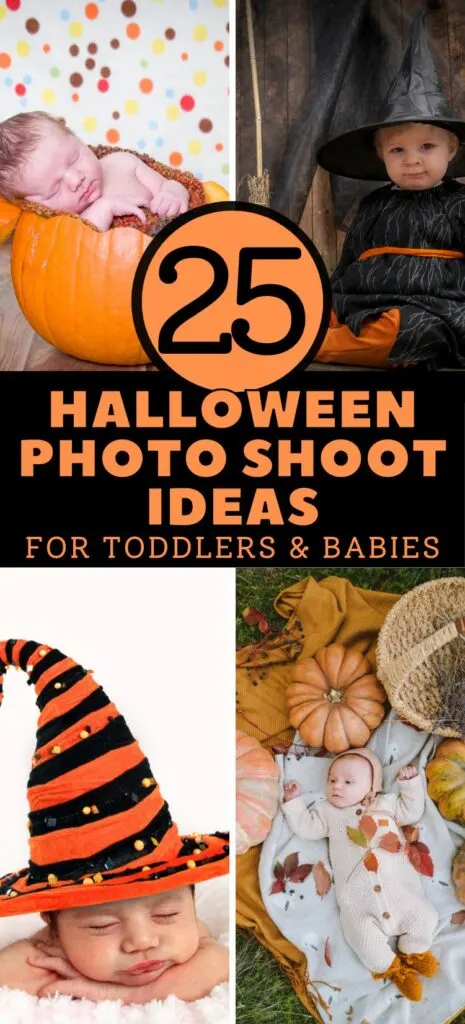 This post may contain affiliate links. Please read my Affiliate Disclosure for more information
MORE FUN HALLOWEEN IDEAS
31 Days Of Spooky Halloween Movies For Kids
21 Fun Ideas For Halloween Footprint Art For Babies
The Best Baby Halloween Photoshoot Ideas
Spooky season is the perfect time for some fall baby pictures and below you will find some fun ideas that are sure to take your Halloween themed photoshoot to the next level.
Most of them are super easy to DIY and recreate at home although if you are hiring a professional photographer, these serve as great ideas for your Halloween photo session.
Baby In A Pumpkin Patch
Looking for baby's first fall picture ideas?
This simple, neutral photo among the autumn leaves is perfect for capturing the joy of the season.
Check out even more fun fall photo ideas here: 40 Thanksgiving Photoshoot Ideas For Toddlers
My Little Pie
One of my top Halloween photo tips is to keep it simple. The outdoors is a great place to take wonderful pictures at this time of year and the lighting is often amazing.
All you need is to sit your baby up against some pumpkins with their adorable costume.
Love this cute blueberry pie? I got the costume from Etsy!
Cool Dude In Fall
Dress your toddler in some chunky fall knits and a big fall scarf and you have yourself a cute Fall-themed photo idea!
The candle adds a great touch of ambience to the scene too.
Spooky Halloween Night
For a spooky effect, string Christmas lights around the room and light some Jack O'Lanterns.
Interview with a Little Vampire
How adorable is this little Vampire? This is a creative Halloween photoshoot idea that you can easily recreate at home with a cute Vampire costume and a cooperative child (and some fake blood!)
One Cool Chick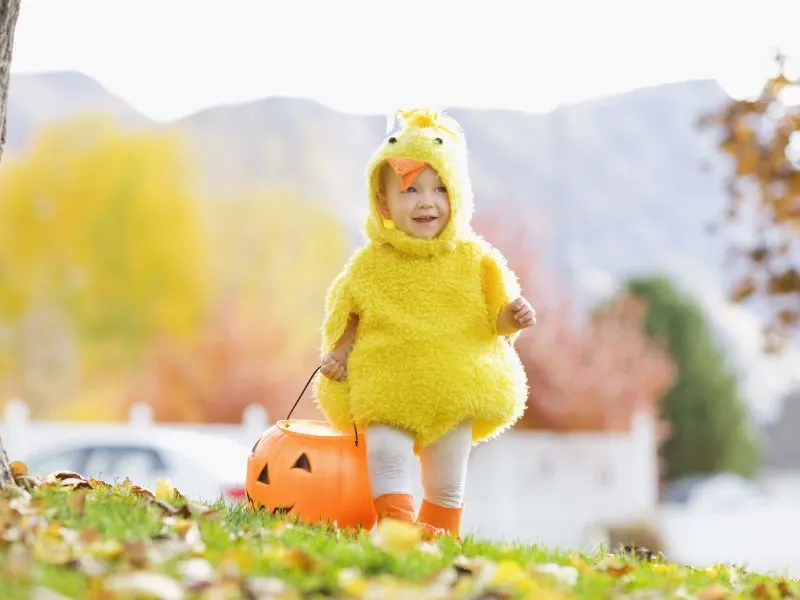 Take advantage of the natural light in the fall by stepping outdoors with your toddler. It's the perfect way to capture them in candid shots like this one.
Front Porch Poser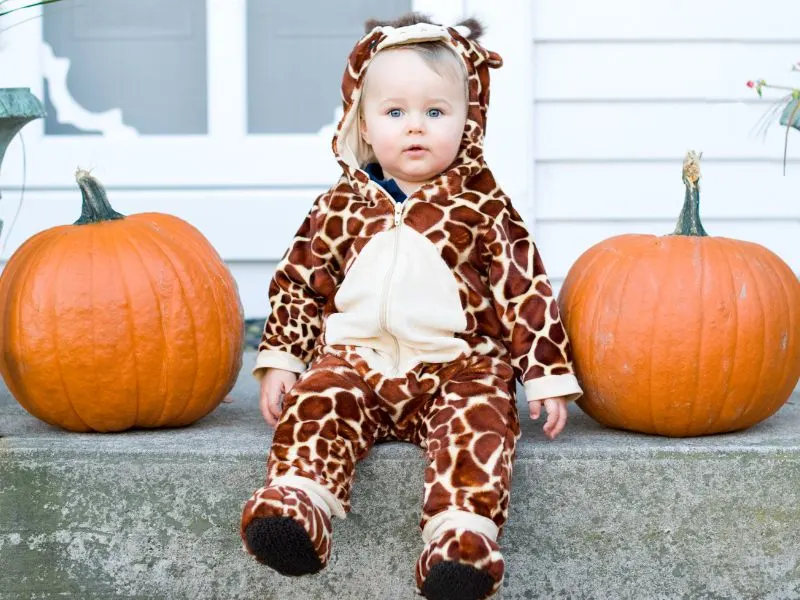 Not all Halloween photo ideas have to include complicated props or scenery. If you have a front porch, you already have a great way to set up the perfect photo idea. Just add some pumpkins!
Panda in a Pumpkin Patch
Want to post some cute photos on social media but you are not a fan of showing your baby's face?
This is a creative way to get into the Halloween spirit when you visit the pumpkin patch.
Little Witch
All you need is a broom and a witch costume for this fun and not-so-spooky photoshoot idea!
Spellbinding Magic
This little devil is conjuring up some spells this spooky holiday season!
Spooky Siblings
Get an older sibling involved with a fun family photoshoot. To recreate this cute idea, you just need are some Halloween decorations and a forest full of fall leaves!
Happy Halloween, Pumpkin!
You can buy vinyl letters from the dollar store to add a fun and festive message to your pumpkin photo prop.
Sleeping Beauty
As far as newborn pose ideas for Halloween go, this has to be one of my favorites.
It is a fun way to celebrate Halloween with the newest pumpkin in your patch.
My Little Pumpkin
If you aren't a knitter yourself, you can get a cute little pumpkin hat like this one from Etsy.
It's one of my favorite Halloween gift ideas for babies.
Magic Potion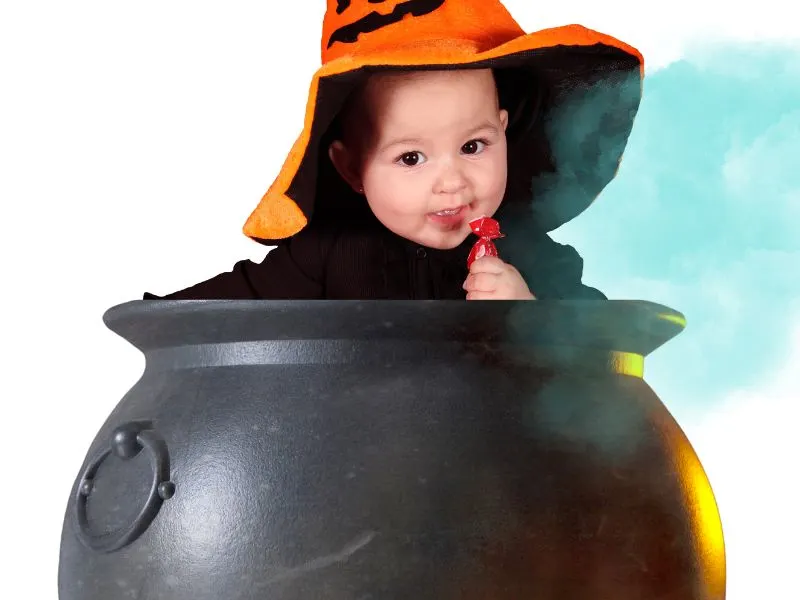 Grab a big cauldron and create your own magic potion that includes your little one!
What's inside the pumpkin?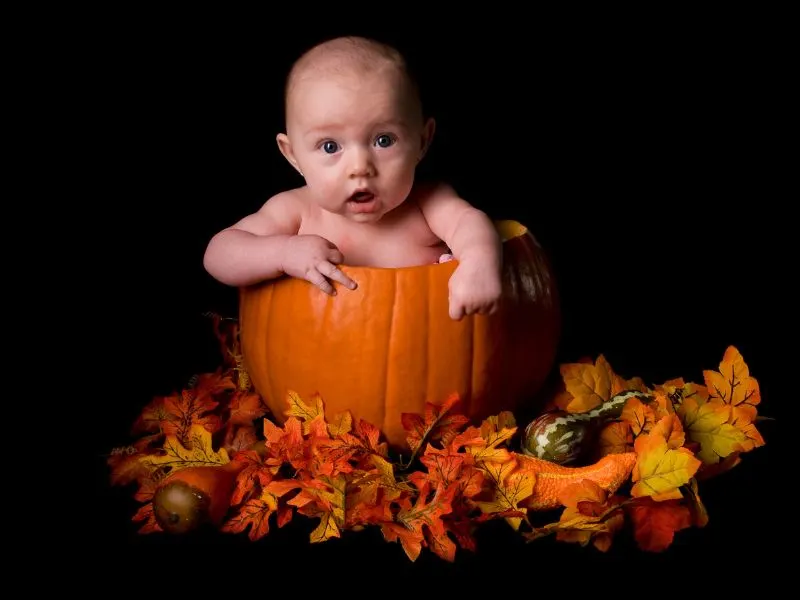 Even older babies can have a great time inside a pumpkin!
I love the dark backdrop and the fall themed props – it makes it extra spooky!
Sleepy Witch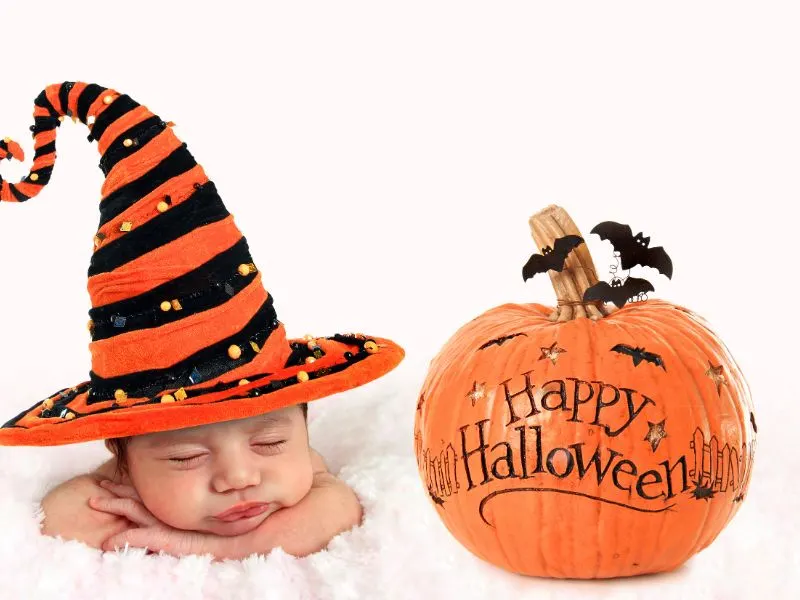 This baby girl has been turned into a little witch for this easy photoshoot ideas.
Pumpkin Carving Fun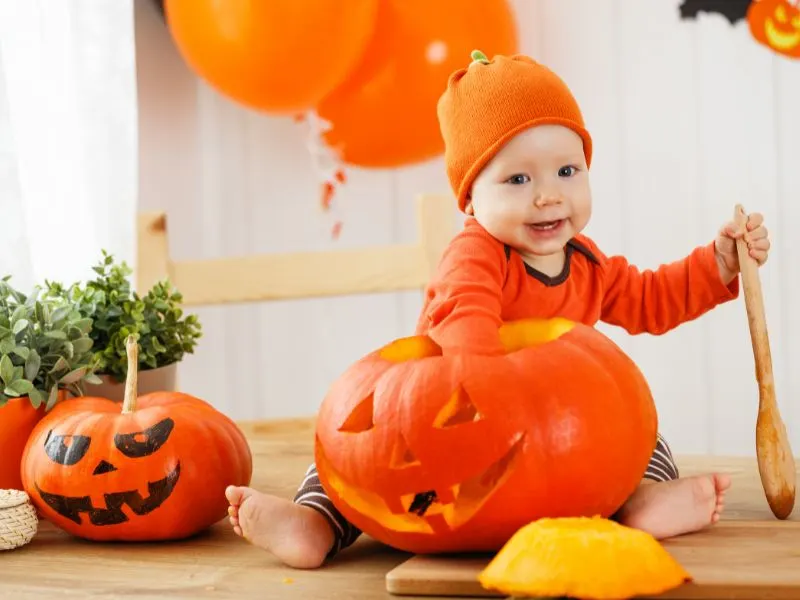 Pumpkin carving is a Halloween tradition so what better way to celebrate the season than by turning it into your own Halloween photoshoot?
And if you baby loves getting messy, make sure to check out these 21 Fun Ideas For Halloween Footprint Art For Babies.
Conjuring Up Some Mischief
Grab some mini pumpkins and gourds and a cute hat for a simple but fun photo idea.
At Home Halloween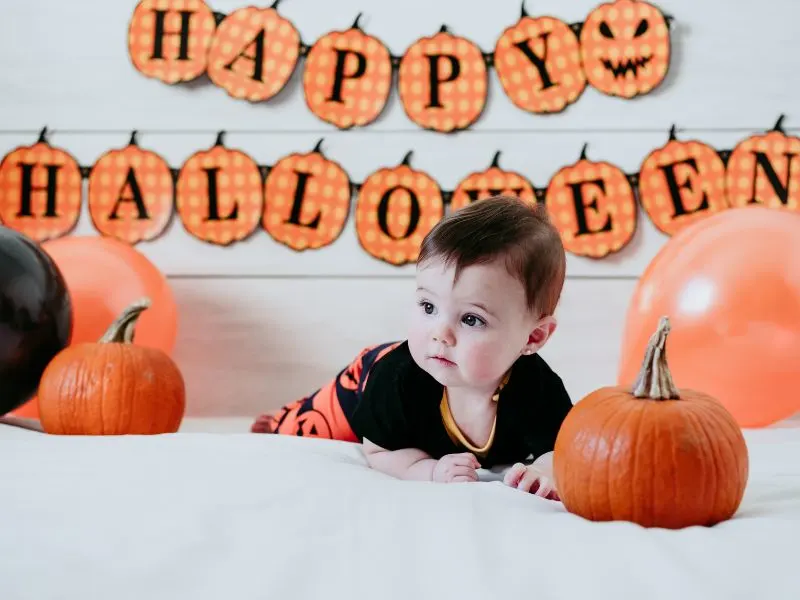 Some of the best Halloween photography ideas are the most simple.
For this one, all you need are some pumpkins and a cute banner on the wall.
You can find some great options similar to the one pictured on Amazon.
The Perfect Place to Snooze
As far as newborn photos go, it doesn't get much cuter than this!
Cutest Little Halloween Witch
A black dress or tutu and some Halloween props are the key to a fun at home Halloween photo shoot like this one.
Fall Fairy
If your little one has a cute Halloween costume like this fall fairy outfit, grab a fun pumpkin like this one and you have an easy Halloween photo idea in a pinch.
Trick or Treat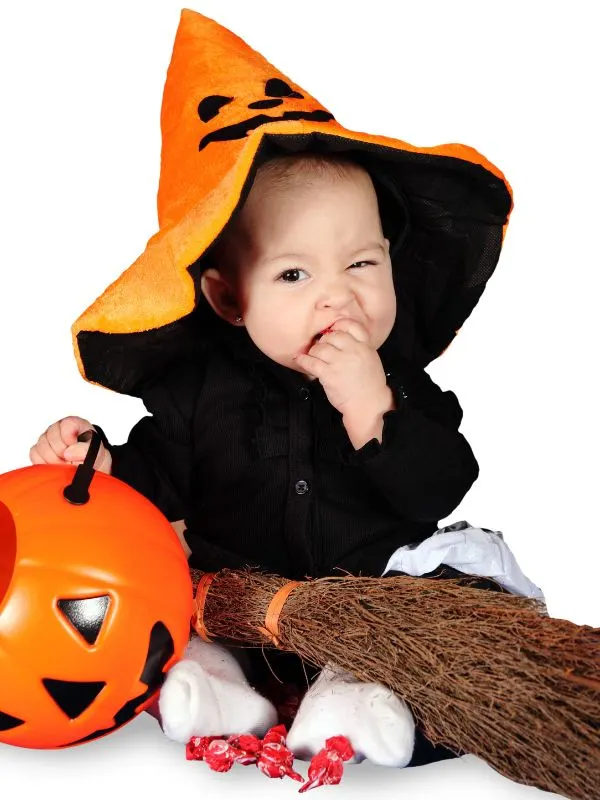 Here's another cute witch except this one has stolen all the Halloween candy!
Baby Candy Corn
This baby boy has been turned into a real life piece of candy corn! Grab your own candy corn hat like this one on Etsy.
Little Black Kitty Cat
Classic Halloween costumes like this black cat are perfect for your cute photoshoot.