Baby's first Halloween is a milestone worth celebrating, and there are plenty of adorable ways to make the day memorable for both you and your precious bundle of joy.
For new parents, Spooky season festivities take on extra special meaning as they celebrate their baby's first Halloween.
While infants may not fully grasp the concept of ghosts or jack-o'-lanterns just yet, there are so many ways to make baby's first Halloween special.
From adorable costume ideas to pumpkin-inspired activities, we'll show you the best ways to celebrate your baby's very first Halloween in style.
This post may contain affiliate links. Please read my disclosure for more information
MORE HALLOWEEN FUN
51 Cute Baby First Halloween Quotes For Instagram
25 Best Baby Halloween Gift Ideas That Babies Love
11 Ways To Make Baby's First Halloween Special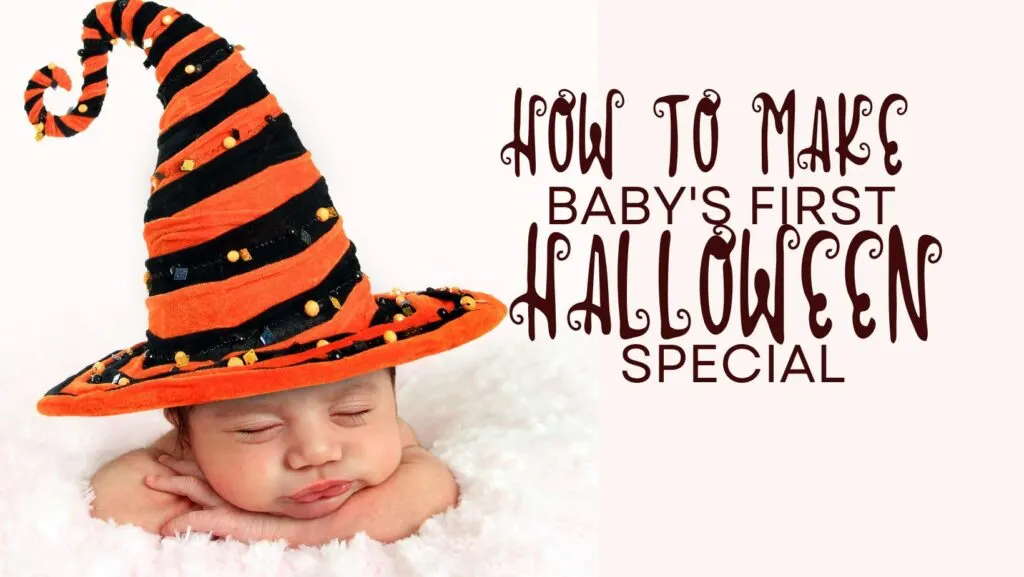 If you are a Halloween fan then having a new baby will just add to the excitement of this fun holiday.
Below we have 11 great ways for you to celebrate Halloween with your new baby and make the most of every single moment!
Introduce your baby to Halloween Fun
A great way to welcome your little boo to Halloween fun is by participating in local events or organized activities specifically designed for babies and toddlers.
Many communities host events such as pumpkin patches, not-so-scary costume parades, or trunk-or-treats where children can have a safe and enjoyable Halloween experience.
Taking part in these events will give you the chance to meet other parents with young children and create lasting memories together.
Choose an Adorable Halloween Costume
One of the most exciting aspects of celebrating your baby's first Halloween is choosing an adorable costume for them.
There are so many baby Halloween costume ideas to choose from, from classic characters like pumpkins and ghosts to cute animals like bunnies or kittens.
When selecting a costume, make sure to consider whether you need to keep your baby warm for trick or treating.
Easy access for diaper changes is also very useful.
For a truly unique and memorable Halloween costume, consider incorporating a family theme.
Dressing up your baby as part of a coordinated group ensemble can make for adorable photos and create lasting memories.
Even something as simple as a family of cats or dressing up as burger and fries will be a huge hit.
Have a Spooktacular Photoshoot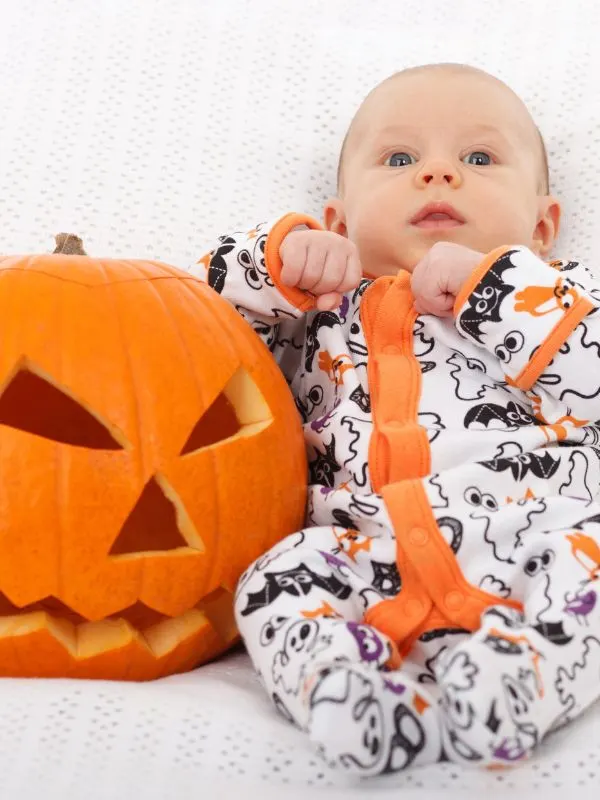 One fun way to celebrate your baby's first Halloween is by having a fun Halloween photoshoot.
Dress up your little one in an adorable costume and create a festive backdrop for the photoshoot.
You can use props like pumpkins, bats, spider webs, or even a mini haunted house to add some extra Halloween vibes.
Not only will this be a memorable experience for you and your baby, but the photos from the shoot can also serve as precious keepsakes that you can cherish for years to come.
Get creative with different poses and expressions to capture the essence of Halloween in each shot.
Whether it's your baby dressed as a cute pumpkin or a tiny witch flying on her broomstick, these pictures are sure to bring smiles and laughter whenever you look back on them.
Don't forget to share these adorable pictures with friends and family on social media or print them out as personalized Halloween cards to spread joy during this festive season.
Check out these cute baby's first Halloween Instagram quotes for some great ideas to pair with your photos.
Visit the Pumpkin Patch
One of the most popular activities to include in your baby's first Halloween celebration is a visit to the pumpkin patch.
Even little babies will enjoy some hands-on fun with a bunch of brightly colored pumpkins!
Let your baby touch and explore the pumpkins, feeling their rough texture and examining their unique features.
Host a Baby-Friendly Halloween Party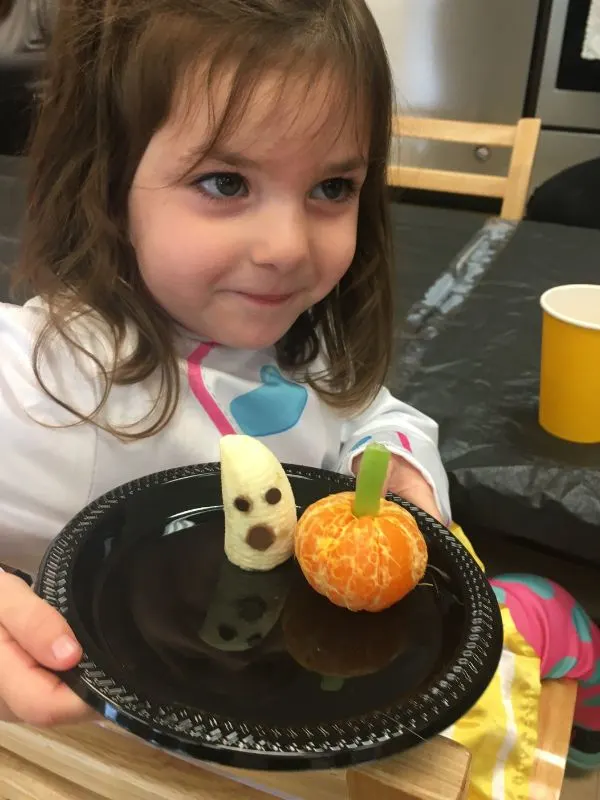 A Halloween party is a great opportunity for both parents and babies to dress up in their favorite costumes and enjoy the festivities together.
To make the party baby-friendly, create a play area filled with age-appropriate toys and activities.
You can also set up a pumpkin decorating station where older children or adults can help decorate pumpkins while the babies watch.
Another idea for a baby-friendly Halloween party is to have a sensory play area with different textures and materials for babies to explore.
Keep it in Halloween spirit by using corn or even the insides of a pumpkin for some squishy fun.
You could also create a mini haunted house experience by hanging up black curtains or sheets in one corner of the room and adding soft lights or decorations inside that won't scare the babies.
Depending on the age of your little ones, you can serve fun Halloween-themed Jello pots (just omit the alcohol!) or cheese strings made into broomsticks for snacks.
Another fun idea is to draw a Jack o'Lantern face on a clementine. Check out more fun Halloween snacks for toddlers here.
Take Part in Trick-or-Treating
Even the littlest babies can get involved in some good old-fashioned trick-or-treating.
Dressing up your little one in an adorable costume and heading out into the community can be a fun and festive experience for the entire family.
It is a great opportunity to show off your baby's cute outfit – and of course, you will get to keep the candy they score!
Make Lasting Memories with Halloween Crafts
Making adorable keepsakes is one of the most fun of having a baby around the big holidays like Halloween.
There are so many cute Halloween crafts you can make with a baby – my favorite is cute Halloween footprint art.
These handmade artworks will capture just how small your little one was during their first Halloween celebration while adding a touch of festivity to your home decor during the holiday season.
Read Some Spooky Books Together
If you're looking for a cozy and fun way to celebrate your baby's first Halloween, why not read some festive books together?
Gather a selection of age-appropriate Halloween-themed books that will engage your little one's imagination.
Choose books with colorful illustrations and simple, playful language that will captivate their attention.
From friendly ghosts to adorable monsters, these stories will introduce your baby to the magic and excitement of Halloween in a gentle and age-appropriate way.
Some of my favorite Halloween books for babies include:
Boo! Halloween Lift The Flap Book

Reading spooky books together is not only enjoyable but also provides an opportunity for early literacy development.
Point out objects or characters on each page while saying their names aloud, helping your little one associate words with images.
Watch A Halloween Movie Together
While your baby might not be ready to chow down on popcorn and watch Hocus Pocus with you, that doesn't mean you can't enjoy a Halloween-themed episode of a kids show.
You could even try a fun Halloween movie for toddlers like "Spookly The Square Pumpkin".
Check out list of the best Halloween movies for kids here.
Head To Boo At The Zoo
One of the most exciting ways to celebrate your baby's first Halloween is by taking them to a Boo at the Zoo event.
Many zoos host special Halloween-themed activities and events during this time, making it a perfect opportunity for you and your little one to dress up in costumes and explore the animal exhibits.
Your baby will love seeing all the different animals and may even get a chance to interact with some of them through special feeding sessions or petting areas.
At Boo at the Zoo, there are often designated trick-or-treat stations set up throughout the zoo where kids can collect candy or small treats.
While your baby may not be able to participate fully in this activity just yet, they will still enjoy watching other children in costume and being a part of the festive atmosphere.
Sing Some Halloween Songs Together
One fun way to celebrate your baby's first Halloween is by singing some spooky songs together.
It is a fun way to introduce your little one to the joy of music and get them into the spirit of Halloween.
Singing Halloween songs can also be a great sensory experience for babies.
The rhythm, melodies, and repetitive lyrics can stimulate their senses and help with their cognitive development.
As you sing together, you can incorporate hand movements or dance moves to make it even more engaging for your little one.
You can find some great Halloween songs for babies on Youtube. Here is one of my favorites:

Remember that babies love repetition, so feel free to sing these Halloween songs over and over again throughout the season as part of your daily routine or during costume dress-ups.
Decorate A Pumpkin Together
Ok, so your baby may be a little too young to get involved in carving the annual family Jack O'Lantern but that doesn't mean they can't help you with decorating the perfect pumpkin.
Grab some finger paints and let them go to town creating their own masterpiece!
Celebrate your baby's first Halloween with joy
One of the most exciting milestones in a baby's life is celebrating their first Halloween.
It's a time filled with joy, laughter, and adorable costumes.
Dressing up your little one in a cute, age-appropriate costume is the perfect way to make memories that will last a lifetime.
From tiny pumpkins to cuddly animals, the options are endless when it comes to choosing the perfect outfit for your baby.
In addition to dressing up your baby, there are plenty of other ways to celebrate their first Halloween.
Hosting a small gathering with close friends and family can be a fun way to introduce your little one to the holiday spirit. You can decorate your home with festive decorations like pumpkins and spooky lights, play some Halloween-themed music, and even have a mini photo shoot with your baby in their costume.
If you're looking for something more low-key, taking your baby for a stroll around the neighborhood or visiting local pumpkin patches can also be an enjoyable way to celebrate their first Halloween.
Seeing all the vibrant colors of fall and feeling the crisp air can create beautiful memories that you'll cherish forever. And don't forget about capturing those precious moments on camera – these memories will be treasured as your little one grows older.