A Halloween scavenger hunt is the perfect way to enjoy the crisp fall evenings in the run up to the big day. We love strolling the neighbourhood and checking out all the cool displays that are put up.
Some of our neighbours spend hours getting their houses ready and we are lucky enough to have a full-on haunted house (garage) just a couple of doors down.
This page contains affiliate links meaning I earn a commission if you use those links. I only recommend brands I use and trust.
To make our walks around the neighborhood even more fun, I created this easy Halloween scavenger hunt to encourage the kids to really pay attention to their surroundings and also learn some new vocabulary.
This simple Halloween scavenger hunt adds some excitement to the weeks before Halloween and is great for smaller and bigger kids. It would be a fun activity for a Halloween party or day care outing.
Make the Halloween scavenger hunt even more fun:
Get older kids to take photos of each find and compare the best ones afterwards
For older kids, make it a timed event in teams with prizes for the first team back
Younger children can tally up how many of each item (cats, bats etc) they can see on one street
Take a trip to a new neighbourhood to make the hunt more exciting and check out new displays
Do the hunt on Halloween night while Trick or Treating
What do you need for the hunt?
Apart from the printable hunt list, (you can download it below) you don't need much to do the scavenger hunt but a few extra accessories could make it extra special, especially at a party (this could form part of the loot bag).
Mini flashlights – this pack of

12 mini flashlights on a rope from Amazon is cheap and would be great as a party

favor

.

The great thing about this scavenger hunt is that you can adapt it to the ages and number of children. It would be equally fun with a group of 8-year-olds as a fun activity with one 3-year-old.
Click the link below the picture to download your printable.
More Fall Ideas For Kids
The best party games for a spooktacular Halloween
60+ Super fun activities to celebrate fall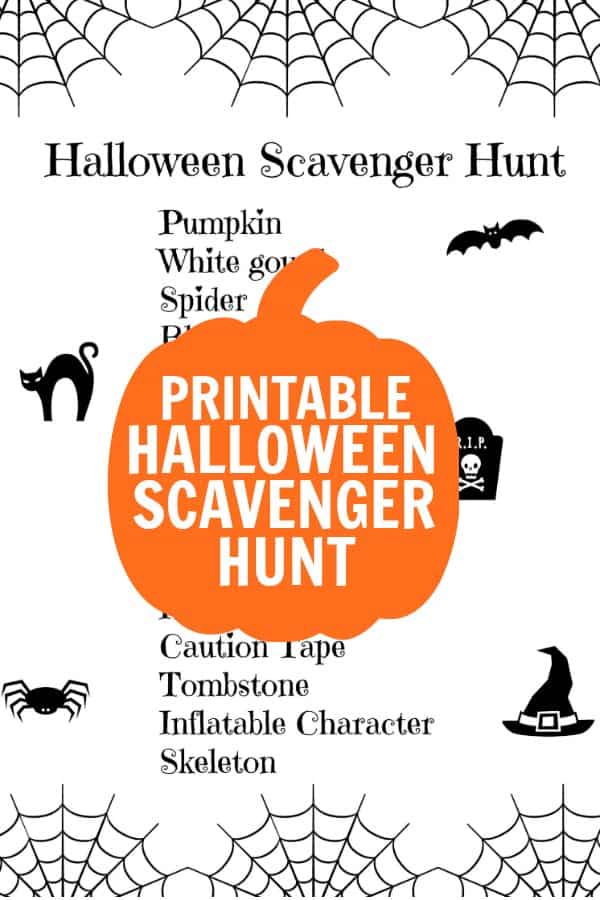 Start A Blog That Makes Money
Ready to start a blog and make money from home?
In this FREE 5 day email course, I will show you the exact steps I took to take my mom blog from $0 to a consistent $2000 a month within 4 months.