For centuries humans have made teas from plants teas to promote good health and cure different ailments. Herbal teas to increase fertility are an easy and natural way to boost your chances of getting pregnant each month.
I personally view myself as a fertility tea success story as I drank it religiously while trying to get pregnant – both times!
Many of the so-called fertility herbs can be taken in a tincture or tea and taste great.
You can make your own fertility tea using a combination of different fertility herbs (scroll down for a recipe) or you can buy ready-made "conception teas" from a few different companies.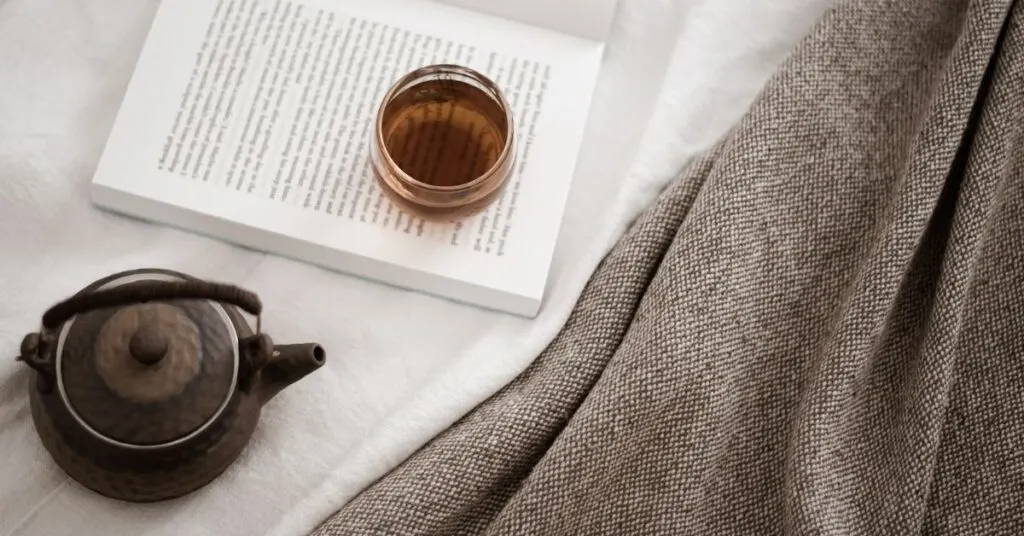 This page contains affiliate links meaning I earn a commission if you use those links. Please read my Disclosure for more details.
How Does Fertility Tea Work?
Herbal teas offer an easy way to consume potent fertility herbs that would otherwise be difficult or expensive to take.
The best teas for fertility will give you a ton of healthy benefits while tasting great.
After drinking a fertility tea to get pregnant, you may find that your cycles become more regular and menstrual pain lessens with consistent tea intake.
Most commercially bought fertility teas such as Moon fertility tea aim to help regulate your cycles and menstrual patterns which results in increased fertility.
You can buy teas for individual herbs such as ginger or you can buy blends of various herbs that are formulated to provide optimal fertility benefits in each cup.
Bear in mind that most, if not all, fertility teas are caffeine free. If you make your own fertility tea, you should not include black tea or other teas with caffeine.
Although the jury is out on whether caffeine is actually detrimental to fertility, drinking it in large quantities can pose a problem.
If you are interested in more ways to get pregnant naturally, make sure to download this free ebook on restoring fertility naturally.
RELATED POSTS
Common Questions About Fertility Teas
When should you drink fertility tea?
Although many of the teas below claim you can drink them throughout your cycle, I always stopped after ovulation. Bear in mind that not all herbs are suitable for pregnancy so it often makes sense to stop then.
The ideal fertility tea routine would be to have 1-3 cups a day from CD 1(first day of your period) until ovulation is confirmed.
Can You Drink Fertility Tea After Ovulation?
Read the label of any stores bought teas before you partake after ovulation. Some herbs, such as red raspberry leaf (commonly found in teas for conception), are not suitable for pregnant woman as they can cause uterine contractions.
Are There Any Teas To Avoid While Trying To Conceive?
Any teas that are unsafe during pregnancy should be avoided after ovulation (because you might be pregnant!). Before ovulation, you should limit your caffeine intake but can otherwise take most herbal teas.
Here is a list of common herbs found in teas and their safety according to The American Pregnancy Association:
Red Raspberry Leaf (Likely Safe) – Health care providers remain cautious and only recommend using it after the first trimester.
Peppermint Leaf (Likely Safe)
Lemon Balm (Likely Safe)
Ginger root (Possibly Safe)
Dandelion (Insufficient Reliable Information Available)
Chamomile (German) (Insufficient Reliable Information Available)
Nettles (Stinging Nettles) (Likely Unsafe) – this is a very common ingredient in pregnancy teas and is often recommended by midwives however it is deemed as unsafe if you consume the root. The dried leaves are safe in 2nd and 3rd trimester and before ovulation.
Alfalfa (Possibly Unsafe)
Yellow Dock (Possibly Unsafe)
Can I Drink Green Tea While Trying To Get Pregnant?
Although green tea is not on my list of herbal teas to increase fertility, lots of people enjoy it and wonder if they can keep drinking it while TTC.
Good news! Green tea has been proven to be safe for pregnancy and therefore for fertility. However, there are two things to bear in mind if you enjoy a cup of green tea.
First of all, it does contain caffeine. It is less than black tea but not an insignificant amount so you will still want to drink in moderation or choose a decaffeinated green tea.
Second of all, green tea, like black tea, contains an antioxidant compound called catechin which can reduce the bioavailability of folate according to a 2012 study.
As folate is essential for reducing neural defects in babies, you should make sure to take a good quality prenatal vitamin for at least 3 months before trying to conceive. Also be sure to include lots of folate-rich foods in your diet.
Which Fertility Tea is right for you?
The teas I have reviewed below are all great "all-round" fertility teas.
They would be suitable for anyone who wants to naturally improve their fertility and potentially regulate cycles and promote ovulation.
Before you decide on a tea, consult my guide to fertility herbs to find the ones that most correspond to your needs.
If you are currently undergoing fertility treatments, make sure to consult with your doctor beforehand. This is important in case any of the herbs interfere with your medication.
The Best Herbal Teas To Increase Fertility
This sweet mint tea is a great option if you prefer cold ice tea to hot beverages. Pink Stork Fertility Tea is comprised of 7 organic herbs including red raspberry, nettle, and chasteberry, designed to support fertility and balance hormones.
Each pyramid-shaped bag produces two cups of tea making it good value for money. There is also a fertility for men by Pink Stork which you can buy in a bundle pack.
A lot of people have asked me about Pink Stork Tea side effects and if there are any. In my experience and upon reading the amazing Amazon reviews, it seems the only side effect is an increased chance of getting pregnant!
If you love the Pink Stork fertility tea, make sure to check our their fertility sweets which are hard candies packed with fertility-boosting ingredients.
Traditional Medicinals Organic Healthy Cycle tea is formulated from organic herbs to encourage a healthy menstrual cycle.
It contains organic raspberry leaf , organic liquorice root, organic strawberry leaf, Organic stinging nettle leaf and organic blessed thistle herb.
I like the Healthy Cycle tea for trying to conceive with PCOS or scarce periods.

Eir Moon Fertility Tea contains peppermint, raspberry leaf, alfalfa, and valerian root to act as a uterine tonic and to ease menstrual cramps.
I'm lucky enough to be one of the many Fertilitea success stories! I drank Fertilitea every day while I was trying to get pregnant and going through fertility treatments. contains Vitex (Chasteberry), Green Tea, and Red Raspberry to help tone the uterus and regulate your cycle.
It is also available as a box of tea bags too, however for the same roughly the same price you get 60 cups in the bag v 16 tea bags in the box.
If you want your husband to try a fertility tea for men, Fairhaven also make a tea called ViriliTea – Male Fertility Tea.
Get pregnant fertility tea probably has the best name in the business! This tea contains passion flower and is delicious hot or cold. It gets great reviews like the rest of the Secrets of Tea range.
Like the other fertility blends, Get Pregnant Fertility Tea contains red raspberry leaf and chasteberry as well as organic honey-bush and cinnamon bark to balance hormones.
There is also a ginger version of Get Pregnant Fertility tea available.
Ginger is good for fertility according to a 2018 Study featured in the Journal of the Chinese Medicine Association because it increases antral follicle count and implantation levels. It is also good for male fertility.
This tea is formulated to help you "relax into the soothing ritual of connecting with the natural cycles of the moon, the earth and your body"
As with the other herbal teas to increase fertility, all the ingredients are organic.
It contains the following herbs: red raspberry leaf, nettle leaf, red clover (strengthens then blood), peppermint (strengthens sex drive).
DIY Fertility Tea Recipe
No list of herbal teas to increase fertility would be complete without a homemade blend.
If you want to make your own fertility tea blend you can choose from some of the herbs in this post. You can add hot water to most herbs to make an infusion.
The beauty of a homemade fertility tea is that you can tweak the blend to suit your taste, add in more mint or chamomile depending on your personal preference.
Here is sample blend that is good for all-round fertility, make sure to get organic herbs where possible.
Ingredients for Homemade Fertility Tea
1 part Vitex (Chasteberry) powder
Optional – 1 part ginger powder
Mix the blend in a large mason jar or resealable container for freshness. When you want to have a cup of tea, put two heaped tablespoons of the mixture in a cup. Steep in boiling water for 5 minutes before drinking.
Yield: 1
Homemade Fertility Tea Blend
Tweak this recipe to make your own fertility tea using TTC friendly herbs and ingredients.
Ingredients
1 part peppermint leaves
2 parts red raspberry leaves
1 part Vitex (Chasteberry) powder
1 part nettle leaf
Optional - 1 part ginger powder
Instructions
Mix the blend in a large mason jar or resealable container for freshness. When you want to have a cup of tea, put two heaped tablespoons of the mixture in a cup.
Steep in boiling water for 5 minutes before drinking.
Add lemon or honey to taste
Nutrition Information:
Yield:
1
Serving Size:
1
Amount Per Serving:
Calories:

41
Total Fat:

0g
Saturated Fat:

0g
Trans Fat:

0g
Unsaturated Fat:

0g
Cholesterol:

0mg
Sodium:

4mg
Carbohydrates:

8g
Fiber:

6g
Sugar:

0g
Protein:

3g
FREE Fertility Resources (Ebooks, Checklists and more)
Click the links to instantly download the following useful resources, at no cost!
More Fertility Tips
How to use Essential Oils For Fertility
Fertility and Caffeine – Is it really that bad?
Is The Keto Diet Good For PCOS and Infertility?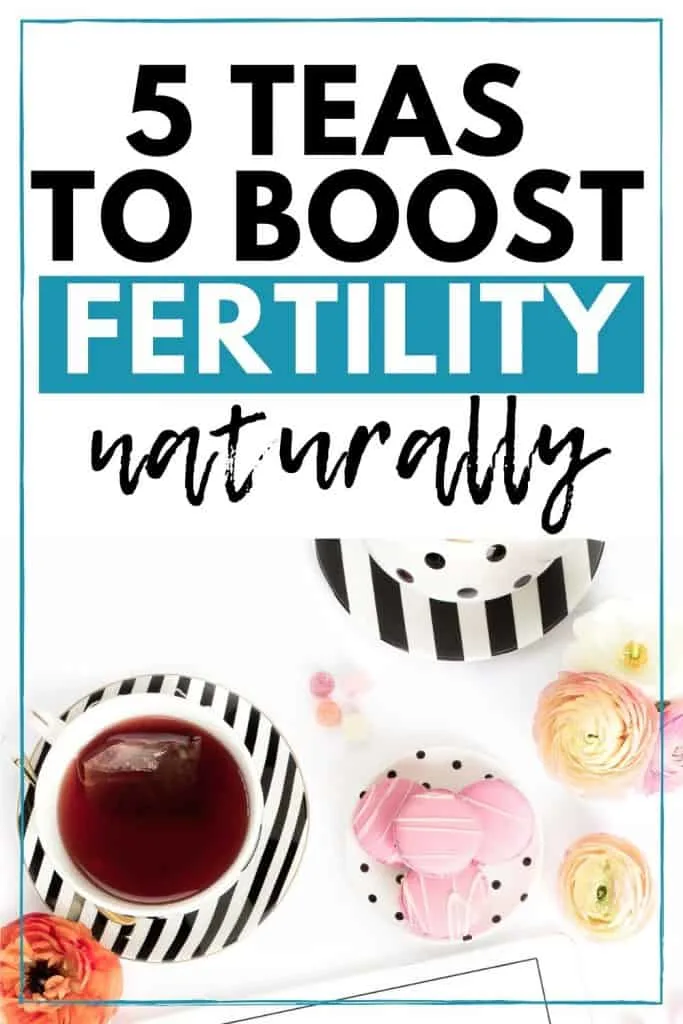 Free 14 Day Fertility Meal Plan!
Boost your fertility with this 14 day kick start program
Sign up for instant access to this free plan & more fertility tips