The use of fertility herbs to help you get pregnant has been around for centuries, long before IVF and fertility treatments were available.
Nowadays, they are sometimes overlooked in favour of "quick fixes" from Western medicine but they can play a huge role in improving your health and even helping to reverse infertility.
When you are thinking about what you are eating or what vitamins and supplements you should be taking to boost your fertility, herbs should definitely play a role in your overall plan for conception.
This page contains affiliate links meaning I earn a commission if you use those links. Please read my affiliate disclosure for more information.
MORE FERTILITY TIPS
Fertility Foods List: Fertility Superfoods That Work!
The Best Crystals For Fertility
Fertility Herbs To Get Pregnant Fast
Herbs have been used to get pregnant for thousands of years by different cultures around the World.
Chinese and Ayurvedic medicine both encourage the use of certain herbal blends as a way to improve the chances of getting pregnant naturally.
Nowadays you can obtain herbal teas, capsules and liquid herb tinctures easily online and in health food stores.
RELATED: The Fertility Diet That Changed My Life
Can Fertility Herbs Reverse Infertility?
There is no doubt that the fertility herbs below can have a very positive effect on your chances of getting pregnant.
You'll see that there are in fact many herbs to help you get pregnant depending on your diagnosis.
Many have been used for years by practitioners as an alternative or complement to conventional fertility treatments and have shown to have a great impact on fertility outcomes.
The most effective way to use these herbs is with other ways of naturally boosting your fertility such as:
Lifestyle changes such as quitting smoking
Fertility yoga or other types of gentle exercise
How to Use Fertility Herbs
You can buy a lot of the herbs to help conception listed below at bulk food shops, health food stores or even on Amazon. I've noted under each one how you can take them. There are normally a few ways:
Before you start using fertility herbs:
Consult with your doctor or medical practitioner
Do not take all the herbs at once, try one and see if your condition improves first
Do not take any fertility herbs with fertility drugs before speaking to your RE or doctor
Fertility Smoothie Recipes
You can add fertility herbs to your smoothies to improve their potency and also hide the tastes of herbs that aren't too tasty.
Here are some of my best recipes:
Fertility Breakfast Smoothie To Help You Get Pregnant
Pineapple Core Implantation Smoothie
Wheatgrass Smoothie For Fertility
What herbs are good for fertility?
Below you will find a comprehensive list of the top herbs to promote fertility.
Bear in mind that you don't need to take them all, all of the time.
Read through the description of each one and look into the ones that seem to be targeted to your own fertility situation.
Make sure to consult with your doctor before starting any of these herbs that aid fertility, especially if you are already taking prescribed medicine.
Herbs for specific fertility issues
Below you will find a list of some common fertility issues and best natural herbs to get pregnant for each one. Scroll down for a detailed explanation for each herb and the ways to ingest it.
Recommended Fertility Herbs For Hormone Imbalance
Evening Primrose oil, cinnamon, red clover, vitex, Ashwagandha, Dong quai, red raspberry leaf
Fertility herbs for irregular cycles or innovulation
Ashwagandha, Black cohosh, false unicorn, vitex, cinnamon, yarrow, red raspberry leaf
Herbs that can help PCOS
Ashwagandha, cinnamon, tribulus, maca
Increasing sperm count
Maca, tribulus, ashwagandha, asparagus
FREE EBOOK: How to naturally improve sperm health
Improving the chances of implantation (uterine tonics)
Nettle, Vitex, Red Clover, Dong quai, red raspberry leaf, evening primrose oil
Fertility herbs for shrinking ovarian cysts
False unicorn, tribulus, milk thistle, yarrow
Improving egg quality
Maca, milk thistle, ashwagandha, ginger, dong quai
If you want more tips on improving egg quality, make sure to download this free report packed with tips that actually work.
Scant cervical mucous
Evening primrose oil, red clover
READ NOW: The Best Fertility Vitamins & Supplements To Help You Get Pregnant
The best herbs for a fertility cleanse
If you are interested in doing a fertility cleanse before you start trying to conceive or in preparation for fertility treatments, the following are the best detoxifying herbs you can try:
Ginger
asparagus
milk thistle
nettle
red clover
Click here to read more about these herbs and doing a fertility cleanse.
For an easy way to do a fertility cleanse, you can take FertileDetox which is a ready-made fertility cleanse in capsule form. Its ingredients include milk thistle, dandelion root, probiotics and other detoxifying vitamins and minerals.
16 Fertility Herbs To Help You Get Pregnant Naturally
Below you will find a list of the best herbs for fertility. Click through to the picture of each one to see it on Amazon for up to date pricing.

EPO is great for increasing your cervical mucous and improving your chances of getting pregnant.
It is also one of the best herbs to help fertility if your hormones are out of whack.
Evening primrose oil is typically taken as a capsule with food.
Cinnamon is one of those herbs that help increase fertility while improving your overall health.
It balances your hormones but it also balances your blood sugar at the same time.
This can help keep you regular and your body on a solid routine.
In addition to these benefits, it can also reduce heavy bleeding during your period and regulate your overall cycle.
It also improves circulation in your body and regulation of your reproductive system.
Cinnamon powder can be taken in a tea, sprinkled on yogurt or fruit or added into cooking.
Ginger is a great herb for fertility. It helps reduce inflammation and also helps with detoxification of the system. Tea is a popular way to take ginger but you can also take capsules, chew on dried ginger or even try ginger juice.
Nettle is a great detoxifier and fantastic for toning the uterus in preparation for conception. It can be especially helpful for women doing a F.E.T who are looking to prep for (hopeful) implantation. Nettle is most commonly take as a tea or infusion. You could also add brewed nettle tea to a smoothie.
This is one of the best natural herbs to help with fertility and getting pregnant fast.
Red Raspberry leaf has been used as a uterine tonic for years. It is perfect for drinking in a tea to prepare for ovulation and increase your chances of implantation and pregnancy.
It is also often recommended by midwives as a tincture in late pregnancy to prepare the uterus for labour and to induce pregnancy.
You can buy red raspberry leaf capsules or drink it as a tea.

Red clover balances your hormones and is a natural alkalizer which works to restore the natural PH level of your uterus. It is a great herb for a fertility cleanse.
Capsules are the most common way of taking red clover but you can also buy it loose for teas.

Black cohosh decreases progesterone levels and promotes menstruation.
It is a popular substitute for conventional menopause medicines for this reason.
It contains a flavonoid called Formononetine that is similar to estrogen.
Capsules are the most common way to take black cohosh.
NOTE: Do not take black cohosh for longer than 6 months or when pregnant.

Vitex is one of the best fertility herbs to help you get pregnant if you have irregular cycles or a short luteal phase (which would impede conception). It balances the hormones and helps to regulate cycles. You can buy vitex capsules at most drugstores or you can drink it in a tea such as FertiliTea blend.

False unicorn is often said to be the perfect herb for fertility and it has many uses including:
Preventing recurrent miscarriage
Regulating cycles.
Shrinking ovarian cysts
Unfortunately due to increased demand in its benefits, false unicorn is now endangered and very expensive. If you do wish to try it, make sure to buy it from a reputable source that does not engage in wild harvesting. It is mostly available as a liquid herb.

My Chinese acupuncture doctor recommended that I use dong quai while I was doing IUI cycles. It is also called "female ginseng" because of its fantastic fertility benefits:
Increase blood flow to the pelvic area
Uterine tonic
Balance hormones
Prevent premature ejaculation in men
You can buy dong quai in capsules or as a powder to add to foods and smoothies.

Asparagus is a strong diuretic that is used to flush out the kidneys and detoxify the body. It is also packed with folate which is essential for a healthy pregnancy. Asparagus is also shown to help increase sperm count in men. Aside from adding more asparagus to your diet, you can also take asparagus extract capsules.

Although Milk Thistle is one of the best herbs that help fertility, it is a great tonic for everyone.
Milk thistle is an amazing detoxifier and is perfect for anyone trying to get pregnant.
It helps to eliminate toxins from the liver in particular and a healthy liver is essential for overall health and fertility.
You will often find milk thistle in fertility cleanses and detoxes that you can do preconception or prior to starting fertility treatments.
The most common way to ingest milk thistle in in a capsule format, Look for organic options if possible.

Ayurvedic healers have recommended Ashwagandha for centuries to promote overall health and improve fertility.
It has stress and anxiety-relieving properties that have made it a very popular naturally solution today's lifestyles.
It is also one of the best fertility herbs to help you get pregnant thanks to its many uses:
Increase libido
Regulates hormone levels
Counters the effects of toxins in your reproductive organs
Promote menstruation in women with long cycles
Decrease stress and promote a sense of calmness
You can take ashwagandha during implantation and before ovulation for an extra fertility boost.
The easiest way to take Ashwagandha for fertility is to use capsules which are easily available online or in health stores.
If you only add one of these herbs to increase fertility to your shopping list, make it Maca.
Maca is one of my favourite fertility herbs to help you get pregnant as it is awesome for both male and female fertility.
It is often called a "fertility superfood" and it has been used for centuries in Peru to enhance sexual health and libido and to balance hormones.
It's great for putting in smoothies and an essential ingredient of my fertility smoothie.
You can buy maca in powder or capsule formulas.
Tribulus is great for improving male fertility and increasing sperm count. For female infertility, it can help to shrink ovarian cysts and is especially useful for women with PCOS.
Increases sperm count in males
Decreases ovarian cysts in PCOS
Reduces anti-sperm antibodies in women
Tribulus is normally available in capsules.
This is one of the best herbs that increase female fertility if you have issues with your cycle.
Yarrow is a uterine stimulant that promotes menstruation and can help to regulate your cycle.
Women with long cycles may find it helpful to drink in a tea. It can also help to decrease heavy periods and ease menstrual pain.
You can use yarrow as an essential oil, take it as capsules or you can buy tea bags to make an infusion.
FREE Fertility Resources (Ebooks, Checklists and more)
Click the links to instantly download the following useful resources, at no cost!
More Fertility Tips
The Fertility Diet That Changed My Life
The Best Fertility Vitamins & Supplements To Help You Get Pregnant
Is The Keto Diet Good For Fertility?
The Best Fertility Yoga Poses For Men & Women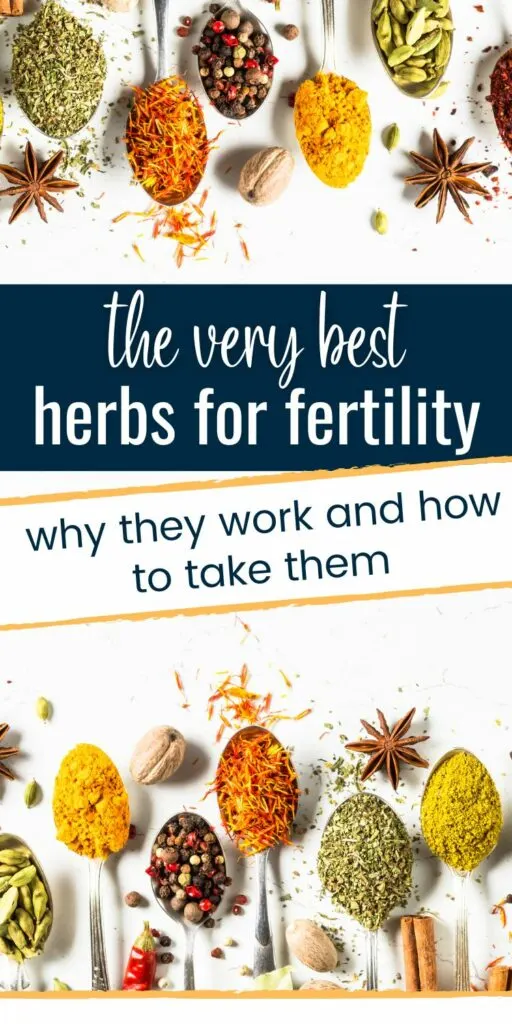 Free 14 Day Fertility Meal Plan!
Boost your fertility with this 14 day kick start program
Sign up for instant access to this free plan & more fertility tips