There might not be anything harder than losing a child. It's hard to have the right words during this difficult time, but you can show your loved one that you are there for them.
If you are looking for a gift for a friend who has suffered a miscarriage or stillbirth, below you will find 10 meaningful gifts to comfort and show your support.
This page contains affiliate links meaning I earn a commission if you use those links. Please read my Disclosure for more details.
RELATED POSTS
Thoughtful Gift Ideas For A Friend Struggling With Infertility
10 Infertility Stories That Will Inspire You
Bible Verses & Prayers For Fertility
10 Thoughtful Gifts For Parents Who Have Lost a Child
Willow Tree are known for their beautiful sculptures and this one is no exception. This is a touching gift for someone who has experienced the loss of a child.
This personalized photo frame from GiftedOak makes a beautiful gift for a difficult time. Choose your frame color and size and then personalize with the baby's name and date of birth.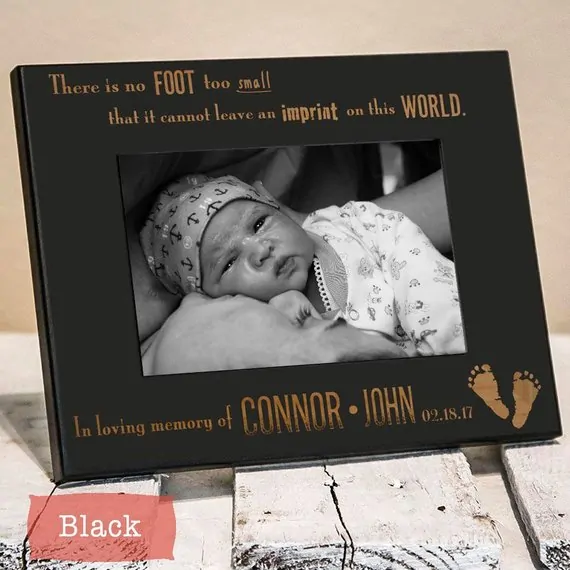 This beautifully made double-sided sonogram pendant has a photo on one side and a beautiful quote on the back:
"I carried you every second of your life and I will love you for every second of mine."
This is a really thoughtful gift for a mom who is grieving a pregnancy loss from Chutney Blake Designs.
This beautiful necklace from DearAvaJewelry is a little more subtle than some of the other gift items out there. It comes in Gold, Silver and Rose Gold Finish and offers free shipping on all USA orders.
This journal is meant to accompany the best-selling book Empty Arms by Pam Vredevelt The book's aim is to offer hope and support for those who Have suffered a miscarriage, stillbirth, or tubal pregnancy. It has great reviews on Amazon such as "This book and journal combination is a must if you or someone you know has suffered the loss of a child. It will bring you out of the darkness, and help to heal your broken heart.".

I love this printable artwork from Etsy seller HipInkHooray as it is an affordable gift for a parent who has lost a child. The text can be personalized with a name, date or poem/quote.
This plush blanket is one of the best-sellers on Amazon and for good reason. The company uses part of the proceeds from each blanket to donate blankets to people in need. Each blanket is covered with inspirational and comforting words and comes in different colors.
This hand-stamped keyring from Punky Funky Jewellery comes in two parts (one for mom and one for dad). It's made out of aluminum so it is light and also hypo-allergenic.
This book has daily devotionals to guide you through the grief of losing a child. It is beautifully written and a wonderful resource for any women looking for guidance after loss.
This white lantern from Amazon includes an LED candle and would make a beautiful addition for a memorial service or home.
More Thoughtful Gift Ideas
Great Gift Ideas For A Friend Struggling With Infertility