Are you expecting and want to get your pony involved in the big reveal. In this post we have some horse pregnancy announcement ideas to inspire you. Whether you want to make your horse the star of the show or just want to acknowledge their place in the family, you are sure to find some fun ideas in this post.
Including your pet in your pregnancy announcement is a cute way to make them feel part of the big news and to make the milestone with something extra special. Plus – horse pregnancy announcements are so unique!
Many people like to include their dog in their pregnancy announcement but when it comes to ponies, things can be a bit tricky. After all, they are not at home with you all the time and it's not as easy to find a cute pony sweater!
Read on for over 20 creative pregnancy announcements that include your horse.
This post contains affiliate links. Please read my Affiliate Disclosure for more information
MORE PREGNANCY ANNOUNCEMENTS
25 Original Letter Board Pregnancy Announcement Ideas
23 Adorable Disney Pregnancy Announcement Ideas
How adorable is this cute announcement from Pinterest?
This adorable horse pregnancy announcement idea is so easy to recreate yourself!
Keep it simple with this beautiful pregnancy announcement using your sonogram photos and saddles.
Looking for a fun western style pregnancy announcement with your horse? Get some teensy tiny cowboy boots and snap a pick like this one.
How adorable is this cute horse pregnancy announcement? Simple yet effective!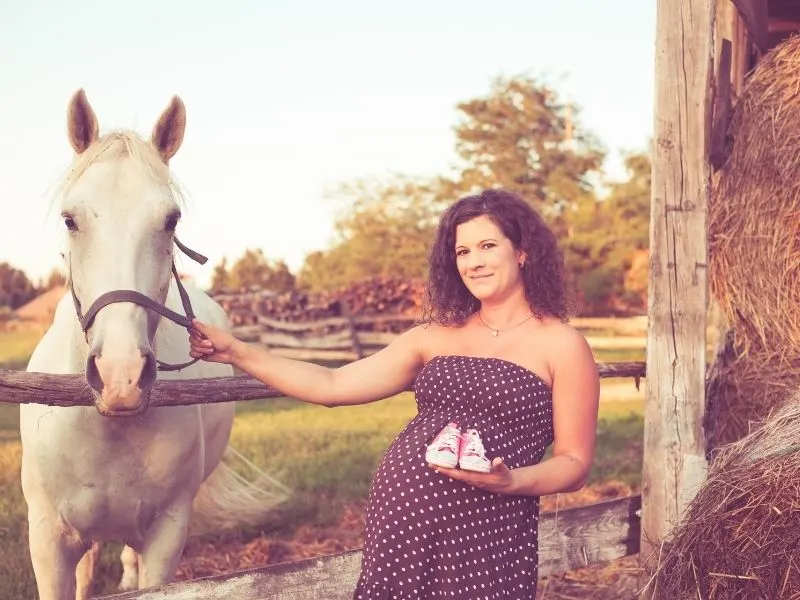 A tiny pair of shoes and your pony are all you need to make a statement and tell everyone your big news.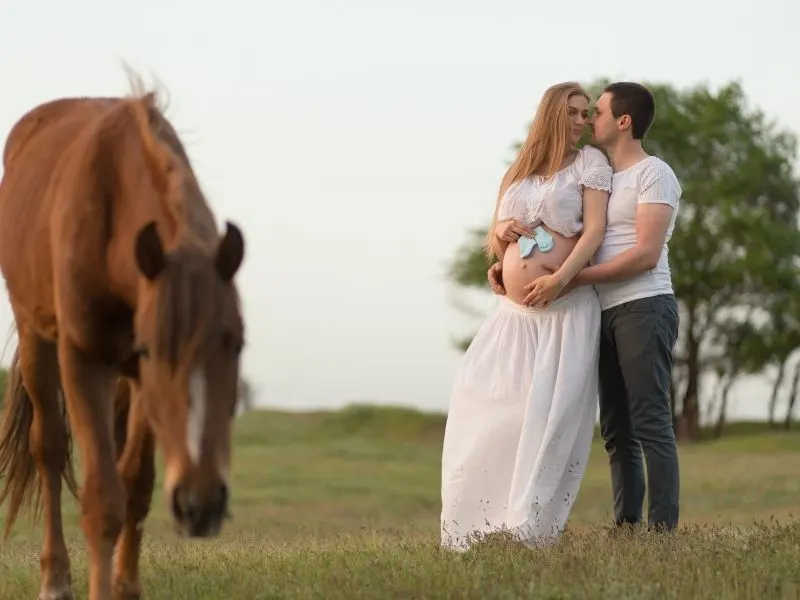 Pregnancy announcements are always really cute when both mom and dad are in the picture like this sweet scene.
Although riding when pregnant isn't recommended, taking a quick snap in a field full of flowers sure does make for a pretty horse pregnancy announcement idea.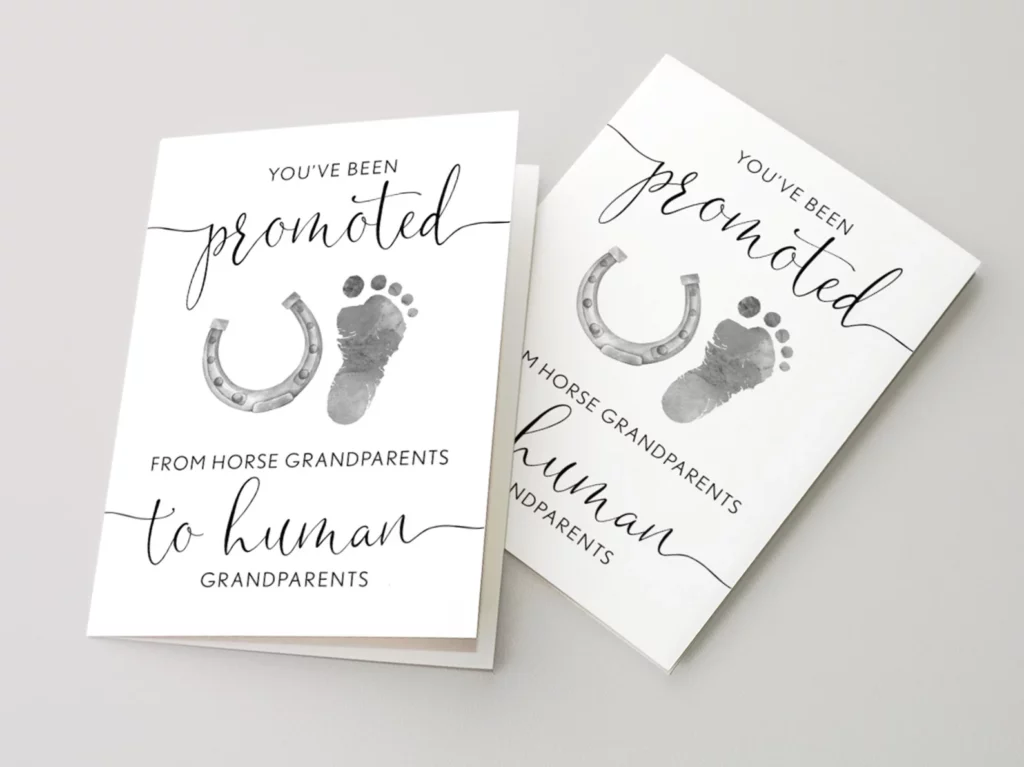 Looking for a cute pregnancy announcement for the grandparents? These cards from Etsy are so easy and a great idea.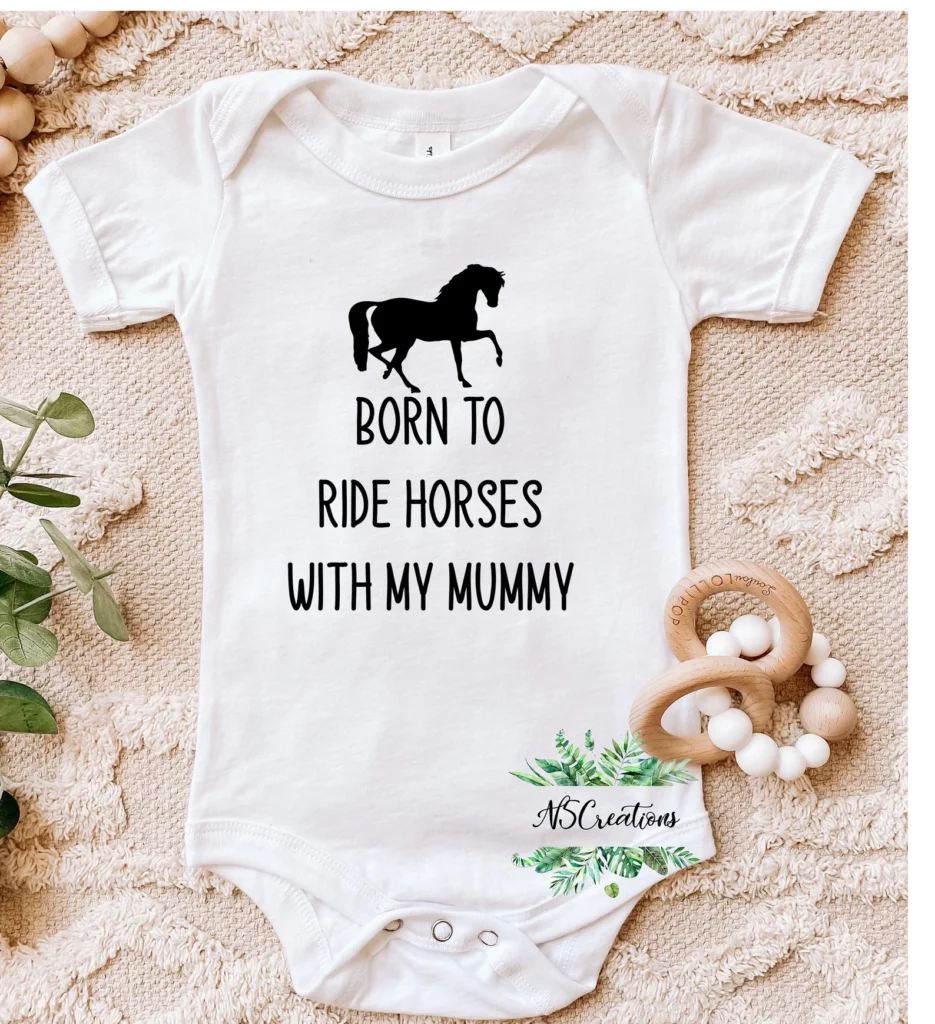 You can use this baby bodysuit from Etsy as a way to announce your pregnancy to family in person or use it to create a fun flat lay photo for your socials.
Talking of flatlays photos. How is this for a cute Western style pregnancy announcement idea?
You can grab the customizable digital file from Etsy.