If you are reading this post because you are looking for ways to announce a pregnancy to your family in person, first of all – congratulations!
Early pregnancy is such an exciting time with so much to look forward to.
Once you have got over the shock yourselves, you will probably start looking for pregnancy announcement ideas for grandparents and other family members.
Although many people announce their pregnancies to their friends and colleagues on social media, most of us still prefer to announce a pregnancy to family in person.
It's amazing to see their reactions and share in their joy together.
Below you will find 25 unique ways to announce your pregnancy at family gatherings or even at holiday events like Thanksgiving dinner.
And talking of Thanksgiving, make sure to check out my list of 33 Fall Pregnancy Announcements that are perfect for that holiday dinner announcement.
This post contains affiliate links. Please read my Disclosure for more information.
MORE PREGNANCY TIPS
51 Best Pregnancy Movies To Watch When You're Expecting
70 Early Signs Of Pregnancy (The Weird And Unusual!)
How To Announce Your Pregnancy In Person To Family And Friends
Whichever way you choose to announce your pregnancy, don't forget to pack the camera so you can capture the excited moment when you share your good news!
Once the dust has settled, make sure to apply for all the free baby stuff you can from my Ultimate List of Freebies for New & Expecting Moms.
If you want to surprise family with a cute gift when you share your good news with them, I have a list of 26 Pregnancy Announcement Gifts For Grandparents for you to enjoy.
When should you reveal your pregnancy?
When you announce your pregnancy to your family is entirely up to you but most people tend to wait until their first ultrasound (which may be as early as 6 weeks).
Others prefer to wait until they have had their 12 week scan and the risk of a miscarriage is lower.
The general rule for whether you should tell people is – if you were to miscarry, would you want them to know so they could comfort you and be understanding.
If you don't want great aunt Ethel to know the ins and outs of your personal life then wait a little longer to announce to your extended family.
25 Ways To Announce Pregnancy To Family In Person
1. Include Your Best Friend
If you have a dog, one of the cutest ways to announce your pregnancy is to invite everyone over for a family get together at your house.
Once everyone is settled in, have your pooch make an appearance wearing a cute pregnancy announcement bandana. I love this one from easymarthab on Etsy.
If you love the idea of including your pup in your pregnancy reveal, make sure to check out my other ideas for a pregnancy announcement with dogs.
2. Custom Puzzles
This would be such a fun way to announce a pregnancy at a family gathering like Thanksgiving.
They make a great pregnancy announcement gifts for grandparents.
Amazon sells white pre-cut puzzles where you can write a message, take the puzzle apart, and place in an envelope.
Create your message "Congratulations on being a grandma" etc, using coloured markers and then place all the pieces in an envelope.
Leave a puzzle at each place setting or give them out during dessert. Make sure to video the moment that everyone catches on to your news!
Surprise your family members with these pregnancy announcement lottery tickets from Etsy Store Partyprinters. They replicate a lottery scratch off ticket.
4.Personalized M & Ms
Did you know that you can order personalized M&M's with the words "I'm Pregnant" or "its a girl/boy" to hand out at your next family party?
How cute would they be as a topping on your ice cream at dessert?
If you love the idea of a sweet treat as a pregnancy reveal, make sure to check out my 31 Sweet Cookie Pregnancy Announcement Ideas
These t-shirts, from Etsy seller Ameritrendsco . are also available for Grandparents and great-grandparents.
They are perfect to give as gifts or to hand out at a family dinner.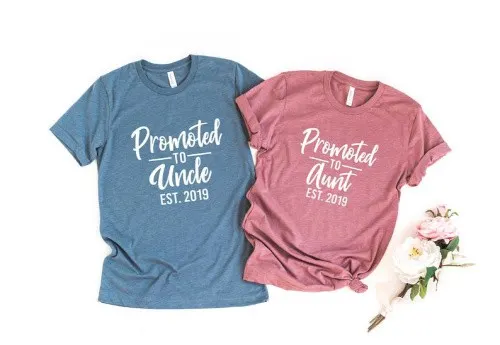 6. Capture The Moment
This a really simple way to announce a pregnancy to family in person but it would be so priceless to have a video of the exact moment that you tell them.
Tell everyone that you want to take a group photo.
Once everyone is in position, make sure your phone is on video mode instead of the camera and say "All right everyone, 1, 2, 3, say ' **your name***is pregnant!'"
Their reactions will be awesome.
7. Mom-To-Be T-Shirt
If you like the idea of announcing on a t-shirt but don't want to do a give t-shirts as gifts to everyone, how about getting a cute t-shirt like this amazing one from bonnytees on Etsy? It's simple and trendy and will take everyone a minute to get it.
8. Picture Frame
One easy idea is to put your sonogram in a photo frame and give it as a gift.
If you want to be really sneaky and announce your pregnancy at a family gathering, instead of giving the frame to someone, place it on the mantel when no one is looking and see how long it takes for someone to notice it!
A nice pregnancy announcement idea for grandparents is to give them a picture frame but instead of a picture inside, write on some paper "Picture to follow **my due date**" and put it in the frame.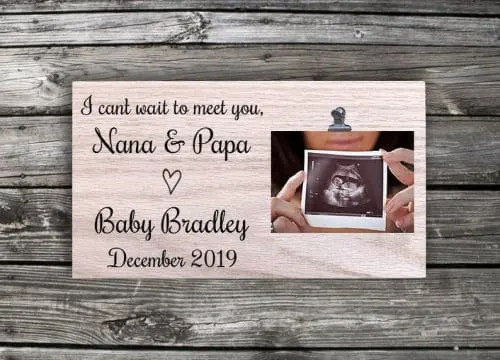 9. Booties
If you want to give the grandparents a gift to announce your pregnancy, how about a cute pair of booties with a special message? These pregnancy reveal booties come in 4 different color options and include a cute message to the grandparents-to-be.
10. Your baby is the size of…
You know those pregnancy trackers that tell you how big your baby is at a certain time?
They make a great pregnancy announcement for a family dinner.
For this announcement, you need to refer to the baby fruit size chart. Work out what size your baby will be when your family gathering takes place then plan your menu accordingly.
For example, if you want to announce your pregnancy during week 14, then your baby will be the size of a peach. You could make a peach cobbler for dessert or serve up peach sangria as a drink.

11. Golden Egg Reveal
This is one of the cutest pregnancy announcement ideas for grandparents.
Of course, it would also make a wonderful Easter pregnancy announcement!
Each egg arrives packaged in its own nest and individual kraft box with "Crack Me!" stamped on the inside of the top flap.
Recipients crack the egg to reveal your printed announcement on delicate and high quality parchment paper that has been dyed and aged by hand.
You can create your own personalized golden egg at CrackMeCreations on Etsy.
12. Custom Wine Labels
These custom wine labels make a fantastic way to announce a pregnancy to family at a dinner like Thanksgiving.
They are subtle enough that it might take a. while for someone to clue in which will make it even more fun.
You also use them when giving wine as a hostess gift when you arrive at a family dinner.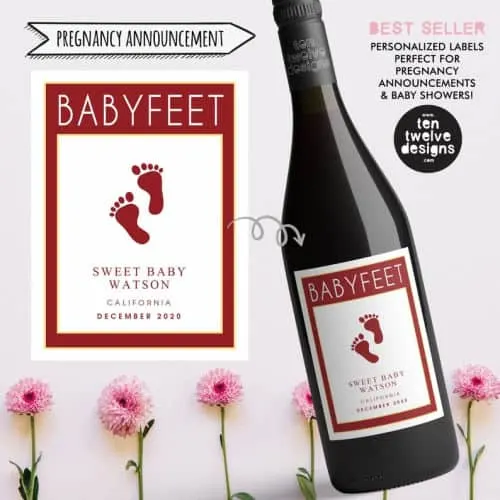 13. Scavenger Hunt
If your family is the kind that likes to play games at family events, you could plan a pregnancy announcement scavenger hunt to keep the excitement going. Make sure that the last clue is in the oven (bun in the oven).
14. Eviction Notice
If you already have a child, an eviction notice can be really cute way to include them in your news.
It would make a great way to announce your pregnancy on social media with a cute photo of your child in their bed or crib.
You could also print off a photo and frame it for the grandparents to reveal your pregnancy to them in person.
15. Big Brother T-shirts
Sibling pregnancy reveals are so fun!
If you want your older child to be the one to announce your pregnancy at a family gathering, you can get really cute big brother/sister shirts on Etsy.
My favorite is this bestselling one from PurpleElephantSTL – it is adorable.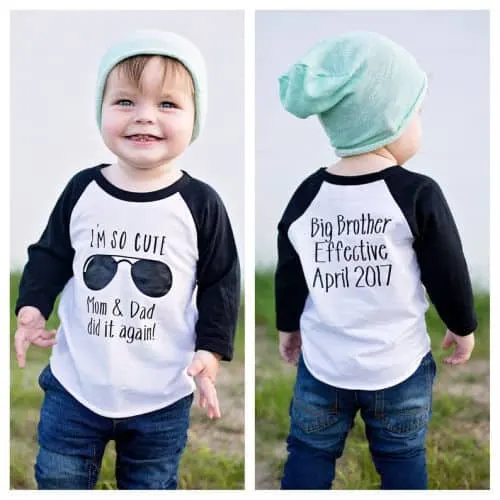 16. Coffee Cup Reveal
Here is a super easy pregnancy announcement you can do if you are meeting your family out and about.
Offer to pick up the coffee on your way and write your pregnancy reveal with a sharpie on the cup.
They will probably ignore it first of all and think it just your name from the coffee place.
If you want to up the ante, you could even get a little cup for the new baby, like this one from Amazon. (pictured below).
17. Scrabble
This one will take a big of setting up but would be really fun.
After your family dinner, suggest a game of scrabble and offer to set it all up.
The looks of surprise will be priceless when your family see your message!
These pregnancy reveal mugs from AgapeShoppeco on Etsy are amazing.
The mug is black when cold, and will turn white and reveal the Stork image with the ultrasound pic, name and due date when hot. Personalization is included.
19. Onesie reveal
If you have family that loves the show "Friends" then this pregnancy announcement idea is for you!
This Friends-inspired onesie would make a great gift for an expecting grandma or aunt.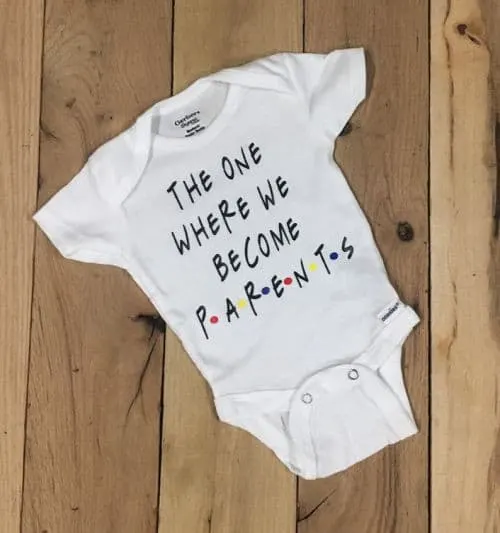 If you want to announce your pregnancy in a more formal way you can hand out these cute pregnancy reveal cards.
They are made from good quality cardstock and come in a set of 4 including envelopes.

21. Pregnancy Riddles
Pregnancy riddles to announce your news can be a fun way to get everyone involved.
You could put the announcement onto a card or even put one on each plate at a family dinner.
For inspiration, check out these 27 Pregnancy riddles from my friend Brenda at Paper Heart Family.
22. Treasure Hunt
If there are already a lot of children in your extended family and you want to get them involved, a fun idea is to plan a treasure hunt for them around the house.
Include treats and surprised for them but at the end of the hunt, make the grand prize a tiny pair of baby shoes.
It will likely take them a while to work out what they mean!
By the way, if you want to surprise your hubby with a fun scavenger hunt, make sure to check out my Pregnancy Scavenger Hunt Free Printables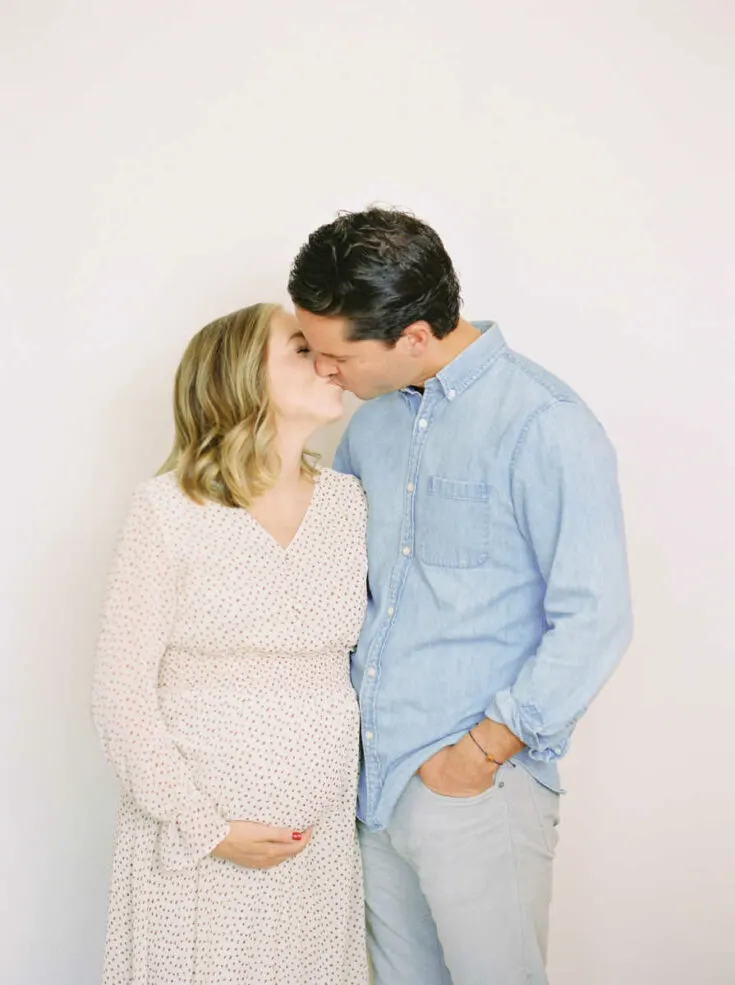 23. Timbits/Donut Holes
Donut pregnancy announcements are so fun!
Whether you have a Tim Hortons or a different donut shop near you, most places sell donut holes.
Those cute little balls of dough are a great way to announce your pregnancy at a family gathering. You can hide a message in the box to announce your news.
Here are some ideas:
"New Timbit arriving May 2024*
* A Little bundle of sweetness due 7 December 2024"
"What's sweet and small and can't wait to meet you all?"
Let this chocolate pregnancy announcement share your news for you – you can choose from a color or white version and there is a choice of messages.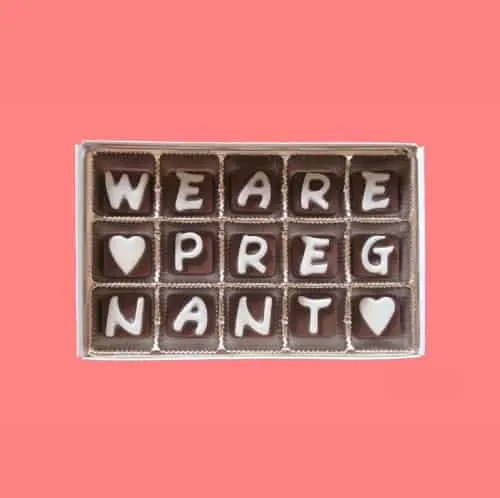 A really cute way of announcing your pregnancy to everyone at a family gathering is to pin this editable pregnancy calendar on your fridge.
Ask a grandparent-to-be to grab something for you and wait for their reaction!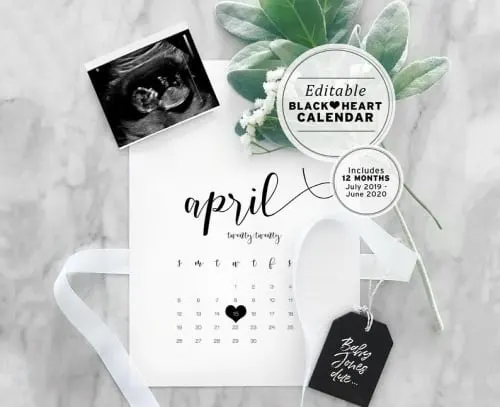 If you want even more inspiration, make sure to check out my list of over 300 + Pregnancy Announcement Ideas.
It is packed with tips for sharing your exciting news on every holiday such as Christmas pregnancy announcements or even St Patrick's Day pregnancy reveals.
More Pregnancy Tips
51 Best Pregnancy Movies To Watch When You're Expecting
70 Early Signs Of Pregnancy (The Weird And Unusual!)
The Ultimate Postpartum Survival Kit For New Moms
Like this post on pregnancy announcements? Pin it!